Serenoa repens
The Saw palmetto (Serenoa repens (W. Bartram) Small, 1926) is a shrub species belonging to the Arecaceae family.
Systematics –
From a systematic point of view it belongs to:
Eukaryota Domain,
Kingdom Plantae,
Magnoliophyta Division,
Liliopsida class,
Arecales Order,
Arecaceae family,
Subfamily Coryphoideae,
Trachycarpeae tribe,
Genus Serenoa,
S. repens species.
The terms are synonymous:
– Brahea serrulata (Michaux) H. Wendland, in Kerchove, 1878
– Chamaerops serrulata Michx.1833;
– Corypha obliqua W.Bartram;
– Corypha repens W. Bartram, 1791 (basionimo)
– Diglossophyllum serrulatum (Michx.) H.Wendl.;
– Diglossophyllum serrulatum (Michx.) H.Wendl. ex Drude;
– Diglossophyllum serrulatum (Michx.) H.Wendl. ex Salomon;
– Diglossophyllum serrulatum (Michx.) Schaedtler;
– Sabal dealbata (Hort.) ex L.H. Bailey, 1917;
– Sabal serrulata (Michx.) Nutt. ex Schult. & Schult. f., 1830;
– Serenoa repens f. glauca Moldenke;
– Serenoa serrulata (Michx.) G. Nicholson, 1887;
– Serenoa serrulata (Michx.) Hook.f.;
– Serenoa serrulata (Michx.) Hook.f. ex B.D.Jacks.
Etymology –
The term Serenoa of the genus was given in honor of Sereno Watson (1826-1892), an American botanist at Harvard University who explored the western and central regions of North America.
The specific epithet repens is the participle of répo crawl: creeping.
Geographic Distribution and Habitat –
Serenoa repens is a plant endemic to the southeastern United States and present in Alabama, Florida, Georgia, Louisiana, Mississippi and South Carolina.
Its habitat is that of the dense woods adjacent to the coasts or in the undergrowth of pines and broad-leaved trees where it often forms consistent formations; it can also be found on coastal sand dunes.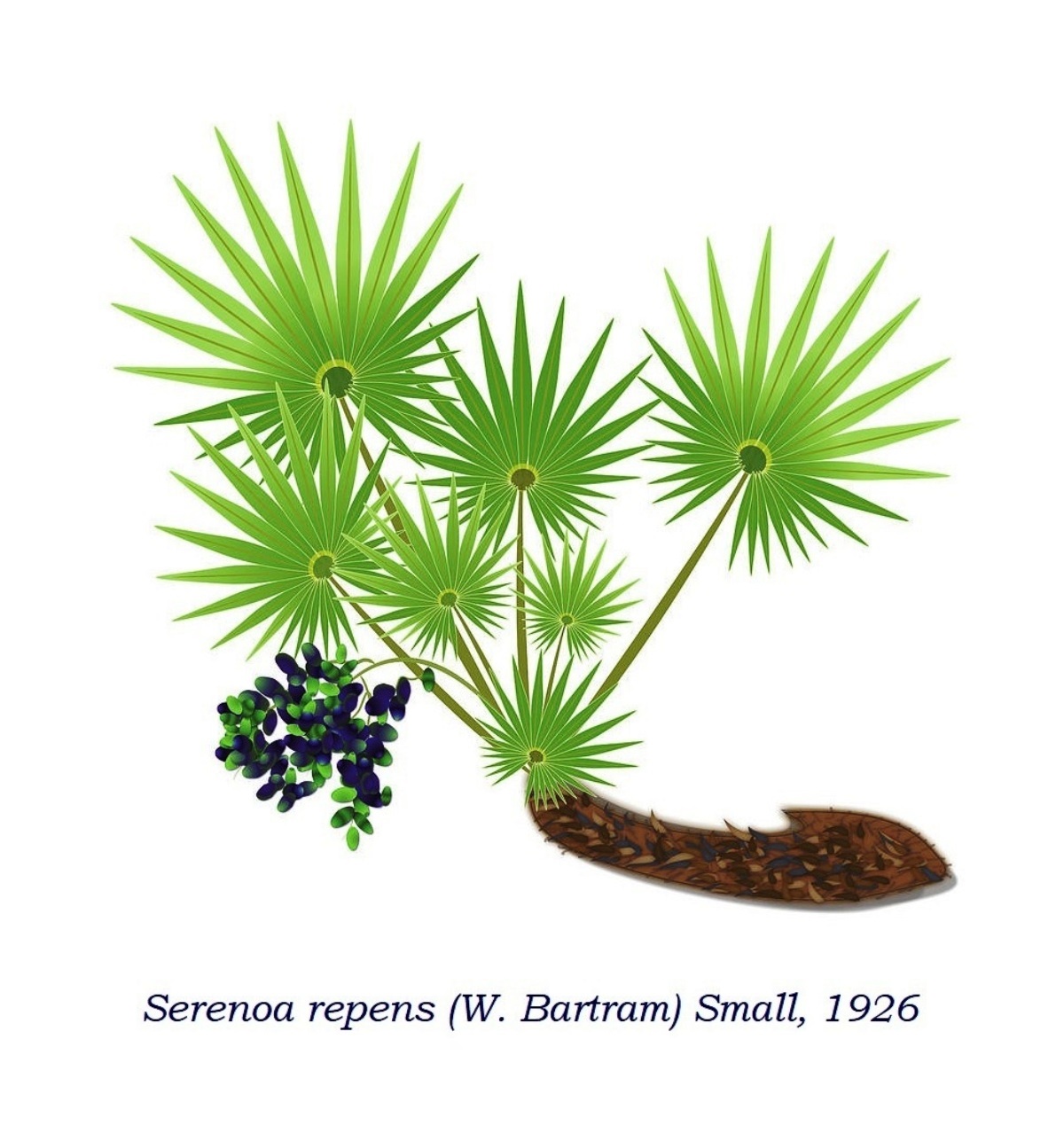 Description –
Serenoa repens is a palm that can reach a height between 2 and 4 meters and that grows in the shape of a fan.
The leaves are between one and two meters long, while the leaflets, about 20 in number, vary between 50 and 100 cm in length; the petiole is provided with delicate thorns.
The flowers are yellowish to white in color, 5 mm wide and produce a dense inflorescence up to 60 cm long.
The fruit is a reddish-black drupe.
Cultivation –
Serenoa repens is an evergreen shrub that is also harvested in its natural state for local use as a food, medicine and source of materials.
For its cultivation it requires a warm and sunny position in a moist but well-drained soil.
Plants can also grow in fairly dry soils as long as their roots can penetrate groundwater.
This species is one of the hardiest palms and grows well outdoors in warm temperate zones.
Its tolerance to minimum temperatures would be between -5 and -10 ° C.
Propagation occurs by seed which must be sown as soon as it is ripe. It usually germinates freely. Stored seeds are more difficult to germinate, they should be pre-soaked for 24 hours in hot water before sowing.
Young seedlings can be transplanted in spring or early summer, after the last expected frosts.
Although the plant does form suckers, these usually don't transplant well and therefore seed is the only safe method of propagation.
Customs and Traditions –
Serenoa repens is also known as Sabal serrulata, a name with which it often appears in alternative medicine texts, or as an American dwarf palm or as Saw palmetto, a name by which it is commonly called in the United States.
The plant has an ancient use for both medicinal and food purposes or for other uses.
Native Americans use the fruit as food and as a cure for a wide variety of problems related to the urinary system and reproductive system. European settlers soon learned to use it. For at least 200 years the dry extract was used for various pathologies: fatigue, weakness, urogenital problems and so on.
For example, the eclectic physicist H. W. Felter wrote: "Serenoa repens is a sedative of the nerves, an expectorant, a nourishing tonic, acting gently on the digestive tract … Its action is mainly expressed on the reproductive organs when the tissues they are eliminated from the body. "
For edible use both use the fruits (berries) both raw and cooked.
They have a sweet flavor but with a soapy taste and a strong vanilla aroma.
Regular consumption of the fruit should be very beneficial to health by improving digestion and helping to gain weight and strength.
The seeds can be eaten both raw and cooked.
In the medical field, berries are a tonic herb that is used in the treatment of weakness, urinary tract problems and to reduce the enlargement of the prostate glands.
The partially dried ripe fruit is aphrodisiac, urinary antiseptic, diuretic, expectorant, sedative and tonic. This is taken internally in the treatment of impotence, weakness in elderly men, enlargement and inflammation of the prostate, bronchial ailments associated with cold and body wasting diseases.
This plant is one of the few Western herbs considered anabolic (strengthening and building body tissue and encouraging weight gain).
The pulp of the fruit, or a tincture, is given to those suffering from wasting diseases, general weakness and growth retardation.
The fruit has a probable estrogenic action, is prescribed in the treatment of impotence, reduced or absent sexual desire and testicular atrophy in men and to stimulate breast growth in women.
The fruit is also used in the treatment of colds, coughs, irritated mucous membranes, asthma, etc.
A powdered fruit suppository, in cocoa butter, has been used as a uterine and vaginal tonic.
Among other uses it should be remembered that the stems of the leaves were used to make baskets.
The plant was used to make brushes and ropes.
Furthermore, the fruit represents an important source of food for wild animals.
The plant is used as nourishment by the larvae of some species of lepidoptera including Batrachedra decoctor of which the plant is the only food.
It is a plant much visited by bees, which collect nectar and pollen from its flowers.
As for its active ingredients, it has been seen that these are able to stimulate estrogen receptors in the prostate and to inhibit progestogens and are able to produce antiestrogenic and antiandrogenic effects which occur with blockage caused by the inhibition of 5- alpha-reductase type I and II of the binding by dihydrotestosterone at the level of androgen receptors.
A meta-analysis published in the Journal of the American Medical Association demonstrated efficacy in the double-blind treatment of symptoms of benign prostatic hyperplasia (enlarged prostate) with a placebo and between two of the most common medicines on the market.
There are also clinical trials showing the efficacy of Serenoa repens in treating male pattern baldness.
Research has shown that in older people the combination of Serenoa repens and nettle root causes effective improvement of urinary tract symptoms, but without the reduction of prostate size, as was shown in February 2006 in a research conducted in double blind, published in the New England Journal of Medicine. Both studies have been the subject of criticism: for the first a defect in the methodology is suspected, for the second an insufficient dosage of the active ingredient is hypothesized.
Among the contraindications and side effects it has been seen that they are far inferior to any synthetic drug analogue (finasteride) in the treatment of benign prostatic hyperplasia, as mentioned in the JAMA meta-analysis (nausea, decreased libido, erectile dysfunction) ; however, nausea can often occur, especially when the drug is taken on an empty stomach. Possibility of episodes of abdominal and stomach pain for about half an hour after taking. Furthermore, no harmful interactions with synthetic medicines have been identified. However, it is advisable to avoid administering the compound to pregnant and lactating women or small children, as the possibility of hormonal interference is theorized. Although Serenoa repens is considered a safe herb, one of its main compounds, β-sitosterol, is chemically similar to cholesterol. High levels of this substance in the blood can increase the likelihood of a heart attack in people who come back.
Preparation Method –
Serenoa repens is a medicinal plant whose berries are used for the various remedies described above.
However, this tonic herb is commercially available, at least in areas where it does not grow, in commercial formats.
The pharmacological extract is sold in Italy and other countries under the trade name Permixon, Prosteren, Rilaprost, Saba, Serpens.
Some dietary supplements such as Prostamol, Prostafactors are also marketed with this active ingredient.
Guido Bissanti
Sources
– Acta Plantarum – Flora of the Italian Regions.
– Wikipedia, the free encyclopedia.
– Useful Tropical Plants Database.
– Conti F., Abbate G., Alessandrini A., Blasi C. (ed.), 2005. An annotated checklist of the Italian vascular flora, Palombi Editore.
– Pignatti S., 1982. Flora of Italy, Edagricole, Bologna.
– Treben M., 2000. Health from the Lord's Pharmacy, Advice and experiences with medicinal herbs, Ennsthaler Editore.
Photo source:
– https://inaturalist-open-data.s3.amazonaws.com/photos/177267389/original.jpeg
Warning: Pharmaceutical applications and alimurgical uses are indicated for informational purposes only, they do not represent in any way a medical prescription; therefore no responsibility is taken for their use for curative, aesthetic or food purposes.