Thalia dealbata
Powdery alligator-flag or hardy canna or powdery thalia (Thalia dealbata Fraser ex Roscoe) is a herbaceous species belonging to the Marantaceae family.
Systematics –
From a systematic point of view it belongs to:
Eukaryota Domain,
Kingdom Plantae,
Magnoliophyta Division,
Liliopsida class,
Zingiberales Order,
Marantaceae family,
Genus Thalia
T. dealbata species
The terms are synonymous:
– Malacarya dealbata (Fraser) Raf .;
– Maranta dealbata (Fraser) A.Dietr .;
– Peronia stricta F. Delaroche;
– Spirostalis biflora Raf .;
– Spirostylis biflora Raf .;
– Thalia bearded Small.
Etymology –
The term Thalia of the genus was dedicated to the German botanist Johannes Thal (Thalius 1542 / 3-1583), physician and pioneer of botany in Germany, author of Sylva Hercynia on the flora of the mountains north of the Danube and east of the Rhine.
The specific dealbata epithet comes from deálbo, to whiten: due to its dusty and whitish appearance.
Geographic Distribution and Habitat –
Thalia dealbata native to the southern and central United States. Its range includes most of the coastal plains and the lower Mississippi Valley (South Carolina, Georgia, Alabama, Mississippi, Louisiana, Texas, Oklahoma, Arkansas, Missouri, Illinois and Kentucky).
Its habitat is those of wetlands in the presence of swamps, ponds and other areas with the presence of water.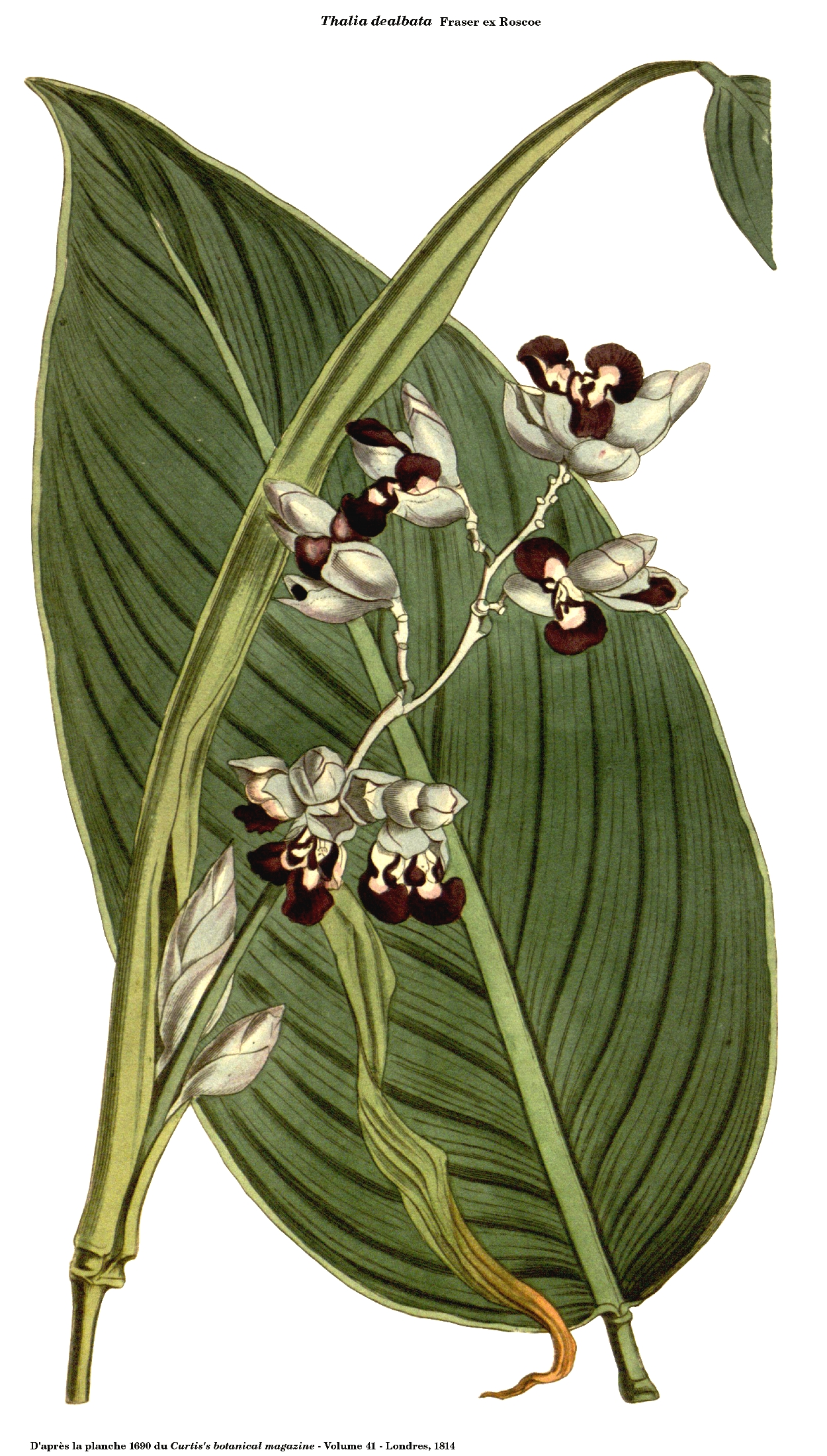 Description –
Thalia dealbata is a marshy herbaceous plant consisting of a large rhizome and with stems up to 1.8 meters high.
It has dark green to green-blue leaves, ovate and lanceolate, up to 40 cm long, with a white bloom and purple edges.
The spiked inflorescences exceed the height of the stems and are composed of small flowers with pink petals from which brown seeds as large as peas develop in autumn.
The flowering period is from July to September.
Cultivation –
Thalia dealbata is a plant that is grown as an aquatic ornamental for its beautiful purple flowers.
This plant should be implanted with a depth of planting between the rhizome and the water surface from 10 to -30 cm and with exposure in direct full sun for at least 6 hours a day.
The plant resists frost down to -15 ° C as long as the rhizome does not remain in contact with the ice, so it is advisable to plant it at a depth of at least -30 cm in the coldest areas.
Thalia dealbata, in addition to being very decorative, is also very useful for the phyto-purification of water in ponds and bio-pools.
Customs and Traditions –
Thalia dealbata is a widespread species especially in the central-northern United States.
It is a large-sized marsh plant with a great aesthetic effect, very voluminous, suitable for large lakes or ponds to be placed in the center or on the edge where the depth is between 30 and 60 cm.
This plant, as well as for ornamental purposes, can be used for bio-pools and phytodepuration plants together with other species.
There are no known alternative uses to those described above.
Preparation Method –
Of Thalia dealbata, in addition to ornamental uses and as a phyto-purifying plant, no particular uses are known in the medicinal or food fields.
Guido Bissanti
Sources
– Acta Plantarum – Flora of the Italian Regions.
– Wikipedia, the free encyclopedia.
– Useful Tropical Plants Database.
– Conti F., Abbate G., Alessandrini A., Blasi C. (ed.), 2005. An annotated checklist of the Italian vascular flora, Palombi Editore.
– Pignatti S., 1982. Flora of Italy, Edagricole, Bologna.
– Treben M., 2000. Health from the Lord's Pharmacy, Advice and experiences with medicinal herbs, Ennsthaler Editore.
Warning: Pharmaceutical applications and alimurgical uses are indicated for informational purposes only, they do not represent in any way a medical prescription; therefore no responsibility is taken for their use for curative, aesthetic or food purposes.