Pontederia cordata
The pickerelweed (Pontederia cordata L.) is a herbaceous species belonging to the Pontederiaceae family.
Systematics –
From a systematic point of view it belongs to:
Eukaryota Domain,
Kingdom Plantae,
Magnoliophyta Division,
Liliopsida class,
Commelinales Order,
Pontederiaceae family,
Genus Pontederia,
P. species, cordata.
The terms are synonymous:
– Unisema cordata f. lancifolia (Muhl.) Farw .;
– Unisema cordata f. lancifolia (Muhl.) Farw. (Muhl.) Farw .;
– Narukila cordata var. lancifolia (Muhl.) Nieuwl .;
– Pontederia cordata var. lancifolia (Muhl.) Torr .;
– Pontederia cordata var. lancifolia (Muhl.) Torr. (Muhl.) Torr .;
– Narukila cordata var. lancifolia (Muhl.) Nieuwl. (Muhl.) Nieuwl .;
– Pontederia angustifolia Pursh;
– Pontederia lanceolata Nutt .;
– Pontederia lancifolia Muhl ..
Etymology –
The term Pontederia of the genus was dedicated to the Vicentine physician and botanist Giulio Pontedera (1688-1757) who taught at the University of Padua and became prefect of the botanical garden.
The specific epithet cordata means heart-shaped, heart-shaped, from cor, cordis heart: referring to the leaves.
Geographic Distribution and Habitat –
Pontederia cordata is a monocotyledonous aquatic plant native to the American continent in a very vast territory ranging from eastern Canada to southern Argentina.
Its native habitat is that of wetlands, including the edges of ponds and lakes, ranging from the southern wetlands to the northern rivers of the Louisiana Everglades.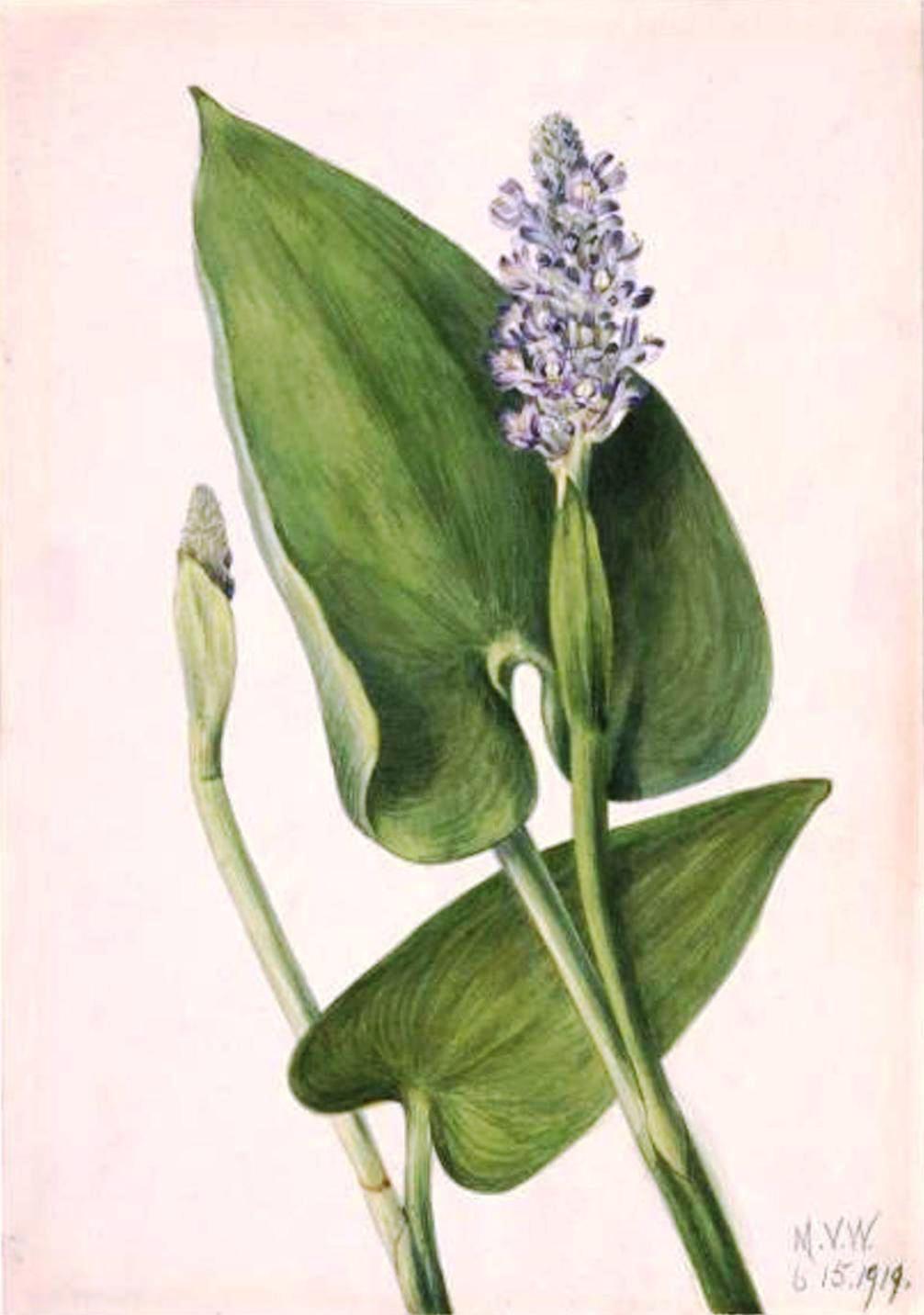 Description –
Pickerelweed is a plant of a bright green color, jade green, with a height above the water level of about 90 cm.
The foliage is heart-shaped and the spikes are large and with flowers ranging from blue to violet.
The flowers have yellow markings which can help attract bees for pollination.
The flowering period is from June to September.
When the plant begins to produce seeds, the stem that holds the inflorescence bends to submerge the fruit and seeds.
Cultivation –
Pontederia cordata is a plant that, like many aquatic and wetland species, can reproduce via agamic via branched rhizomes and therefore can form large clonal populations.
This plant is grown as an ornamental garden plant, above all but also for the creation of ornamental ponds or for use in purification plants and bio-pools.
It is a plant that adapts to any pond, from mini ones to large lakes.
The planting depth between the rhizome and the water surface must go from -10 to -40 cm.
It is a plant that prefers full sun exposure. It has good resistance to frost, withstanding very rigid temperatures, as long as the rhizome does not remain in contact with the ice, for this reason, in the northernmost areas, it is recommended to plant it at a depth of at least -15 cm.
The plant is pollinated by some insects including: Melissodes apicatus and Dufourea novaeangliae.
The seeds are dormant at the time of dispersal and will not germinate without sufficient stratification of 6-8 weeks.
Customs and Traditions –
Pickerelweed is an emerging species that grows in conditions of flooding, therefore it generally depends on the aerenchyma present in the stem to transport oxygen to the roots. Its metabolism, however, also tolerates oxygen from the soil.
This plant often lives in areas where water levels naturally fluctuate, with spring flooding and late summer. In addition to floods, the species is also affected by soil fertility, tending for example to grow in the most fertile bays of the great lakes. Like many aquatic plants, it is negatively affected by salinity and grazing and by competition from other wetland plants. Also, like many wetland plants, it can survive unfavorable conditions via seeds buried in the soil.
The young leaves, as well as the young stems of this plant, can be used in salads or cooked.
The seed can be ground to make flour.
The seeds are edible after cooking.
Preparation Method –
The Pontederia cordata, as well as for ornamental uses or phytodepuration can be used as a food source using the leaves and young stems, prepared in salads or cooked.
From the seeds, which can be cooked for food use, it is also possible to obtain a flour after grinding them.
Guido Bissanti
Sources
– Acta Plantarum – Flora of the Italian Regions.
– Wikipedia, the free encyclopedia.
– Useful Tropical Plants Database.
– Conti F., Abbate G., Alessandrini A., Blasi C. (edited by), 2005. An annotated checklist of the Italian vascular flora, Palombi Editore.
– Pignatti S., 1982. Flora of Italy, Edagricole, Bologna.
– Treben M., 2000. Health from the Lord's Pharmacy, Advice and experiences with medicinal herbs, Ennsthaler Editore.
Warning: Pharmaceutical applications and alimurgical uses are indicated for informational purposes only, they do not represent in any way a medical prescription; therefore no responsibility is taken for their use for curative, aesthetic or food purposes.