Cymbopogon nardus
Citronella grass (Cymbopogon nardus (L.) Rendle) is a herbaceous species belonging to the Poaceae family.
Systematics –
From the systematic point of view it belongs to the Eukaryota Domain, Kingdom Plantae, Magnoliophyta Division, Liliopsida Class, Poales Order, Poaceae Family, Panicoideae Subfamily, and therefore to the Cymbopogon Genus and to the C. nardus Species.
The terms are synonymous:
– Andropogon citrosus Steud .;
– Andropogon confertiflorus Steud .;
– Andropogon grandis Nees ex Steud .;
– Andropogon hamulatus Nees ex Steud .;
– Andropogon khasianus (Hack.) Munro ex Duthie;
– Andropogon nardus L .;
– Andropogon nilagiricus Hochst .;
– Andropogon pseudohirtus Steud .;
– Andropogon thwaitesii Hook.f .;
– Cymbopogon afronardus Stapf;
– Cymbopogon claessensii Robyns;
– Cymbopogon confertiflorus (Steud.) Stapf;
– Cymbopogon prolixus (Stapf) E.Phillips;
– Cymbopogon thwaitesii (Hook.f.) Willis;
– Cymbopogon validus (Stapf) Stapf ex Burtt Davy;
– Cymbopogon virgatus Stapf ex Bor;
– Sorghum nardus (L.) Kuntze.
Etymology –
The term Cymbopogon comes from the Greek κύμβη cýmbe cup, cup, boat and πώγων pógon barba: reference to the arrangement of the hairy-looking cobs.
The specific epithet nardus comes from nardus (in Greek νάρδος nárdos) nardo, a name that the ancients gave to many fragrant plants.
Geographic Distribution and Habitat –
Citronella grass is a plant, probably, originally from southern Asia and present in an area that includes East Africa, from Sudan to South Africa, East Asia, India and Sri Lanka.
The typical habitat is that of the open meadows and forests of Acacia and Combretum on the hills of Uganda and in any case at altitudes of up to 1,500 meters.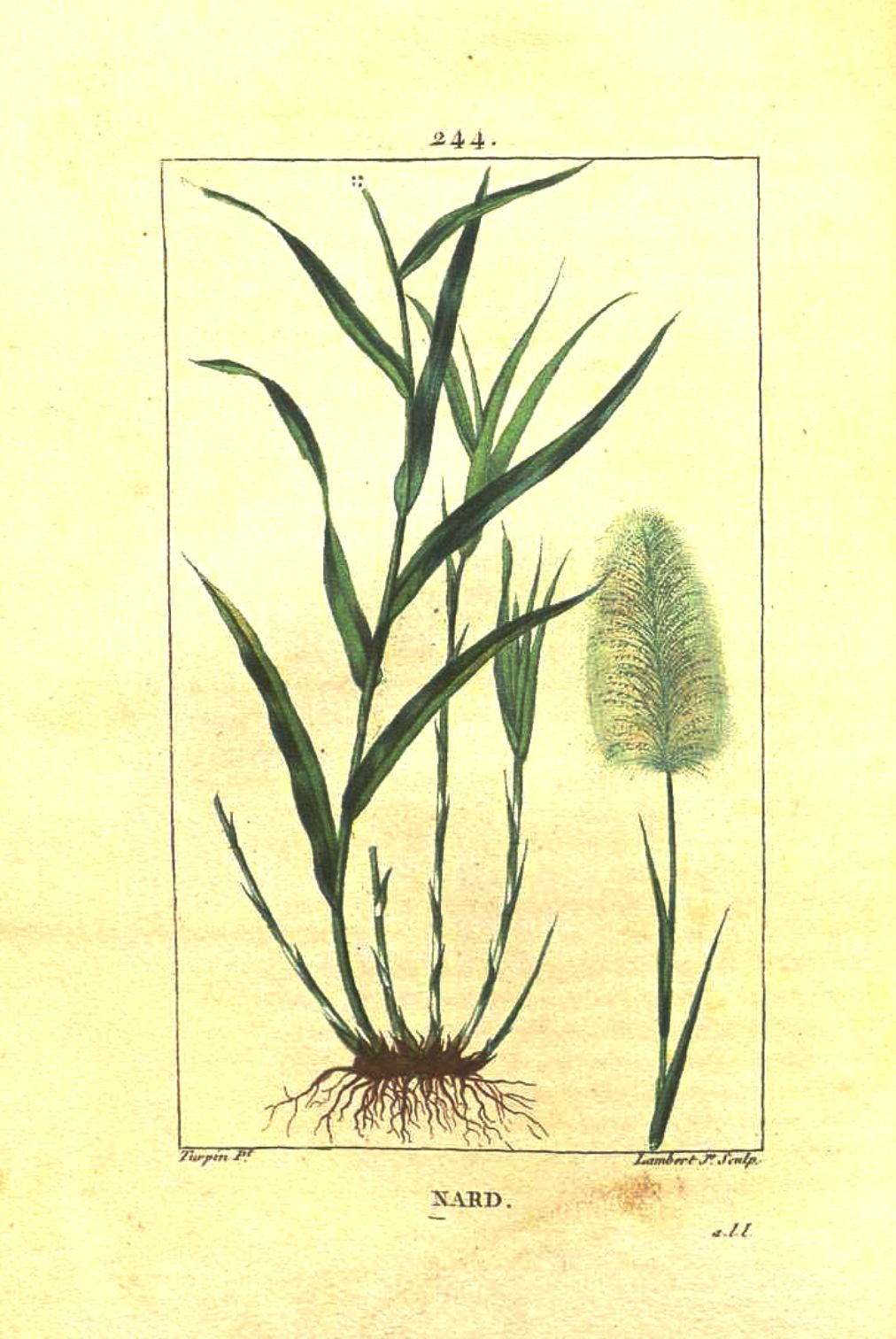 Description –
Cymbopogon nardus is a herbaceous, perennial, aromatic and evergreen plant, which forms tufts that grow up to 2.5 meters and which are generated by a robust rhizomatous system.
The leaves are ribbon-like, usually 60-70 cm long, of a bright green color, with a papery consistency, quite thick, hanging; they are carried by erect, rigid stems, similar to small bamboo.
Leaves and stems give off an intense, slightly citrusy scent, which becomes very strong if you rub the leaves between your fingers.
Cultivation –
Cymbopogon nardus is a plant of the humid and lowland tropics, where it is found at altitudes up to 1,500 meters. It grows best in areas where annual daytime temperatures are between 20 and 30 ° C, but can tolerate 16 – 36 ° C. this plant prefers an average annual rainfall between 1,300 and 2,000 mm, but tolerates 750 – 4,100 mm.
It also prefers a soil that retains moisture and in full sun, with a pH between 4.5 – 6, tolerating 4 – 8.
This plant can stand the cold, so it is generally grown as an annual. Often in autumn the clump of leaves is cut close to the ground, in order to keep it more compact the following year. Plants placed in places sheltered from the wind and sunny are generally ruined in a conspicuous way by the winter cold, but they tend to sprout when spring arrives.
Propagation can be carried out both by seed and by division of the tufts.
In seed propagation it is necessary to sow on the surface and lightly cover or sow the seeds in a nursery. The seed sown in situ often generates a strong infestation by weeds.
In the division by bushes it is better to operate every year to prevent the bushes from becoming too dense. The offshoots of this species often fail to take root well.
A first collection of the leaves for the essential oils can be obtained after about 240 days; the plant can therefore be harvested every 90 – 120 days for about 10-15 years.
The plant is sometimes grown in tropical areas for its essential oil, which is used as a food flavoring. It produces less essential oil than the congener C. Winterianus, but is sometimes cultivated, especially in Sri Lanka, where its tolerance of poorer soils and drought allow for a useful harvest.
Customs and Traditions –
This species is closely related to Java lemongrass (Cymbopogon winterianus) and the two species have sometimes been treated as different forms of the same species such as Cymbopogon nardus lenabatu (this species) and Cymbopogon nardus mahapengiri (Java lemongrass).
Citronella grass, together with other species of the same genus, are cultivated in much of Asia, since the oil extracted from them is used in oriental medicine, and is also highly appreciated all over the world as a repellent for mosquitoes. The leaves can also be used in cooking, to flavor salads, herbal teas and drinks. This lemongrass must be stored separately from other foods, or it must be well packaged, otherwise its strong scent will contaminate other foods.
It is the source of an essential oil known as "lemongrass oil" but can be eaten due to its unsightly nature.
It is an invasive species that makes pastures useless as livestock do not feed on it even in its abundance.
Essential oils are extracted from the aerial parts and, as well as as an insect repellent, also for other uses.
The leaves are used as a condiment in curries, soups, etc.
The white center of the succulent stems is used to impart a flavor to the curries.
An aromatic tea can be obtained from the leaves.
The essential oil extracted from the whole plant, by steam distillation, contains geraniol, citral and citronellal. It is widely used by the food industry to flavor a wide range of foods. It can be used to mimic the flavors of apple, lemon, strawberry and vanilla.
In the medical field, the leaves are used as antispasmodic, diaphoretic, digestive and stimulant.
An infusion of leaves is used to treat the spasms of diarrhea.
An infusion of leaves, with alcoholic brandy or sweet nitro liqueur, is used to treat colds.
Among other uses, it should be remembered that essential oil is used in paints, insecticides, perfumery, to perfume low-priced technical products such as detergents, soaps, sprays and polishes.
Preparation Method –
Citronella grass, as well as for its essential oil, in the medical, pharmaceutical and industrial fields, the leaves are used and are used as a condiment in curries, soups, etc; of these the white center of the succulent stems is mainly used to give a flavor to the curries.
An aromatic tea can also be obtained from the leaves.
Guido Bissanti
Sources
– Acta Plantarum – Flora of the Italian Regions.
– Wikipedia, the free encyclopedia.
– Useful Tropical Plants Database.
– Conti F., Abbate G., Alessandrini A., Blasi C. (edited by), 2005. An annotated checklist of the Italian vascular flora, Palombi Editore.
– Pignatti S., 1982. Flora of Italy, Edagricole, Bologna.
– Treben M., 2000. Health from the Lord's Pharmacy, Advice and experiences with medicinal herbs, Ennsthaler Editore.
Warning: Pharmaceutical applications and alimurgical uses are indicated for informational purposes only, they do not represent in any way a medical prescription; therefore no responsibility is taken for their use for curative, aesthetic or food purposes.
We suggest this purchase