Herniaria hirsuta
Hairy Rupture Wort (Herniaria hirsuta L.) is a herbaceous species belonging to the Caryophyllaceae family.
Systematics –
From a systematic point of view it belongs to:
Eukaryota Domain,
Kingdom Plantae,
Subarign Tracheobionta,
Magnoliophyta Division,
Magnoliopsida class,
Subclass Caryophyllidae,
Order Caryophyllales,
Caryophyllaceae family,
Genus Herniaria
H. hirsuta species.
The term is synonymous:
– Herniaria diandra Bunge.
In Italy there are two subspecies:
– Herniaria hirsuta subsp. aprutia Chaudhri;
– Herniaria hirsuta L. subsp. hirsuta.
Etymology –
The term Herniaria comes from hernia hernia, due to the alleged healing properties against hernias.
The specific epithet hirsuta comes from shaggy: for the presence of fine or sparse hair shaggy: for the presence of minute or sparse hair.
Geographic Distribution and Habitat –
Herniaria hirsuta is a plant native to Eurasia and North Africa and is known in other continents, including North America, as an introduced species.
Its habitat is that of disturbed environments, especially on uncultivated land and predominantly sandy soils, from sea level to the lower mountain belt and in any case up to 1,600 meters above sea level.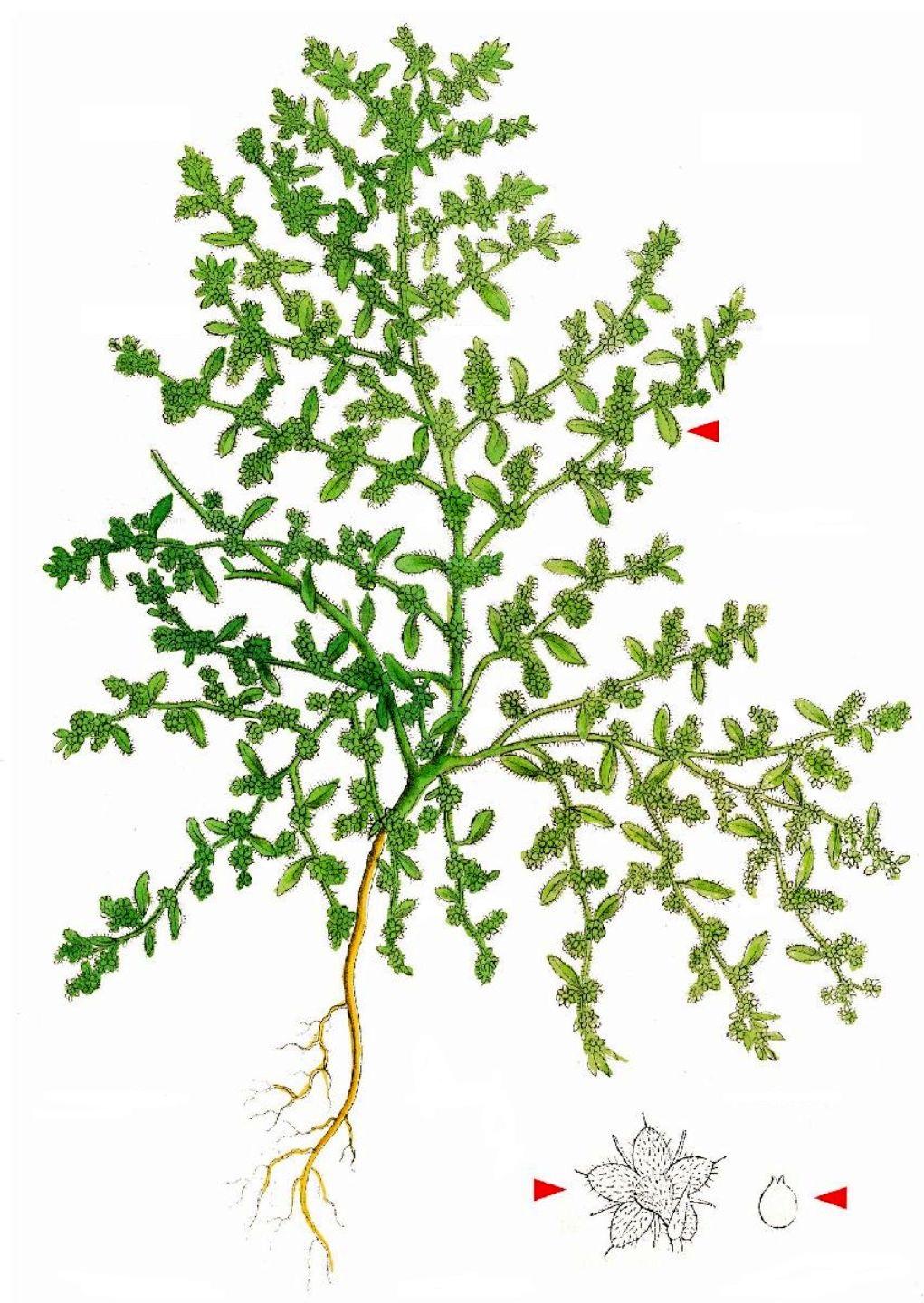 Description –
Herniaria hirsuta is an annual herbaceous plant with stems up to 20 cm long that usually grow prostrate along the ground.
The leaves are small, light green in color and up to about one centimeter long and line the stems.
Inflorescences appear in the axils of the leaves. Each contains three to eight hairy green sepals and no petal.
Flowering period: May-August.
The fruit is a tiny ovoid utricle covered by a persistent calyx, slightly papillose at the apex, which opens irregularly from the base to release the erect, lenticular, smooth and shiny seeds, of a dark brown color.
Cultivation –
Herniaria hirsuta is an annual plant that is normally harvested in its natural state for local use as a medicine and source of materials.
It is a plant that prefers sandy soils and grows well in warm and dry soils; it does not like excessive humidity and also grows in very poor soils.
It is a very useful plant, as a ground cover, for covering rocks or as a turf.
Propagation can take place by sowing in the spring period outdoors in areas with a mild climate or in a cold greenhouse in colder climates; in this case, when the seedlings are large enough to be handled, they can be replanted in their permanent positions in the period of late spring or early summer, after the last frosts foreseen.
Customs and Traditions –
Herniaria hirsuta is a plant Herniaria hirsuta is a plant that has medicinal properties and can be used as a diuretic.
It is also used in the treatment of sore throats.
The plant contains coumarins and saponins, which are toxic, so it should be used with some caution.
This plant is used in Morocco as a herbal remedy for kidney stones.
It is also a good ground cover plant, which reproduces thanks to the bulbs.
Preparation Method –
The extracts of this plant are used as diuretics or to treat sore throats.
An aqueous extract of the plant is used as a hand cleanser, which makes the skin soft and supple.
Guido Bissanti
Sources
– Acta Plantarum – Flora of the Italian Regions.
– Wikipedia, the free encyclopedia.
– Useful Tropical Plants Database.
– Conti F., Abbate G., Alessandrini A., Blasi C. (ed.), 2005. An annotated checklist of the Italian vascular flora, Palombi Editore.
– Pignatti S., 1982. Flora of Italy, Edagricole, Bologna.
– Treben M., 2000. Health from the Lord's Pharmacy, Advice and experiences with medicinal herbs, Ennsthaler Editore.
Warning: Pharmaceutical applications and alimurgical uses are indicated for informational purposes only, they do not represent in any way a medical prescription; therefore no responsibility is taken for their use for curative, aesthetic or food purposes.