Luma chequen
The arrayán (Luma chequen (Molina) A. Gray) is a shrub species belonging to the Myrtaceae family.
Systematics –
From a systematic point of view it belongs to:
Eukaryota Domain,
Kingdom Plantae,
Subarign Tracheobionta,
Spermatophyta superdivision,
Magnoliophyta Division,
Magnoliopsida class,
Subclass Rosidae,
Order Myrtales,
Myrtaceae family,
Genus Luma,
L. chequen species.
The terms are synonymous:
– Eugenia bella Phil. nom. illeg.;
– Eugenia chekan DC .;
– Eugenia chequen Molina;
– Eugenia gayana Barnéoud;
– Eugenia myrtomimeta Diels;
– Eugenia pulchra O.Berg;
– Luma gayana (Barnéoud) Burret;
– Myrceugenella chequen (Molina) Kausel;
– Myrceugenella gayana (Barnéoud) Kausel;
– Myrceugenella langerfeldtii Kausel;
– Myrtus chequen (Molina) Spreng .;
– Myrtus gayana (Barnéoud) O.Berg;
– Myrtus luma Schauer nom. illeg.;
– Myrtus uliginosa Miq ..
Etymology –
The term Luma is of little known etymology;
the specific epithet chequen is probably linked to the vernacular name of this plant.
Geographic Distribution and Habitat –
Luma chequen is a plant native to the central Andes between Chile and Argentina, at latitudes between 30 and 41 ° south. It has also been introduced as an ornamental plant on the North Pacific coast of the United States.
Its habitat is that of swamps, near streams, lakes and rivers, where it grows at altitudes up to 2000 meters above sea level.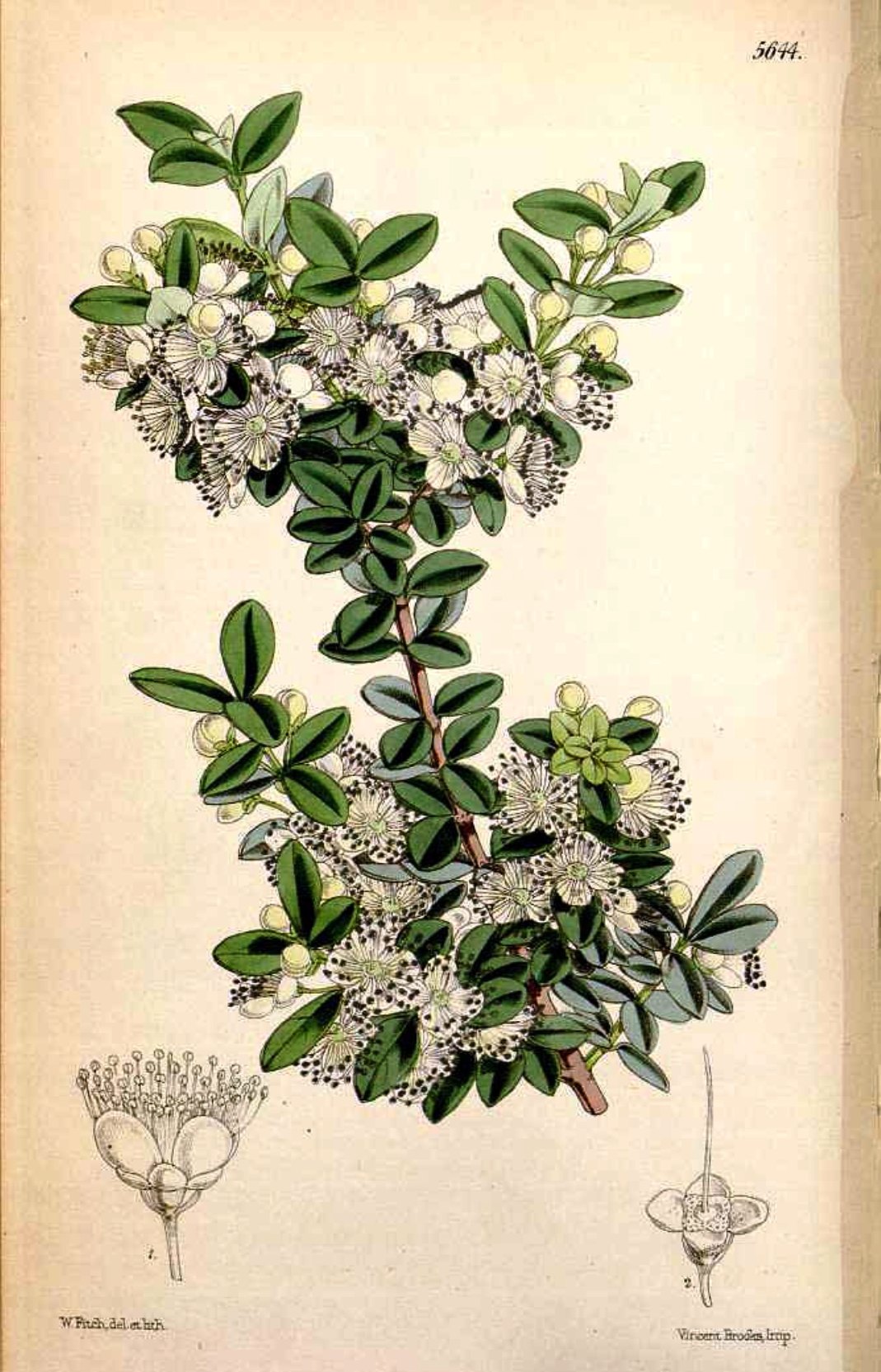 Description –
White Chilean myrtle is an evergreen shrub, rarely in the form of a small tree, which can reach 9 meters in height.
The bark is dull gray-brown.
The leaves are small, dark green, oval-shaped, aromatic, 0.5-2.5 cm long and 0.3-1.5 cm wide.
The flowers are white, cup-shaped, 1.5 cm in diameter and the antesis is from early to mid-summer. THE
The fruit is an edible berry, dark purple in color, 1 cm in diameter, ripe in early autumn.
Cultivation –
Luma chequen is a plant that prefers humid areas, with almost constant rainfall and bears short periods of drought (generally not exceeding 1 month).
The plant grows in water or has its roots within a permanent stream.
It prefers shady locations (with plant cover that filters 40-80% of the light) and in nature it often grows on steep slopes facing south.
Customs and Traditions –
Luma chequen is a plant whose common names in Spanish are chequén, huillipeta and arrayán blanco.
It is a plant used since ancient times by the ancient Inca and Pre-Inca populations of Peru, and was part of a mixture of sacred and healing culture to facilitate the health, harmony and beauty of their bodies and spirits.
This plant was found in the tombs of powerful leaders and personalities of high religious and cultural stature of the Andean peoples.
It was used in a ceremonial way, allowing the whole body to find its own very special balance and harmony; for these peoples it was a harmonic delicacy that transported the spirit to very sacred levels, so that both the physical and spiritual body awakened in a process of regeneration, but also of help so that the energy of life was purified and above all projected in a fuller dimension.
Preparation Method –
With this plant it is possible to prepare, through its extracts, lotions and gels.
With the lotion you can spray a little of the liquid on the palms of your hands, performing a form of ritual that involves closing your eyes and relaxing, then joining your hands and rubbing them against each other, bringing them to the nostrils and breathing deeply, rubbing again hands and return to the nostrils 3 times, inhaling and exhaling deeply.
The gel can be used to massage various parts of the body by massaging it in a circular way while you remain with your eyes closed and in total relaxation, after finishing the massage in the whole body you must cover yourself to maintain a comfortable temperature and rest or sleep for at least half an hour.
Guido Bissanti
Sources
– Acta Plantarum – Flora of the Italian Regions.
– Wikipedia, the free encyclopedia.
– Useful Tropical Plants Database.
– Conti F., Abbate G., Alessandrini A., Blasi C. (edited by), 2005. An annotated checklist of the Italian vascular flora, Palombi Editore.
– Pignatti S., 1982. Flora of Italy, Edagricole, Bologna.
– Treben M., 2000. Health from the Lord's Pharmacy, Advice and experiences with medicinal herbs, Ennsthaler Editore.
Warning: Pharmaceutical applications and alimurgical uses are indicated for informational purposes only, they do not represent in any way a medical prescription; therefore no responsibility is taken for their use for curative, aesthetic or food purposes.