Alsidium helminthochorton
Alsidium helminthochorton
Alsidium helminthochorton (Alsidium helminthochorton (Schwendimann) Kützing, 1843) is a red alga belonging to the Rhodomelaceae family.
Systematic –
From a systematic point of view it belongs to the Eukaryota Domain, Diaphoretickes Supergroup, Archaeplastida Group, Rhodophyta Division, Florideophyceae Class, Oridne Ceramiales, Rhodomelaceae Family, Alsidiea Tribe and therefore to the Genus Alsidium and to the Species Alsidium helminthochorton.
The term is basic:
– Conferva helminthochortos Schwendimann, 1780.
The terms are synonymous:
– Fucus helminthocorton (Schwendimann) Tourrette, 1782;
– Sphaerococcus helminthochorton (Schwendimann) C. Agardh;
– Gracilaria helminthochorton (Schwendimann) J.Agardh, 1842.
Etymology –
According to some, the term of the genus Alsidium refers to its reddish tint while for others it takes its name from "a shady place" due to the arboreal branching of its branches.
The origin of the specific helminthochorton epithet is not clear.
Geographical Distribution and Habitat –
The red alga Alsidium helminthochorton is typical of the upper horizon of the infralittoral zone with weak and hydrodynamic light. Its habitat is the seas of the subtropical areas, coasts of North America, on calm, superficial and photophilic biotopes and is also present in the Mediterranean Sea.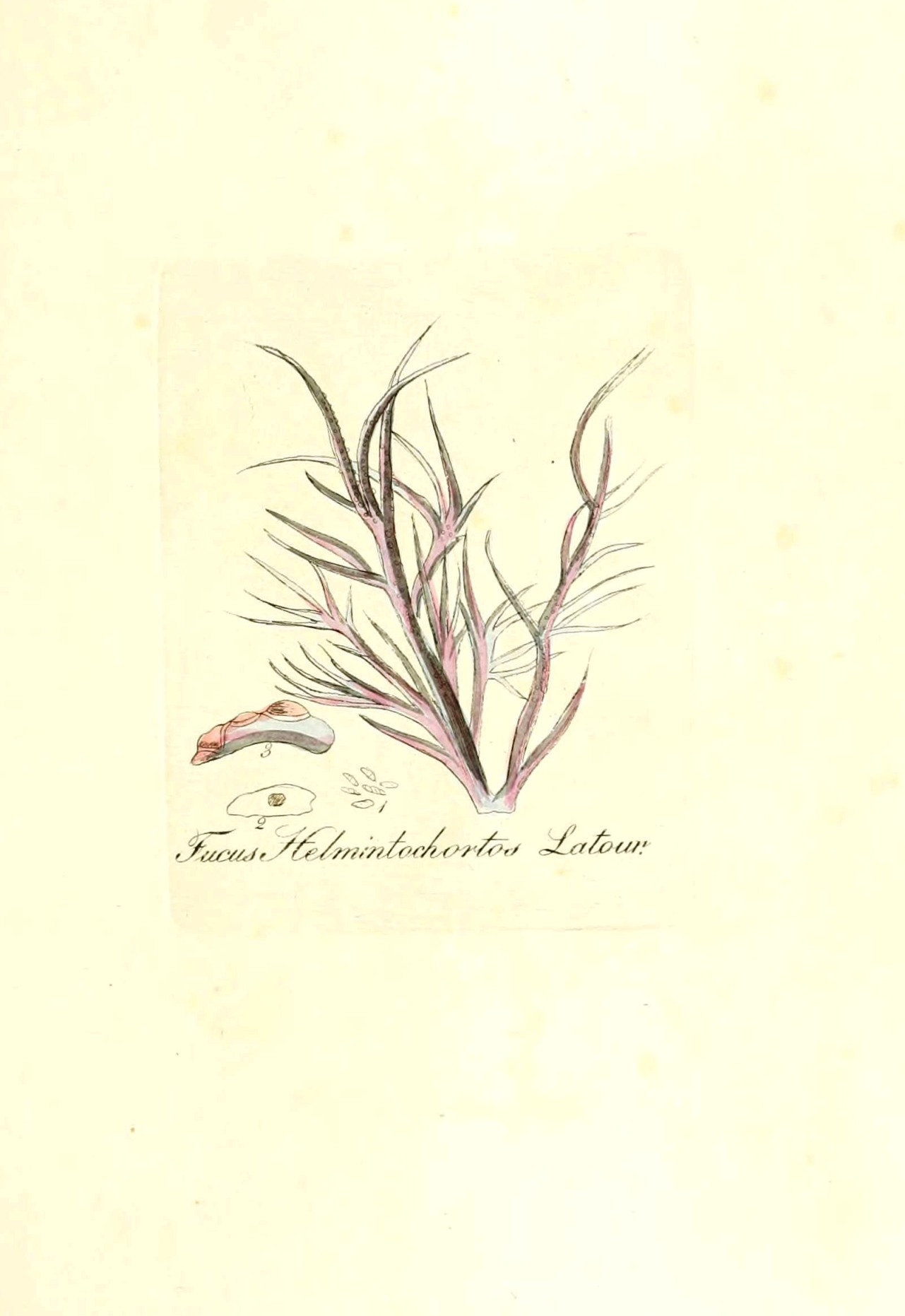 Description –
Alsidium helminthochorton is an algae with a maximum length of 5.0 cm.
Reduced thallus, consisting of a cylindrical axis with a diameter between 0.5 and 1 mm; the main branches measure from 150 to 180 microns in diameter; tricoblasts present.
Trigenetic cycle with isomorphic gametophytes and sporophytes; cystoid globule enclosing a carpostoma; tetrasporophyte divided in a tetrahedral manner.
Cultivation –
Alsidium helminthochorton frequents infralittoral areas characterized by weak and hydrodynamic light and in temperate to warm-warm waters.
Uses and Traditions –
This alga is a genus that grows on the coasts of North America but has spread to other areas of the globe which is used as a plant for true therapeutic remedies and in homeopathy.
Method of Preparation –
The thallus from which some pharmaceutical industries obtain various healing extracts is used from this alga.
Guido Bissanti
Sources
– Acta Plantarum – Flora of the Italian Regions.
– Wikipedia, the free encyclopedia.
– Treben M., 2000. Health from the Lord's Pharmacy, Tips and experiences with medicinal herbs, Ennsthaler Editore
– Pignatti S., 1982. Flora of Italy, Edagricole, Bologna.
– Conti F., Abbate G., Alessandrini A., Blasi C. (edited by), 2005. An annotated checklist of the Italian vascular flora, Palombi Editore.
Warning: Pharmaceutical applications and alimurgical uses are indicated for information purposes only, they do not in any way represent a medical prescription; therefore, no responsibility is accepted for their use for healing, aesthetic or food purposes.