Hot Springs National Park
Hot Springs National Park
Hot Springs National Park is a national park in the United States of America located in the State of Arkansas with an extension of about 22 square kilometers.
This National Park was established in 1921 to protect important hot spring water springs and a historic spa.
Hot Springs National Park is located in central Garland County, adjacent to the county seat of Hot Springs. This reserve was initially created by an act of the US Congress on April 20, 1832 in order to preserve that territory for future recreational activities. After federal protection in 1832, the city became a successful spa town.
Hot Springs National Park was thus established before the concept of a national park existed; it was the first time that an area had been set aside by the federal government to preserve its use as a recreational area.
As for hot springs, it is believed that it has had medicinal properties for centuries and has been the subject of legends among several Native American tribes.
In the 1921 Act of Congress, the government acquired more land, expanding it to more than 360 hectares, including Hot Springs Mountain, North Mountain, West Mountain, Sugarloaf Mountain, and Whittington Lake Park.
The springs are clustered around the base of Hot Springs Mountain, with a flow of nearly two million liters per day. Hot water is supplied to the various bathhouses, with concession fee proceeds going to the United States Treasury. The park has miles of mountain roads and trails, and is open all year round.
The park also operates a public campground in Gulpha Gorge, about 2 miles from downtown Hot Springs.
Climate –
According to the Köppen climate classification system, Hot Springs National Park has a humid subtropical climate (CFA).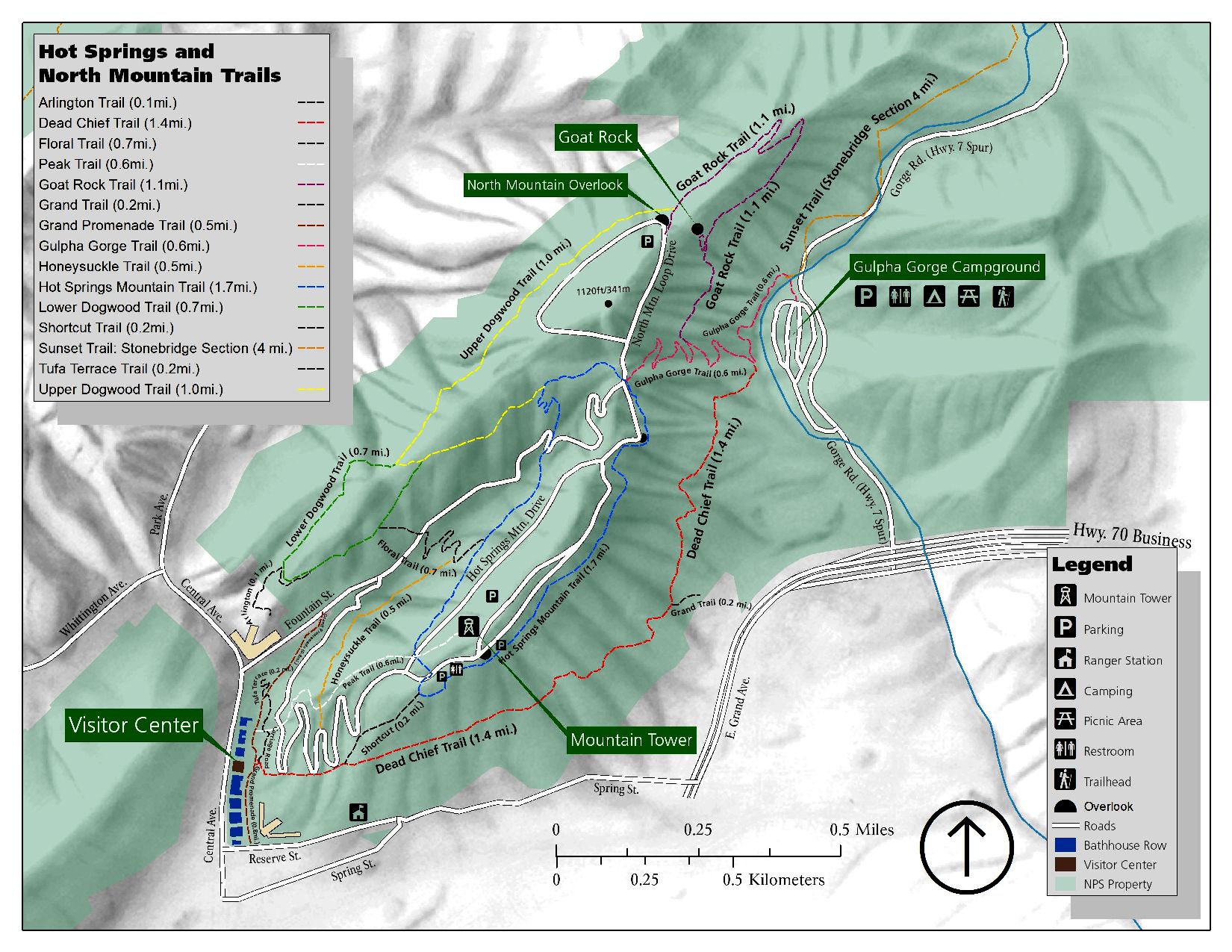 Geology –
The hot springs are located in the Ouachita Mountains in central Arkansas and emerge in a space between Hot Springs Mountain and West Mountain in an area approximately 460m long and 120m wide at elevations of 176 to 208m. The springs are predominantly composed of hot water from greater depths mixed with some shallow cold groundwater. Currently there are 43 hot springs in the park that is assumed to flow. The thermal water from 33 thermal springs is collected and monitored at a central reservoir, which distributes the combined discharge for public use and consumption. Rock types in the area include shale units that generally prevent groundwater movement, while fractured flint, novaculite, and sandstone units generally support groundwater movement.
The composition of the water indicates that it is heated rainwater that has not come close to a magmatic source, so no volcanic action is involved in the formation of these hot springs. The result is a slightly alkaline and pleasant taste solution with dissolved calcium carbonate.
As for the nature of the rocks, these, near the thermal springs, are sedimentary rocks ranging from the Mississippian to the Ordovician period, with the exception of the younger igneous rocks (Cretaceous age) exposed in two small areas of about 9, 7 and 17.7km southeast of the hot springs (Potash Sulfur Spring and Magnet Cove respectively) and many small dikes and sills. Most embankments are less than 1.5 m wide. 80 dams have been found about 4 miles southeast of Hot Springs, on and near the Ouachita River. There is no indication that igneous rocks form where the hot springs discharge.
Sedimentary rocks in the vicinity of thermal springs consist of schist, flint, novaculite, sandstone and conglomerate.
Flora –
The flora of Hot Springs National Park is mainly forest-like. The northern slopes of the ridges and basins provide a suitable habitat for deciduous forest dominated by oaks and hickories. Pines predominate on the south sides of the ridges. There are 93 acres of unclogged pine and oak forests in the northern mountains and Hot Springs and 36 acres on Sugar Loaf. These ancient forests contain short-leaved pine, black oak and white oak; many of the trees are over 130 years old and some are over 200 years old.
Fauna –
The fauna of this park is represented by large animals such as plains bison, moose, pumas and red wolves that left the region after the European settlement. Current fauna includes white-tailed deer, wild turkey, squirrel, rabbit, Virginia possum, gray fox, coyote, skunk, raccoon, gopher, long-tailed weasel, mink, rat, frog, and nine-banded armadillo. Some migratory birds that follow the Mississippi Flyway migration route spend part of the year nearby.
The Mississippi Flyway is a bird migration route that generally follows the Mississippi, Missouri and Lower Ohio Rivers in the United States through the Western Great Lakes to the Mackenzie River and Hudson Bay in Canada.
Guido Bissanti