Mentha cervina var. alba
Mentha cervina alba (Mentha cervina L. var. alba) is a herbaceous species belonging to the Lamiaceae family.
Systematics –
From a systematic point of view it belongs to:
Eukaryota Domain,
Kingdom Plantae,
Magnoliophyta Division,
Magnoliopsida class,
Lamiales Order,
Lamiaceae family,
Genus Mentha,
M. cervina species.
The term is synonymous
– Preslia cervina (L.) var. Sunrise.
Etymology –
The term Mentha comes from the Greek μίνθᾰ mínthă mint.
The specific cervina epithet comes from cervus cervo: cervino, inherent to deer; perhaps because it is preferred by deer.
Geographic Distribution and Habitat –
Cervina mint is a perennial herbaceous plant, native to Europe and Asia, and today spread all over the world.
Its habitat is that of wetlands and marshes.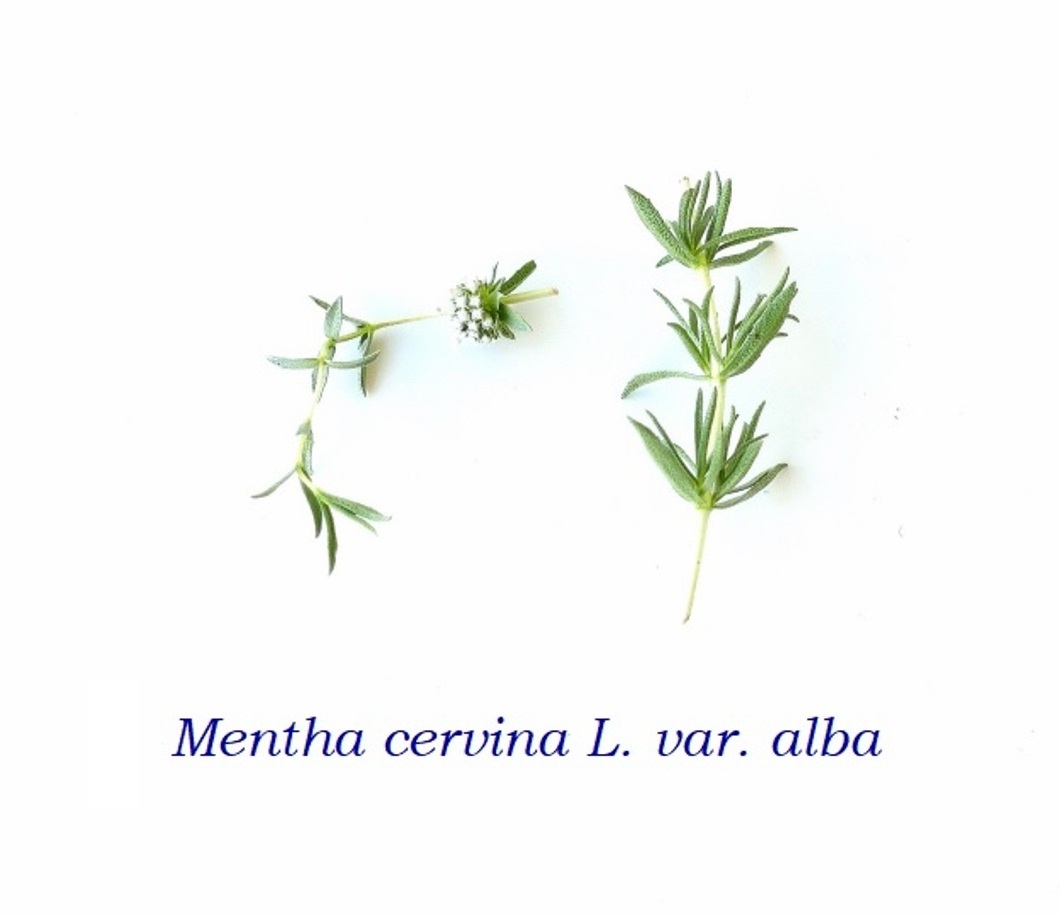 Description –
Mentha cervina is a perennial herbaceous plant, covered with dense pelturia, which normally grows 25-30 cm but can reach a height of 50 cm.
The plant develops from rizomes, submerged well rooted on the aquatic bottom, from which emerged stems vaguely similar to rosemary develop.
The leaves are glossy green, small, needle-like and spatulate, up to 2 cm long, with a characteristic mint scent and arranged in groups of 5 – 7 along the entire stem.
The flowers are small white, carried in a small spherical inflorescence, and their flowering period is between July and August.
Cultivation –
Cervina mint is a plant that prefers marshy areas and that survives at temperatures between -15 and 37 ° C.
The soil to grow it must be fertile, rich in organic substances and well drained.
Propagation can take place both by seed and by division of the tufts.
After planting, it is sufficient to fertilize in early spring.
If grown both in the garden and in pots it should be watered very regularly. Even a single day of water shortage can be fatal.
To make it vegetate, it is necessary to regularly eliminate withered flowers, unless you want to collect the seeds. At the completion of the vegetative cycle, in autumn, it is necessary to cut the aerial part that is drying up and that will throw back in spring. The operation can be delayed if the autumn foliage or withered inflorescences have an ornamental value.
Customs and Traditions –
Mentha cervina alba is a plant characteristic of swampy or submerged areas.
It is a very leathery plant that spends the winter underwater, always remaining green.
For the posture it resembles the Mentha gattefossei.
The leaves of the Mentha cervina var. alba is used in herbal medicine for their antiseptic properties.
Moreover, thanks to its very strong mint aroma, it is also used in the kitchen as well as in herbal medicine.
Among other uses, it should be remembered that it is an excellent border plant for lakes and ponds but also as an ornamental and aromatic plant, and can perform a good action as a phyto-purification plant.
Grown together with other essences, it can be used for a rock garden and to have a good result it must be planted with a density of 7 plants per m2.
Preparation Mode –
The leaflets of the Mentha cervina var. alba, as well as for herbal uses, like other minds, can be used in the kitchen to give aroma to various dishes.
Guido Bissanti
Sources
– Acta Plantarum – Flora of the Italian Regions.
– Wikipedia, the free encyclopedia.
– Useful Tropical Plants Database.
– Conti F., Abbate G., Alessandrini A., Blasi C. (ed.), 2005. An annotated checklist of the Italian vascular flora, Palombi Editore.
– Pignatti S., 1982. Flora d'Italia, Edagricole, Bologna.
– Treben M., 2000. La Salute from Farmacia del Lord, Advice and experiences with medicinal herbs, Ennsthaler Editore.
Caution: Pharmaceutical applications and alimurgical uses are indicated for informational purposes only, they do not represent in any way a medical prescription; therefore no responsibility is taken for their use for curative, aesthetic or food purposes.