Corallina officinalis
Corallina alga or Corallina di Corsica (Corallina officinalis Linneo, 1758) is a red alga belonging to the Corallinaceae family.
Systematics –
From the systematic point of view it belongs to the Eukaryota Domain, Kingdom Plantae, Subarign Biliphyta, Phylum Rhodophyta, Subphylum Rhodophytina, Class Florideophyceae, Subclass Corallinophycidae, Order Corallinales, Family Corallinaceae, Subfamily Corallinoideae and therefore to the Genus C. officinalis and to the Specie Corallina.
The terms are synonymous:
– Corallina calvadosii J.V.Lamouroux;
– Corallina compacta P.L.Crouan & H.M.Crouan, 1867;
– Corallina hemisphaerica Foslie, 1887;
– Zanardini dwarf coral;
– Corallina officinalis f. compacta (P.L.Crouan & H.M.Crouan) Hamel & Lemoine, 1953;
– Corallina officinalis f. nana (Zanardini) Van Heurck, 1908;
– Corallina officinalis f. profunda Farl., 1881;
– Corallina officinalis f. vulgaris Kütz., 1858;
– Corallina officinalis Mediterranea Rubens;
– Corallina officinalis var. compacta (P.L.Crouan & H.M.Crouan) Batters, 1902;
– Corallina officinalis var. flabellifera Schiffn., 1931;
– Corallina officinalis var. nana (Zanardini) Ardissone, 1883;
– Corallina officinalis var. profunda Farl., 1881.
Etymology –
The term Corallina comes from corállium coral: coral, of the color or with the bearing of the coral.
The specific epithet officinalis comes from offícina, a medieval laboratory; term used for the species usable in pharmaceuticals, herbal medicine, liquor, perfumery and the like.
Geographic Distribution and Habitat –
Coral seaweed is a common seaweed with a wide worldwide distribution. We find it on solid rock around Great Britain, Ireland and the Isle of Man. It is also present in the coasts of the North Atlantic, from northern Norway to Morocco and, intermittently, from Greenland to Argentina. It is present in the coasts of the United States, Argentina and elsewhere, including some parts of Japan, China, Australia and New Zealand. In New Zealand this species is found in the intertidal zone of the coasts of the Kermadec Islands, the North, South, Chatham and Stewart Islands, as well as the Antipodes Islands and Auckland.
The habitat of the Corallina officinalis is that of the low and medium coastal areas on rocky coasts. It is mostly found growing around the edges of tide pools but can be found in shallow crevices anywhere on the rocky coast that are regularly cooled with seawater. It grows mainly on the lower shore, especially where fucoid algae are absent, but is also found further upstream on the exposed coasts.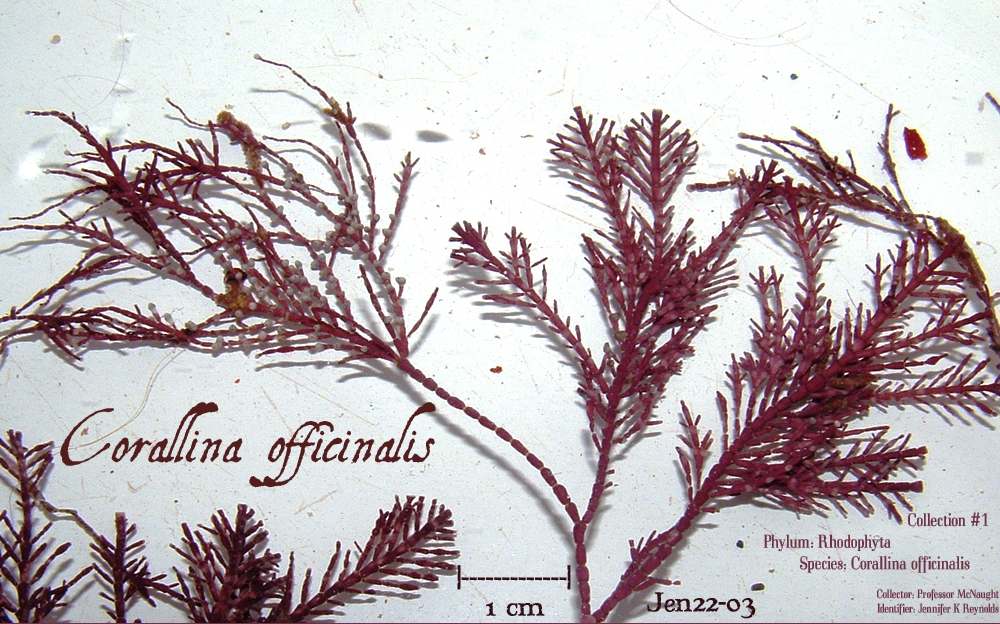 Description –
The thallus of the Corallina officinalis is generally firmly attached to the rock and grows in tufts up to a length of 120 mm.
This has articulated pinnate branches with successive opposite lateral branches.
Each frond is made up of cylindrical calcified stipes that show segments each a little longer than wide, which rise from a crusty base like a string of pearls that become larger and more wedge-shaped higher up the stem.
The fronds are pink in color that can whiten and turn white when exposed to sunlight.
The sexes of this species are carried on separate plants and appear as small calcareous nodules.
This alga forms calcium carbonate deposits within its cells which serve to strengthen the thallus. These white deposits make the algae appear pink in color, with white spots where the calcium carbonate is particularly concentrated. The presence of calcium carbonate makes it unpleasant to most fish and rock organisms.
Cultivation –
Corallina officinalis is a widespread algae on most of the continents of the lower and middle coastal areas on rocky coasts.
Customs and Traditions –
The coralline alga, as mentioned, grows on rocks in rocky pools and occasionally on shells or other algae, halfway up the coast up to 33 m depth; this alga provides a habitat and food for many small animals that feed on the microorganisms that live in its dense tufts.
This alga was famous in the past as a drug with an anti-helminthic action, especially active in ascarid and pinworm infestations and as such is still used in popular Mediterranean medicine, especially in Corsica and other locations on the Tyrrhenian coast and islands. In reality, the administration of Corallina preparations causes, in subjects suffering from oxyuriasis and ascaridosis, although not constantly, the expulsion of a considerable number of helminths.
Having used Corallina di Corsica in the treatment of childhood oxyuriasis, Izar claims to have always obtained positive results. On the contrary, Corbo obtained, in the same cases of infestation, completely opposite results. Most likely this may be due to the fact that the drug, known on the market as Corallina di Corsica, is made up not of a single alga but of a mixture of different species (as already mentioned, more than 40 have been counted), in which these enter in various and inconstant proportions. Officinal species are considered to be Corallina officinalis and Alsidium helminthochorton Kutzing and it is not known whether the other algae from which the drug is made have anthelmintic activity and to what extent.
However, it seems logical to believe that the anthelmintic action of Corallina di Corsica is directly proportional to the content, in the drug used, of the medicinal species and therefore certainly active and that the more or less complete action of the drug depends on this content, as well as the negative results reported by some AAs.
Preparation Method –
Corallina officinalis is used in the form of various preparations and formulations, in the form of fluid extract, tincture and syrup.
Guido Bissanti
Sources
– Acta Plantarum – Flora of the Italian Regions.
– Wikipedia, the free encyclopedia.
– Treben M., 2000. Health from the Lord's Pharmacy, Advice and experiences with medicinal herbs, Ennsthaler Editore
– Pignatti S., 1982. Flora of Italy, Edagricole, Bologna.
– Conti F., Abbate G., Alessandrini A., Blasi C. (edited by), 2005. An annotated checklist of the Italian vascular flora, Palombi Editore.
Warning: Pharmaceutical applications and alimurgical uses are indicated for informational purposes only, they do not represent in any way a medical prescription; therefore no responsibility is taken for their use for curative, aesthetic or food purposes.