Bambusa spp.
Bamboo is (Bambuseae Kunth ex Dumort., 1829) is a large tribe of monocotyledon spermatophyte plants belonging to the Poaceae family.
Systematic –
From a systematic point of view, it belongs to the Eukaryota Domain, Plantae Kingdom, Subregion Tracheobionta, Spermatophyta Superdivision, Magnoliophyta Division, Liliopsida Class, Commelinidae Subclass, Cyperales Order, Poaceae Family, Bambusoideae Subfamilies and the Bambuseae Tribe.
The following sub-tribes are included:
– Arthrostylidiinae;
– Bambusinae;
– Chusqueinae;
– Dinochloinae;
– Greslaniinae;
– Guaduinae;
– Hickeliinae;
– Holttumochloinae;
– Melocanninae;
– Racemobambosinae;
– Temburongiinae.
The terms are synonymous:
– Arundarbor Kuntze;
– Bambos Retz .;
– Bambus JF Gmel .;
– Dendrocalamopsis (LCChia and HLFung) QHDai and XLTao;
– Dendrocalamopsis QHDai and XLTao;
– Ischurochloa Büse;
– Leleba Nakai;
– Lingnania McClure;
– Tetragonocalamus Nakai;
– Neosinocalamus Keng f .;
– Pseudobambusa TQNguyen.
Within these tribes we find 148 bamboo species, which are reported below, with the relative prevalent geographic distributions.
1. Bambusa affinis Munro – Laos, Myanmar
2. Bambusa albolineata LCChia – Fujian, Guangdong, Jiangxi, Taiwan, Zhejiang
3. Bambusa alemtemshii HBNaithani – Nagaland
4. Bambusa amplexicaulis WTLin & ZMWu – Guangdong
5. Bambusa angustiaurita WTLin – Guangdong
6. Bambusa angustissima LCChia & HLFung – Guangdong
7. Bambusa arnhemica F. Muell. – Northern Australian territory
8. Bambusa assamica Barooah & Borthakur – Assam
9. Bambusa aurinuda McClure – Guangxi, Vietnam
10. Bambusa australis LCChia & HLFung – Vietnam
11. Bambusa balcooa Roxb. – India, Nepal, Assam, Bangladesh, Indo-China; naturalized in South Africa and the islands of the Gulf of Guinea
12. Bambusa bambos (L.) Voss – India, Bangladesh, Sri Lanka, Assam, Indochina; naturalized in Seychelles, Central America, West Indies, Java, Malaysia, Maluku, Philippines
13. Bambusa barpatharica Borthakur & Barooah – Arunachal Pradesh, Assam
14. Bambusa Basiirsuta McClure – Guangdong, Zhejiang
15. Bambusa Basihirsutoides NHXia – Guangdong
16. Bambusa Baseolida WTLin – Guangdong
17. Bambusa beecheyana Munro – Taiwan, Myanmar, Vietnam, Guangdong, Guangxi, Hainan; naturalized in Colombia, Brazil
18. Bicicatricata Bambusa (WTLin) LCChia & HLFung – Hainan
19. Bambusa binghamii Gamble – Myanmar
20. Bambusa Blumeana Schult. & Schult. – Tropical Asia
21. Boniopsis by Bambusa McClure – Hainan
22. Bambusa brevispicula Holttum – New Guinea
23. Bambusa brunneoaciculia GAFu – Hainan
24. Bambusa burmanica Gamble – Bangladesh, Yunnan, Myanmar, Thailand, Laos, Peninsular Malaysia
25. Bambusa cacharensis RBMajumdar – Bangladesh, Assam
26. Bambusa cerosissima McClure – Guangdong. Guangxi, Vietnam
27. Bambusa chungii McClure – Vietnam, Fujian, Guangdong, Guangxi, Hunan, Yunnan
28. Bambusa chunii LCChia & HLFung – Laos; grown in Hong Kong
29. Bambusa clavata Stapleton – Bhutan
30. Bambusa comillensis Alam – Bangladesh
31. Concave Bambusa WTLin – Hainan
32. Bambusa contracta LCChia & HLFung – Guangdong, Guangxi
33. Bambusa copelandii Gamble – Myanmar
34. Bambusa corniculata LCChia & HLFung – Guangxi
35. Bambusa cornigera McClure – Guangxi
36. Bambusa crispiaurita WTLin & ZMWu – Guangdong
37. Bambusa dampaeana HBNaithani, Garbyal & NSBisht – Mizoram
38. Bambusa diaoluoshanensis LCCChia & HLFung – Hainan
39. Bambusa McClure concealer – Guangdong, Vietnam; naturalized in Brazil, Puerto Rico
40. Bambusa distegia (Keng & Keng f.) LCChia & HLFung – Sichuan
41. Bambusa dolichoclada Hayata – Fujian, Taiwan; naturalized in the Ryukyu islands
42. Bambusa duriuscula WTLin – Hainan
43. Bambusa emeiensis LCChia & HLFung – Guizhou, Hunan, Sichuan, Yunnan
44. Bambusa eutuldoides McClure – Guangdong, Guangxi; naturalized in Colombia
45. Bambusa farinacea KMWong – Thailand, Peninsular Malaysia
46. ​​Bambusa fimbriligulata McClure – Myanmar
47. Bambusa flexuosa Munro – Cambodia, Laos, Vietnam, Guangdong, Hainan
48. Bambusa fruticosa Holttum – Papua New Guinea
49. Bambusa funghomii McClure – Henan, Guangdong, Guangxi
50. Bambusa garuchokua Barooah & Borthakur – Assam
51. Bambusa Gibba McClure – Vietnam, Fujian, Guangdong, Guangxi, Hainan, Jiangxi; naturalized in Ecuador
52. Bambusa gibboides WTLin – Guangdong
53. Bambusa glabrovagina GAFu – Hainan
54. Bambusa glaucophylla Widjaja – Java
55. Bambusa grandis (QHDai and XLTao) Ohrnb. – Guangxi
56. Bambusa griffithiana Munro – Manipur, Myanmar
57. Bambusa guangxiensis LCChia & HLFung – Guangxi
58. Bambusa hainanensis LCCChia & HLFung – Hainan
59. Bambusa heterostachya (Munro) Holttum – Peninsular Malaysia
60. Bambusa horsfieldii Munro – Java, Philippines
61. Indigenous Bambusa LCChia & HLFung – Guangdong
62. Bambusa insularis LCCChia & HLFung – Hainan
63. Bambusa intermedia Hsueh f. & TPYi – Guizhou, Sichuan, Yunnan
64. Bambusa jacobsii Widjaja – Java
65. Bambusa jaintiana RBMajumdar – Nepal, Bhutan, Assam, Arunachal Pradesh, Myanmar
66. Bambusa khasiana Munro – Assam
67. Bambusa kingiana Gamble – Myanmar
68. Bambusa lako Widjaja – Timor
69. Bambusa lapide McClure – Guangdong, Guangxi, Sichuan, Yunnan
70. Bambusa latideltata WTLin – Guangdong
71. Bambusa laxa KMWong – Peninsular Malaysia
72. Slow Bambusa LCChia – Fujian
73. Bambusa longipalea WTLin – Guangdong
74. Bambusa longispiculata Gamble – Bangladesh, Myanmar; naturalized in Vietnam, Costa Rica, Honduras, Nicaragua, Colombia, Ecuador, Puerto Rico
75. † Bambusa lugdunensis Saporta – New European deposits
76. Bambusa macrolemma Holttum – New Britain
77. Bambusa macrotis LCChia & HLFung – Guangdong
78. Bambusa maculata Widjaja – Maluku
79. Bambusa majumdarii P.Kumari & P.Singh – Meghalaya
80. Bambusa malingensis McClure – Hainan; naturalized in Cuba
81. Bambusa manipureana HBNaithani & NSBisht – Manipur
82. Bambusa marginata Munro – Myanmar
83. Bambusa merrillii Gamble – Luzon
84. Bambusa microcephala (Pilg.) Holttum – New Guinea
85. Bambusa mizorameana HBNaithani – Mizoram
86. Bambusa mohanramii P.Kumari and P.Singh – Meghalaya
87. Bambusa mollis LCCChia & HLFung – Guangxi
88. Bambusa multiplex (Lour.) Raeusch. ex Schult.f. – Nepal, Bhutan, Assam, Laos, Myanmar, Vietnam, Guangdong, Guangxi, Hainan, Hunan, Jiangxi, Sichuan, Taiwan, Yunnan; naturalized in Madagascar, Mauritius, Seychelles, Iraq, Bismarck Archipelago, New Zealand, Chiapas, Central America, West Indies, Colombia, Ecuador, Eastern Brazil, Florida, Georgia, Alabama
89. Bambusa mutabilis McClure – Hainan; naturalized in Puerto Rico
90. Bambusa nagalandiana HBNaithani – Nagaland
91. Bambusa nairiana P.Kumari & P.Singh – Meghalaya
92. Bambusa nepalensis Stapleton – Nepal
93. Bambusa nutans Wall. ex Munro – Himalaya of eastern + northern India; Nepal, Bhutan, Bangladesh, Laos, Thailand, Vietnam
94. Bambusa odashimae Hatus. ex DZLi & Stapleton – Taiwan; naturalized in the Ryukyu islands
95. Bambusa oldhamii Munro – Fujian, Guangdong, Guangxi, Hainan, Taiwan, Zhejiang; naturalized in Taiwan, Ryukyu Islands, New Zealand, Chiapas, Honduras, Puerto Rico, Colombia, Ecuador, Peru
96. Bambusa oliveriana Gamble – Myanmar
97. Bambusa ooh Widjaja & Astuti – Bali
98. Bambusa pachinensis Hayata – Fujian, Guangdong, Guangxi, Jiangxi, Taiwan, Zhejiang
99. Bambusa pallida Munro – Sikkim, Yunnan, Assam, Bangladesh, Arunachal Pradesh, Indochina
100. Bambusa papillata (QHDai) KMLan – Guangxi
101. Bambusa papillatoides QHDai & DYHuang – Guangxi
102. Bambusa pervariabilis McClure – Guangdong, Guangxi; naturalized in Puerto Rico
103. Bambusa pierreana EGCamus – Thailand, Vietnam
104. Bambusa piscatorum McClure – Hainan
105. Bambusa polymorpha Munro – Bangladesh, Laos, Myanmar, Thailand; naturalized in Assam, Sri Lanka, Java, Cuba, Puerto Rico, Ecuador
106. Bambusa procera A.Chev. & A.Camus – Vietnam, Cambodia
107. Bambusa prominens HLFung & CYSia – Sichuan
108. Bambusa ramispinosa LCChia & HLFung – Guangxi
109. Bambusa rangaensis Borthakur & Barooah – Arunachal Pradesh, Assam
110. Bambusa rectocuneata (WTLin) NHXia, RSLin & RHWang – Guangdong
111. Bambusa remotiflora (Kuntze) LCChia & HLFung – Guangdong, Guangxi, Vietnam
112. Bambusa riauensis Widjaja – Sumatra
113. Keng & Keng rigid bamboo f. – Sichuan
114. Bambusa riparia Holttum – Papua New Guinea
115. Bambusa rongchengensis (TPYi & CYSia) DZLi – Sichuan
116. Bambusa rugata (WTLin) Ohrnb. – Guangdong
117. Bambusa rutila McClure – Fujian, Guangdong, Guangxi, Sichuan
118. Bambusa salarkhanii Alam – Nepal, Bangladesh
119. Bambusa schizostachyoides Kurz ex Gamble – Myanmar, Vietnam, Andaman Islands
120. Bambusa semitecta WTLin & ZMWu – Guangdong
121. Bambusa sesquiflora (McClure) LCChia & HLFung – Thailand, Vietnam
122. Bambusa sinospinosa McClure – Guangdong, Guangxi, Hainan
123. Solid Bambusa Munro ex Becc. – Borneo
124. Bambusa solomonensis Holttum – Solomon Islands
125. Thorny Bambusa Roxb. – Indonesia, Philippines; naturalized in southern China, Ryukyu Islands, Indochina, Malaysia, Puerto Rico
126. Bambusa stenoaurita (WTLin) THWen – Guangdong
127. Bambusa subaequalis HLFung & CYSia – Sichuan
128. Bambusa subtruncata LCChia & HLFung – Guangdong
129. Bambusa surrecta (QHDai) QHDai – Guangxi
130. Bambusa tabacaria (Lour.) Steud. – Vietnam, Java, Maluku
131. Bambusa teres Munro – Tibet, Guangdong, Guangxi, Nepal, Bangladesh, Bhutan, Assam, Myanmar
132. Bambusa textilis McClure – Anhui, Guangdong, Guangxi, Vietnam; naturalized in Colombia, Puerto Rico
133. Bambusa transvenula (WTLin & ZJFeng) NHXia – Guangdong
134. Bambusa truncata BMYang – Hunan
135. Bambusa tsangii McClure – Vietnam
136. Bambusa tulda Roxb – Tibet, Yunnan, Himalaya, Nepal, Bhutan, Assam, India, Bangladesh, Northern Indochina; naturalized in Iraq, Ecuador, Brazil, Colombia, Puerto Rico
137. Bambusa tuldoides Munro – Guangdong, Guangxi, Indochina; naturalized in the Ryukyu islands, Bangladesh, Chiapas, El Salvador, Cuba, Puerto Rico, Hispaniola, Trinidad, Ecuador, Brazil, Colombia
138. Bambusa utilis WCLin – Taiwan
139. Valid Bambusa (QHDai) WTLin – Guangxi
140. Bambusa variostriata (WTLin) LCChia & HLFung – Guangdong
141. Bambusa ventricosa McClure – Guangdong, Vietnam; naturalized in Brazil, Malaysia
142. Bambusa villosula Kurz – Myanmar
143. Bambusa vinhphuensis TQNguyen – Vietnam
144. Bambusa viridis Widjaja – western New Guinea
145. Bambusa vulgaris Schrad. – Yunnan, Indochina; naturalized in parts of Africa, Madagascar, Malaysia, Indonesia, New Guinea, Indian Subcontinent, Latin America, West Indies, United States (Hawaii, Puerto Rico, Florida, Arizona, South Carolina, Maryland, New Jersey)
146. Bambusa wenchouensis (THWen) Keng f. ex QFZheng, YMLin – Fujian, Zhejiang
147. Bambusa xiashanensis LCCChia & HLFung – Guangdong
148. Bambusa xueana Ohrnb. – Yunnan
Etymology –
The name of the tribe derives from its type, namely Bambusa Schreb., 1789 whose term bamboo derives from the Indian-Malay vernacular voice bamboo / bambu.
Geographical Distribution and Habitat –
Bamboos are plants native to Southeast Asia, China, Taiwan, the Himalayas, New Guinea, Melanesia and the territory of Northern Australia. These species have also naturalized in other regions, for example Africa, Latin America and various oceanic islands.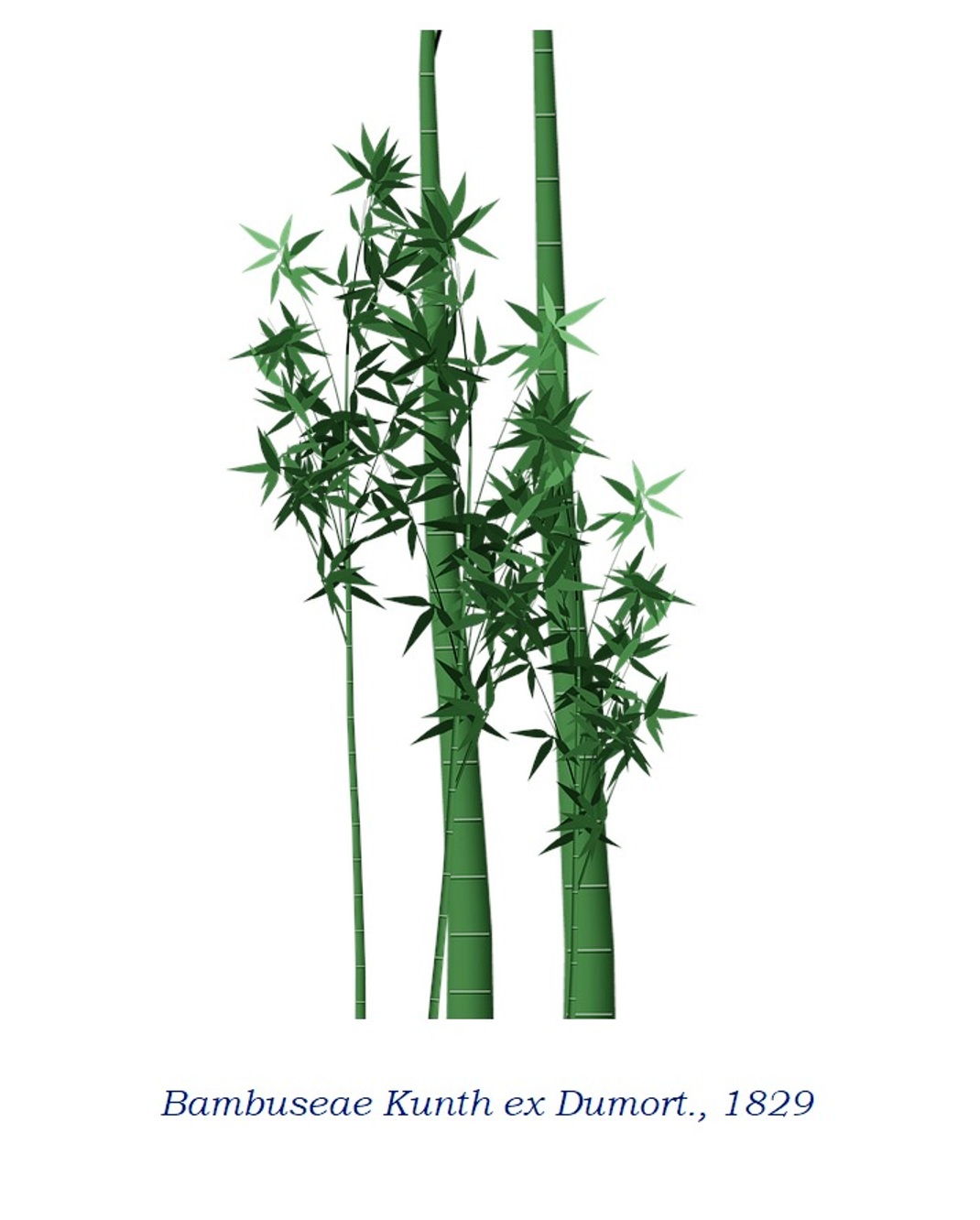 Description –
Most of the Bamboo species are large in size, with tall stems, with numerous branches emerging from the nodes. Bamboos are evergreen, very shrubby plants, their height can vary from a few centimeters up to 40 meters and the diameter can reach 30 cm. The range of shapes and colors is also varied and wide: you can meet yellow, black, striped, climbing and even thorny bamboo.
On a structural level, the bamboos are essentially composed of three parts: the underground system of rhizomes (roots), the culmo (cane), and the branches, all formed according to the same system of alternating series of nodes and internodes.
With the growth of the plant, the internodes, first wrapped around each other, stretch like a telescopic telescope until they reach the maximum extension that they will maintain throughout their life.
The internodes of the barrel are generally hollow and are separated from each other by diaphragms at the height of each node.
The leaves are formed by sheath, foil and appendages. In most cases the leaves are thin, long, lanceolate, similar to blades of grass, erect or reclined towards the outside, of a more or less intense green color. Above all, the dimensions obviously vary from species to species.
Then there are the inflorescences, divided into main and secondary; the inflorescences are mostly branched and have the shape of a large open panicle.
The fruits are of the caryopsis type, that is, they are small, indiscent grains, tapered with hairy or spherical apex, in which the pericarp is formed by a wall that surrounds the single seed. In particular, the fleshy and succulent pericarp is fused to the seed and adherent. The endocarp is not hardened and the hilum is long and linear. The embryo is provided with an epiblast. The embryonic margins of the leaf overlap. The scutellar fissure is absent.
Cultivation –
All bamboo species and varieties are propagated through the roots and rhizomes by monopodial or simpodial route. In the first case, propagation takes place underground in longer times. In the second, however, the variability is high and depends on the climatic conditions and the composition of the soil. If neglected, bamboo shoots can become very invasive and colonize adjacent land and even very large areas.
As for the sowing and planting of young plants generally occurs in the spring, preferably after the last frost of the season. With mild temperatures and hot soil, in fact, the plant will develop much faster and you will avoid thermal shocks to the root system. Remember to distance seeds or seedlings at least 1 and a half meters from each other, especially if you want to grow climbing bamboo. If you opt for bunch bamboo, the distance to keep is about 30-40 cm.
Bamboos are plants that need abundant irrigation, especially during the first weeks of plant life, but suffer from excessive stagnation of water. The use of organic mulch can help protect the plant from parasitic attacks, temperature changes and to keep development under control.
Remember that the first thing to learn before you even start growing bamboo is the containment techniques of this plant. This plant is in fact invasive and among the most infesting.
There are two methods of preventing the propagation of new bamboo shoots.
The first is the edging or removal of any rhizome that tends to escape the boundaries of the area destined for cultivation.
The second method is that of containing plants with a physical barrier, a system that best suits the cultivation of the climbing variety.
Finally, remember that during growth it will be necessary to provide regular pruning to thin out the longest branches or the old ones, once or twice a year. In addition, fresh sprouts can be collected and eaten to enrich salads. The flavor vaguely resembles that of onion, but is a good source of fiber and minerals.
Uses and Traditions –
Bamboo are a genus of plants that have remarkable characteristics:
– high absorption of carbon dioxide: a bamboo forest is able to capture up to 17 tons of carbon per hectare per year thanks to the remarkable and perennial leaf surface;
– strong ability to combat air and soil pollution: with its roots, bamboo transforms pollutants (including nitrogen) into biomass;
– resistance to the attack of usual diseases for other grasses, therefore the plant does not require special care and attention;
– ability to keep rivers and lakes waters clean: in fact, bamboo represents a strategy for the management of economically and ecologically sustainable organic animal waste;
– ideal for the consolidation and reforestation of escarpments, they prevent landslides and landslides thanks to the root system formed by rhizomes and rootlets that does not weigh down the soil with concentrated loads.
– excellent ability to retain water, thanks to which it prevents the run-off of the soil thus avoiding, in case of heavy rains, dangerous swelling of streams and rivers. The aforesaid capacity is used by the plant itself to withstand any longer or shorter periods of drought;
– fire resistance: in the green state it is hardly combustible and even if its aerial part is burned and its rhizomatous character guarantees it the ability to regenerate new rods every year;
– excellent natural barrier against dust, windbreak and noise reduction;
– in addition, fresh sprouts can also be collected and eaten to enrich salads.
Thanks to the high protein value, bamboo leaves can be an excellent fodder for animals, while the high silicon content makes them a good component for the preparation of fertilizer. The leaves are also used to extract pigments or components for the production of medicines and cosmetics, or it is possible to transform them to make them Tea, infusions or drinks in general.
At the food level, it should be remembered that bamboo hearts, in addition to being tasty and light, are rich in nutritional properties. The high fiber content, in addition to helping you to prolong the sense of satiety, is an effective remedy against constipation. The constant consumption of bamboo shoots, with its vegetable proteins, helps to keep low levels of so-called "bad" cholesterol (LDL) in the blood. In addition, these are vegetables rich in vitamins, especially B6 which is an excellent friend of vision and brain health. Many others are the active ingredients present in bamboo, such as potassium, choline and betaine. But the real secret is in silicon. It is a nonmetal mineral naturally present in your bones, cartilages and connective tissues. Your body, however, tends to eliminate much of the silicon present in it, to the detriment of a correct hydration of the skin. Through regular consumption of bamboo, also by means of food supplements that contain the extract, it is therefore possible to counteract this process for a super anti-aging effect.
Preparation method –
At the food level, as mentioned, bamboo has been used for centuries in various countries of the world.
Bamboo shoots, or bamboo hearts, are mainly used.
In Italy it is still difficult to find bamboo shoots in common supermarkets. In Asian grocery stores, they sell canned and pre-boiled product. Finding fresh bamboo hearts is a rarity. However, if you are lucky or if you have a green thumb and you can cultivate them, be careful of some precautions.
Only shoots with intact leaves and a broad base should be selected. In fact, the typical bamboo heart shape is slightly conical. We must choose roots that are consistent and not soft or dry. If the product is not to be consumed immediately, it must be kept in the fridge for a maximum of 2 days, already deprived of the external leaves and covered by a cloth or plastic wrap.
The greatest consumption of sprouts is in Asia. Not only the Chinese, in fact, but Asian cuisine generally makes extensive use of bamboo shoots in the kitchen. Bamboo hearts have a whitish color and a crunchy consistency that perfectly holds even long firings. The flavor of bamboo hearts is a mix between that of asparagus and that of artichokes.
Before using them in the kitchen, the bamboo shoots must be peeled, depriving them of their harder external leaves, starting from the base and going towards the tip. The base must also be deprived of its hardest end. Once the bamboo hearts are cut into the shape deemed most suitable, they should be kept in cold water to prevent them from oxidizing and darkening, just as is done for potatoes. To eliminate bitterness, it is recommended to boil the bamboo hearts for at least 10 minutes before using them for the preparations. At this point, you can skip the bamboo hearts in a pan or in the wok, mixed with other vegetables. Well tested combinations are those with mushrooms, with peas, with basmati rice or in soups. But you can indulge your imagination and try different combinations. Bamboo shoots marinated in spices and then cooked to taste are also excellent.
Guido Bissanti
Sources
– Acta Plantarum – Flora of the Italian Regions.
– Wikipedia, the free encyclopedia.
– Treben M., 2000. Health from the Lord's Pharmacy, Tips and experiences with medicinal herbs, Ennsthaler Editore
– Pignatti S., 1982. Flora of Italy, Edagricole, Bologna.
– Conti F., Abbate G., Alessandrini A., Blasi C. (edited by), 2005. An annotated checklist of the Italian vascular flora, Palombi Editore.
Warning: Pharmaceutical applications and alimurgical uses are indicated for information purposes only, they do not in any way represent a medical prescription; therefore, no responsibility is accepted for their use for healing, aesthetic or food purposes.