Russula ilicis
The Russula ilicis (Russula ilicis Romagn., 1972) is a basidiomycete fungus belonging to the Russulaceae family.
Systematics –
From the systematic point of view it belongs to the Eukaryota Domain, Fungi Kingdom, Phylum Basidiomycota, Class Basidiomycetes, Russulales Order, Russulaceae Family and therefore to the Genus Russula and to the R. ilicis Species.
Etymology –
The term Russula is the diminutive of red rússa: red. The specific epithet ilicis comes from Ilex aquifolium, host of this fungus.
Geographical Distribution and Habitat –
Russula ilicis is a xerophilous species, strictly Mediterranean and common in holm oaks; it grows in calcareous soils in warm and dry areas, it is fruitful in the period from May to October and even beyond.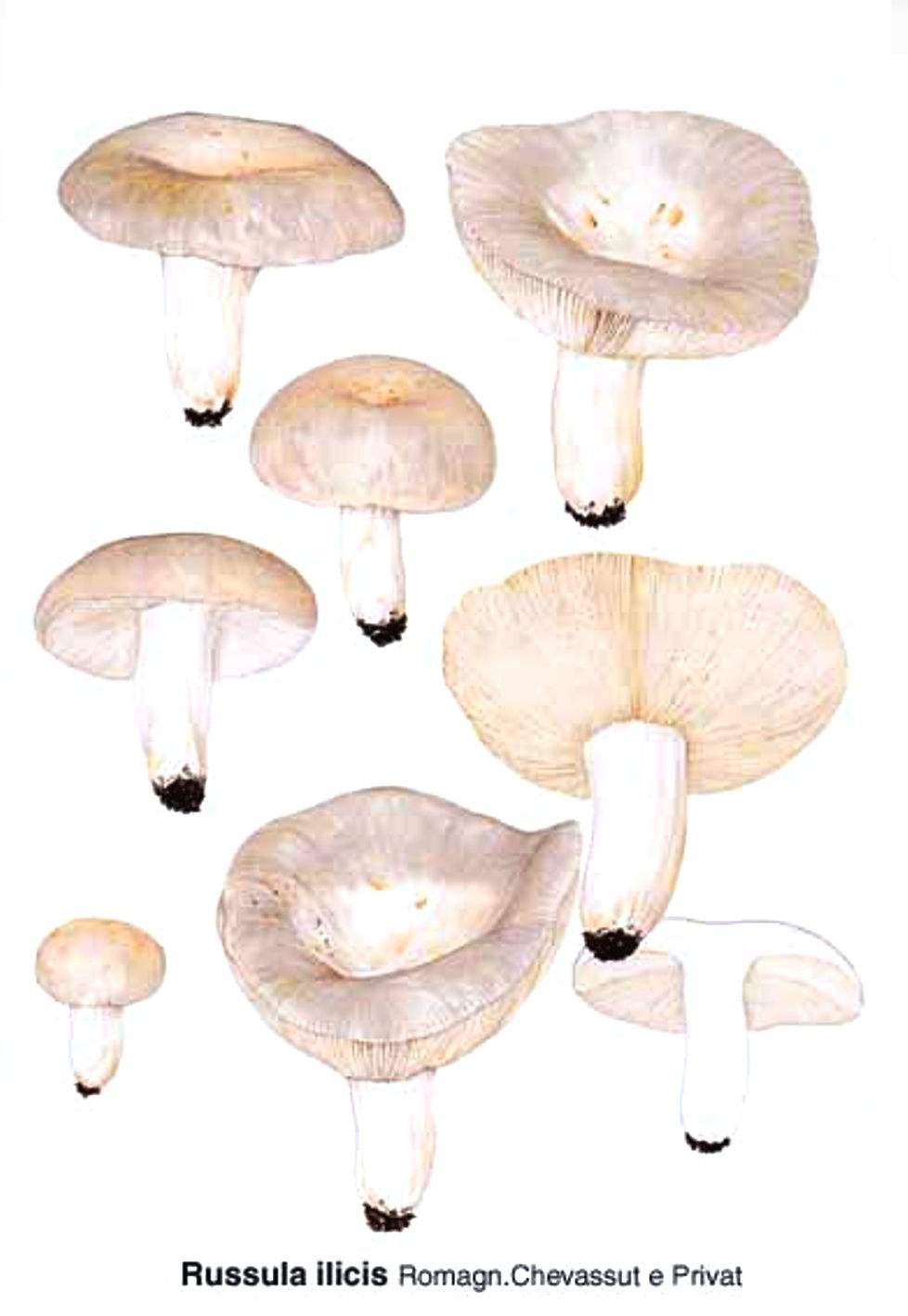 Recognition –
It is recognized by the hat with a diameter between 5 and 20 cm, hemispherical in the immature specimens, then convex, finally completely flattened with the center slightly depressed with the presence of rusty spots, more or less extensive.
The cuticle is removable for a third of the radius, of brilliant appearance, unctuous when wet, with ivory white coloring, which then, with the growth, becomes gray-lilac or gray-olive gray in the area towards the margin, with lighter shades in the center where more or less extensive rusty spots appear.
The margin is first convoluted, then completely flat in the adult.
The lamellas are dense, more spaced at maturity, unequal, intercalary, arched, from sublibere to descendant-adnate, of cream-whitish color, then more loaded cream when the spores ripen, with concolorous thread sometimes slightly stained with rust like the hat .
The stem measures 4-7 x 1.5–3 cm, full and firm when young, but then soon spongy inside, slightly wrinkled with age, cylindrical, attenuated under the gills, white in color, dirty with ocher brownish starting from the base in adult specimens.
The meat is thick, compact, consistent, white in color, with an imperceptible or fruity cut when smelled and a mild flavor, slightly spicy in the slices.
Under the microscope, spores of 7-9 x 6-7.5 µm are observed, subglobose, verrucous, partially reticulated, cream-colored in mass. The cystidia are 92-115 x 8.5-12.5 µm, fusiform, with appendix appendix.
Cultivation –
Russula ilicis is not a cultivated species.
Uses and Traditions –
It is a rather large Russula which, due to its characteristics, can be confused with pale forms of R. cyanoxantha (Schaeff.) Fr. from which it is in any case distinguishable by the cream-colored rather than white sporata and by the less lard-like lamellae ( fragile at maturity) and slightly spicy flavor.
It is a kind of excellent edibility.
Preparation Mode –
The Russula ilicis, as for other Russulas of good edibility, for its taste and its characteristics can be enjoyed raw in vegetable salads and excellent seasoned with garlic, extra virgin olive oil and parsley, with the hats stuffed with a dough made with minced meat or cheese, many aromas and chopped stems, since nothing is thrown away of this mushroom. It can be prepared with excellent linguine mare e monti. It can also be prepared as cutlets; after removing the stalk, sauté to flavor and then pass in the breadcrumbs and fry in the oven. It can be cooked and then blended and reduced to a cream to be placed on slices of toasted bread and with melted cheese.
Guido Bissanti
Sources
– Wikipedia, the free encyclopedia.– Cetto B., 2008. The mushrooms from life, Saturnia, Trento.– Pignatti S., 1982. Flora of Italy, Edagricole, Bologna.– Conti F., Abbate G., Alessandrini A., Blasi C. (ed.), 2005. An annotated checklist of the Italian vascular flora, Palombi Editore.
Warning: Pharmaceutical applications and food uses are indicated for informational purposes only, do not in any way represent a medical prescription; therefore no responsibility is assumed for their use for curative, aesthetic or food purposes.