Cuyahoga Valley National Park
Cuyahoga Valley National Park
Cuyahoga Valley National Park, whose WDPA code is: 367631 is a United States of America national park located in the state of Ohio.
This park has an extension of 133.3 km² and is managed by the National Park Service.
Cuyahoga Valley National Park was originally designated a National Recreation Area in 1974, then redesigned as a national park 26 years later in 2000, and Cuyahoga Valley National Park is a park that preserves and recovers rural landscape along the Cuyahoga River between Akron and Cleveland in northeastern Ohio.
Geography –
Cuyahoga Valley National Park is the only national park in the state of Ohio and one of three in the Great Lakes basin, with Isle Royale National Park in Lake Superior and Indiana Dunes National Park bordering the lake. Michigan. Cuyahoga Valley also differs from other American national parks in that it is adjacent to two large urban areas and includes a dense road network, small towns, four Cleveland Metroparks Reserves, eleven Summit Metro Parks, and public parks and private attractions.
Climate –
The area in which the park falls, according to the Köppen climate classification system, has a humid continental climate during the hot summer (Köppen climate classification Dfa). It is a climate characterized by an average annual extreme minimum air temperature of -21.4 ° C.
Summer temperatures range from 9 to 35 ° C and can be humid. It is advisable to dress in layers for any cycling or walking activity.
Autumn temperatures can range from the low temperatures of the 1970s during the day to freezing temperatures at night. Autumn foliage often peaks during the first weeks of October; rush hour is generally mid-October. Weather conditions during the summer, such as drought, can alter the time the leaves peak.
Winter weather conditions can change rapidly, due to the snow effect of Lake Erie. Temperatures range from the mid-30s to below freezing. The park has an average of 155cm of snow per year.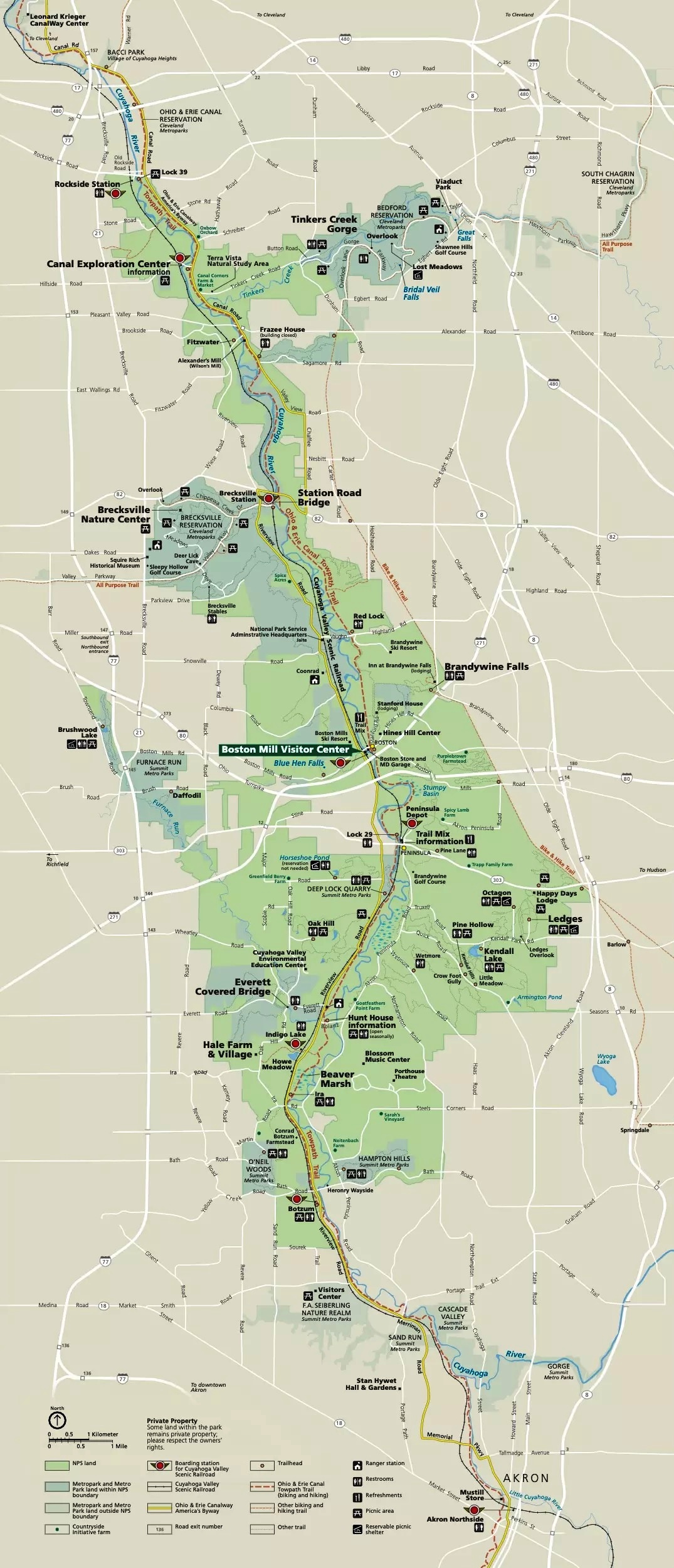 Flora –
Cuyahoga Valley National Park encompasses a diverse mosaic of natural vegetation types along with various man-made land uses. The natural vegetation of the park is mainly composed of mixed-mesophytic wood (about 80%), characterized by a variety of deciduous tree species that grow in conditions that are neither too humid nor too dry.
The oak – American walnut association is the most widespread; others include maple-oak, oak-beech-maple, maple-sycamore, pine-spruce and hemlock-beech associations. Several large semi-contiguous tracts of forest remain, but most of the wooded areas are highly fragmented.
Sandwiched between these forests are other natural habitats, including old field habitats in various stages of succession, wet meadows, and other wetland habitats. Additionally, a variety of developed land exists within the park boundaries, including residential areas, golf courses, ski areas, and other suburban land. Agricultural activity, once widespread, continues at low levels within the park.
Many different plant species are able to survive in the different habitats of the park. A walk through any field or forest gives visitors the opportunity to see many of the park's 943 plant species. In spring, the bloodroot and spring beauty cover the forest floor, while at the end of the summer, shoals of goldenrod and wing stems cover the streets with gold. The park's diverse habitats support 21 state-listed rare plant species, including sedges, grasses, wildflowers, shrubs, and one tree species.
Nearly 20 percent of the park's plant species are exotic (not native to the area). This high percentage is in part due to the long history of human alteration of the Cuyahoga Valley landscape. Sixteen of these species are considered invasive and pose a significant threat to native plant communities.
Fauna –
Surrounded by urban areas, the 133.3 km² of Cuyahoga Valley National Park contains habitats of forests, fields, rivers and wetlands that provide food, water, shelter and open space for wildlife. The park's fragmented configuration and land use history have a strong effect on the types of wildlife found here.
In recent decades the recovery of the lower Cuyahoga River is not only evident in the improvement of the aquatic associations that populate the river's water, but in the terrestrial fauna associated with the riparian habitat of the river corridor. Efforts to improve water quality and preserve wetlands have transformed a once heavily polluted river into an attractive place for wildlife.
The varied landscape of Cuyahoga Valley National Park provides habitat for around 250 bird species.
The relative wilderness of Cuyahoga Valley National Park in a large area of ​​urbanized land still provides good shelter for many mammals.
Many insects that are vital to the complex cycle of life, whirling, buzzing, singing, chewing, vibrating with energy, are present throughout the park.
Twenty species of reptiles are found in the national park: 11 snakes, 8 turtles and 1 skink.
Guido Bissanti