Cassia obovata
The Senna italica (Cassia obovata Collad. 1816) is an arboreal species belonging to the Fabaceae family.
Systematics –
From the systematic point of view it belongs to the Eukaryota Domain, Kingdom Plantae, Magnoliophyta Division, Magnoliopsida Class, Fabales Order, Fabaceae Family, Caesalpinioideae Subfamily and therefore to the Cassia Genus and to the C. obovata Species.
The terms are synonymous:
– Senna italica Mulino;
– Cassia italica (Mill.) Spreng. (1800).
Within this species, the following subspecies are recognized:
– C. o. arachoides;
– C. o. Italic;
– C. o. micrantha.
Etymology –
The term Cassia comes from the Greek name κασια casia used by Dioscorides for a plant belonging to this genus or a similar one, taking up the Hebrew name quetsi'oth.
The specific epithet obovate as it tends to the shape of an egg, but with the widest part in the distal position, from ob-, preposition with the sense of going towards, and from ovatus ovate, due to the shape of the petals.
Geographic Distribution and Habitat –
Senna italica is a plant native to African countries from Cape Verde in the east to Somalia and from the south to South Africa but also from Asia, from the Middle East to Iran, Iraq, Pakistan and India to Sri Lanka. Later, this plant was introduced in the Caribbean and Venezuela and also in the United States and is currently found in the New York Botanical Garden.
The subspecies C. o. italica is often found in West Africa, North Africa, Sudan, the Horn of Africa and from Yemen to northwestern India. But it is naturalized in parts of South Africa. The subspecies C. o. micrantha is mainly present from southern Ethiopia and from Somalia southwards to Namibia, Botswana, Zimbabwe and Mozambique and has also been introduced in India. The subspecies C. o. arachoides is limited to some areas of Namibia, Botswana and South Africa.
Its habitat is that of the prairies of the driest regions of tropical Africa, from sea level up to 1850 m of altitude. It is usually found near streams and in sandy and disturbed habitats, such as garbage places around towns and country houses, abandoned gardens, road edges, etc.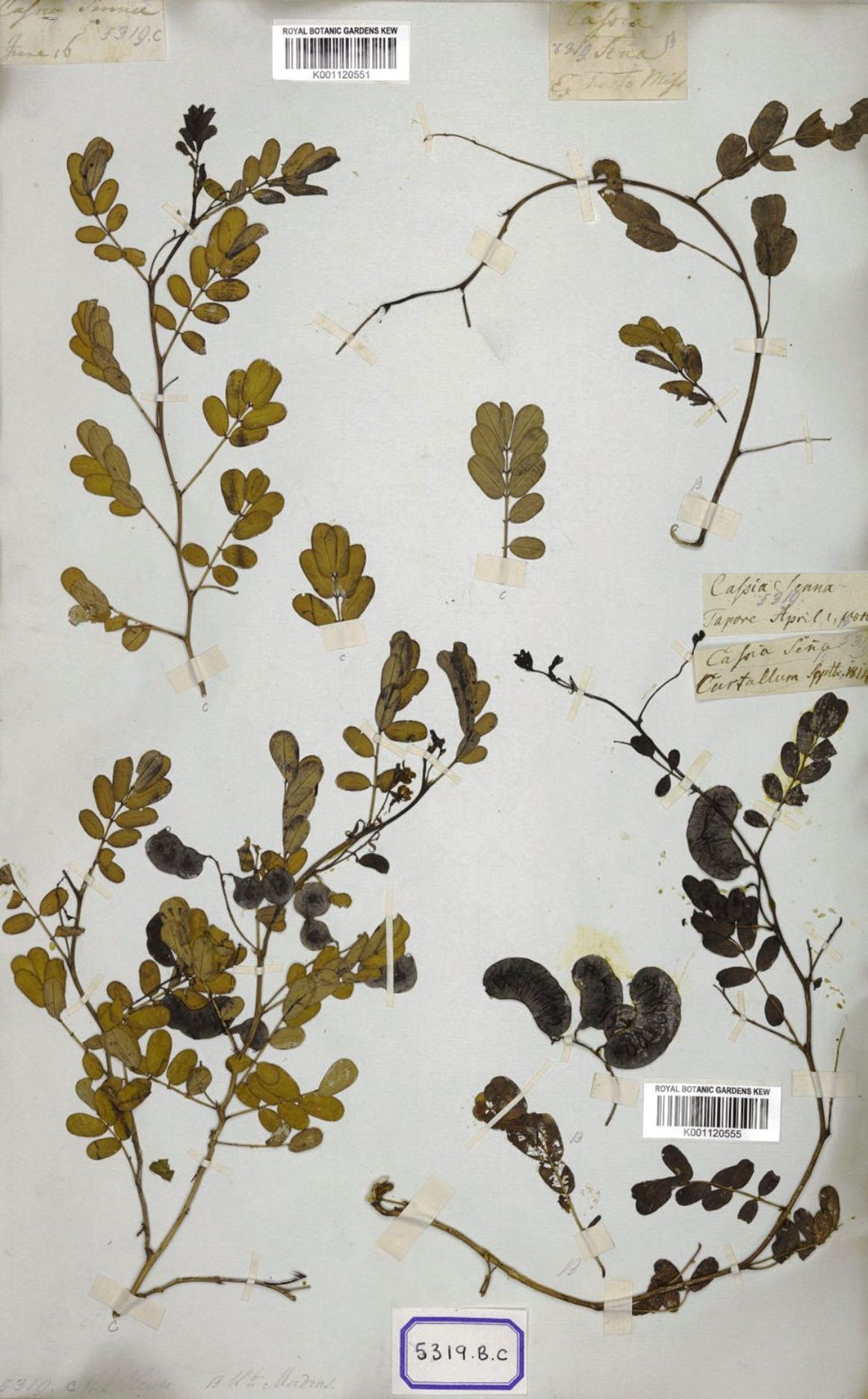 Description –
Cassia obovata is a deciduous, perennial shrub plant, up to 60 cm tall and with a woody structure everywhere.
The plant has a taproot and the stems are solid. These stems or young twigs are hairless or sparsely hairless and sparsely to densely hairy.
The leaves are composed with veins and pinnate. There are about 4-6 leaflets per leaf, arranged spirally and alternately. The leaflets are elliptical and slightly hairy on both sides. The stipules are generally lanceolate-triangular in shape and about 3-9 mm long.
The flowers are actinomorphic and the inflorescence takes the form of axillary racemes, about 2-25 cm long. The petals of these flowers are generally yellow or orange, up to 13 mm long and obovate in shape. The bracts are rhombic to ovate in shape and are conspicuously present, but very small (up to 5 mm in length).
The flower is bisexual, zygomorphic and pentamer. It usually has 10 stamens (2 lower are the largest; 5 are medium-sized; 3 are short and sterile), a stylus up to 6 mm long, and an upper ovary with short, stiff hair.
Flowering usually occurs during the rainy season.
The fruits are dehiscent, oblong or ellipsoidal, with a strongly curved, falcate, folded or semilunar shape. The fruit can contain up to 11 seeds. The seeds have an elliptical or depressed shape and are wrinkled. The seeds are generally olive, green or black in color.
Cultivation –
Senna italica is a plant suitable for climates with warm temperatures and can grow throughout the year.
It blooms during the rainy season, but flowers can appear year round in humid climate conditions.
It is also usually propagated by seeds; if you have to cultivate it is recommended to treat the seeds by abrasion to improve germination.
Among the parasites it should be remembered that the Senna italica is frequented by the root lesion nematode. Severe termite attacks can be observed during perennial cultivation.
Customs and Traditions –
The Cassia obovata, in addition to the name of Senna italica, is known as: Senna di Port Royal Italian Senna or Senna del Senegal; it also takes different names based on the region where it is grown. In West African languages, this tree is called mbali or balibali in Bambara and laïdur in Wolof.
Whereas, in some parts of the world, this species (along with Cassia senna) is cultivated for the leaves that produce the drug senna, commonly known as Senna glycoside, which in turn is the basis of a laxative. In many regions, this plant is grown for commercial and medicinal purposes.
The leaves, pods and seeds of the Senna italica are mainly used in traditional medicine. In Malawi, the root infusion is used to treat diarrhea in infants.
However, the reports on the uses of the Italian Seine are contradictory. In East Africa, it is eaten by most livestock, while in West Africa it is often avoided. In the Sahel regions, young seeds are eaten as a snack or vegetable. In Mauritania the seeds are smoked. In India, the leaves are used as a hair treatment called neutral henna or "blonde henna". This treatment coats the hair to look shiny and thick for several weeks, but instead of being completely neutral, "neutral henna" appears to have a yellowish impact on the hair rather than the reddish henna produced. Fruit production of this plant is generally avoided, as their sennoside content is low.
In general, the dried leaves and pods of Cassia obovata are marketed for medicinal uses. The dried and powdered leaves are marketed internationally from Egypt or India as a hair conditioner.
In recent times the Italian Senna has lost its importance, due to the Alexandrian Senna which is more appreciated for medicinal purposes. However, it is widely used in domestic markets for the production of a mild laxative.
Preparation Method –
The drug of Cassia obovata, that is the part of the plant containing the medicinal part, is made up of the leaves which, dried and reduced to powder, are used to make compresses on the hair, after having mixed the powder with hot water, until a sort of fluid batter.
Neutral Henna appears as a green powder, used as a conditioner to make compresses on hair that is thin, fragile or damaged by aggressive treatments, in order to make it softer, more docile, shiny and full-bodied. Gives volume to the hair and strengthens it; moreover, thanks to its astringent and antibacterial properties, it helps sanitize the scalp which has problems such as excessive sebaceous secretion, dandruff, psoriatic flaking.
These properties are similar to those of natural red Henna, Lawsonia, with the difference that the latter gives dark hair auburn reflections (carrot red if they are light blond or white), while Cassia obovata, that is the so-called neutral Henna, applied in its natural state, it does not give the hair any color.
Only if neutral Henna is subjected, before application, to an oxidation process with lemon juice (or orange, or in any case to an acid substance) for at least 12 hours, can it give white hair a slightly golden reflection, while it is ineffective on dark hair.
The neutral Henna wrap used naturally can be enriched with ingredients such as Aloe vera gel, Sweet Almond oil, or Macassar, or Monoi, or Argan, to enhance its nourishing and softening action on brittle and dry hair. , and to make the mixture more homogeneous and easy to spread on the hair.
Guido Bissanti
Sources
– Acta Plantarum – Flora of the Italian Regions.
– Wikipedia, the free encyclopedia.
– Treben M., 2000. Health from the Lord's Pharmacy, Advice and experiences with medicinal herbs, Ennsthaler Editore
– Pignatti S., 1982. Flora of Italy, Edagricole, Bologna.
– Conti F., Abbate G., Alessandrini A., Blasi C. (edited by), 2005. An annotated checklist of the Italian vascular flora, Palombi Editore.
Warning: Pharmaceutical applications and alimurgical uses are indicated for informational purposes only, they do not represent in any way a medical prescription; therefore no responsibility is taken for their use for curative, aesthetic or food purposes.