Atherosperma moschatum
Southern sassafras (Atherosperma moschatum Labill.) Is an evergreen tree species belonging to the Atherospermataceae family.
Systematic –
From a systematic point of view, it belongs to the Eukaryota Domain, Plantae Kingdom, Magnoliophyta Division, Magnoliopsida Class, Laurales Order, Atherospermataceae Families and therefore to the Genus Atherosperma and to the Species A. moschatum.
Two subspecies are recognized within this species:
– A. moschatum subsp. moschatum;
– A. moschatum subsp. integrifolium:
The terms are synonymous:
– Atherosperma elongatum Ghent .;
– Atherosperma integrifolium A.Cunn. ex Tul ..
Etymology –
The generic term Atherosperma derives from the ancient Greek "awn", and sperm "seed", from the hair of the fruit.
The specific epithet moschatum is the Latin adjective meaning "perfume of musk", in turn from the Arabic musk musk, a ruminant with an odoriferous gland, for the smell of its bark.
Geographical Distribution and Habitat –
Southern sassafras is a plant that grows in the Tia River area west of Port Macquarie, on the north coast of New South Wales, in south-eastern Australia through the Victoria and Tasmania regions.
Its habitat is that of the badlands and in the streams of the high altitude temperate rainforest, commonly associated with southern beeches of the genus Nothofagus and mountain quandong (Elaeocarpus holopetalus).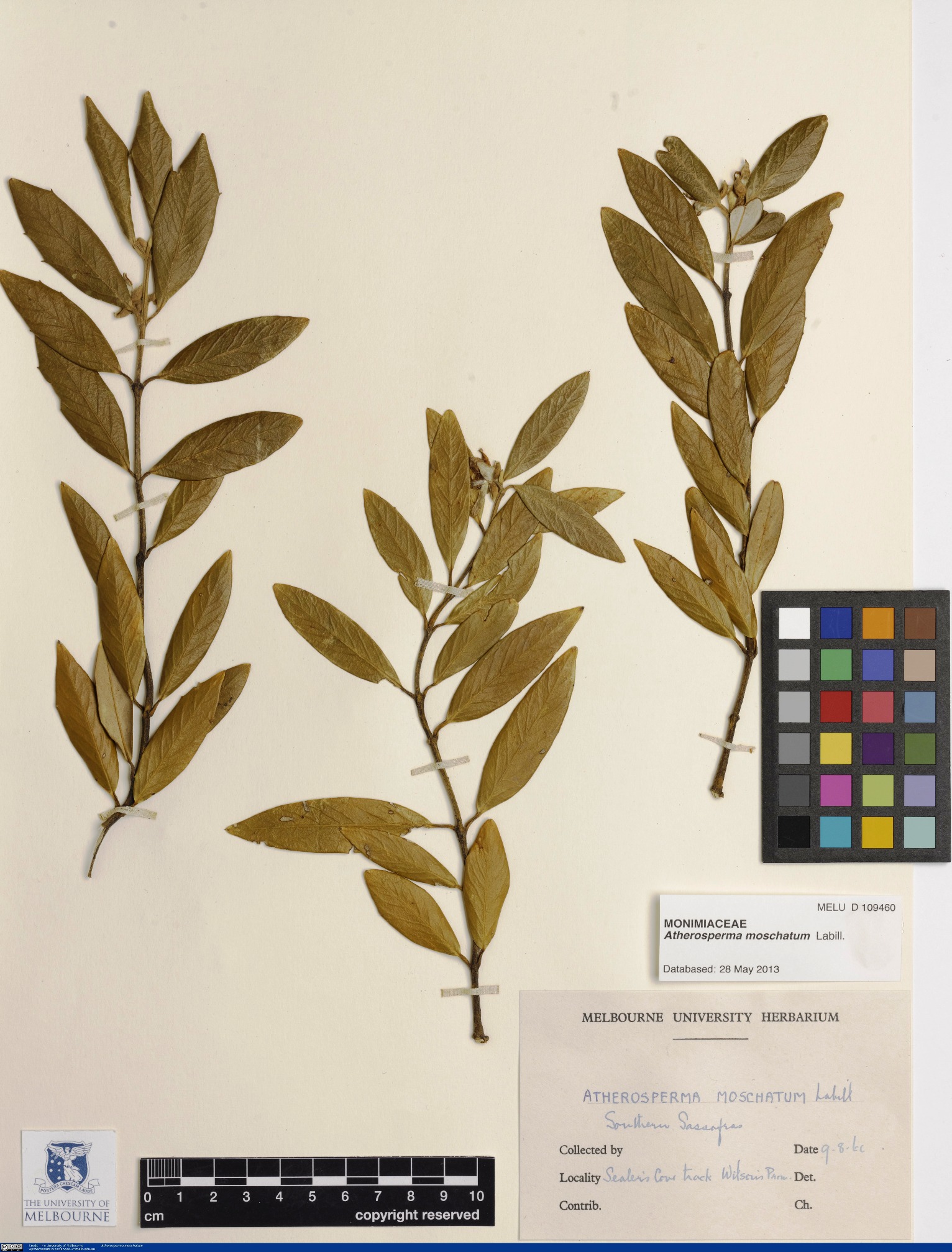 Description –
The southern sassafras is a medium-small tree, which grows between 6 and 25 m in height although in Tasmania, it can reach heights greater than 40 meters with a width of 1 m.
It is recognized for its conical shape, with pale green leaves and a fragrant perfume.
The bark is variable in color from gray to light brown, with numerous lenticels, protuberances and raised ridges.
The leaves are 3 to 10 cm long and 8 to 25 mm wide, with margins characterized by a coarse dentition. The northern population in Monga National Park, the Blue Mountains, Barrington Tops and Mount Grundy has narrow, mostly whole leaves.
Leaves, twigs and flowers are fragrant, with a pleasant nutmeg aroma.
The flowers are formed in winter, are turned downwards to avoid rain and snow and are white and yellow (and sometimes reddish brown) in the center.
The fruits are capsules that ripen and open around January, releasing seeds that are carried by the wind.
Cultivation –
Atherosperma moschatum is a plant that can also propagate by seed, although germination is not the best way to propagate it due to its efficiency.
It can also grow in areas far from the areas of origin, so much so that it was planted in the British Isles up to the north of Northern Ireland and Scotland.
To be cultivated, however, it requires humidity and shade, so you need to find the right location and geographical area.
Uses and Traditions –
Atherosperma moschatum is a plant whose timber is used which is required for panels, turnery, musical instruments and other special works (sculptures, plates and boxes for tourists). The coloring of the black heartwood is caused by fungi and makes the wood markings particularly attractive.
Elastic wood is also used for clothes pegs and the scented bark is transformed into a drink.
Atherosperma moschatum does not release its bark every year and many lichens grow on it; an open-field study in the Errinundra National Park found a total of 54 lichen species, with 11 species found on trees of all sizes measured.
For this reason, this plant represents a refuge in the rainforest for the lichen populations among the eucalyptus woods prone to fire.
A pleasant tea is obtained from the fresh or dry aromatic bark of this plant.
You can prepare a decoction or an infusion from green or dry bark, which has a pleasant taste, especially if taken with plenty of milk. Its effect is, however, slightly laxative.
The bark is also used to make a beer.
The smell of the inner bark has been compared to a new beer, and a decoction of the bark is said to be a good substitute for yeast for bread.
The bark contains a pleasant bitterness which was highly appreciated as a tonic among the first European colonists.
The internal bark has effects: antirheumatic, heart benefits, diaphoretic, diuretics, laxatives and tonics.
It has also been used in the treatment of asthma and other lung problems, but it is known above all for its sedative action on the heart and has been used successfully in some forms of heart disease.
It is useful in the treatment of rheumatism, syphilis and bronchitis.
The essential oil obtained from the bark closely resembles the smell of real sassafras (Sassafras albidum (Nutt.) Nees). It is sometimes used in medicine, although the entire bark is generally preferred.
If rubbed externally on the skin it does not, like myrtle oils, act as an irritant.
The oil obtained by aqueous distillation from the bark is not very fluid, pale yellow in color when fresh, but becomes yellowish brown with age. Its odor is similar to a mixture of ordinary sassafras oil with cumin oil. The flavor is aromatic, bitter and pungent.
In large quantities it must be considered a dangerous poison.
From the leaves you can get an essential oil with a greenish color reminiscent of mace oil.
Preparation method –
Southern sassafras has some uses, both medicinal and food, as mentioned, from both green and dry bark a pleasant tea is obtained.
You can prepare both decoctions and infusions, using both green and dry bark, which has a pleasant taste, especially if taken with plenty of milk.
The bark is also used to make a beer.
Guido Bissanti
Sources
– Acta Plantarum – Flora of the Italian Regions.
– Wikipedia, the free encyclopedia.
– Treben M., 2000. Health from the Lord's Pharmacy, Tips and experiences with medicinal herbs, Ennsthaler Editore
– Pignatti S., 1982. Flora of Italy, Edagricole, Bologna.
– Conti F., Abbate G., Alessandrini A., Blasi C. (edited by), 2005. An annotated checklist of the Italian vascular flora, Palombi Editore.
Warning: Pharmaceutical applications and alimurgical uses are indicated for information purposes only, they do not in any way represent a medical prescription; therefore, no responsibility is accepted for their use for healing, aesthetic or food purposes.