Trifolium resupinatum
Resupinate or resupinate clover, also known as Persian clover (Trifolium resupinatum L.) is a herbaceous species of the Fabaceae family.
Systematics –
From the systematic point of view it belongs to the Eukaryota Domain, United Plantae, Magnoliophyta Division, Magnoliopsida Class, Fabales Order, Fabaceae Family, Faboideae Subfamily, Tribe Trifolieae and therefore to the Genus Trifolium and to the Species T. resupinatum.
Etymology –
The name of the genus Trifolium derives from the Latin Trifolium, a name given to plants with trifoliate leaves or with 3 segments. The specific epithet resupinatum derives from the Latin resupinus, composed of re and super = risupino, in reference to the twisted corollas.
Geographical Distribution and Habitat –
Persian clover is a Eurasian plant in the broad sense, which also reappears in North Africa. It is spontaneous in the Mediterranean basin, but cultivated for centuries in Persia or northern India, it is spreading as a crop from grass in the Middle East, Egypt, Portugal and, recently, also in Italy.
Its habitat is that of uncultivated grassy and damp meadows, roadsides, along watercourses from 0 to 1000 m.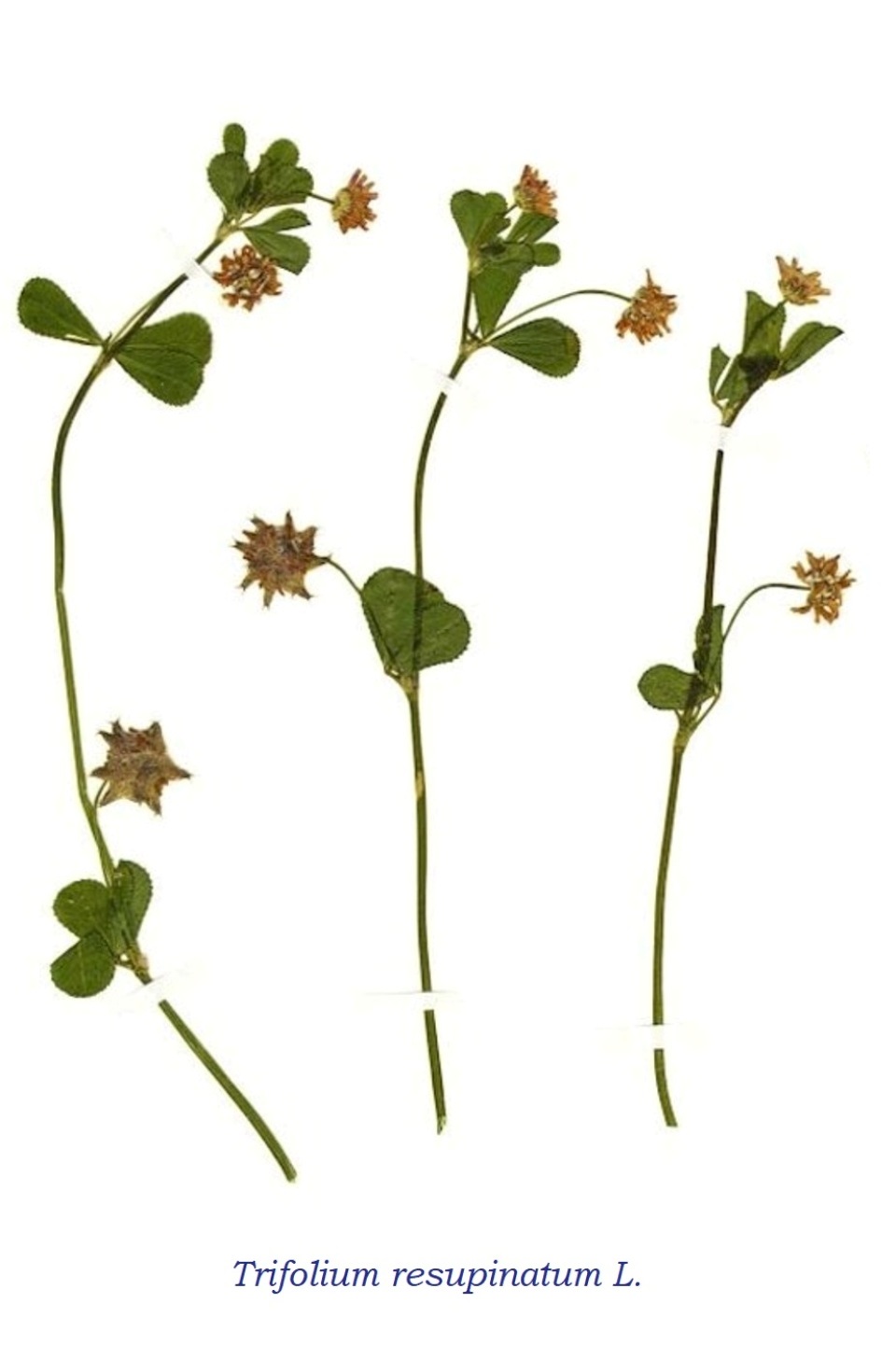 Description –
It is an annual herbaceous plant, very variable, which is generally glabrous with stems from prostrate to erect, fistulose, height 10-40 cm.
The leaves are briefly petiolate, with the upper subsexyls, all trifoliate obovate-cuneiform, denticulate, of about 2 cm, equipped with swollen-scariose stipules ending with a linear tip.
The inflorescence is an axillary head, 6.5-14 mm in diameter, hemispherical in shape, globular during fruiting, supported by long stems with glabrous axis.
The papilionaceous corollas, with a free standard, gathered in small radiant bunches, are pedicellas and provided with small scaly bracts ciliate with rosy-colored coloring, twisted or resuperated after fertilization, (turned with the flag against the lower lip of the glass) 4 (long) 2-8) mm, almost triple the calyx.
The glass is zygomorphic, bilabiated with a corolline tube of 1.2-1.9 mm during anthesis. Later on with the fructification it appears in the form of an oblong-conical bladder, pubescent, ending with 2 equal upper teeth, silky, spreading, sprouting like horns.
The fruit is an indehiscent diclesio (camara) included in the glass, with membranous pericarp and 1-2 smooth, brown-olive seeds, of 1.1-1.4 mm.
The anthesis is in the period between April and July.
Cultivation –
Trifolium resupinatum is an annual herbaceous species that resists the cold more than the Alexandrian clover, but less so than drought.
It is an annual clover suitable for the production of hay or to be grazed. It can be used both alone and in intercropping with grasses. It prefers clay or medium-textured soils with a pH between 5.5 and 8; unsuitable for sandy and very acid soils.
In temperate regions it has an autumn-spring cycle, while in cold regions it is sown in spring. For sowing in pure culture 15-20 kg / ha of seed are used (weight of 1000 seeds: 0.75-0.80 grams).
Uses and Traditions –
Persian clover is a species from which a very palatable fodder is obtained, of excellent quality, used for pastures, hay and silage.
The presence of traces of Trifolium resupinatum was identified in the excavations of Herculaneum. From some samples taken from deposits of masses of dried herbs, piled up in closed places, which as a result of their slow carbonization and the thick layer of ash that the eruption of Vesuvius in 79 d.c. had covered and protected, it was possible to trace the recognition of these masses, thanks to the current techniques of some laboratories of Turin, highly qualified in the field of archaeological finds.
Due to its external characteristics it can be confused with T. tomentosum L., which is characterized by generally prostrate stems in a circle, hairy-shaped heads, subsessile flowers, densely villous fruit-bearing goblets hidden in the corollino tube hair with subglobose calyx with 2 teeth very short upper and dry arid habitats.
Among the varieties of this species we mention the: Lightning, Logudoro and Laser.
Preparation Mode –
Persian clover is a species from which a very attractive forage is obtained but has no use in human nutrition or for pharmaceutical purposes.
Guido Bissanti
Sources
– Acta Plantarum – Flora of the Italian Regions.
– Wikipedia, the free encyclopedia.
– Treben M., 2000. Health from the Pharmacy of the Lord, Advice and experiences with medicinal herbs, Ennsthaler Editore
– Pignatti S., 1982. Flora of Italy, Edagricole, Bologna.
– Conti F., Abbate G., Alessandrini A., Blasi C. (edited by), 2005. An annotated checklist of the Italian vascular flora, Palombi Editore.
Attention: Pharmaceutical applications and food uses are indicated for informational purposes only, do not in any way represent a medical prescription; therefore no responsibility is assumed for their use for curative, aesthetic or food purposes.