Russula grisea
The Russula grisea (Russula grisea (Batsch) Fr., 1838) is a basidiomycete fungus belonging to the Russulaceae family.
Systematics –
From the systematic point of view it belongs to the Eukaryota Domain, Fungi Kingdom, Phylum Basidiomycota, Class Basidiomycetes, Russulales Order, Russulaceae Family and therefore to the Genus Russula and to the R. grisea Species.
Are synonyms and obsolete terms: Agaricus griseus Persoon, Russula palombina Quélet, Russula furcata var. Cooke pictipes, Russula grisea var. pictipes (Cooke) Romagnesi ex Bon, Russula palombina var. pictipes (Cooke) Bon, Russula palombina fo. pictipes (Cooke) Sarnari and Russula cutefratta Cooke.
Etymology –
The term Russula is the diminutive of red rússa: red. The specific epithet grisea comes from griseasco, becoming gray from the modern Latin gray griseus, referring to the flesh that tends to turn gray.
Geographical Distribution and Habitat –
The Russula grisea is a fungus that grows under broad-leaved trees, especially in mountain habitats, with preference for beech and birch. It can occur in groups of a few specimens and bears fruit in the period between summer and the first part of autumn.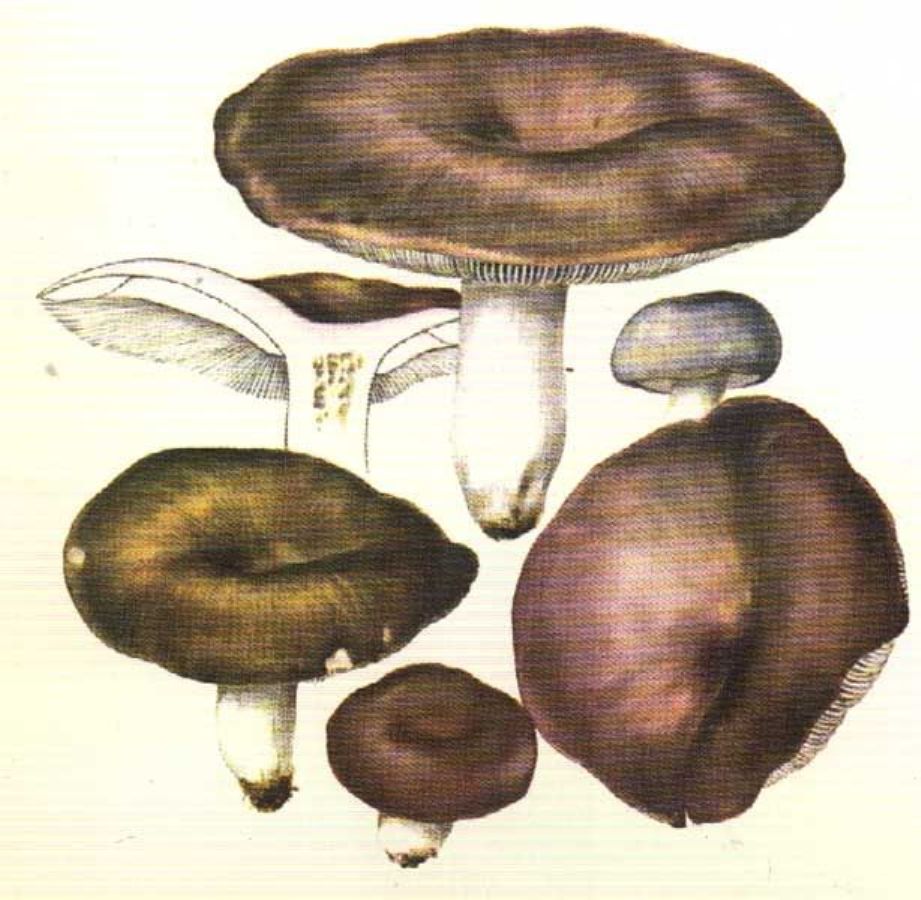 Recognition –
The Russula grisea is recognized for having the cap of 5-12 cm in diameter, of fleshy consistency, with a conformation from plane to depressed to become funnel-shaped; the cuticle is dry, separable by a third, often does not completely cover the flesh of the hat, leaving the margin uncovered, with coloring on various shades of gray.
The lamellas are dense, fragile, attached to the stem, slightly ventricular, often anastomosed, with a creamy white color.
The stem is 4-9 x 1.2-3.2 cm, cylindrical, full, firm, whitish.
The meat is white, brownish under the cuticle, with a banal smell and a sweet taste.
At the microscope, spores of 6.5-9 x 5.5-6.5 µm are noted, ellipsoidal, warty-spiny.
Cultivation –
Russula grisea is not a cultivated mushroom.
Uses and Traditions –
This fungus can be confused with: the Russula cyanoxantha, excellent, edible, which however has lardaceous and elastic, not fragile lamellae, with the Russula virescens, excellent, edible, due to the greenish-gray shade and with the Russula azurea, which however it grows only under spruce, it has amethystine blue hat with separable cuticle and has broad lamellae, microscopically, dirty white and the reaction nothing, belatedly greenish-gray, with ferrous sulphate.
However, the closest species is Russula ionochlora Romagnesi, sometimes indistinguishable in the field, which differs due to its very pale sporata and weak reaction to ferrous sulfate. In addition, the Russula parazurea J. Schaeffer has a cuticle covered with a whitish bloom, well observed in young specimens, forked and intervened lamellae, stem never with violet shades, microscopically it differs for the dermatocystidia often mucronati and the cuticle hairs 3,5 wide 6.5 (8) µm, the dirty pale cream (IIb), and due to the reaction to the pale pink-orange ferrous sulfate. The Russula langei Bon, which has a violet-stained stem. Also Russula amoena Quélet and Russula amoenicolor Romagnesi may have similar morphochromatic characters, but are easily distinguished by the characteristic smell of herring or Lactarius volemus (Fr .: Fr.) Fries, furthermore Russula amoena turns to violet-fuchsia with Phenol, Russula amoenicolor with pale pink with ferrous sulphate and microscopically for cuticle hairs up to 20 µm wide.
Russula grisea is a mushroom of excellent edibility; in fact one of the best species of its kind, although not very well known.
Preparation Mode –
The Russula grisea, as for other Russulas of good edibility, for its taste and its characteristics can be enjoyed raw in vegetable salads and excellent sautéed with garlic, extra virgin olive oil and parsley, with the hats stuffed with a dough made with minced meat or cheese, many aromas and chopped stems, since nothing is thrown away of this mushroom. It can be prepared with excellent linguine mare e monti. It can also be prepared as cutlets; after removing the stalk, sauté to flavor and then pass in the breadcrumbs and fry in the oven. Or bread with the egg and fry in plenty of oil. It can be cooked and then blended and reduced to a cream to be placed on slices of toasted bread and with melted cheese.
Guido Bissanti
Sources
– Wikipedia, the free encyclopedia.– Cetto B., 2008. The mushrooms from life, Saturnia, Trento.– Pignatti S., 1982. Flora of Italy, Edagricole, Bologna.– Conti F., Abbate G., Alessandrini A., Blasi C. (ed.), 2005. An annotated checklist of the Italian vascular flora, Palombi Editore.
Attention: Pharmaceutical applications and food uses are indicated for informational purposes only, do not in any way represent a medical prescription; therefore no responsibility is assumed for their use for curative, aesthetic or food purposes.