Garcinia hanburyi
Garcinia (Garcinia hanburyi Hook.f.) is an arboreal species belonging to the Clusiacee family.
Systematic –
From a systematic point of view it belongs to the Eukaryota Domain, Plantae Kingdom, Magnoliophyta Division, Rosopsida Class, Rosidae Subclass, Theales Order, Clusiaceae Family and therefore to the Genus Garcinia and to the G. hanbury Species.
Etymology –
The term Garcinia was dedicated by Linnaeus to the French physician, botanist and naturalist Laurent Garcin (1683-1752) who herbized in India, Indonesia, Malaysia, Iran and Arabia.
The specific Hanburyi epithet is instead dedicated to Thomas Hanbury (1832-1907), British philanthropist, businessman in China, founder of the famous Hanbury Gardens in Mortola di Ventimiglia.
Geographical Distribution and Habitat –
Garcinia hanburyi is a plant originating from the rain forests of Southeast Asia and especially from Thailand, Cambodia, Laos and Vietnam.
Its habitat is that of these wetlands with annual rainfall up to 2,500 mm where it grows to altitudes of 800 meters above sea level.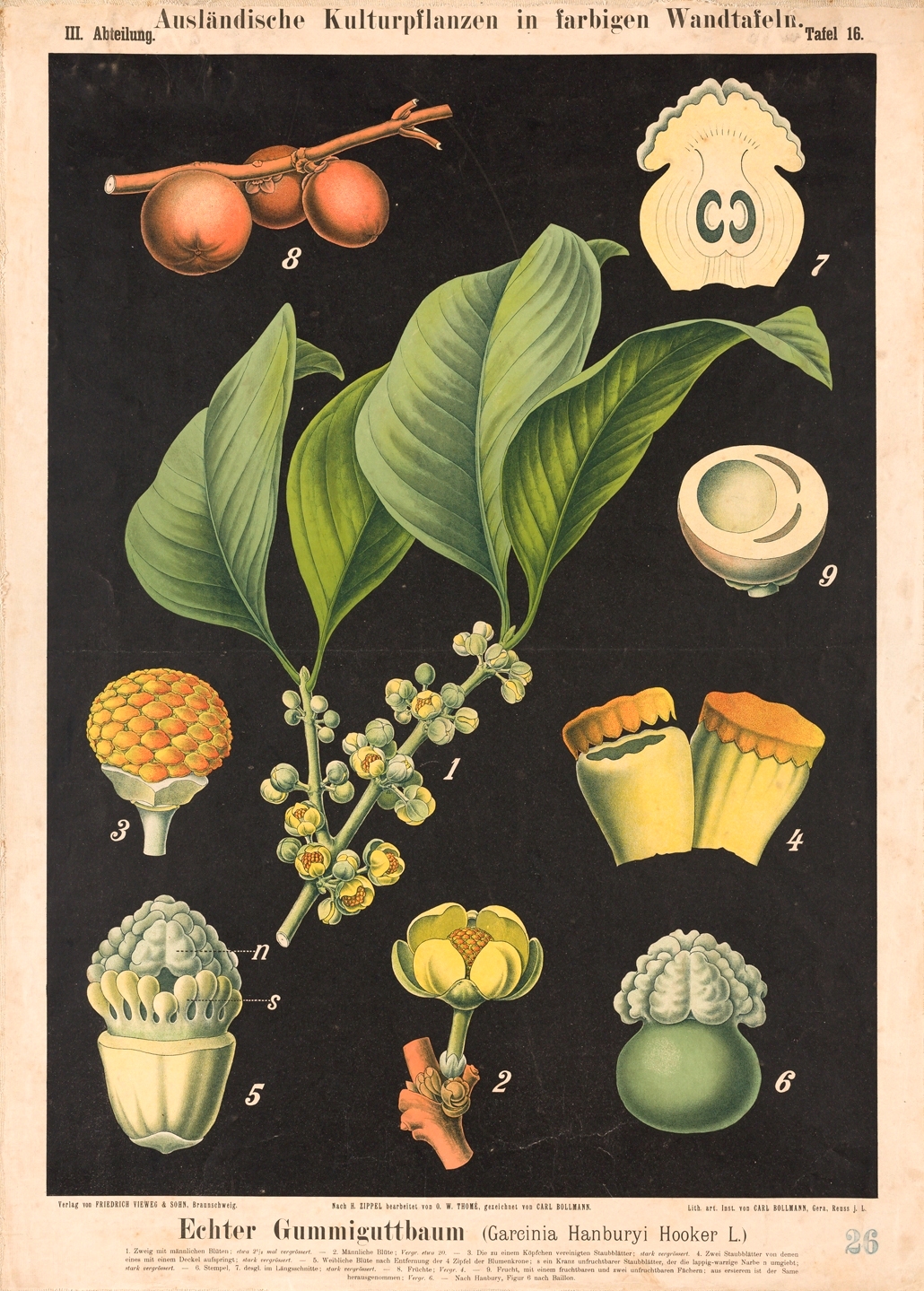 Description –
Garcinia hanburyi is an evergreen tree that reaches 20 m in height.
The leaves are oval in shape, dark green in color and with visible veins.
The flowers are small and yellowish in color.
From the stem and branches of this plant, a rubber resin called gutta is obtained.
Cultivation –
The cultivation of this plant can take place in well-drained and humid soils.
Even the rain and relative humidity conditions of the air must be similar to its areas of origin.
For the propagation it is possible to start from seed even if this in most of the species of this genus are slow to germinate, even if sown fresh; they often take 6 months or more to germinate.
To obtain rubber, trees are usually not exploited before they are 20 years old, when the trunk has reached a diameter of about 15 cm.
For the collection of the resin, a spiral incision is made in the trunk, just below the lower branches, and the exudate is collected in bamboo containers, approximately every 3 days. In these containers the resin coagulates over a period of about a month or more.
At this point the bamboo containers are broken and the rubber cylinders are removed and, in this form, put on the market.
Uses and Traditions –
The rubber resin obtained from the trunk of Garcinia hanburyi has been used in the past as a medicine. However, high doses can be fatal and therefore are no longer recommended for human use today. In fact, it has gastric purgative properties that can be limited to veterinary use.
The wood of this tree is pale yellow or brownish in color, straight grain, with fine and quite heavy texture, weighing about 900 kg / m. It is therefore moderately hard and is used in some cases for internal work.
The rubber resin, the gutta gum, obtained from this plant is often called Siamese gamboge to distinguish it from the similar product from the bark of G. Morella, which is called Indian gamboge.
These two species are closely related and have been treated in the past as a variety of G. Morella.
This gum is odorless and tasteless or slightly acidic.
This sap is used as a golden yellow coloring substance for paints, lacquers, varnishes and ink and, moreover, used as a pigment in watercolors.
The sap has a color shade that varies from reddish yellow to reddish brown and contains 70-80% of resin and 15-25% of rubber.
The main acid component of the resin is cambogic acid (C38H44O8), also in the rubber there is arabinose (about 50%) and galactose (about 40%); the rubber is soluble in water, where it forms a yellow emulsion.
Preparation method –
Garcinia hanburyi is a plant that has been used, especially in the past, as a drastic purgative but, due to its drastic effects, it is no longer used for human purposes.
The use for obtaining rubber and for the extraction of colornates for various applications is interesting.
Guido Bissanti
Sources
– Acta Plantarum – Flora of the Italian Regions.
– Wikipedia, the free encyclopedia.
– Treben M., 2000. Health from the Lord's Pharmacy, Tips and experiences with medicinal herbs, Ennsthaler Editore
– Pignatti S., 1982. Flora of Italy, Edagricole, Bologna.
– Conti F., Abbate G., Alessandrini A., Blasi C. (edited by), 2005. An annotated checklist of the Italian vascular flora, Palombi Editore.
Warning: Pharmaceutical applications and alimurgical uses are indicated for information purposes only, they do not in any way represent a medical prescription; therefore, no responsibility is accepted for their use for healing, aesthetic or food purposes.
We suggest this purchase