Lonicera xylosteum
The fly honeysuckle (Lonicera xylosteum L.) is a shrub species of the Caprifoliaceae family.
Systematics –
From the systematic point of view it belongs to the Eukaryota Domain, United Plantae, Magnoliophyta Division, Magnoliopsida Class, Dipsacales Order, Caprifoliaceae Family and therefore to the Lonicera Genus and to the L. xylosteum Species.
The terms are synonymous:
– Caprifolium dumetorum Lam. nom. illeg .;
– Caprifolium xylosteum (L.) Gaertn .;
– Chamaecerasus dumetorum Delarbre nom. illeg .;
– Chamaecerasus xylosteum (L.) Medik .;
– Euchylia villosum Dulac nom. illeg .;
– Lonicera dumetorum Pers .;
– Lonicera leiophylla A.Kern .;
– Lonicera luteiflora Coustur. & Ghent .;
– Lonicera ochroleuca St.-Lag .;
– Lonicera xylosteum var. glabrescens Zabel;
– Xylosteon dumetorum Moench nom. illeg .;
– Xylosteon vulgare Borkh ..
Etymology –
The term Lonicera derives from the adaptation that Linneo made in 1753 to the Latin of the surname "Lonitzer", in memory of the botanist Adam Lonitzer (1528-1586), a doctor led in Frankfurt.
The specific epithet xylosteum derives from the Greek ξύλον xýlon, wood and from ὀστἑον ostéon, bone: that is from hard wood like a bone.
Geographical Distribution and Habitat –
Fly honeysuckle is a shrub that has a western European-Asian distribution area; this plant is present in all the regions of Italy except in Sardinia (long since not found in Campania and Calabria) up to 1600 m. s.l.m ..
Its habitat is that of thermophilic beech-woods and open mixed woods, on predominantly calcareous substrates, with optimum in the lower montane belt.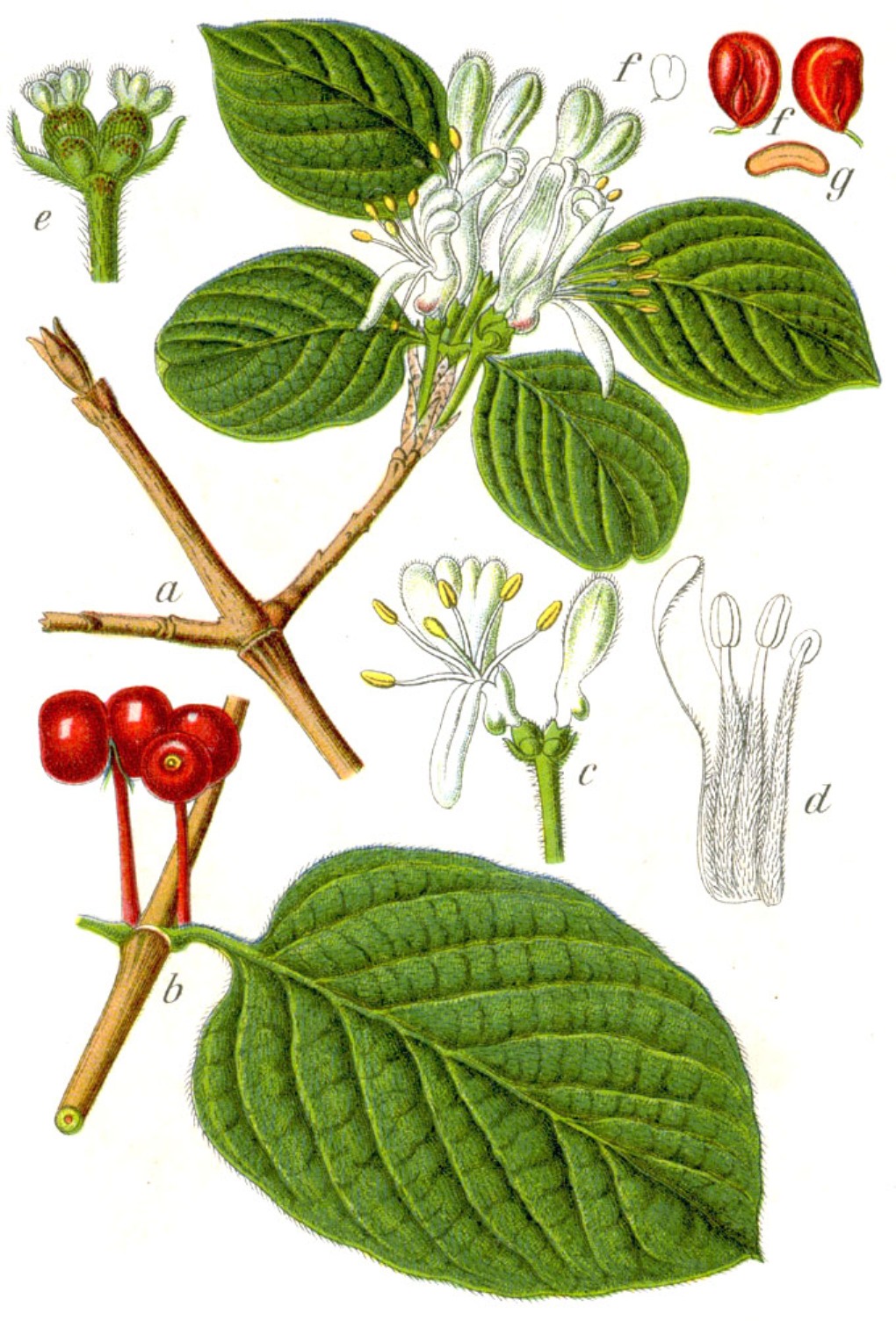 Description –
The Lonicera xylosteum is a shrubby species that can reach 2 meters in height and upright.
The leaves are opposite elliptic and obovate, slightly tomentose especially on the lower page.
The flowers are paired and axillary, white, tending to yellow after pollination, with a bilabiate corolla, first white then yellow or pink, externally hirsute or villous, hairy stamens at the base with greenish-yellow anthers, a green pistil. The flowering period is between May and July.
The fruits are poisonous red berries, called fox cherries, composed of two watery, subspherical, red-purple berries, 5-6 mm in diameter, welded only to the base, with 3-5 seeds, compressed, smooth yellowish or brownish , of 3-3.5 x 2.4-2.7 mm.
Cultivation –
The fly honeysuckle is a species that, although spontaneous and present in the deciduous, shrub and hedge woods, grows up to 1600 meters in height and prefers well-drained and preferably calcareous soils. For the cultivation technique the following sheet can be consulted.
Uses and Traditions –
The fly honeysuckle or Gisilòstio is known in Italy also with the names of hairy Madreselva, Cherry fox, Devil's knob, Sanguini.
The Lonicera xylosteum is a plant that is used in the ornamental field for borders, low hedges and as a ground cover in degraded areas to be re-naturalized.
In past times the wood of this plant, which has a hard and compact consistency, was sought after for the construction of pipes and rifle butts; for this purpose both the trunk and its branches were used.
This plant produces berries that are toxic due to the presence of a bitter glucoside called xilostein.
Preparation Mode –
The same criteria as for the Lonicera alpigena apply to its uses and uses.
Guido Bissanti
Sources
– Acta Plantarum – Flora of the Italian Regions.
– Wikipedia, the free encyclopedia.
– Treben M., 2000. Health from the Pharmacy of the Lord, Advice and experiences with medicinal herbs, Ennsthaler Editore
– Pignatti S., 1982. Flora of Italy, Edagricole, Bologna.
– Conti F., Abbate G., Alessandrini A., Blasi C. (edited by), 2005. An annotated checklist of the Italian vascular flora, Palombi Editore.
Attention: Pharmaceutical applications and food uses are indicated for informational purposes only, do not in any way represent a medical prescription; therefore no responsibility is assumed for their use for curative, aesthetic or food purposes.