Fiordland National Park in New Zealand
Fiordland National Park in New Zealand
Fiordland National Park is a national park in New Zealand, located in the Fiordland region, in the southwestern part of the South Island.
This park covers an area of ​​12,500 square kilometers and is the largest national park in New Zealand which, along with the national parks (Aoraki / Mount Cook, Mount Aspiring and Westland Tai Poutini), was included in the list of World Heritage Sites in 1990 UNESCO. The four parks are grouped under the collective name of Te Wahipounamu.
Fiordland National Park has a particular geographical conformation: following the last ice ages, the glaciers caused the deformation of the coast leading to the creation of the fjords or even some small islands. Secretary Island and Resolution Island are an example.
The coast is therefore very steep, with the fjords starting from the valleys of the southernmost part of the southern Alps mountain chain to the sea. In the northernmost part of the park we find hills that are over 2,000 meters high.
Within the Fiordland National Park we find numerous lakes, including Lake Te Anau, and the Sutherland Falls (580 meters) and Browne Falls, among the highest in the world.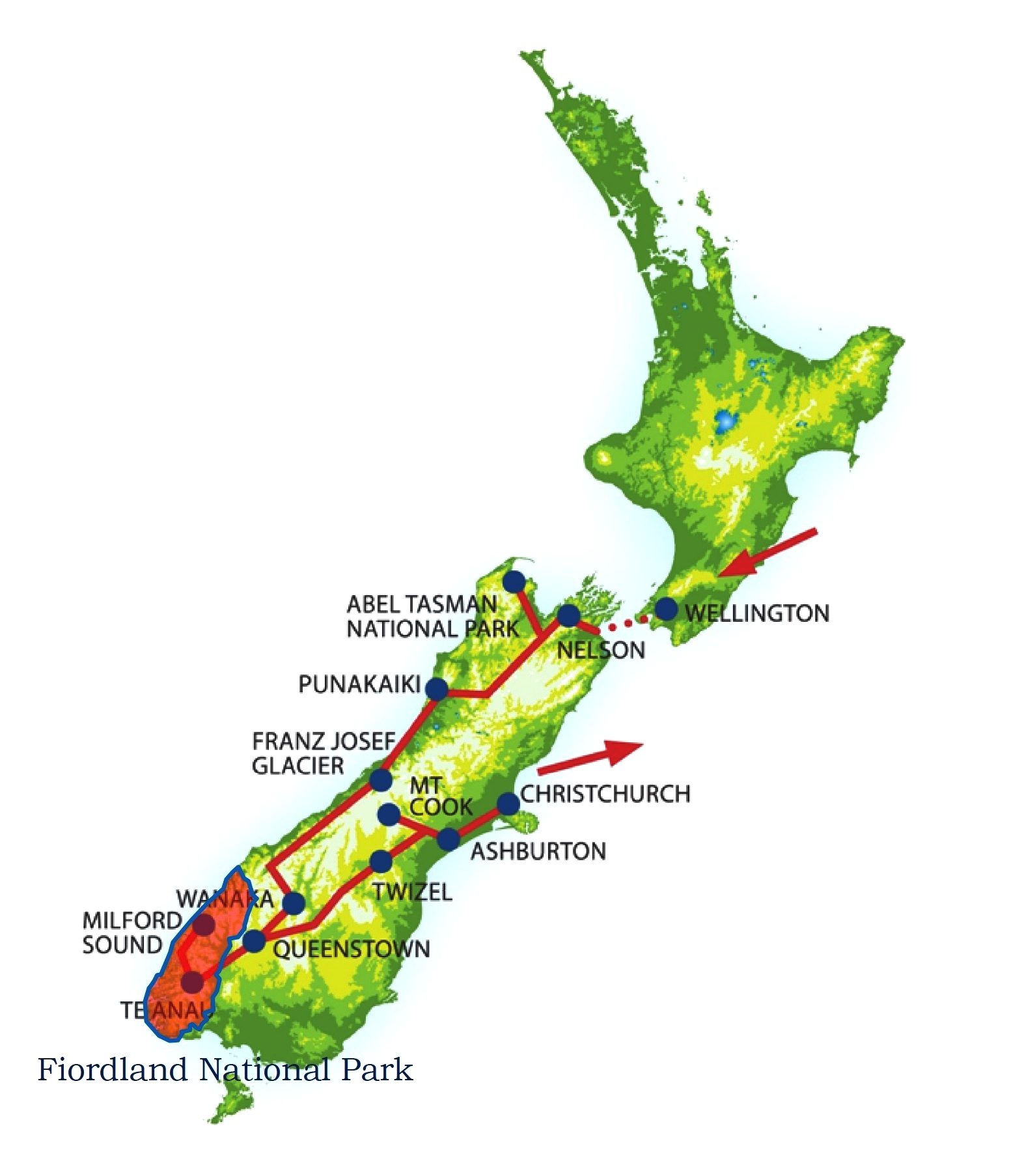 Fauna –
The fauna of the park is extremely varied. Here you can find, among other species, dolphins, seals, mice, birds, hares and deer. Among the birds, the park is home to the very rare kakapo (Strigops habroptila) and the brown kiwi (Apteryx australis), endemic birds of New Zealand.
Flora –
Due to the prevailing western winds, particular climatic conditions are generated that produce an incredible amount of rainfall, over 7 meters a year in many parts of the park. These rains favor the lush rainforest vegetation in the Fiordland ecoregion.
This landscape therefore includes ancient, still untouched rainforests.
The Maoris were the first people to discover the generosity of Fiordland in New Zealand. Since then, man has appreciated beauty.
In fact, in 1986, this region obtained the status of a world heritage site due to its breathtaking natural beauty. Its exceptional charm and a significant role in the evolutionary history of the earth.
Forests include Milford, Dusky and Doubtful Sounds. Milford Sound is considered by many to be the eighth wonder of the world.
Important is the Waitutu rainforest.
Waitutu is one of the rainforests that covers about 45,000 hectares of the south-eastern region. It is part of the Fiordland National Park and is one of the largest tracts of virgin forest untouched for millennia.
A series of shaped marine terraces have been excavated by erosion. The forest is a mix of hardwood, stretches of beech-woods, contains the largest biodiversity of Podocarpus of Fiordland. The soil is dominated by the fern.
Three large unspoilt lakes Hauroko, Poteriteri and Hakapouaj dominate the region. Access is by foot along the South Coast Track, by helicopter or by motor boat.
Guido Bissanti