Senna tora
Sickle Senna (Senna tora (L.) Roxb.) Is a shrub species belonging to the Fabaceae family.
Systematics –
From the systematic point of view it belongs to the Eukaryota Domain, Kingdom Plantae, Magnoliophyta Division, Magnoliopsida Class, Fabales Order, Fabaceae Family, Caesalpinioideae Subfamily and therefore to the Genus Senna and to the S. tora Species.
The terms are synonymous:
The taxonomic history of this plant is still to be defined well; also in reference to the genus between Senna and Cassia. S. tora and S. obtusifolia have long and still often been considered a single species. Therefore, the taxa referring to both species have been applied indiscriminately to both.
However, the terms are synonymous:
– Cassia boreensis Miq .;
– Cassia borneensis Miq .;
– Cassia gallinaria Collad .;
– Cassia numilis Collad. (it is a misprint for Cassia humilis, which would have been applied to this species as it is properly synonymous with Senna obtusifolia and Chamaecrista kunthiana, depending on the author);
– Cassia tora L .;
– Cassia tora L. var. borneensis (Miq.) Miq ..
Etymology –
The term Senna comes from the Arabic word sanà, a vernacular name given to the Senna spectabilis.
The specific epithet tora derives from its Sinhalese name Tora (තෝර).
Geographic Distribution and Habitat –
Senna tora is a plant whose origin is still unknown even though it is thought to be native to the Indian sub-continent (i.e. India, Bhutan, Nepal, eastern Pakistan, Sri Lanka), southern China, Southeast Asia (i.e. Cambodia, Laos, Myanmar, Thailand, Vietnam, Indonesia, Malaysia, Philippines and Papua New Guinea) and parts of Western Polynesia (aka the Solomon Islands).
This plant is found in many parts of the world. It grows abundantly in parts of Afghanistan, India, Nigeria, China, Pakistan, Myanmar, Nepal and Bhutan. It is also grown in Nepal, in some areas of the Himalayas at an altitude of 1400 meters.
The species has a somewhat scattered distribution in the coastal and sub-coastal regions of northern Queensland and in the northern parts of the Northern Territory. It has also been recorded in coastal central Queensland.
It is also naturalized in other parts of Oceania (eg Cook Islands, Fiji, French Polynesia, Guam, Niue, New Caledonia, Western Samoa and Tonga), some parts of the USA (eg Michigan and Florida) and in Mascarene (eg. La Réunion).
The plant is considered invasive in New Caledonia.
Its habitat is that of disturbed sites, waste areas, roadsides, waterways, plantation crops and pastures in more humid tropical and subtropical environments.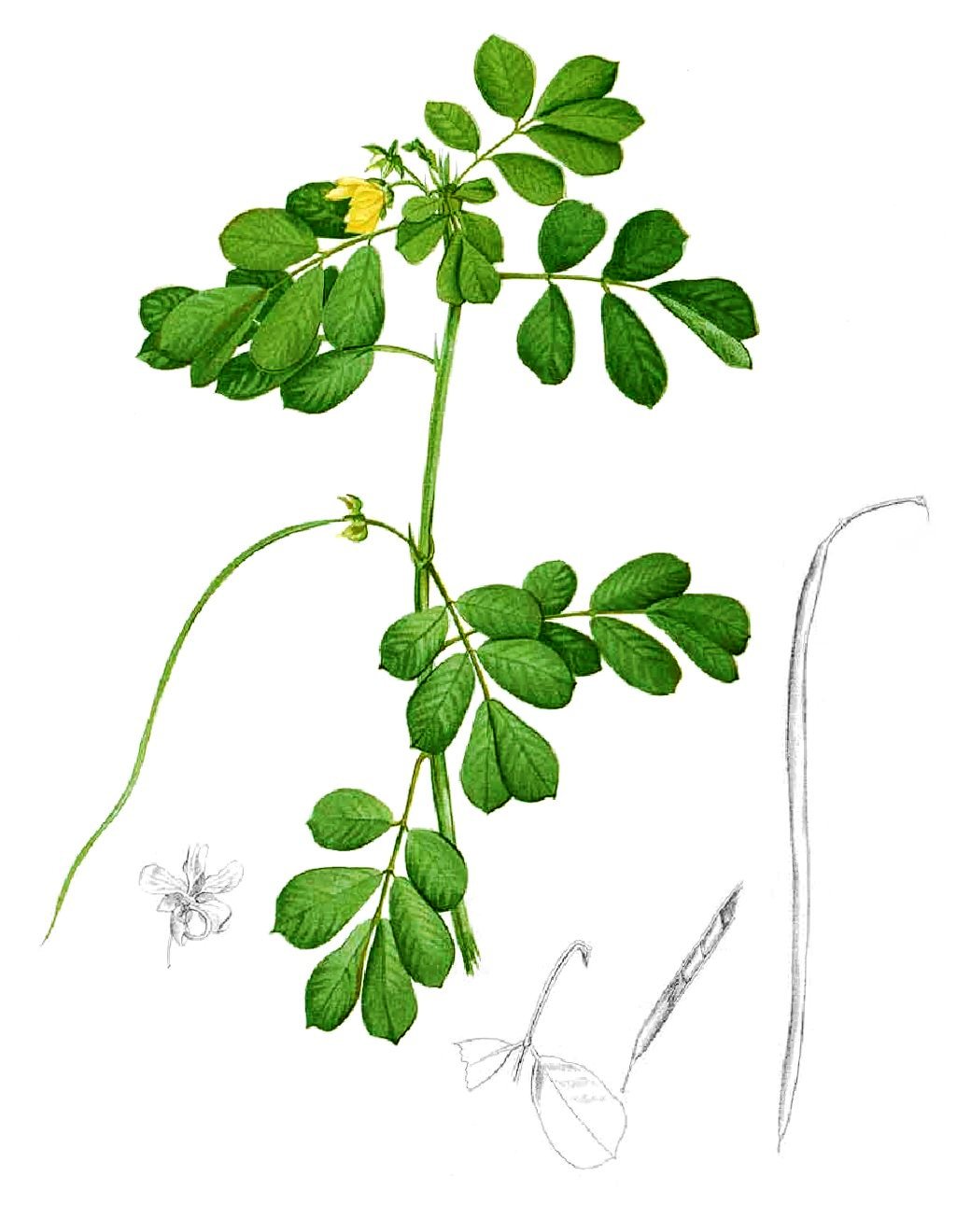 Description –
Senna tora is a small, fetid annual shrub that can reach a height of 30–90 centimeters, but even more under favorable conditions.
The leaves are pinnate alternating with leaflets mostly with three opposite pairs that are obovate in shape and with a rounded tip. The leaves grow up to 3-4.5 centimeters in length. The stems have distinctive smelling foliage when young.
The flowers occur in pairs at the axils of the leaves with five petals and light yellow in color. The stamens are of different lengths.
The fruits are pods that are a little flattened and four angled; they are 10-15 cm long and sickle-shaped. Inside there are 30-50 seeds.
Cultivation –
Sickle Senna is often considered a very stress tolerant annual weed and is easily cultivated.
In India, it grows in the rainy season, in the wastelands and its flowering period is after the monsoon rains, during the period from October to February.
The Senna tora grows in dry soils from sea level up to 1800 meters. The seed can remain viable for up to twenty years. After a rain, up to 1000 plants can emerge per square meter.
For its cultivation it is recommended to soak the seeds for 2-3 hours in hot water before sowing them. The best time is from early spring to early summer in a warm greenhouse or pot in your home. The seed usually germinates in 1-12 weeks at 23 ° C. Cassia tora can be transplanted.
Once the seed is ripe, it is harvested and dried in the sun.
Customs and Traditions –
The Senna tora has many uses. The whole plant, roots, leaves and seeds have been used extensively in traditional Indian and South Asian medicine. The plant and seeds are edible. The young leaves can be cooked as a vegetable while the roasted seeds are used as a coffee substitute. In Sri Lanka, flowers are added to food.
It is used as a natural pesticide on organic farms and as a powder, used in the pet food industry.
It is also mixed with guar gum for use in mining and other industrial applications. The seeds and leaves are used to treat skin diseases and its seeds can be used as a laxative.
The plant is transformed into tea. In the Republic of Korea, it is believed to rejuvenate human vision. This tea has been referred to as "coffee-tea", due to its coffee taste and aroma.
As mentioned, Senna tora has germicidal and external antiparasitic properties; it has been used to treat skin conditions such as leprosy, ringworm, itching and psoriasis and also for snake bites.
Other medicinal uses include the use of arthritis balm using the leaves.
Senna tora is one of the plants that contain the organic compound anthraquinone and is used in Chinese and Ayurvedic medicine.
A natural gelling agent is obtained from the seed which has industrial and food benefits. The primary chemical constituents of the seed include cinnamaldehyde, gum, tannins, mannitol, coumarins and essential oils aldehydes, eugenol and pinene). The seeds also contain sugars, resins and mucilages.
The galactomannans (a form of polysaccharide) of Senna tora, after proper processing and chemical treatment that allows the chemical to be converted into a product of similar structure, could function as an improved and cheaper thickener than locust bean gum. .
In addition to domestic consumption, there are now noteworthy exports of this plant's powder to various countries. These include the United States of America, Australia, Germany, France, Spain, Denmark, Italy, the Netherlands, Belgium, New Zealand, the United Kingdom, Singapore and Japan.
The value of Senna tora exports has been steadily increasing over the past five years. Comprehensive export data revealed that Japan and the UK are receiving regular supply, while the US market fluctuates.
Preparation Method –
The young leaves of the Senna tora can be cooked as a vegetable while the roasted seeds are used as a substitute for coffee, or tea which is called "coffee-tea", due to its taste and aroma of coffee.
In Sri Lanka, flowers are added to some food preparations.
The seeds and leaves are used to treat skin diseases and its seeds can be used as a laxative.
Guido Bissanti
Sources
– Acta Plantarum – Flora of the Italian Regions.
– Wikipedia, the free encyclopedia.
– Treben M., 2000. Health from the Lord's Pharmacy, Advice and experiences with medicinal herbs, Ennsthaler Editore
– Pignatti S., 1982. Flora of Italy, Edagricole, Bologna.
– Conti F., Abbate G., Alessandrini A., Blasi C. (edited by), 2005. An annotated checklist of the Italian vascular flora, Palombi Editore.
Warning: Pharmaceutical applications and alimurgical uses are indicated for informational purposes only, they do not represent in any way a medical prescription; therefore no responsibility is taken for their use for curative, aesthetic or food purposes.