Boswellia frereana
Boswellia frereana (Boswellia frereana Birdw.) Is an arboreal species belonging to the Burseraceae family.
Systematic –
From a systematic point of view, it belongs to the Eukaryota Domain, Plantae Kingdom, Magnoliophyta Division, Magnoliopsida Class, Sapindales Order, Burseraceae Family and therefore to the Genus Boswellia and the Species B. frereana.
The term is synonymous:
– Boswellia carterii Birdw.
Etymology –
The term Boswellia of the genus was honored to the Scottish biologist John Boswell (1710-1780), a member of the Royal College of Physicians in Edinburgh.
The specific epithet frereana is named after William Edward Frere, a member of the Bombay Council.
Geographical Distribution and Habitat –
Boswellia frereana is a plant native to northern Somalia where locals call it "Dhidin" "Maydi" or the king of all incense.
Its habitat is that of northern Somalia, on rocky and valley sides from sea level up to 750–1000 m, on cliffs and limestone crests.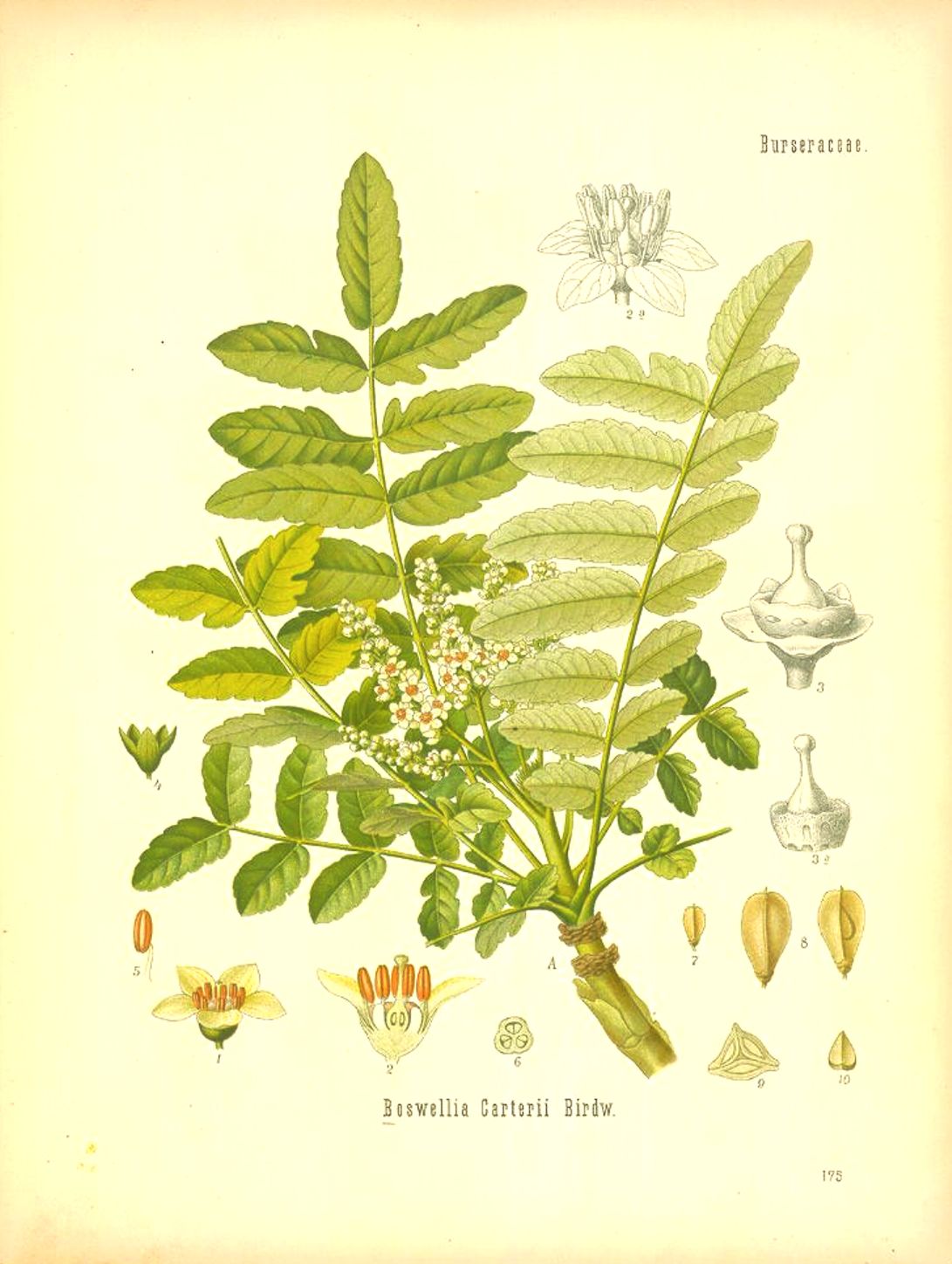 Description –
Boswellia frereana is a deciduous tree from 2 to 8 meters high, with one or more trunks that branch shortly above the ground, assuming the shape of an inverted cone; in very old plants the branches widen, almost resting on the ground so that the foliage takes on a hemispherical shape. Characteristic of this species is the basal part of the trunk which widens like a sucker and sticks firmly to the rock, even on almost vertical walls; often this basal part appears whitish because it is covered by the excess of resin poured along the trunk.
The bark has a papyrus surface layer that peels easily and can be easily removed in thin skin strips.
It has compound, imparipinnate leaves, with 6-8 pairs of sessile leaflets arranged in two lateral rows, with a crenate-wavy margin.
The flowers are small (about 8 mm in diameter), gathered in racemose inflorescences; they have a 5-toothed green calyx, corolla of 5 white free petals, 10 stamens and 1 pistil.
The fruit is an obovoid capsule (8–12 mm x 6–7 mm), with an acute apex, consisting of 3-5 valves each containing a seed.
Cultivation –
Boswellia frereana is a plant that grows in particular habitats linked to arid environments, on calcareous soils but that can be grown in areas with similar soil and climatic characteristics.
Uses and Traditions –
Boswellia frereana also known as the Yigaar tree (or Yegaar).
In addition to its aromatic uses, locals also use it for medicinal purposes; they transform it into a paste called "malmal" and apply it on the joints to treat inflammation and arthritis.
It is said to be grown in Yemen, but this may be based on a 1870 report by Dr. G. Birdwood where B. frereana is said to have been seen in Sir Robert Playfair's garden in Aden (Yemen).
Playfair had brought B. frereana from Somalia and cultivated it in his garden in Aden. Furthermore, even if it is said to grow in Oman, scientific and botanical evidence does not confirm that B. frereana grows or is grown there.
In the West, Boswellia frereana is called "Coptic incense" because this is the typical incense used by the Coptic Church of Egypt.
80% of Boswellia frereana's production is sold in Saudi Arabia, where traditionally it is brought home by Muslim pilgrims.
The origin of the use of this incense was born with the conviction that these chased away evil spirits; incense was used in ancient ceremonies and rituals. It is still a precious and expensive oil, today as it was in ancient times.
Some finds in Egypt show the use of incense to rejuvenate the masks and was an important oil in the embalming process.
In fact, this oil, promoting skin rejuvenation, is a perfect anti-wrinkle product.
In addition, the unique ability of the incense to "slow down breathing" makes the oil valuable for the treatment of respiratory disorders. In China the oil was used in the treatment of tuberculosis of the lymphatic glands and leprosy.
Among the properties of the oil extracted from this plant we remember that it is:
– Calming, sedative, calming, tonic for the lungs: a decongestant, refreshing, regulating, citric lung antiseptic.
Among the most common uses are:
– Skin: mature (anti-wrinkle) skin balances oily skin, lack of tone and ulcers.
– Aches and pains: used in labor to prevent postnatal depression and to help menstrual regulation and breast inflammation.
– Respiratory: asthma: relieves labored breathing.
– By regulating the production of mucus, incense is particularly useful for phlegm sufferers. and for coughs, colds, bronchitis and laryngitis.
– Soothing and calming emotional:
– Calming and soothing: for panic attacks and anxiety.
– Regulates irregular breathing. Help meditation.
– Earache, rheumatism, skin ailments and rot of hooves in horses!
Finally we remember that the Boswellia frereana resin, called "maidi", in addition to being used as incense, is also chewed and used in folk medicine.
Preparation method –
Incense is used in Boswellia frereana and its collection begins in April. A tool called menghaf is used, a kind of chisel sharpened on one side to decorticate the branches and not sharpened on the other to collect the resin. With the "menghaf" 10 to 30 oval decortications (4–8 cm) are produced on the most robust branches of the plant; from the hulled areas it exudes white resin which gradually solidifies in the air. The resin is left to flow for two or three weeks, after which it begins to be collected; however this first resin is not abundant and of mediocre quality. The decortications are cleaned up and after two weeks the second harvest begins which produces incense in abundance and of better quality than the first. The resin is collected with the same system three or four times a year, until October, when the tree is left to rest until the following season.
Guido Bissanti
Sources
– Acta Plantarum – Flora of the Italian Regions.
– Wikipedia, the free encyclopedia.
– Treben M., 2000. Health from the Lord's Pharmacy, Tips and experiences with medicinal herbs, Ennsthaler Editore
– Pignatti S., 1982. Flora of Italy, Edagricole, Bologna.
– Conti F., Abbate G., Alessandrini A., Blasi C. (edited by), 2005. An annotated checklist of the Italian vascular flora, Palombi Editore.
Warning: Pharmaceutical applications and alimurgical uses are indicated for information purposes only, they do not in any way represent a medical prescription; therefore, no responsibility is accepted for their use for healing, aesthetic or food purposes.