Tuber excavatum
The wooden Trifola (Tuber excavatum Vittad., 1831) is an underground mushroom belonging to the Tuberaceae family.
Systematics –
From the systematic point of view it belongs to the Eukaryota Domain, Fungi Kingdom, Ascomycota Division, Pezizomycetes Class, Pezizales Order, Tuberaceae Family and therefore to the Genus Tuber and to the T. excavatum species.
The term Tuber aestivum var is synonymous with obsolete. excavatum.
Etymology –
The term Tuber comes from the Latin word túber tuber, truffle in Pliny and other authors. The specific epithet excavatum from the Latin excavated.
Geographical Distribution and Habitat –
The Tuber excavatum is a truffle that grows in broad-leaved and coniferous forests, in symbiosis with: Symbiosis in nature with: Quercus pubescens Willd., Q. ilex L., Q. ilex L. subsp. ballota (Desf.) Samp., Fagus selvatica L., Ostrya carpinifolia Scop., Carpinus betulus, L., Corylus avellana L., Birch sp., Popolus sp., Pinus nigra Arnold, Picea abies (L.) Karst., Abies alba Miller and Cedrus sp ..
Its habitat is above all that of loose clayey-calcareous soils, even at a little depth in the humic layer. It can be found up to 1450 m s.l.m. with southern exposure, solitary and gregarious, where it bears fruit throughout the year but above all between July and December.
The area of ​​growth is between the 40th and 58th parallel of north altitude. It grows in Spain, France, Great Britain (South England), Belgium, Holland, Sweden, Russia, Czech Republic, Slovak Republic, Austria, Hungary, Romania, Switzerland, Morocco. In Italy it is present in: Piedmont, Lombardy, Trentino Alto Adige, Veneto, Emilia Romagna, Liguria, Tuscany, Marche, Umbria, Lazio, Campania, Basilicata, Sardinia.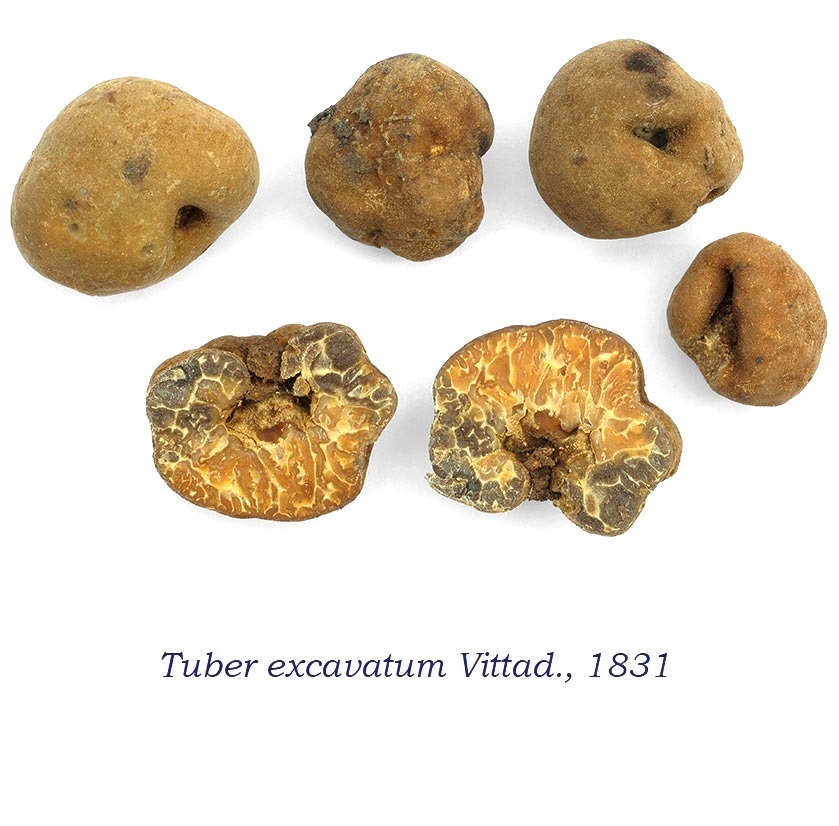 Recognition –
The Tuber excavatum is recognized for having a carpophore: up to 4 cm of diameter, of a subspherical, or deformed, papillose shape, of an ocher color, with the basic opening that typically falls inside.
The peridium is smooth with cavities that develop both outside and inside.
The gleba is hard, dry and woody, light ocher to reddish brown, with whitish veins. The smell is aromatic.
At the microscope, spores of 35-43 x 22-39 µm are observed, elliptic, brownish-yellow, areolate from a lattice.
Cultivation –
To grow, this truffle needs the species described above and loose, clayey-calcareous soils. It can be found up to 1450 m s.l.m. with mainly southern exposure.
Uses and Traditions –
Tuber excavatum, also known as Durone or Balton is a practically unmistakable species; it is recognized for the colors, tendentially reddish-brown of the peridium, the base always with crater-like opening and the extremely coriaceous consistency of its meats which, unfortunately, despite the smell, are the cause of its very poor edibility or even the impossibility use in the kitchen.
The species that come closest to it are: Tuber fulgens, considered by some to be like a T. excavatum form but well differentiated from this in order to have more loaded colors, but above all, the spheres of subsferic shape and Tuber rufum that besides possessing less coriaceous flesh, microscopically, it presents spores with completely different ornamentation, these being surrounded by needle-like spines instead of crested warts.
Edibility, as mentioned, is poor; unfortunately, it is often mixed with the Tuber Aestivum by rogue traders to make more money.
Preparation Mode –
Tuber excavatum due to the consistency of its meat, even if it has a good aroma, is difficult to use in the kitchen.
Guido Bissanti
Sources
– Wikipedia, the free encyclopedia.
– Cetto B., 2008. The mushrooms from life, Saturnia, Trento.
– Pignatti S., 1982. Flora of Italy, Edagricole, Bologna.
– Conti F., Abbate G., Alessandrini A., Blasi C. (edited by), 2005. An annotated checklist of the Italian vascular flora, Palombi Editore.
Attention: Pharmaceutical applications and food uses are indicated for informational purposes only, do not in any way represent a medical prescription; therefore no responsibility is assumed for their use for curative, aesthetic or food purposes.