Monarda punctata
Spotted beebalm (Monarda punctata L., 1753) is a perennial herbaceous species, belonging to the Lamiaceae family.
Systematics –
From a systematic point of view it belongs to:
Eukaryota Domain,
Kingdom Plantae,
Magnoliophyta Division,
Magnoliopsida class,
Subclass Asteridae,
Lamiales Order,
Lamiaceae family,
Genus Monarda,
M. punctata species.
Within this species, the following subspecies are recognized:
– Monarda punctata sub. arkansana (E.M.McClint. & Epling) Shinners;
– Monarda punctata sub. correllii B.L.Turner;
– Monarda punctata sub. coryi (E.M.McClint. & Epling) Shinners;
– Monarda punctata sub. immaculata (Pennell) Scora;
– Monarda punctata sub. intermedia (E.M.McClint. & Epling) Waterf .;
– Monarda punctata sub. lasiodonta A. Gray;
– Monarda punctata sub. occidentalis (Epling) E.J. Palmer & Steyerm .;
– Monarda punctata sub. Punctata;
– Monarda punctata sub. villicaulis (Pennell) E.J. Palmer & Steyerm ..
Etymology –
The term Monarda of the genus was dedicated by Linnaeus to the Spanish botanist and physician Nicolás Bautista Monardes (~ 1493-1588), among the first to describe in his texts the newly discovered plants in the Americas.
The specific epithet punctata comes from prick to prick: dotted, speckled.
Geographic Distribution and Habitat –
Monarda punctata is an endemic plant of North America and present from Quebec to Vermont and Florida and west of Ontario, Minnesota, Kansas and New Mexico.
Its natural habitat is that of sandy grasslands and savannas, sand dunes around the Great Lakes and sandy fields. Plants are found in disturbed or high-quality sandy habitats.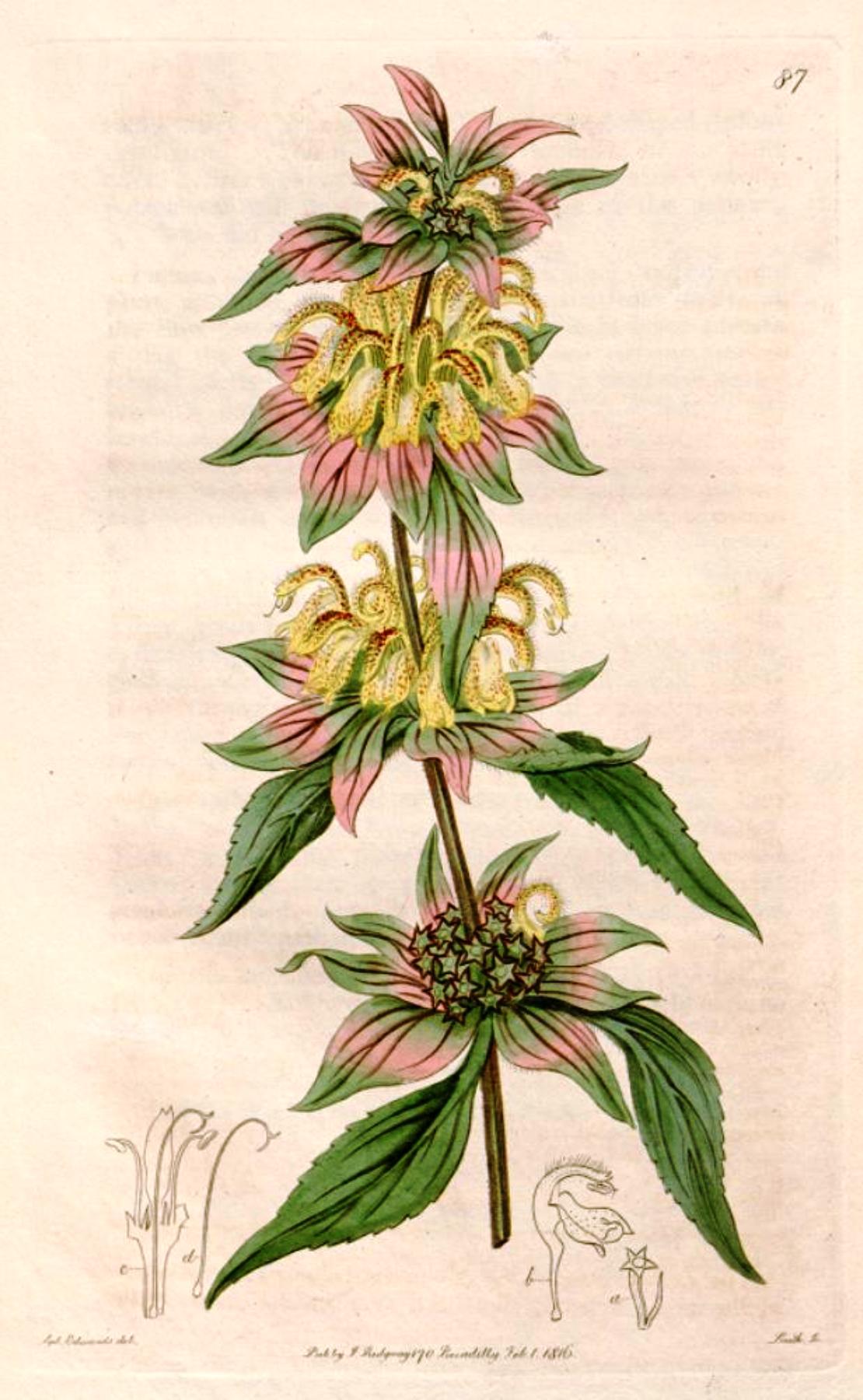 Description –
Monarda punctata is an unbranched perennial herbaceous plant with multiple stems and short rhizomes.
The stems are square and pubescent with a brownish or purplish color. The stems end with a series of rounded clusters of tubular flowers. The leaves, which have a narrow shape, are aromatic and arranged one in front of the other on short petioles along the stems. The leaf blades are medium green, strictly lanceolate and about 7.5 cm long and 2.5 cm broad, with toothed edges and pointed tips.
During the summer the plant has showy rounded clusters of tubular flowers, cream in color with purple spots. Under each cluster of flowers, pink, lavender, or cream-colored leaf-like bracts form. The combination of colorful bracts and speckled flowers is unique and showy.
Flowering takes about 6 weeks and is followed by ovoid achenes which are produced in brown button-like buds.
This plant is very popular with pollinators.
Cultivation –
Spotted beebalm is an easily cultivated plant in medium, dry to medium humid soils, well drained in full sun or up to partial shade. It is an ideal plant in sandy soils with constant humidity and tolerates somewhat poor and dry soils.
The species is considered a short-lived perennial or biennial. The plants also emerge from a 2 year dormancy period.
It is a good plant for a garden where you want to attract wildlife, with cut flowers or in a sandy lawn.
Monarda punctata has showy blooms and is suitable for low maintenance gardens and perennial borders.
To prolong the flowering of this plant it is recommended to remove the exhausted flowers to also improve the aesthetic appearance of the plant.
Customs and Traditions –
Monarda punctata is a plant used as an ornamental for perennial borders, wild gardens or aromatic herbs.
Its flowers attract bees, bumblebees and many butterflies, including the Karner Blue butterfly.
The scent of this plant is however repulsive to herbivorous mammals, so it is rarely consumed by them.
Monarda punctata has a high thymol content compared to other members of the Lamiaceae family.
The plant has been used medicinally for both horses and humans.
Preparation Method –
The aromatic leaves of Monarda punctata can be used to prepare tea-like drinks or in addition to other teas.
The collection of the leaves must be done throughout the period of summer flowering.
Guido Bissanti
Sources
– Acta Plantarum – Flora of the Italian Regions.
– Wikipedia, the free encyclopedia.
– Useful Tropical Plants Database.
– Conti F., Abbate G., Alessandrini A., Blasi C. (ed.), 2005. An annotated checklist of the Italian vascular flora, Palombi Editore.
– Pignatti S., 1982. Flora of Italy, Edagricole, Bologna.
– Treben M., 2000. Health from the Lord's Pharmacy, Advice and experiences with medicinal herbs, Ennsthaler Editore.
Warning: Pharmaceutical applications and alimurgical uses are indicated for informational purposes only, they do not represent in any way a medical prescription; therefore no responsibility is taken for their use for curative, aesthetic or food purposes.