Coptis japonica
The Japanese Coptid (Coptis japonica (Thunb.) Makino) is a herbaceous species belonging to the Ranunculaceae family.
Systematics –
From the systematic point of view it belongs to the Eukaryota Domain, Kingdom Plantae, Magnoliophyta Division, Magnoliopsida Class, Magnoliidae Subclass, Ranunculales Order, Ranunculaceae Family, Coptoideae Subfamily and therefore to the Coptis Genus and to the C. japonica Species.
The terms are synonymous:
– C. anemonaefolia Sieb. & Zucc .;
– Coptis orientalis Maxim .;
– Thalictrum japonicum Thunb ..
Etymology –
The term Coptis comes from modern Latin, in turn from the Greek koptein, to be truncated, for the divided leaves.
The specific japonica epithet refers to the Japanese origin or origin.
Geographic Distribution and Habitat –
Coptis japonica is a plant found in Southeast Asia and Japan.
Its habitat is that of the forests in the mountains all over Japan.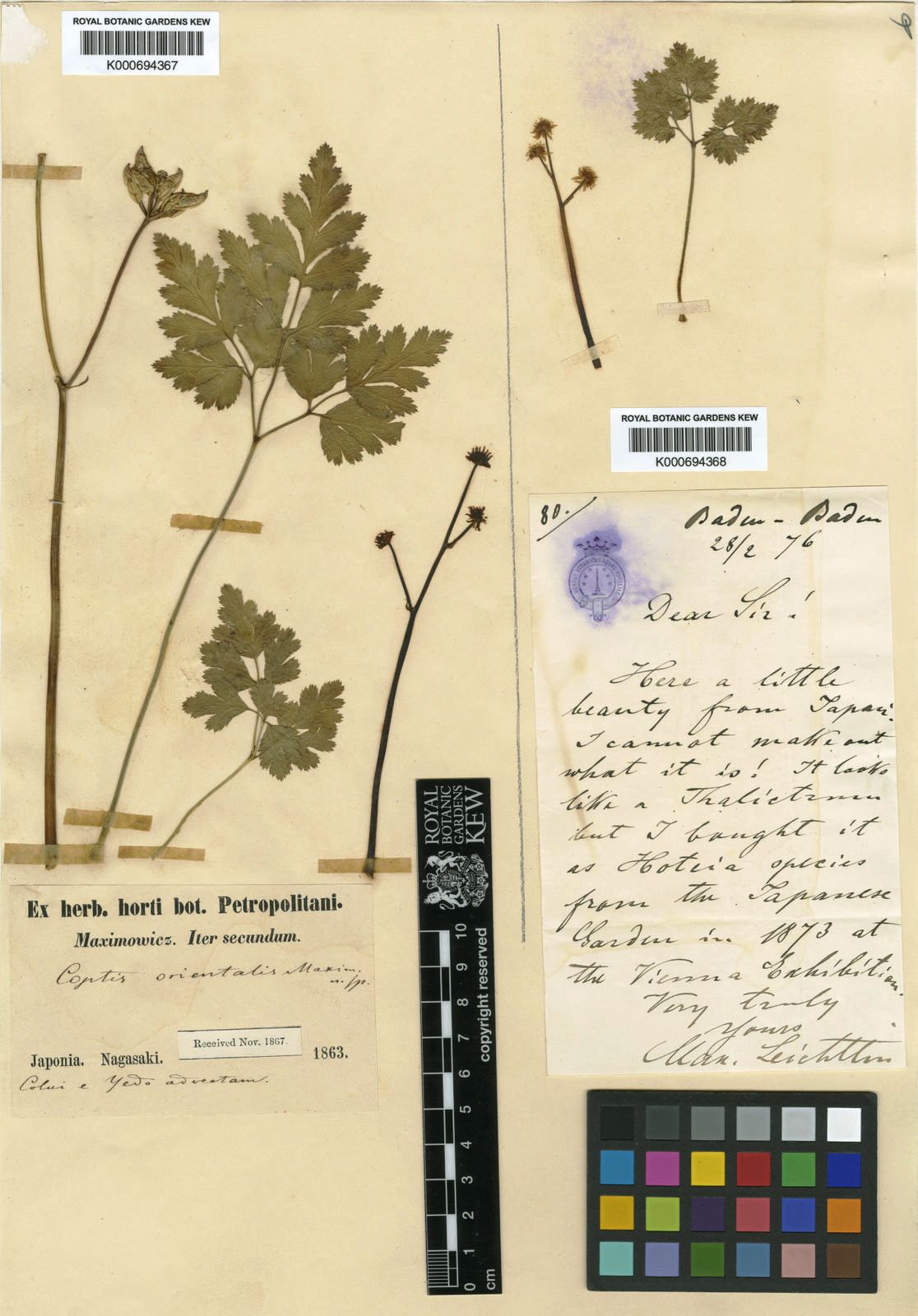 Description –
Coptis japonica is an evergreen perennial herbaceous species up to 0.22 meters tall with a width of about 0.5 meters.
The leaves are completely hairless and have a jagged triangular outline.
The flowers are single, long terminal, with white, hermaphroditic petals (with both male and female organs).
Cultivation –
Coptis japonica is a plant that prefers the half shade typical of woodlands.
It can be grown as a ground cover plant in peat-rich gardens.
In fact, it requires a slightly moist soil, rich in humus, slightly acid with a northern exposure.
The plant must be propagated from seed. The sowing should be done, possibly, in the greenhouse as soon as the seed is ripe in a heather compost.
It is recommended to seal the pot in a polyethylene bag until germination occurs, which is usually within 1 – 6 months at 10 ° C. The stored seeds should be sown as early as possible in the year. Four-week cold stratification can be helpful. Once the young seedlings have formed and can be handled, it is recommended to transplant them into individual pots.
The transplant should be done in mid-autumn or in spring.
Customs and Traditions –
Coptis japonica, as well as for ornamental purposes, is collected in nature for local use as a medicine and source of materials.
The root is a refreshing, very bitter and pungent herb that controls bacterial and viral infections, relaxes spasms, lowers fever and stimulates circulation. It is locally analgesic and anesthetic and is also anti-inflammatory and gastric.
The plant is used in the treatment of intestinal phlegm, dysentery, enteritis, high fever, inflammation of the mouth and tongue, conjunctivitis, etc.
While no specific mention of toxicity has been found for this plant, it belongs to a family that contains many species that are mildly toxic and therefore it is wise to treat this plant with some caution.
Preparation Method –
Coptis japonica root is harvested in the fall and can be used fresh or dried for all its medical uses.
Guido Bissanti
Sources
– Acta Plantarum – Flora of the Italian Regions.
– Wikipedia, the free encyclopedia.
– Treben M., 2000. Health from the Lord's Pharmacy, Advice and experiences with medicinal herbs, Ennsthaler Editore
– Pignatti S., 1982. Flora of Italy, Edagricole, Bologna.
– Conti F., Abbate G., Alessandrini A., Blasi C. (edited by), 2005. An annotated checklist of the Italian vascular flora, Palombi Editore.
Warning: Pharmaceutical applications and alimurgical uses are indicated for informational purposes only, they do not represent in any way a medical prescription; we therefore decline all responsibility for their use for curative, aesthetic or food purposes.