Commiphora habessinica
Yemen myrrh (Commiphora habessinica (O.Berg) Engl.) Is a shrub species belonging to the Burseraceae family.
Systematics –
From the systematic point of view it belongs to the Eukaryota Domain, Kingdom Plantae, Magnoliophyta Division, Magnoliopsida Class, Sapindales Order, Burseraceae Family and therefore to the Commiphora Genus and to the C. habessinica Species.
The following terms are synonymous:
– Amyris kafal Forssk .;
– Balsamea abyssinica Engl .;
– Balsamodendrum abyssinicum Engl .;
– Balsamodendrum habessinica O.Berg;
– Balsamodendrum kafal (Forssk.) Kunth ex DC .;
– Balsamus kafal (Forssk.) Stackh .;
– Commiphora abyssinica (Engl.) Engl .;
– Commiphora assaortensis Chiov .;
– Commiphora dancaliensis Chiov .;
– Commiphora salubris Engl .;
– Commiphora subsessilifolia Engl ..
Etymology –
The term Commiphora comes from the Greek κόμμι cómmi rubber, resin and from φορέω phoréo bring: which produces resin.
The specific habessinian epithet is a spelling variant of abyssinicus (from Abyssinia, a region of Ethiopia, coming from the mixed or bastard habesc Arabic: Abyssinian); of Abyssinia, Abyssinian.
Geographic Distribution and Habitat –
Commiphora habessinica is a native and very widespread plant of north-eastern Africa and the Arabian peninsula; it is present in the following territories: Djibouti, Eritrea, Ethiopia, Zambia, Malawi, Oman and Yemen.
Its habitat varies from arid areas to those affected by monsoons in slopes and valleys on shallow soils, mainly on limestone in areas with average annual rainfall of 230-300 mm and at altitudes between 40 and 1300 m.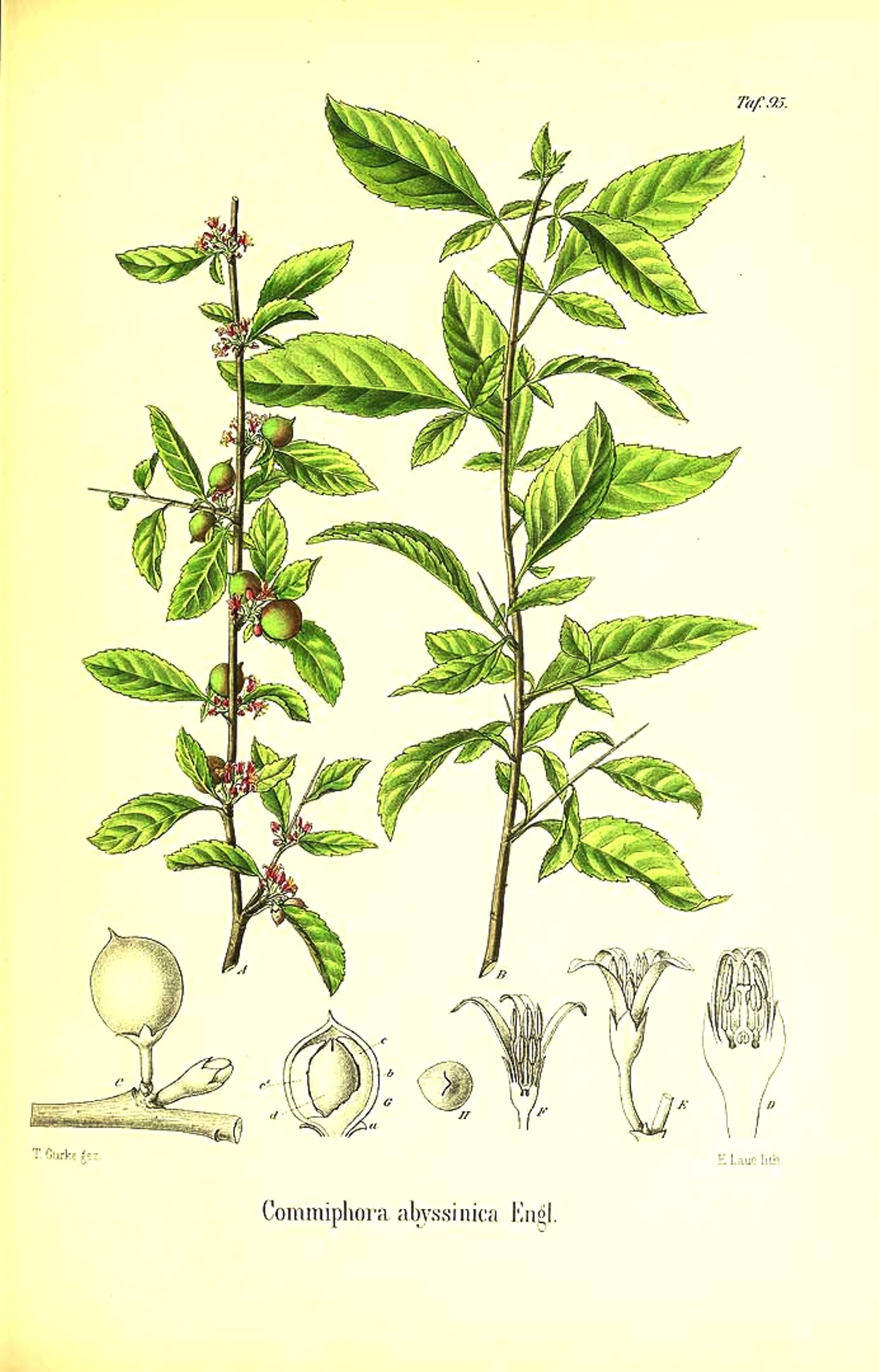 Description –
Commiphora habessinica is a plant that varies considerably in its conformation: from a low and thorny shrub with small leaves in the driest areas to a medium-sized tree, with a distinct trunk and large leaves in the areas characterized by monsoons.
It is a dioecious plant that has a bark that flakes and when cut gives off a resin with a pleasant smell.
The leaves are alternate or fasciculate on short condensed lateral shoots. The leaves are 10-50mm long x 5-40mm in diameter with a sharp tip and a glossy green color. The flowers are red or yellow in color and there are usually 1–5 lateral shoots between the leaves. Male and female flowers are similar, but male flowers are usually carried in clusters while female flowers are usually solitary.
The fruit has an ovoid shape of 7-9 x 4-6 mm, green and red in color and divides with 1 seed into 2 valves.
The seed is orange or pale yellow with a 4-lobed pseudo-aril.
Cultivation –
Commiphora habessinica is a plant that grows spontaneously in arid areas or in monsoon areas and depending on this, its morphological adaptation is remarkable, passing from the conformation to a thorny shrub to a tree with large leaves.
Customs and Traditions –
Myrrh from Yemen was described for the first time in north-eastern Africa by Otto Karl Berg in the year 1862, with the term Balsamodendrum habessinicum. Later it was transferred to the genus Commiphora by Adolf Englernel 1883, but with the name Commiphora abyssinica which is a spelling variant.
The resin, also called Commiphora habessinica myrrh, has been used in traditional medicine in Arabia. This resin is placed on the area of ​​the body to be treated.
Commiphora habessinica is edible. From young plants, the peeled and chewed root can be used; this produces a sweet and refreshing liquid. After monsoons or storms, Commiphora habbesinica produces a sugary liquid. The plant can then be cut into cross sections and suck up its fluid.
Preparation Method –
Commiphora habessinica is used for both medicinal and food purposes
It uses resin and sugary liquids that ooze in areas with higher humidity conditions.
Guido Bissanti
Sources
– Acta Plantarum – Flora of the Italian Regions.
– Wikipedia, the free encyclopedia.
– Treben M., 2000. Health from the Lord's Pharmacy, Advice and experiences with medicinal herbs, Ennsthaler Editore
– Pignatti S., 1982. Flora of Italy, Edagricole, Bologna.
– Conti F., Abbate G., Alessandrini A., Blasi C. (edited by), 2005. An annotated checklist of the Italian vascular flora, Palombi Editore.
Warning: Pharmaceutical applications and alimurgical uses are indicated for informational purposes only, they do not represent in any way a medical prescription; therefore no responsibility is taken for their use for curative, aesthetic or food purposes.