Trifolium vesiculosum
The arrowleaf clover or Trifoglio Ruffo di Calabria (Trifolium vesiculosum Savi) is a herbaceous species belonging to the Fabaceae family.
Systematics –
From the systematic point of view it belongs to the Eukaryota Domain, United Plantae, Magnoliophyta Division, Magnoliopsida Class, Fabales Order, Fabaceae Family, Faboideae Subfamily, Trifolieae Tribe and then to the Genus Trifolium and the T. vesiculosum Species.
Etymology –
The term Trifolium derives from the three-word prefix and from fólium foglia: for the leaves composed of three leaflets. The specific epithet vesiculosum comes from swollen, vesicular, lumpy, vesica bladder: for the swollen calyx like a bladder or covered with vesicles.
Geographical Distribution and Habitat –
The arrowleaf clover is an annual plant with a Mediterranean distribution with a northern center of gravity.
In Italy it is present in Sicily and in almost all the other peninsular regions with the exception of the Marche and Molise, while it has not been observed for a long time in Campania and is of doubtful presence in Umbria.
Its habitat is represented by disturbed environments and uncultivated areas, from sea level to about 800 m, with optimum in the Mediterranean area.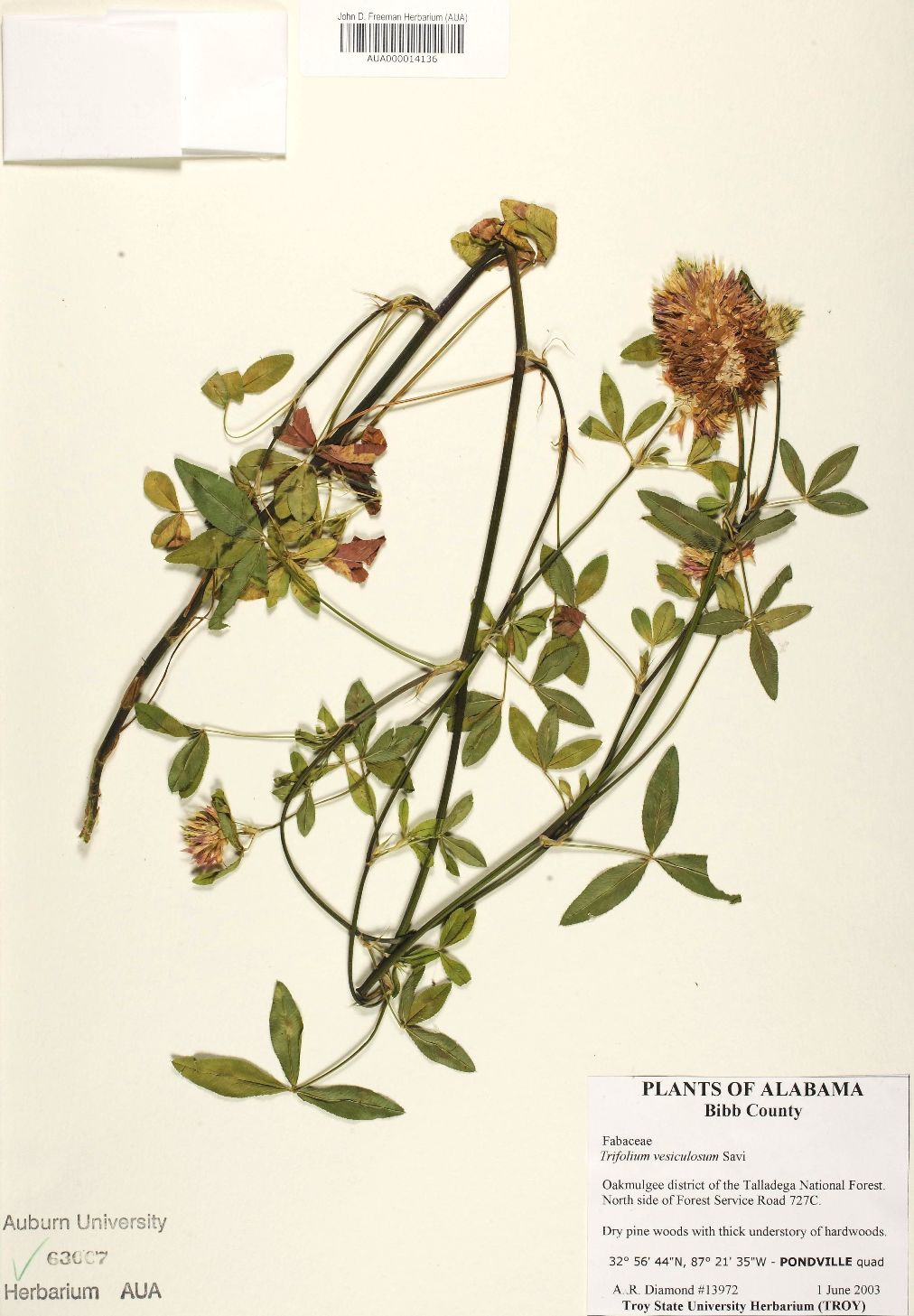 Description –
Trifolium vesiculosum is a herbaceous species characterized by leaves with 3 leaflets, with 10 diadelfian stamens; the corolla is persistent and adheres to the androceo and the inflorescences are a little head.
The flowers are initially white and later pink or purple.
The fruit is a diclesio, an indehiscent camara included in the calyx, with membranous pericarp and 2-3 seeds, brownish, tuberculous, of 1.5-1.7 mm.
The anthesis is in the period between April and June.
Cultivation –
The arrowleaf clover is a plant that adapts well to loose and calcareous soils but less than the incarnate clover; it is a species that tolerates drought, and also does not tolerate heavy soils that are not very permeable.
The sowing of this plant is carried out in autumn or at the end of summer using 10-15 Kg / ha of seed.
Uses and Traditions –
The arrowleaf clover is a plant for forage use that has a rather slow initial development (like the squarrose clover) but that becomes very important in the spring period, with high and good quality forage productions. It can be used as a pasture since the beginning of spring, or for pasture and hay or for pasture and seed.
It is a plant that is however decreasing as a spontaneous species and therefore to be placed under observation.
Preparation Mode –
Trifolium vesiculosum is a species with interesting potential for use as fodder while no uses are known for human nutrition or pharmacological use.
Guido Bissanti
Sources
– Acta Plantarum – Flora of the Italian Regions.
– Wikipedia, the free encyclopedia.
– Treben M., 2000. Health from the Pharmacy of the Lord, Advice and experiences with medicinal herbs, Ennsthaler Editore
– Pignatti S., 1982. Flora of Italy, Edagricole, Bologna.
– Conti F., Abbate G., Alessandrini A., Blasi C. (edited by), 2005. An annotated checklist of the Italian vascular flora, Palombi Editore.
Attention: Pharmaceutical applications and food uses are indicated for informational purposes only, do not in any way represent a medical prescription; therefore no responsibility is assumed for their use for curative, aesthetic or food purposes.