Cyperus longus
The Galingale (Cyperus longus L.) is an aquatic herbaceous species belonging to the Cyperaceae family.
Systematics –
From the systematic point of view it belongs to the Eukaryota Domain, Kingdom Plantae, Magnoliophyta Division, Liliopsida Class, Cyperales Order, Cyperaceae Family and therefore to the Cyperus Genus and to the C. longus Species.
The terms are synonymous:
– Cyperus bardii nom. Ill .;
– Cyperus brachystachys (Hook.f.) Andersson .;
– Cyperus fenzelinus Steud .;
– Cyperus loadius Desf .;
– Cyperus longus L. subsp. badius (Desf.) Murb .;
– Cyperus myriostachys Ten ..
Etymology –
The term Cyperus comes from the Greek κύπειρος cýpeiros rush with edges, cipero, papyrus.
The specific epithet longus comes from Latin and means long: elongated, usually due to its posture.
Geographic Distribution and Habitat –
The Galingale is a paleo-temperate species and is widespread in Europe, North Africa and central-western Asia.
In Italy it is present in all regions.
Its growth habitat is in wetlands, along ditches, in stagnant waters, on the shores of lakes and swamps, from sea level to about 1300 m.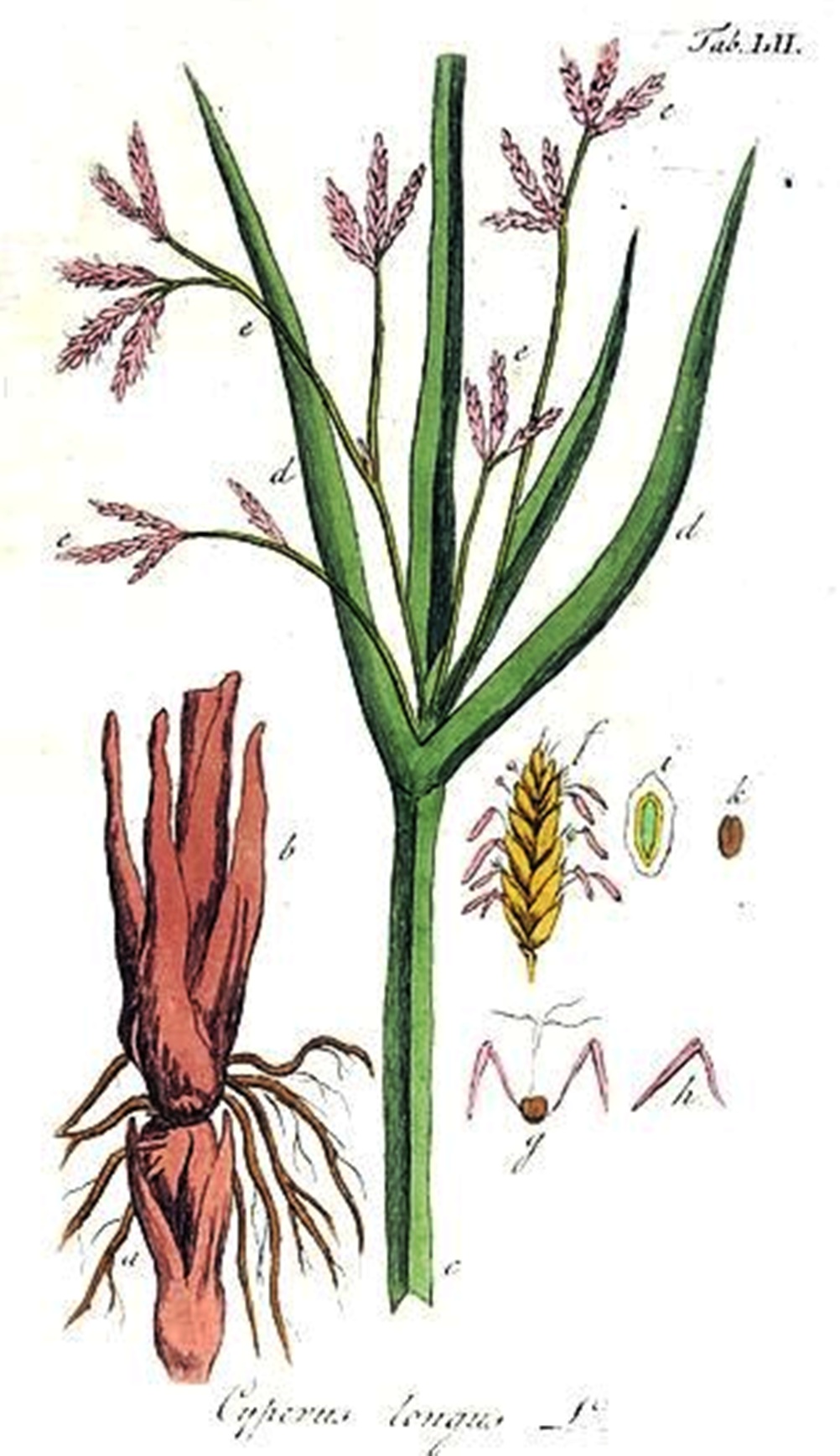 Description –
Cyperus longus is a swamp plant, perennial, evergreen, up to 1.20 meters high, consisting of tall stems ending in umbrella-shaped foliage.
In summer, branched inflorescences of brown color develop.
The flowering period is from June to September.
The ears are linear 7-10 x 1 mm, 15-25 floral, reddish-brown, at times a little sickle-shaped, gathered in bunches of 3-10; distichous glumes, imbricate ovate or elliptic, obtuse, sometimes mucronate, membranous, reddish-brown with central greenish band, keeled, with 5-7 nerves. 1-1.5 x 0.5 mm trigono-ellipsoid achens, obovoid, blackish or blackish-brown.
Cultivation –
Cyperus longus is a fast-growing plant, and therefore suitable for medium-large ponds and for constructed wetlands.
The plants should be placed at a planting depth, between the rhizome and the water surface, from 0 to -20 cm
It prefers full sun exposure and resists very cold temperatures (about -15 ° C).
It also prefers moist sandy loam and succeeds in any good garden soil as long as it doesn't dry out.
Propagation can take place by seed, with sowing to be carried out on the surface in spring while keeping the soil moist. The seed usually germinates in 2-6 weeks at 18 ° C.
Plants can be grown for their first winter in a greenhouse, then transplanted in late spring after the last expected frosts.
Another method of propagation is by division to be carried out in spring or autumn. The division is simple in almost all periods of the year, provided that the roots do not dry out; with this technique the plants must be planted directly in their permanent positions.
Customs and Traditions –
Cyperus longus is known by various names, such as Cyperus major, Quadrelli, Zigolo comune or odorato rush in Italy, Juncia loca in Spanish or Galingale in English.
Cyperus longus is a naturally occurring plant, used for phytoremediation or as an ornamental plant, which in some countries is harvested for local use as food, medicine and source of materials.
The rhizome is edible after cooking.
In the past, the zigolo tuber was used toasted as a substitute for coffee.
In the past it was a favorite spice of medieval cuisine and was an ingredient in "pokerounce", a kind of medieval cinnamon toast.
It is currently rarely used. Both the root and the stem have a sweet musk-like scent, similar to that of violet but not as pure. The aroma becomes more fragrant with age and as it ages.
For medicinal use the root is an aromatic tonic. It was once considered a good intestinal remedy, useful in the early stages of dropsy, but has now fallen into disuse.
Among other uses, the leaves are used in wicker and for weaving hats, mats, etc.
The root and the stem, which, as mentioned, smell of violet, are used in perfumery.
A fiber obtained from the plant is used in papermaking.
Preparation Method –
Cyperus longus, as well as for medicinal and other artisanal or industrial uses, can be used in the kitchen.
The rhizome is edible and, after cooking, can be used as a spice in soups, cakes and desserts.
Guido Bissanti
Sources
– Acta Plantarum – Flora of the Italian Regions.
– Wikipedia, the free encyclopedia.
– Useful Tropical Plants Database.
– Conti F., Abbate G., Alessandrini A., Blasi C. (edited by), 2005. An annotated checklist of the Italian vascular flora, Palombi Editore.
– Pignatti S., 1982. Flora of Italy, Edagricole, Bologna.
– Treben M., 2000. Health from the Lord's Pharmacy, Advice and experiences with medicinal herbs, Ennsthaler Editore.
Warning: Pharmaceutical applications and alimurgical uses are indicated for informational purposes only, they do not represent in any way a medical prescription; therefore no responsibility is taken for their use for curative, aesthetic or food purposes.