Amanita ovoidea
The Amanita ovoidea (Bull.) Link (1833), known as "Farinaccio" due to the floury appearance of its parts, or even white ovolo, is a very showy mushroom for its size and easy to recognize.
Systematics –
The Meal from the systematic point of view belongs to the Domain Eukaryota, Kingdom Fungi, Phylum Basidiomycota, Class Basidiomycetes, Order Agaricales, Family Amanitaceae and therefore to the Genus Amanita, Subgenus Amidella and Species A. Ovoidea.
Etymology –
The term ovoid comes from the Latin meaning "egg-shaped", due to its youthful appearance (from the Latin ovum = egg, from the Greek eìdos = resemblance).
Geographic Distribution and Habitat –
The Amanita ovoidea can be found under conifera (Pinus spp.) And broad-leaved (Quercus spp.) And is very common in warm areas, below one thousand meters. It is a fungus that prefers sandy and calcareous soils and fructifies in the period between summer and autumn.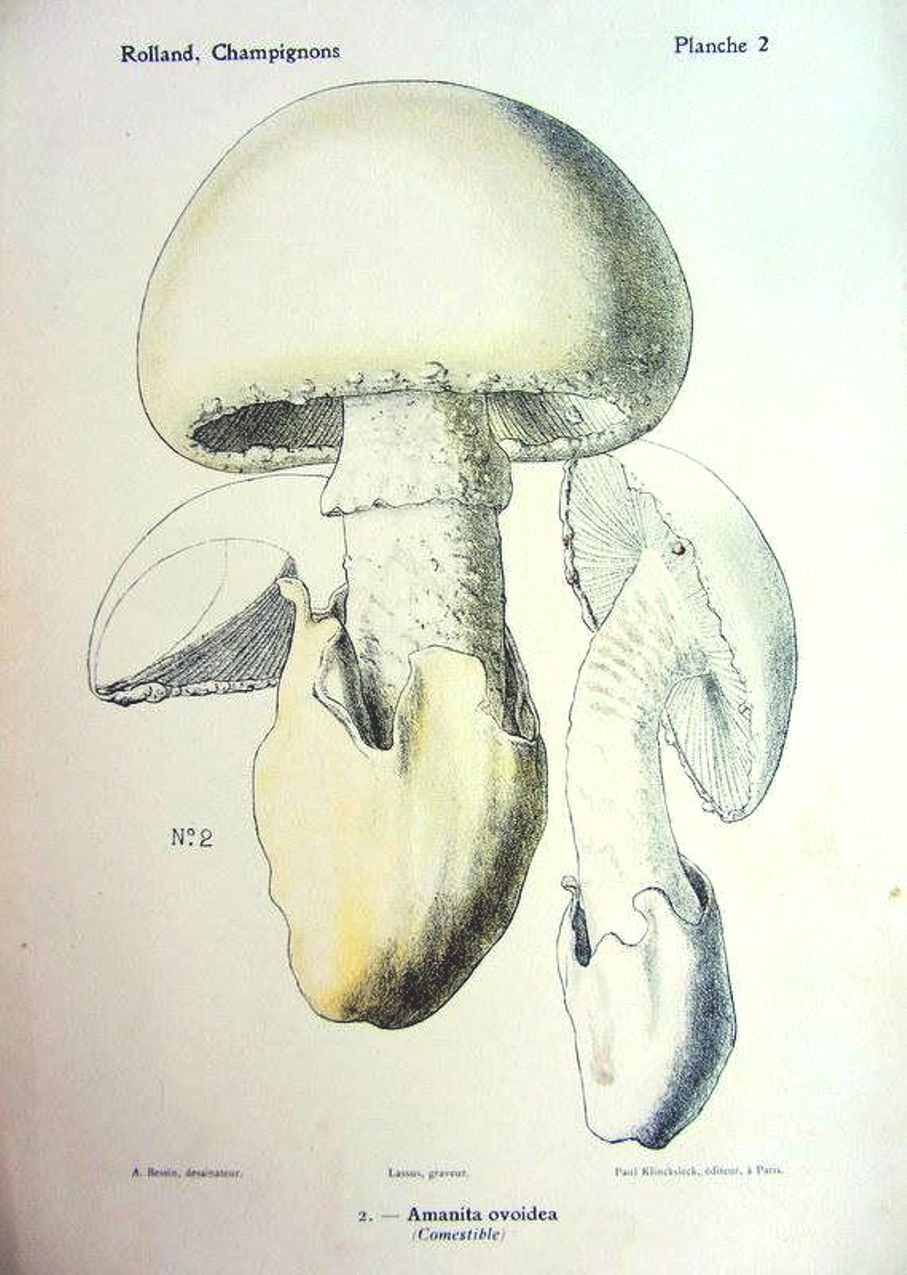 Description –
The Amanita ovoidea is provided with a hat of 10-12 cm, fleshy, in spherical or ovoid principle and then convex, at the end more or less open, with a thick margin, usually fringed on the edge by a powdery, white, slightly veil viscous. The lamellae are dense, unequal, ventricose, rounded. The stem of 8-15 x 2-5 cm is large, cylindrical or slightly enlarged at the top and bottom, full, fluffy or or floury and white. It has a ring with a consistency of cream. Wide, high, fleshy, membranous, very persistent, half-free and often lobed, white or orange-brick. The meat is white, fat and consistent with a strong and unpleasant odor and with a little flavor. The spores are white in mass, elliptically 9-12 x 6.5-7.5 microns.
Cultivation –
Not cultivated.
Uses and Traditions –
This fungus can easily be exchanged with the toxic Amanita proxima; some believe that the recent cases of intoxication recorded are imputable to the latter species. In some parts of Italy, as in Tuscany, the Amanita ovoidea is considered a good edible fungus and as such consumed, even if its particular aroma and its sweet taste are not appreciated by everyone. In quite recent times there have been some cases of intoxication that were initially attributed to the consumption of this species: according to different mycologists, however, the person responsible for such events would appear to be the Amanita proxima, a morphologically similar species. Since there are no confirmations to this version, caution is advised in the collection.
Preparation Mode –
It is prepared a little like the other edible amanites both fresh and in oil.
Guido Bissanti
Sources
– Wikipedia, the free encyclopedia.
– Cetto B., 2008. I funghi dal vero, Saturnia, Trento.
– Pignatti S., 1982. Flora of Italy, Edagricole, Bologna.
– Conti F., Abbate G., Alessandrini A., Blasi C. (edited by), 2005. An annotated checklist of the Italian vascular flora, Palombi Editore.
Warning: Pharmaceutical applications and alimurgical uses are indicated for informational purposes only and do not in any way represent a medical prescription; there is therefore no liability for their use for curative, aesthetic or food purposes.