Swertia pseudochinensis
The hairy Swertia or hepatitis grass (Swertia pseudochinensis Hara) is a herbaceous species belonging to the Gentianaceae family.
Systematics –
From a systematic point of view it belongs to:
Eukaryota domain,
Kingdom Plantae,
Magnoliophyta division,
Class Magnoliopsida,
Gentianales Order,
Family Gentianaceae,
Genus Swertia,
S. pseudochinensis species.
The terms are synonyms:
– Frasera pseudochinensis (H.Hara) Toyokuni;
– Narketia japonica Raf.;
– Ophelia pseudochinensis (Hara) Czerep.;
– Ophelia pseudochinensis (Hara) Toyokuni;
– Ophelia pseudochinensis f. grandiflora (Franch.) A.E.Kozhevn. & Z.Kozhevn.;
– Swertia chinensis f. grandiflora Franch.;
– Swertia chinensis f. violacea Makino;
– Swertia pseudochinensis f. alba Y.N.Lee
Etymology –
The term Swertia of the genus derives from Emmanuel Swart, a Dutch gardener who authored a Florilegium in the early seventeenth century.
The specific epithet pseudochinensis comes from the conjunction of the Greek prefix ψευδο- pseudo- pseudo, fallacious, deceitful and from the term chinensis, native or referring to China.
Geographic Distribution and Habitat –
Swertia pseudochinensis is a plant native to an area that includes: central-northern China, Inner Mongolia, Japan, Korea and Primorye (a first level subdivision of the Russian Federation, belonging to the federal district of the Far East.)
Its growth area is next to streams, hills, scrub, forests, between 500 and 1600 m. above sea level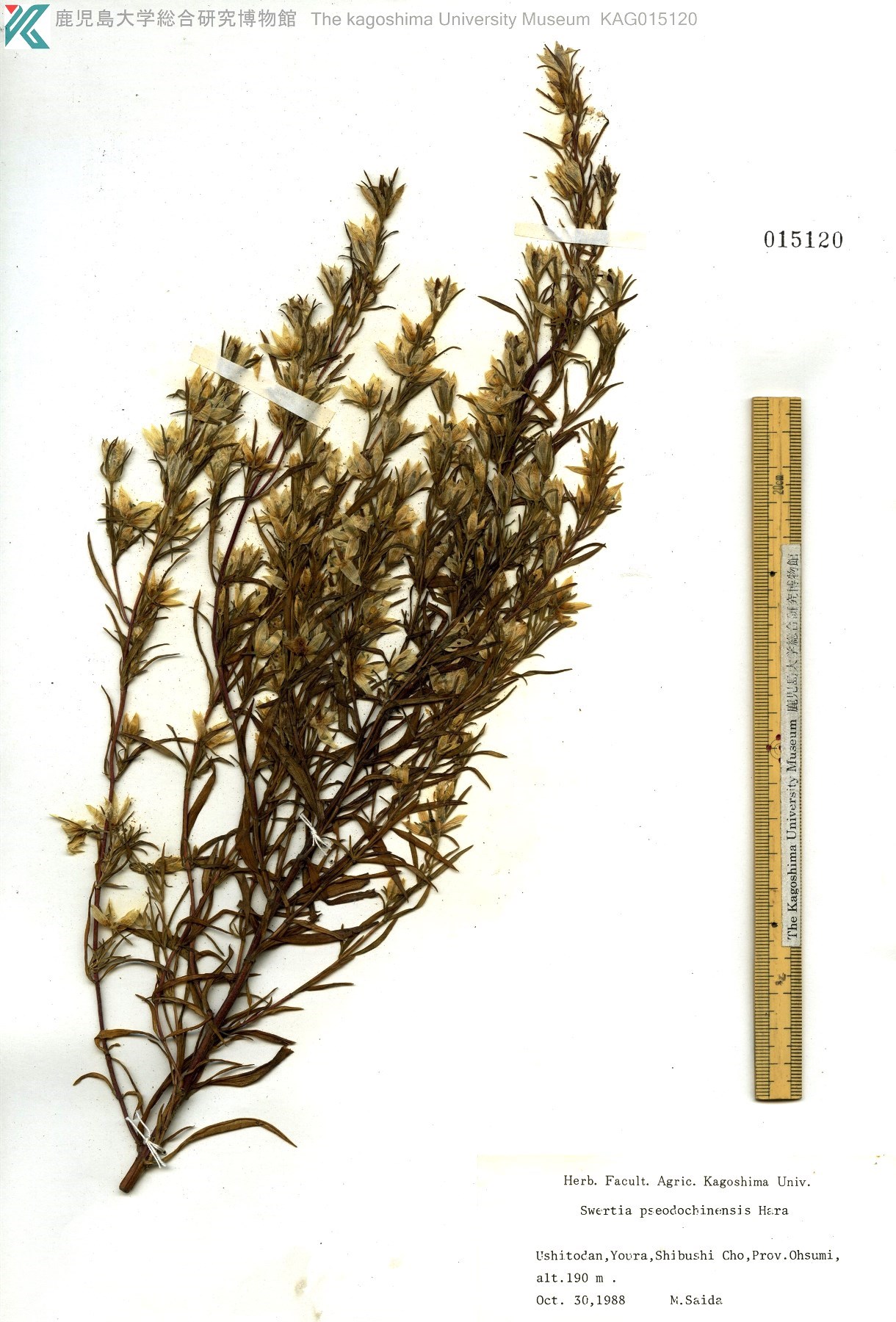 Description –
Swertia pseudochinensis is an annual plant that reaches a height of 10-15 cm. The underground apparatus consists of yellow and robust roots.
The stems are erect, 2-3 mm in diameter, sub-quadrangular in shape, closely winged at the corners and branched.
The leaves are sessile, linear to linear-lanceolate in shape, about 3.5 cm × 6 mm, with both ends attenuated and a prominent central vein.
It has inflorescences grouped in terminal panicles, many flowering and expanded.
The flowers are made up of 5 petals, with an erect, up to 2 cm, 4-angled pedicel.
The goblet tube is 1-1.5 mm; the lobes are linear, up to 1.5 cm, with a sharp apex and distinct median vein. The corolla is blue-purple, with dark blue veins, 1.5-2 cm in diameter, 1-1.5 mm tube; 0.9-1.6 cm lanceolate lobes with acuminate apex. The filaments of the anthers are 6-8 mm, with strictly ellipsoid anthers, 2.5-3 mm; the style is indistinct and the stigma has capitate lobes.
The anthesis is between August and September.
The fruits are bivalve capsules, which contain many small seeds.
Cultivation –
Swertia pseudochinensis is a plant that grows spontaneously and has long been used in traditional Chinese medicine.
The plant grows in mostly humid and shaded places at altitudes between 500 and 1600 m. above sea level and distributed mainly in northern China and some other areas of northeast Asia.
Reproduction occurs by seed.
Customs and Traditions –
Swertia pseudochinensis, known in China with the name: 瘦毛獐牙菜 (liu mao zhang ya cai) is an annual plant that has been used in traditional Chinese medicine for the treatment of hepatitis, gastritis, digestive dysfunction, dysentery, teeth and cancer.
According to some studies it has been seen that some components of the plant such as: secoiridoids, xanthones, flavones and triterpenoids are the main chemical components with various bioactivities including anticancer, hepatoprotective, hypoglycemic, antibacterial, gastrointestinal protective and anti-inflammatory effects.
Although the traditional therapeutic effects of S. pseudochinensis in the treatment of inflammation-related diseases such as hepatitis and gastritis have been documented, yet the bioactive constituents have rarely been studied.
Furthermore, a new xanthone derivative was recently isolated, together with 13 other known constituents.
Their structures have been determined on the basis of spectral and chemical tests. Furthermore, the respective extracts of hexane, ethyl acetate, 1-BuOH, MeOH and water of S. pseudochinensis and purified compounds were respectively evaluated for their hepatoprotective activities against CCl4-induced hepatocyte damage. All isolated extracts and compounds showed significant hepatoprotective activities at a dose that showed no hepatotoxicity.
Furthermore these selected compounds were assayed for their anti-inflammatory and antibacterial activities and moderate anti-inflammatory activities were observed through LPS-induced inhibition of cytokine IL-6 and TNF-α secretion in RAW264.7 macrophages. Antibacterial activity against Staphylococcus aureus however was not found at 100 μM.
Furthermore, it is believed that the secoiridoids present in the plant have highlighted their potential pharmacological application such as: anti-inflammatory, neuroprotective, cytotoxic, anti-diabetic and anti-obesity effect.
For this reason, a more in-depth study of the properties of this plant, with its active principles, can envisage future uses for interesting pharmacological purposes.
Method of Preparation –
Swertia pseudochinensis, together with other plants of the same genus, has a long tradition of medicinal uses; this applies in particular to S. chirayita, one of the most important medicinal herbs in Indian, Chinese and Tibetan medicine, where it is used to treat a vast range of ailments.
However, in addition to the applications in traditional medicine of the places where the plant grows spontaneously, the bioactive principles of S. pseudochinensis, according to recent studies, could open new frontiers with regard to neurodegenerative disorders.
Guido Bissanti
Sources
– Acta Plantarum – Flora of the Italian Regions.
– Wikipedia, the free encyclopedia.
– GBIF, the Global Biodiversity Information Facility.
– Useful Tropical Plants Database.
– Conti F., Abbate G., Alessandrini A., Blasi C. (ed.), 2005. An annotated checklist of the Italian vascular flora, Palombi Editore.
– Pignatti S., 1982. Flora of Italy, Edagricole, Bologna.
– Treben M., 2000. Health from the Lord's Pharmacy, Advice and experiences with medicinal herbs, Ennsthaler Editore.
Photo source:
– https://inaturalist-open-data.s3.amazonaws.com/photos/104017393/original.jpg
– https://dbs.kaum.kagoshima-u.ac.jp/musedb/s_plant/picture/KAG015120/KAG015120.jpg
Attention: The pharmaceutical applications and alimurgical uses are indicated for informational purposes only, they do not in any way represent a medical prescription; we therefore decline all responsibility for their use for curative, aesthetic or food purposes.