Protium icicariba
Icica icicariba (Protium icicariba (DC.) Marchand) is an arboreal species belonging to the Burseraceae family.
Systematics –
From a systematic point of view it belongs to:
Eukaryota Domain,
Kingdom Plantae,
Magnoliophyta Division,
Magnoliopsida class,
Sapindales Order,
Burseraceae family,
Genus Protium,
P. icicariba species.
Basionimo is the term:
– Icica icicariba DC ..
The terms are synonymous:
– Amyris ambrosiaca L.fil .;
– Amyris ambrosiacea L.f .;
– Bursera icicariba (DC.) Baill .;
– Icica sellowii Engl .;
– Tingulonga icicariba (DC.) Kuntze.
Within this species, the following varieties are also recognized:
– Protium icicariba var. glabrescens Engl .;
– Protium icicariba var. icicariba (DC.) Marchand, 1867;
– Protium icicariba var. Daly talmonii.
Etymology –
The term Protium is derived from modern Latin and coming from the Greek prōtos, first.
The specific icicariba epithet is of uncertain identification but could derive from the vernacular name of the plant.
Geographic Distribution and Habitat –
Protium icicariba is a plant native to the northern part of South America with a distribution in Paraguay, Brazil, Colombia and Venezuela.
Its natural habitat is that of primary or secondary tropical rainforests.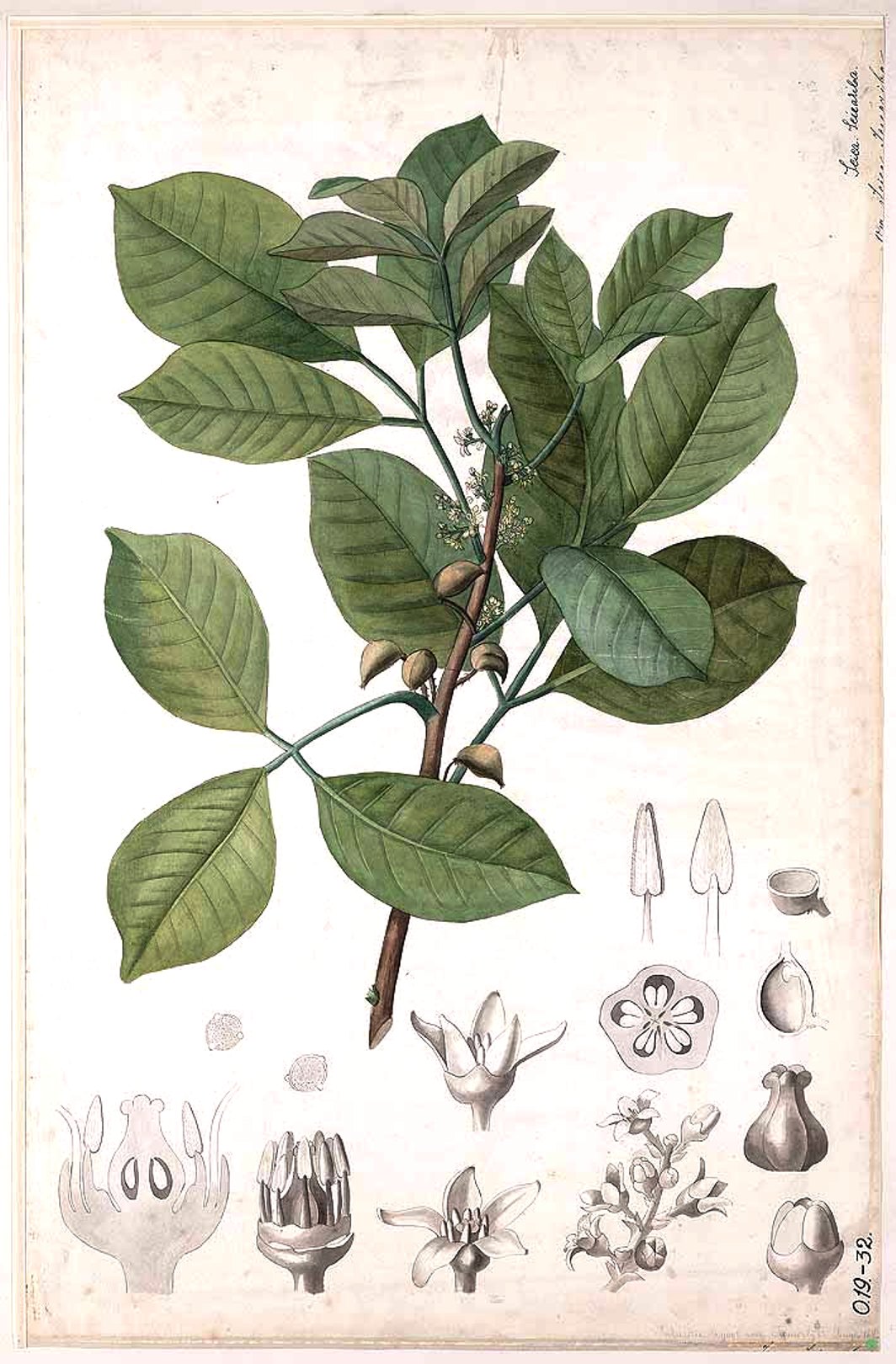 Description –
Protium icicariba is a large, very elegant and very aromatic tree.
The leaves are alternate, compound, odd-pinnate, with 2-3 pairs of leaflets (2.5-13 x 1-4.5 cm), leathery, elongated ovoid, dark green in color.
The inflorescence is a small panicle, axillary or sub-terminal.
The flowers are white-greenish-purplish-cream pentamers.
The fruit is an obovoid drupe, reddish-brown in color, dehiscent, with a seed that is a white aril.
Cultivation –
Protium icicariba is a very aromatic tree that produces edible fruits and seeds.
It is a dioecious plant, therefore with male and female plants that must be grown together to have fruits and seeds.
Propagation occurs mainly by seed.
Customs and Traditions –
Protium icicariba is a plant that is used in the territories of origin for both food and medicinal use. It is a source of a good quality resin, produces a lumber and has several medicinal properties. The resin is sometimes exported.
Among the edible uses raw fruits are used which are very aromatic and contain more than 10% of sugars.
The seed can be used as a substitute for olives.
The seeds contain more than 25% of an edible oil; it is a clear oil and it tastes good.
For medicinal use, the root bark is used which is astringent, purifying and anti-syphilitic.
The leaves and bark are used in the treatment of skin problems, including those caused by the parasitic worm filaria or the chigoe flea (Tunga penetrans Linnaeus, 1758).
A soft resin is obtained from the tree which is antirheumatic, hemostatic and stimulating. It is used to relieve toothache. Mixed with the pigment of Bixa orellana, it forms a useful ointment as a preventive measure against skin inflammations in carpenters caused by irritating woods.
This species is said to produce the best resin of the genus, known as 'elemi du Brasil'.
The resin contains 12.5% ​​essential oil.
The wood of this tree is reddish-white.
Dry wood is easy to process and is good value for money in all operations; it cuts easily into veneers but tends to deform with drying; some species are abrasive due to the silica content. Wood is used for purposes such as furniture, sawmills, veneer and plywood, general construction, particle board; it is a possible substitute for birch.
Preparation Method –
Of the Protium icicariba, useful products are obtained both in the alimentary and medicinal fields.
The fruits are eaten raw and the seeds, from which an edible oil is also extracted.
For medicinal uses, the bark of the root, the leaves and the bark are used which are used, as mentioned, for various needs.
A soft resin is obtained from the tree that can be mixed with the Bixa orellana pigment to form a useful ointment as a preventive measure against skin inflammations in carpenters caused by irritating woods.
The resin is of good quality.
Guido Bissanti
Sources
– Acta Plantarum – Flora of the Italian Regions.
– Wikipedia, the free encyclopedia.
– Useful Tropical Plants Database.
– Conti F., Abbate G., Alessandrini A., Blasi C. (ed.), 2005. An annotated checklist of the Italian vascular flora, Palombi Editore.
– Pignatti S., 1982. Flora of Italy, Edagricole, Bologna.
– Treben M., 2000. Health from the Lord's Pharmacy, Advice and experiences with medicinal herbs, Ennsthaler Editore.
Photo source: – http://www.plantillustrations.org/illustration.php?id_illustration=195329
Warning: Pharmaceutical applications and alimurgical uses are indicated for informational purposes only, they do not represent in any way a medical prescription; therefore no responsibility is taken for their use for curative, aesthetic or food purposes.