Acer opalus
Opal Maple or Italic Maple (Acer opalus Mill.) Is an arboreal species belonging to the family Aceraceae.
Systematics –
From a systematic point of view it belongs to the Eukaryota Domain, Kingdom Plantae, Magnoliophyta Division, Magnoliopsida Class, Sapindales Order, Aceraceae Family and therefore to the Acer Genus and to the A. opalus Species.
Etymology –
The term Acer derives from the Latin name dell'Acero, cited in Pliny and Ovid. This name should derive from acer acris, pointed, pungent, both for the pointed shape of the leaves and for the use of maple to make lances. The specific epithet opalus comes from the Latin name of the opal in Pliny: translucent or that has the color bluish yellow, milky, or pearl gray of the opal.
Geographic Distribution and Habitat –
The Acer opalus is a tree native to southern Europe. Its range extends between the central and northern Mediterranean and continues in the Balkans and Asia Minor. In Italy it is found in the northern regions and along the Apennines up to Umbria up to an altitude of 1400 meters and with discontinuous distribution.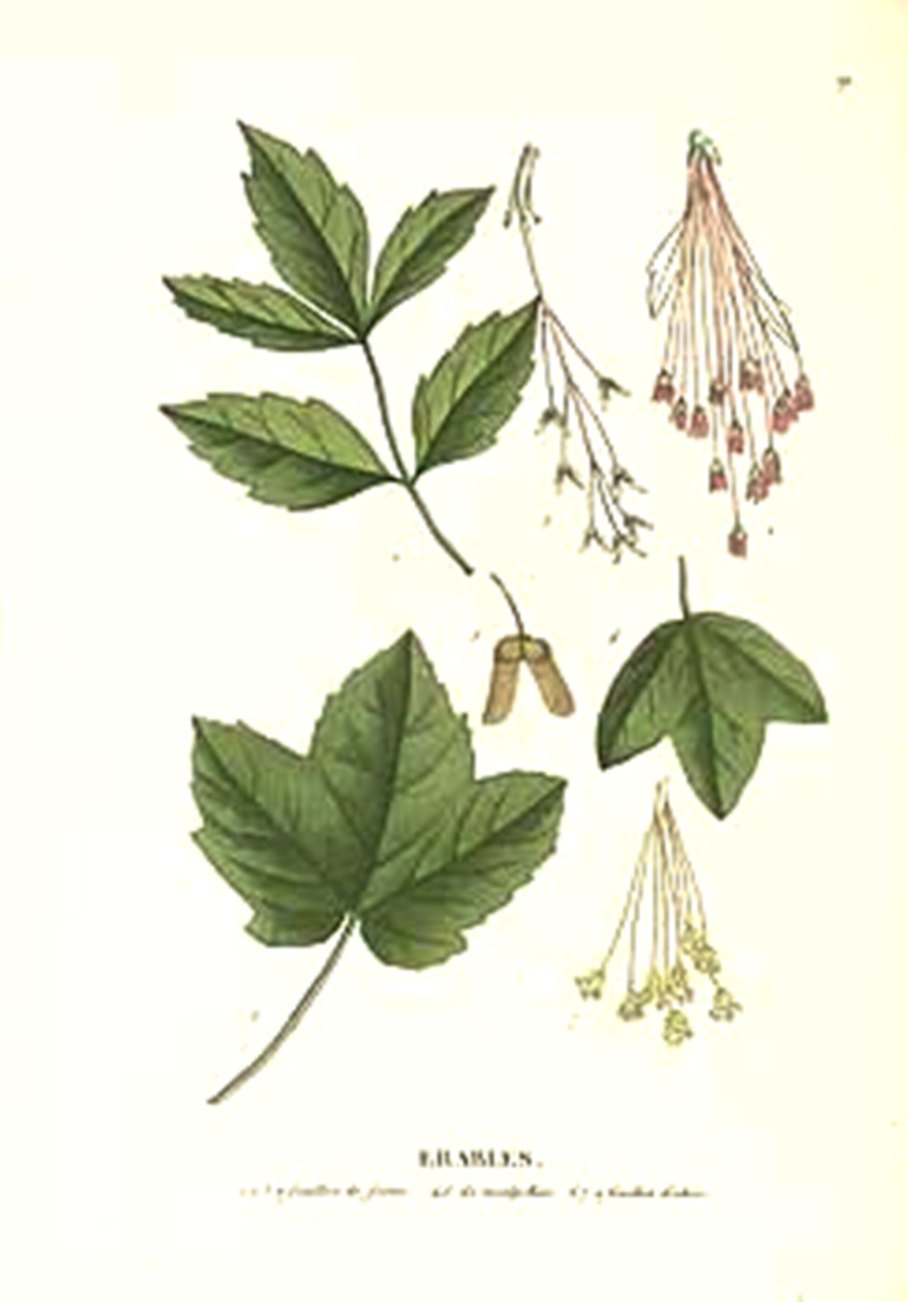 Description –
The Acer opalus is characterized by a bark, smooth and light gray which, subsequently, becomes brownish-yellowish, fissured and peeling off to plaques. The young branches have a cylindrical section with brown or brownish color tending to yellow, shiny and glabrous. The leaves are deciduous, opposite, with a long petiole and wide and 6-18 x 5-14 cm long; they are palmate-lobed with 5 lobes and serrated edge; the upper page is dark green and glabrous, the lower one is more or less glabrous or tomentosa. The flowers are hermaphroditic and reunited in terminal and pendulous corbi, and develop before the leaves. The fruits are of dislike pendulums with wings spread at right angles.
Cultivation –
The Italic maple is a tree that prefers temperate climates, but it develops well even in environments characterized by not excessively rigid winters, in fact it is able to withstand temperatures of a few degrees below zero. For the plant of this species it is better to choose sunny exposures even if it grows well in shaded wooded areas. The soils that grow best are those calcareous, well drained and stony; it also develops well on clay soils that are not too compact, while it suffers in acid soils.
Uses and Traditions –
Italic Maple is a polymorphic species with some subspecies; we remember the Acer opalus opalus – opal maple – nominal subspecies, the Acer opalus granatense – maple of Granada, the Acer opalus neapolitanum – Neapolitan maple and the Acer opalus obtusatum – maple of Hungary.
This Maple, also known as Maple alpine, opal with glabrous leaves, Acero italico, Loppo is a tree whose wood is sought above all for carpentry and violin making. It is used, but to a lesser extent than other maples as an ornamental plant.
Preparation Mode –
Acer opalus has no particular uses for food, pharmaceutical or therapeutic purposes.
Guido Bissanti
Sources
– Wikipedia, the free encyclopedia.
– Treben M., 2000. Health from the Pharmacy of the Lord, Advice and experience with medicinal herbs, Ennsthaler Publisher
– Pignatti S., 1982. Flora of Italy, Edagricole, Bologna.
– Conti F., Abbate G., Alessandrini A., Blasi C. (edited by), 2005. An annotated checklist of the Italian vascular flora, Palombi Editore.
Warning: Pharmaceutical applications and alimurgical uses are indicated for informational purposes only and do not in any way represent a medical prescription; there is therefore no liability for their use for curative, aesthetic or food purposes.