Turnera diffusa
Damiana (Turnera diffusione Willd. Ex Schult.) Is a shrub species belonging to the Turneraceae family.
Systematics –
From a systematic point of view it belongs to:
Eukaryota Domain,
Kingdom Plantae,
Subarign Tracheobionta,
Magnoliophyta Division,
Magnoliopsida class,
Subclass Dilleniidae,
Violales Order,
Turneraceae family,
Genus Turnera,
T. diffuse species.
The terms are synonymous:
– Bohadschia humifusa C.Presl;
– Bohadschia microphylla (Desv. ex Ham.) Griseb.;
– Triacis microphylla Griseb.;
– Turnera aphrodisiaca Ward;
– Turnera diffusa var. aphrodisiaca (Ward) Urb.;
– Turnera humifusa (C.Presl) Endl.;
– Turnera humifusa (C.Presl) Endl. ex Walp.;
– Turnera microphylla Desv.;
– Turnera microphylla Desv. ex Ham.;
– Turnera pringlei Rose;
– Turnera pumilea Poir..
Etymology –
The term Turnera of the genus was dedicated to the English theologian, physician, naturalist and traveler rev. William Turner (~ 1508-1568), considered the father of English botany, author of A New Herbal.
The specific widespread epithet comes from diffuse, scattered: due to the way it grows.
Geographic Distribution and Habitat –
Turnera diffuse is a small shrub native to southern Texas and present from Texas to South America, including the Antilles. In Mexico it is distributed in the states of: Baja California Sur, Chihuahua, Coahuila, Sonora, Nuevo León, Hidalgo, State of Mexico, Guerrero, Guanajuato, Michoacán, Jalisco, Zacatecas, Morelos, Nayarit, Oaxaca, Puebla, Querétaro, San Luis Potosí, Sinaloa, Tamaulipas, Veracruz, Yucatán and Quintana Roo.
Its habitat is that of plant associations; xeric scrub, tropical deciduous forest, coastal dune vegetation, secondary vegetation, low deciduous forest, deciduous forest and temperate forest; it is found in an altitude difference from the sea level up to 2000 m of altitude. The soils in which it grows and develops are not very deep, with a clayey-sandy and sandy texture. It is a wild plant that is often found on abandoned farmland or grown in family gardens.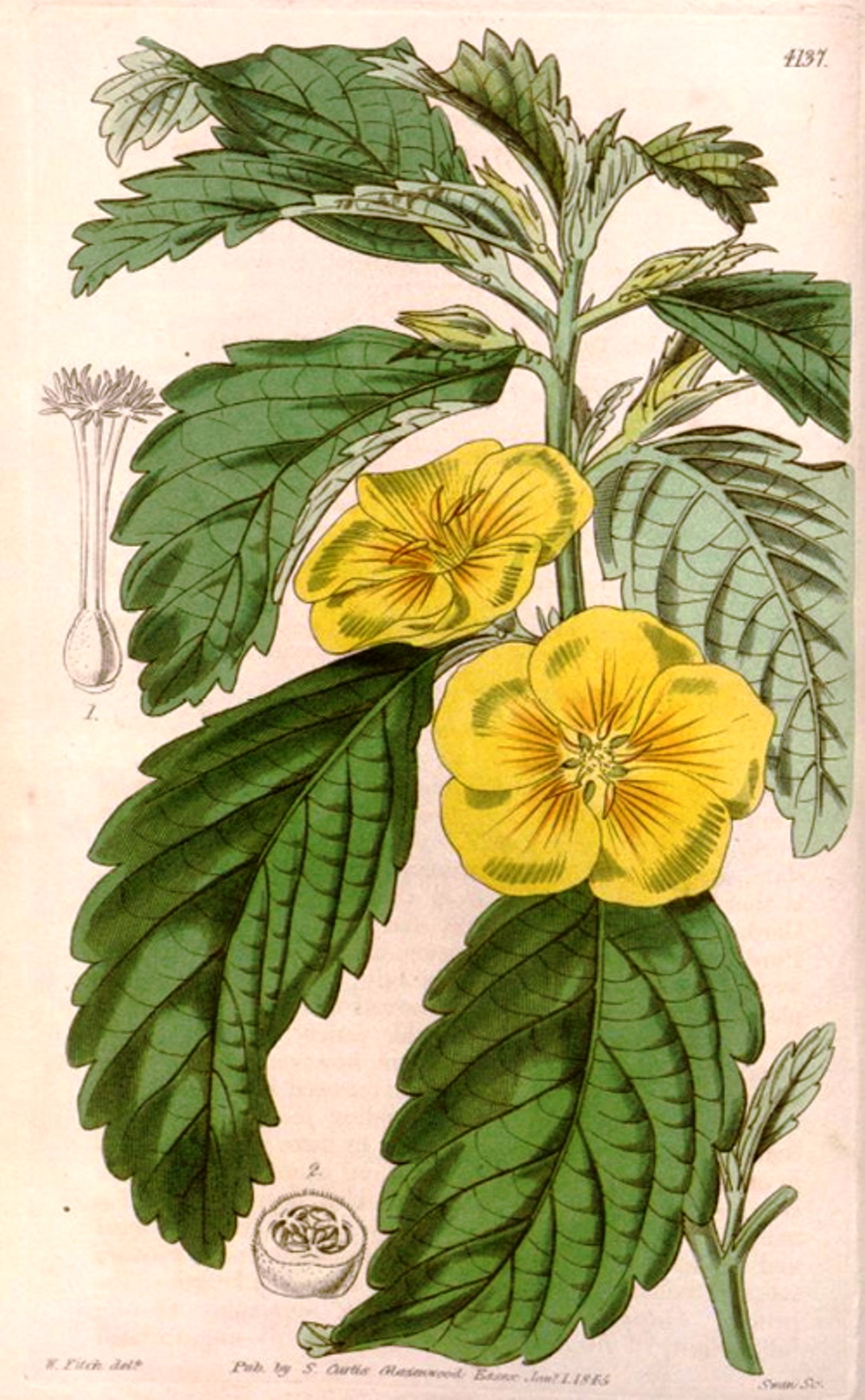 Description –
Damiana is a relatively small woody shrub, 0.3 to 2 m tall, very branched, whose stems are slightly reddish.
The leaves are simple, small and wrinkled, alternate, aromatic, oblong or rhombic-ovate, 1 to 2 cm long, hairless on the upper side, from tomentose to hairy on the underside, with obtuse or acute apex, serrated margin, wedge-shaped base , with glandless petioles; they give off a strong aroma when crushed.
The flowers are bisexual, solitary, axillary actinomorphic, from 2 to 12 mm long, yellow in color and look like stars hidden among the branches, sessile calyxes without sepal, tubular or bell-shaped with 5 thin lobes; corolla with 5 petals, yellow, obovate or spatulate, thin.
It blooms from early to late summer.
The capsule-shaped fruits, 4 to 5 mm long; seeds with aril.
Cultivation –
Turnera diffuse is a plant found at low to moderate altitudes in the tropics and is hardy to around -5 ° C.
To be cultivated, this plant requires dry soil in a sheltered, warm and sunny position.
Propagation occurs by seed. Sowing must be carried out in a nursery seedbed in a slightly shaded position. The young plants are then placed in single pots and transplanted as soon as they have the size necessary to grow in the open field.
It can also be propagated by division or by cuttings of half-ripe wood.
Customs and Traditions –
The diffuse Turnera is a plant that has been used by the natives since ancient times; it is attributed aphrodisiac and psychostimulating properties.
The production currently obtained depends exclusively on the collection of leaves from spontaneous plants and their presence is linked to rainfall, consequently there is variation in the availability of raw material (leaves) from one year to another, which causes instability in the supply. . This leads to a permanently dissatisfied market, which ultimately affects producers' perceptions. It is therefore important to create management plans that allow them to be used appropriately. This species, in the territories of origin, does not fall into any risk category.
This plant or parts of it are sold as T. diffuse from both private and commercial sources and is largely misidentified as Turnera ulmifolia (Falsa Damiana), a closely related species. This widespread problem has been noticed by the scientific community and has created a lot of confusion among amateur and professional horticulturists alike.
Although T. ulmifolia looks similar, its chemical constituents and ethnobotanical uses are distinctly different.
A scientific study, however, has shown that this confusion is mostly associated with the horticultural trade and does not appreciably extend to commercial herbal products, most of which show constituents that can be conclusively traced back to T. diffuse.
The biochemical principles present in this plant are: damianina; tetrafylline B; gonzalytosine I; arbutin; tricosan-2-one; acacetin; p-cymene; β-sitosterol; 1,8-cineole; apigenin; α-pinene; β-carotene; β-pinene; tannins; thymol; hexacosanol.
In total, 22 flavonoids, maltol glucoside, phenolics, seven cyanogenic glycosides, monoterpenoids, sesquiterpenoids, triterpenoids, the polyiterpene ficaprenol-11, fatty acids and caffeine were found in the genus Turnera.
As of 2006, the constituents of damiana have not been identified due to their effects attributed to the whole herb.
Damiana's anxiolytic properties may be due to apigenin.
Damiana extract was found to suppress aromatase activity, including the isolated compounds pinocembrin and acacetin.
Damianine has not yet been identified with precision and is likely to act with a parasympatholytic mechanism of action, having relaxing effects on the central nervous system. In reality, researching among the various sources, it emerges that it is a rather effective natural remedy, even against erectile deficits and capable of increasing sperm mass. It has long been approved by the US Pharmacopoeia, while the German Pharmacopoeia gives it a critical evaluation.
Among the edible uses of this plant are the leaves which are used as a substitute for tea and also as a flavoring in liqueurs. They have a strongly aromatic, slightly bitter taste.
In the medical field it was once used as a traditional aphrodisiac of the Maya people in Central America. It continues to be considered valuable as an aphrodisiac and general tonic, and its stimulating tonic action makes it a valid remedy for those suffering from mild depression.
The whole plant is a bitter, spicy, hot herb, with a fig-like flavor.
Its use improves digestion, lifts the spirit, calms the nerves, regulates hormonal activity, stimulates the genito-urinary tract and rejuvenates kidney energy. It is used internally to treat nervous breakdowns; anxiety; depression; weakness in convalescence; impotence; premature ejaculation; prostate disorders; urinary infections; frigidity; vaginal discharge; painful menstruation; problems with menopause; poor appetite and digestion; and atonic constipation.
In the ecological field it is a host plant for the butterfly Euptoieta hegesia.
Preparation Method –
Turnera diffuse is harvested when in bloom and dried for later use.
On the market, it is sold in leaves or, more commonly, in capsule and tablet form.
The leaves can be taken as an infusion or smoked. If taken considerably they can induce mild psychotropic effects.
The widespread Turnera is the ingredient of a traditional Mexican liqueur, which is sometimes used in place of the triple sec in margaritas. Mexican folklore claims it was used in the "original" margarita. Damiana margarita is popular in the Los Cabos region of Mexico.
Guido Bissanti
Sources
– Acta Plantarum – Flora of the Italian Regions.
– Wikipedia, the free encyclopedia.
– GBIF, the Global Biodiversity Information Facility.
– Useful Tropical Plants Database.
– Conti F., Abbate G., Alessandrini A., Blasi C. (ed.), 2005. An annotated checklist of the Italian vascular flora, Palombi Editore.
– Pignatti S., 1982. Flora of Italy, Edagricole, Bologna.
– Treben M., 2000. Health from the Lord's Pharmacy, Advice and experiences with medicinal herbs, Ennsthaler Editore.
Photo source:
– https://inaturalist-open-data.s3.amazonaws.com/photos/13295753/original.jpeg
Warning: Pharmaceutical applications and alimurgical uses are indicated for informational purposes only, they do not represent in any way a medical prescription; therefore no responsibility is taken for their use for curative, aesthetic or food purposes.