Berula erecta
The Cutleaf waterparsnip, lesser water-parsnip or narrow-leaved water-parsnip (Berula erecta (Huds.) Coville) is a herbaceous species belonging to the Apiaceae family.
Systematics –
From a systematic point of view it belongs to:
Eukaryota Domain,
Kingdom Plantae,
Magnoliophyta Division,
Magnoliopsida class,
Order Apiales,
Apiaceae family,
Genus Berula,
B. erecta species.
Basionimo is the term:
– Sium erectum Huds ..
The terms are synonymous:
– Berla monspeliensis Bubani, 1899;
– Berla monspeliensium Bubani;
– Berula angustifolia Boiss.;
– Berula angustifolia Greene;
– Berula angustifolia var. gracile (Coss. & Germ.) Rouy & E.G.Camus, 1901;
– Berula erecta f. dentata Wimm. & Grab.;
– Berula erecta f. incisum Lojac.;
– Berula erecta f. microphylla Uechtr.;
– Berula erecta f. microphylla Uechtr. ex Abrom.;
– Berula erecta f. repens (G.F.Mey.) Wolfg.;
– Berula erecta f. submersa;
– Berula erecta var. stenodon Koso-Pol.;
– Berula orientalis Woronow;
– Berula serratifolia Wender., 1846;
– Carum sioides J.M.Black;
– Sium angustifolium var. polyphylla Schltdl.;
– Sium novae-mexicae Koso-Pol.;
– Sium novae-mexicae var. fimbriatum Koso-Pol.;
– Sium oblongifolium St.-Lag., 1889.
Two subspecies are recognized within this species:
– Berula erecta subsp. erecta;
– Berula erecta subsp. thunbergii (DC.) B.L.Burtt.
Etymology –
The term Berula comes from berula, a kind of watercress mentioned by the doctor Marcellus Empiricus (fl. V century AD), author of the treatise Liber de Medicamentis.
The specific epithet erecta is due to the erect, upright posture.
Geographic Distribution and Habitat –
The Cutleaf waterparsnip is a species with a wide circumboreal distribution and is widespread in most of Europe, Asia, Australia and North America and is also found in eastern Africa from Egypt through tropical regions up to 'Southern Africa.
In Italy it is present in all regions.
Its habitat is that of ditches, slow or stagnant waters, from sea level to the lower mountain belt, up to 1600 m a.s.l.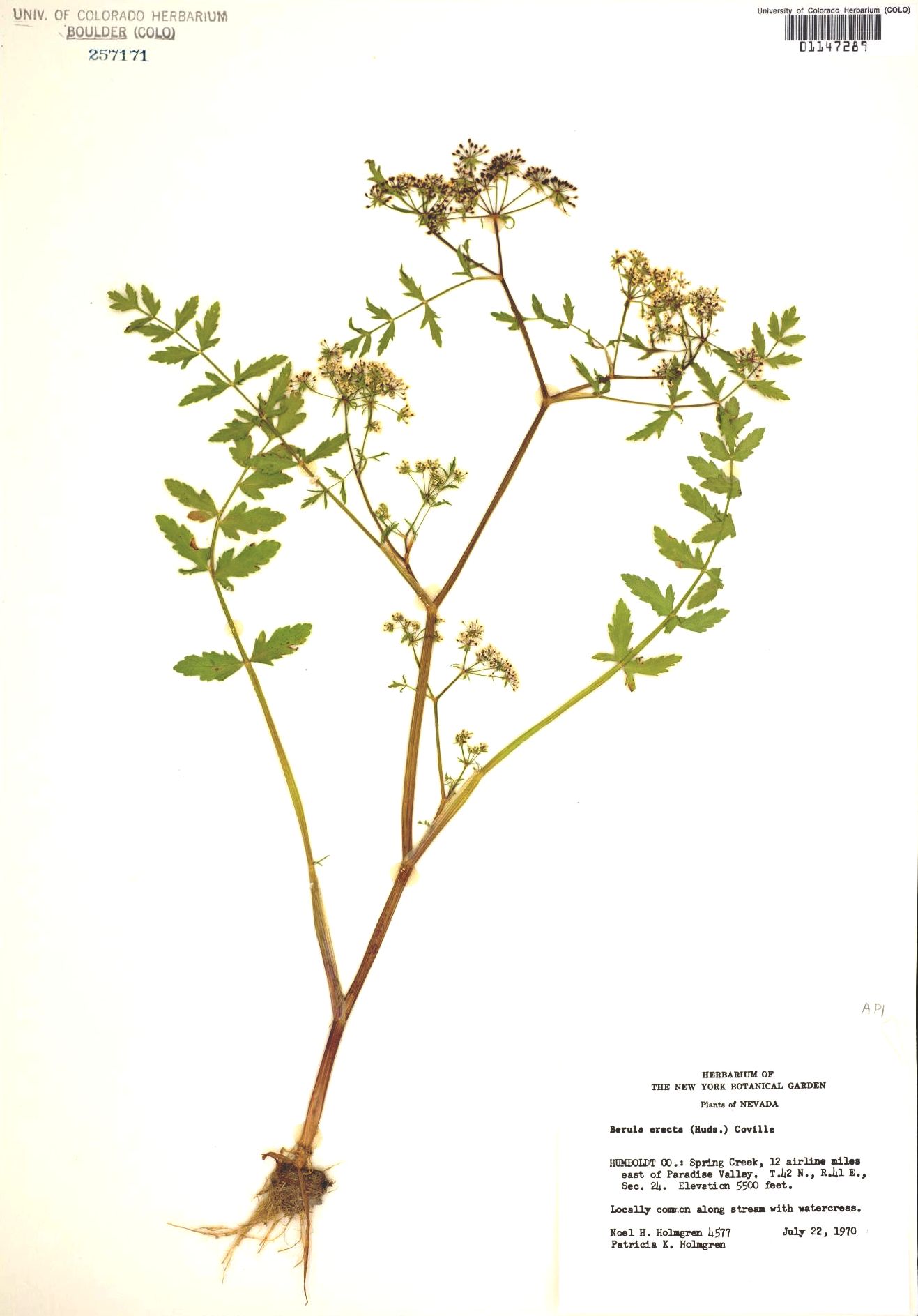 Description –
Berula erecta is a perennial herbaceous plant, up to 90 cm tall, with a horizontal, pale and spongy rhizome.
The stems are erect and tubular, hollow, with long and narrow furrows.
The leaves are imparipinnate, 20-50 cm long, have a long tubular petiole interrupted in the middle by a knot and 7-13 sessile, lanceolate segments, 13-18 mm broad and 22-40 mm long; the upper segments are small, with very regular teeth.
The submerged leaves are compound and with filiform lobes; the leaves above the water surface are flatter and wider.
Each inflorescence is formed by irregular 10-20 ray umbels; the involucre has trifurcated, reflected bracts, about 2 mm wide and about 20 mm long.
The flowers are quite small; they have 5 free, white, oval petals, generally curved at the extremity, 5 sepals, 5 stamens, bilocular inferior ovary with 2 free styles.
The antesis is from May to August.
The fruit is formed by two juxtaposed globes (1.5 x 1 mm).
Cultivation –
Berula erecta is a perennial herbaceous plant that is sometimes harvested in nature for local medicinal use and possibly as food.
Remember that it is a toxic plant, capable of causing the death of grazing animals.
For its cultivation it should be taken into account that in nature it is found in a large part of the northern temperate zone, avoiding the colder and northern regions. It is also found in tropical areas of East Africa.
It needs a moist to moist soil or shallow water and a location in full sun or light shade.
For a more prolonged use of the plant, after the first cut in the growing season, the plant rejects and will produce flowers several times in the same season.
The propagation takes place with broadcast sowing in the open field or by divisions in the spring period.
Customs and Traditions –
The Zuni people (an Amerindian population of farmers currently living in the state of New Mexico, United States) use Berula erecta as an ingredient in "schumaakwe cakes" and use it externally for rheumatism. [
An infusion of the whole plant is used as a wash for rashes and athlete's foot infections.
Berula erecta has been studied for its essential oil which is believed to have medicinal uses. The essential oil of the plant has been shown to contain polyacetylenes. Polyacetylenes have a wide range of beneficial medicinal effects. These include nematodes that could potentially be beneficial in agriculture as well as its positive effects on human health. Polyacetylenes are also antifungals, antibacterials, and have anti-allergic and anti-inflammatory properties.
However, the medicinal use of pure polyacetylenes is not feasible due to their high chemical instability and tendency to cause allergic reactions. For this reason, it may be possible to consume smaller and less pure amounts of polyacetylenes from Berula erecta essential oil.
In its food, some reports say that leaves and flowers are used but, due to their toxicity, great caution is needed in this regard.
The species, according to the IUCN Red List, is globally classified as a least concern species, but is threatened in the United States. In Estonia, it is a near threatened species and an endangered species in Norway.
This plant is threatened by invasive wetland species such as cress which can quickly destroy its habitat.
Preparation Method –
Berula erecta is a plant that has long been used mainly for medicinal purposes.
The plant is used externally especially in the treatment of rheumatism. An infusion of the whole plant can be used as a wash for swelling, rashes and athlete's foot infections.
Potential uses may be for its essential oil that some research is underway.
Guido Bissanti
Sources
– Acta Plantarum – Flora of the Italian Regions.
– Wikipedia, the free encyclopedia.
– Useful Tropical Plants Database.
– Conti F., Abbate G., Alessandrini A., Blasi C. (ed.), 2005. An annotated checklist of the Italian vascular flora, Palombi Editore.
– Pignatti S., 1982. Flora of Italy, Edagricole, Bologna.
– Treben M., 2000. Health from the Lord's Pharmacy, Advice and experiences with medicinal herbs, Ennsthaler Editore.
Photo source:
– https://inaturalist-open-data.s3.amazonaws.com/photos/115995871/original.jpg
– https://botanydb.colorado.edu/COLO_V/01147/01147289.jpg
Warning: Pharmaceutical applications and alimurgical uses are indicated for informational purposes only, they do not represent in any way a medical prescription; therefore no responsibility is taken for their use for curative, aesthetic or food purposes.