Picrasma quassioides
The Nigaki (Picrasma quassioides (D. Don) Benn.) Is an arboreal species belonging to the Simaroubaceae family.
Systematics –
From a systematic point of view it belongs to:
Eukaryota Domain,
Kingdom Plantae,
Magnoliophyta Division,
Magnoliopsida class,
Sapindales Order,
Simaroubaceae family,
Genus Picrasma,
P. quassioides species.
The term is synonymous:
– Picrasma ailanthoides (Bunge) Planch ..
Etymology –
The term Picrasma derives from the Greek pikros, which means "bitter taste".
The specific epithet quassioides derives from the Greek in reference to its resemblance to the genus Quassia.
Geographic Distribution and Habitat –
Picrasma quassioides is a plant native to the temperate regions of southern Asia, from north-east Pakistan to east along the Himalayas and through southern, central and eastern China to Taiwan, Japan and Korea.
Its habitat is that of lowland woods and hills in the higher areas of the western Himalayas, in ravines under forests of deodara, oaks, firs, etc. in an altitude range between 1800 and 2400 meters above sea level.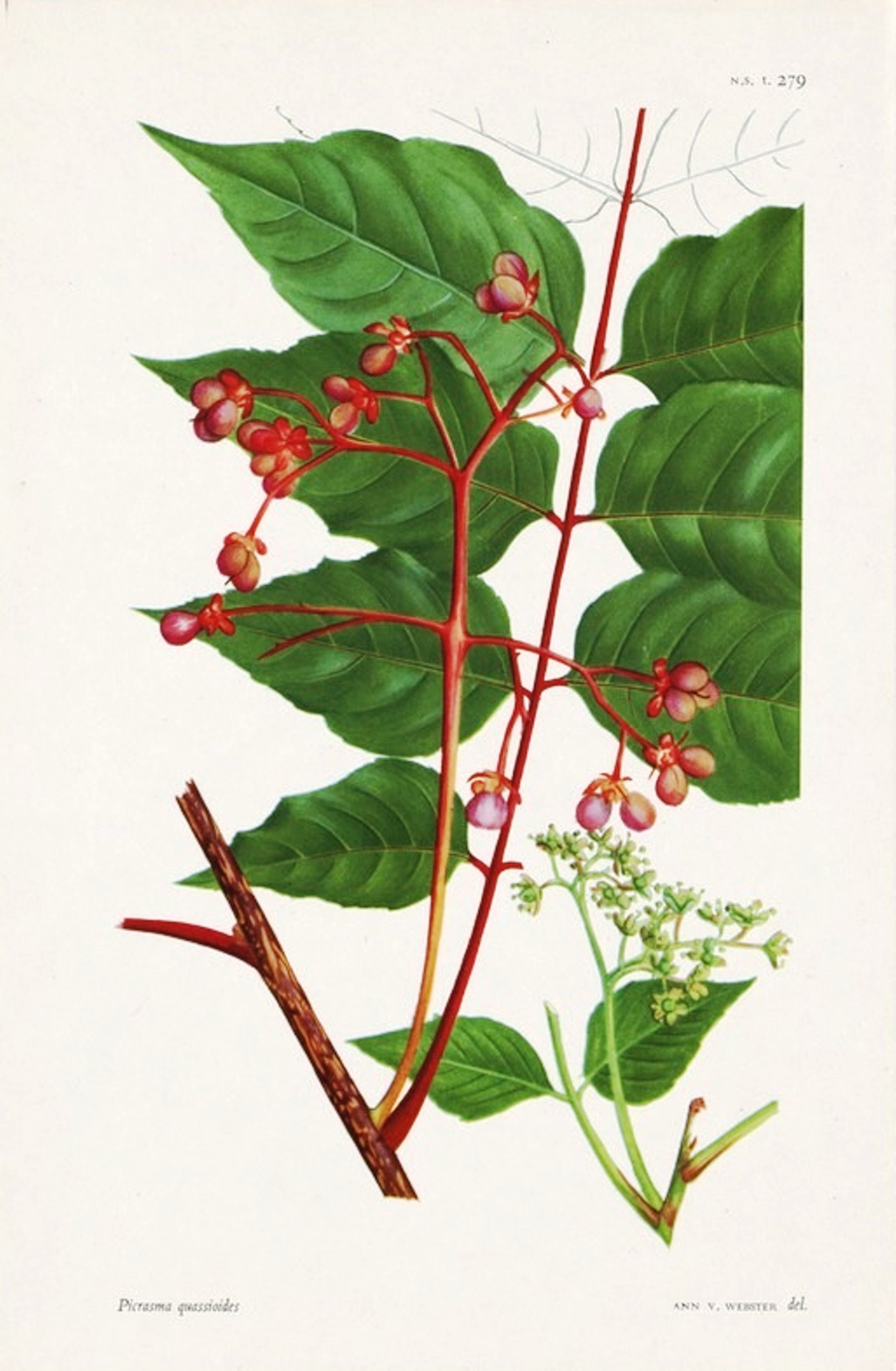 Description –
Picrasma quassioides is a deciduous plant with a shrub or small deciduous tree habit that grows up to 10-15 m (rarely 20 m) in height.
The trunk reaches up to 50 cm in diameter.
The bark is smooth and dark gray-brown in color.
The leaves are 15–40 cm long, pinnate, with 7–15 leaflets 2.5–10 cm long and 1.5–4.5 cm broad, with coarsely and irregularly toothed margin.
The flowers vary in color from green to yellow-green with four or five sepals and petals, produced in 8-15 cm long buds.
The anthesis takes place between mid and late spring.
The fruit is a drupe with an ovoid to globose shape and a red to black color of 6-7 mm in diameter.
Cultivation –
Picrasma quassioides is a naturally growing plant that is occasionally grown as an ornamental tree in Europe and North America, where it is prized for its bright orange to red fall foliage color.
This plant is harvested in its natural state for local use as a food, medicine and source of materials.
It can be cultivated and requires a fertile, humus-rich substrate that retains moisture and in a sunny position even if the plants grow quite well in a semi-shaded position.
The plant can be propagated by seed to be sown as soon as it is ripe in an unheated seedbed.
The stored seed requires 3 months of cold stratification and should be sown as early as possible during the year. The first transplant must be carried out when the seedlings have reached a size that can be handled; these must be placed in individual pots and grown in a greenhouse at least for their first winter.
The transplant should be done in late spring or early summer, after the last frosts expected.
The multiplication can also take place by cuttings of semi-mature wood, in the period of mid-summer in a shady area.
You can also prepare 4 cm long root cuttings in the period of December. This should be planted horizontally in pots and in a greenhouse.
Customs and Traditions –
Picrasma quassioides is called in various ways depending on the area where it grows. In Chinese it is: 苦 樹 ku shu; in Japanese: ニ ガ キ nigaki "bitter wood" and so on.
This plant contains a bitter substance called quassin which is extracted from the bark and can be used as a substitute for hops in brewing.
Wood contains a number of medicinal compounds and has been shown to be anthelmintic, antiamebal, antiviral, bitter, hypotensive and stomachic.
Helps to increase the flow of gastric juices.
It is used in Korea in the treatment of digestive problems, especially chronic dyspepsia.
From the bark a decoction is obtained which is bitter, febrifuge and tonic.
The leaves have been used to treat itchy skin conditions.
Among other uses, it should be remembered that the bark is used as an insecticide also in place of the Quassia insecticide (Quassia amara L.) which is obtained from the wood of this tropical tree.
Quassia is in fact a relatively safe organic insecticide that degrades rapidly and is of low toxicity to mammals.
Wood extracts are also used as a natural insecticide in organic farming.
It has been used as a pesticide to get rid of lice, fleas, etc.
The wood of this plant is hard, fine and tightly grained and is used for mosaics, tools, etc.
Preparation Method –
Picrasma quassioides is a plant used in ancient times for medicinal uses and as an insecticide plant or for its wood.
The bark is used in herbal medicine as a bitter aroma and antibacterial agent.
A bitter, febrifuge and tonic decoction is obtained from the bark and the leaves are used to treat skin inflammations.
Guido Bissanti
Sources
– Acta Plantarum – Flora of the Italian Regions.
– Wikipedia, the free encyclopedia.
– Useful Tropical Plants Database.
– Conti F., Abbate G., Alessandrini A., Blasi C. (ed.), 2005. An annotated checklist of the Italian vascular flora, Palombi Editore.
– Pignatti S., 1982. Flora of Italy, Edagricole, Bologna.
– Treben M., 2000. Health from the Lord's Pharmacy, Advice and experiences with medicinal herbs, Ennsthaler Editore.
Photo – source: https://florakorea.myspecies.info/en and https://www.digitalcommonwealth.org/
Warning: Pharmaceutical applications and alimurgical uses are indicated for informational purposes only, they do not represent in any way a medical prescription; therefore no responsibility is taken for their use for curative, aesthetic or food purposes.