Nardostachys jatamansi
The spikenard (Nardostachys jatamansi (D.Don) DC.) Is a herbaceous species belonging to the Valerianaceae family.
Systematics –
From a systematic point of view it belongs to:
Eukaryota Domain,
Kingdom Plantae,
Magnoliophyta Division,
Magnoliopsida class,
Order Dipsacales,
Valerianaceae family,
Genus Nardostachys,
N. jatamansi species.
The terms are synonymous:
– Fedia grandiflora Wall. ex DC., nom. inval .;
– Fedia jatamansi Wall. ex DC., nom. inval .;
– Nardostachys chinensis Batalin;
– Nardostachys grandiflora DC .;
– Patrinia jatamansi D. Don;
– Valeriana jatamansi D. Don, nom. illeg ..
Etymology –
The term Nardostachys derives, together with the Aramaic and Akkadian lardu with the same Hebrew meaning, probably from the Iranian Indian narda, in Latin nadah, nalah, which means "cane". The Latin nalad, from the Greek nardos, perhaps derives from the Sanskrit. However, according to Manfred Mayrhofer the Semitic word probably derives from the Indian naladam or nartik with the meaning of "sheath".
The specific epithet jatamansi derives from the Sanskrit term 'jaṭāmāṇśī' which has a complex etymology. It is a compound word consisting of 'jaṭā' and 'māṇśī'. 'Jaṭā' refers to the tangled and braided hair, sometimes coiled on the top of the head, as worn by the Hindu god Śiva, ascetics and mourners. The term also refers to roots in general and fibrous roots in particular. The word 'Māṇśī' is a derivation meaning 'flesh'.
Geographic Distribution and Habitat –
Spikenard is a plant that grows in the eastern Himalayas, mainly in a belt that crosses Kumaon, Nepal, Sikkim and Bhutan.
Its natural habitat is that of the high altitude areas of the Himalayas, ranging from 3,000 to 5,000 m a.s.l. and on rocks and humid stony formations laden with moss.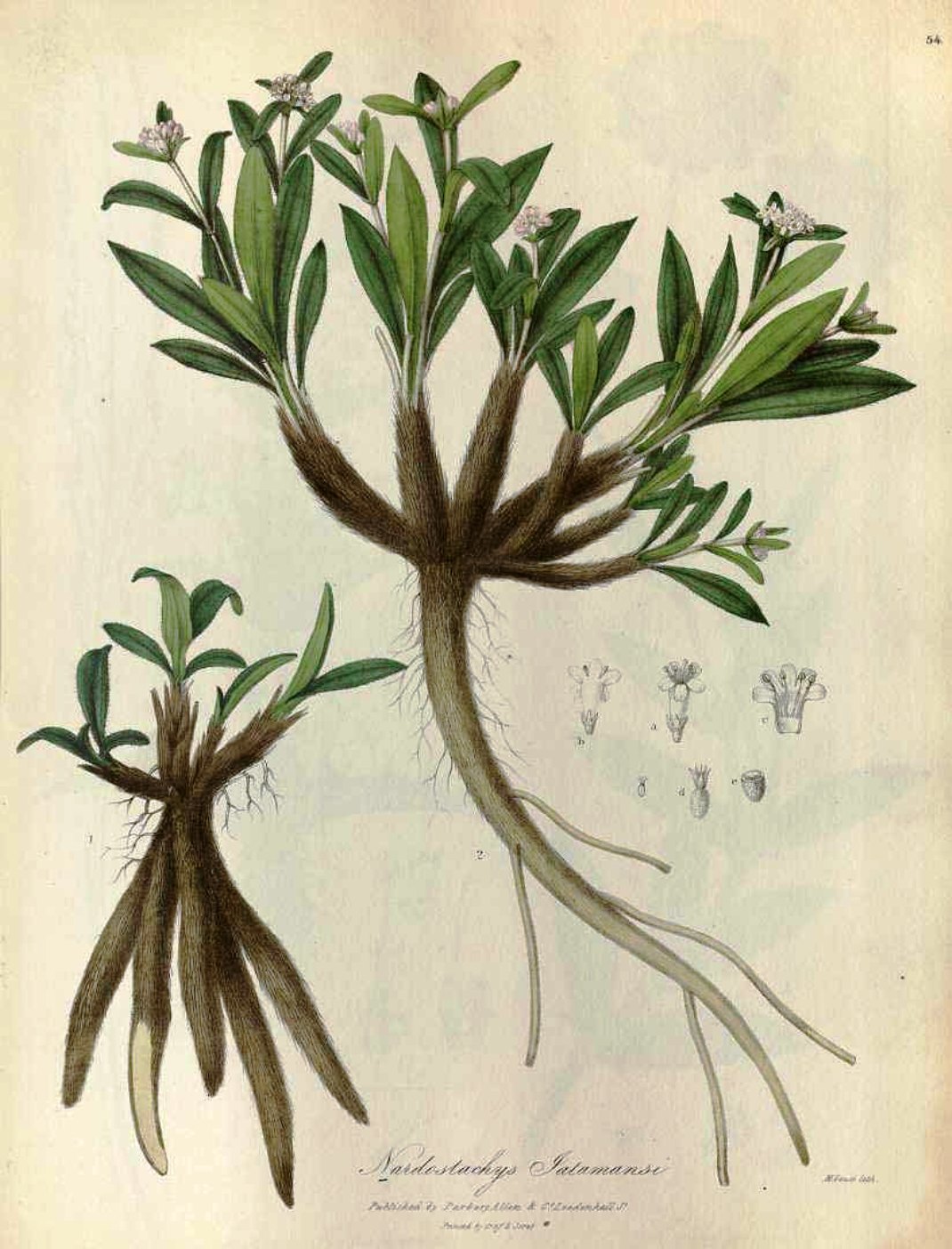 Description –
Nardostachys jatamansi is a herbaceous plant that normally grows at heights between 10 and 50 cm with the presence of underground rhizomes from which the plant grows.
The leaves are oblong lanceolate, with evident central vein.
The flowers are bell-shaped pink, carried at the apex of the plant in inflorescences.
Cultivation –
Nardostachys jatamansi is a plant that grows in the Himalayas at an altitude of 3,000-5,000 m and is harvested in nature for the production of nard essential oil.
Unfortunately, this plant is considered endangered due to over-harvesting for folk medicine uses, overgrazing, habitat loss and forest degradation.
Customs and Traditions –
Spikenard is a source of an intensely aromatic amber-colored essential oil, which bears its own name.
The oil has been, since ancient times, used as a perfume, for traditional medicine and in religious ceremonies.
The flower of the nard, which symbolizes St. Joseph, is shown in the papal coat of arms of Pope Francis. Furthermore, it is said, in the tradition of the Gospels, of the purchase by Mary of Bethany of the oil of Nardo for the feet of Jesus. an employee). Nard, a sacred perfume, was considered the symbol of divine love (it was thought to be endowed with considerable mystical powers). In a somewhat different context we find the scent of nard in a passage of a poem by Baudelaire. It is the Poet's woman who shouts in the public square: "She finds me so beautiful to adore me … I will get drunk on nard, frankincense and myrrh … heart that admires me! And when I'm bored with the unholy farce, I'll lay my thin strong hand on him; my nails, like the nails of harpies, will know how to break through his heart! … ".
In Ayurvedic medicine, it is used to treat sleep problems, depression, stress, anxiety, chronic fatigue syndrome, and nerve problems.
The rhizomes of this plant can be crushed and distilled to produce the essential oil which is very dense in consistency.
Nard oil is used as a perfume, incense, sedative, and herbal medicine that is said to fight insomnia, childbirth difficulties and other minor ailments.
Nard oil has long been used as a perfume and essence and was one of the 11 herbs for incense in the Temple of Jerusalem.
The described uses of the root of this plant are:
– insomnia, mental instability and to improve memory;
– it also helps in digestion, flatulence, liver disease, breathing difficulties, dysorrhea and alertness;
– it stimulates the central nervous system, therefore it is used for epilepsy, hysteria, and convulsions etc .;
– thanks to its antiarrhythmic activity, the oil is considered to promote hair growth and also helps maintain its color;
– it is thought that the active ingredient, jatamansonin, can reduce hyperactivity, agitation, and aggression in hyperactive children;
– finally it seems to be useful in general exhaustion and weakness.
A Japanese research examined its calming activity, using a steam delivery system: the results indicated that its inhalation had a sedative effect.
However, it should be remembered that sometimes its use has caused slight inconveniences, such as redness and burning.
As for uses in cosmetics, essential oil is added to creams, which are particularly suitable for dry and damaged skin, as it acts as a softening and rebalancing.
Preliminary research on the chemical components of Nardostachys jatamansi indicates that the plant contains:
– acaciin;
– ursolic acid;
– octacosanol;
– kanshone A;
– nardosinondiol;
– nardosinone;
– aristolen-9beta-ol;
– oleanolic acid;
– beta-sitosterol.
In addition, the essential oil has the following composition, referred to as 100% pure, intact and natural: sesquiterpenes (calarene 15%, aristolene 7%, valeranone 30%, maaliol 20%).
Preparation Method –
Spikenard oil is obtained from the roots of the plant.
It is obtained from the steam distillation of the roots.
Both the rhizomes and the dried and pressed roots are placed in a current of steam. The sweetly spicy scent is sour and warm.
The oil is used in several ways:
– in aromatherapy to relax the spirit: just a few drops in the oil burner or diffuser are enough to let it burn during meditation or yoga practice;
– as a massage oil by combining 5 drops of nard oil with the massage oil – jojoba or almond oil – and perform a full body massage to relieve headaches, muscle pain and menstrual cramps;
– through a light massage, 1-2 drops of nard oil are used twice a day as an antiseptic on wounds or cuts;
– 2 drops of nard and 2 drops of sweet almond oil can be massaged on the chest to help breathing, perhaps before sleeping;
– in the foot bath or for a foot massage, 2 drops are enough to lower blood pressure;
– promotes hair growth when used for a nice scalp massage. It is recommended to use 5-10 drops of nard essential oil;
– as a relaxing in the bathroom, especially if you suffer from insomnia, in addition to bath water: about 4 drops are used;
– a blend of olive oil and nard oil can be applied directly to the skin to reduce wrinkles and skin blemishes, including cellulite.
Guido Bissanti
Sources
– Acta Plantarum – Flora of the Italian Regions.
– Wikipedia, the free encyclopedia.
– Useful Tropical Plants Database.
– Conti F., Abbate G., Alessandrini A., Blasi C. (ed.), 2005. An annotated checklist of the Italian vascular flora, Palombi Editore.
– Pignatti S., 1982. Flora of Italy, Edagricole, Bologna.
– Treben M., 2000. Health from the Lord's Pharmacy, Advice and experiences with medicinal herbs, Ennsthaler Editore.
Warning: Pharmaceutical applications and alimurgical uses are indicated for informational purposes only, they do not represent in any way a medical prescription; therefore no responsibility is taken for their use for curative, aesthetic or food purposes.