Macadamia ternifolia
Macadamia ternifolia (Macadamia ternifolia F. Muell.) Es una pequeña especie de árbol perteneciente a la familia Proteaceae.
Sistemática –
Desde un punto de vista sistemático pertenece a:
Dominio eucariota,
Reino Plantae,
Subarign Tracheobionta,
Superdivisión de espermatophyta,
División Magnoliophyta,
Clase Magnoliopsida,
Subclase Rosidae,
Orden Proteales,
Familia Proteaceae,
Subfamilia Grevilleoideae,
Tribu Macadamieae,
Sub-tribu Macadamiinae,
Género Macadamia,
Especies de M. ternifolia.
Los siguientes términos son sinónimos:
– Helicia ternifolia F. Muell.;
– Macadamia ternifolia F. Muell. var. ternifolia;
– Macadamia ternifolia var. typica Domin nom. inval.;
– Macadamia minor F.M.Bailey;
– Macadamia lowii F.M.Bailey.
Etimología –
El término Macadamia del género fue dedicado por el botánico Ferdinand Jacob Heinrich von Müller a su colega el dr. John Macadam (1827-1865), australiano de origen escocés, químico, naturalista, político y secretario del Instituto Filosófico de Victoria.
El epíteto específico ternifolia proviene de ter tre y folium leaf: con hojas en grupos de tres.
Distribución geográfica y hábitat –
Macadamia ternifolia es una planta originaria de la región de Queensland de Australia e históricamente se encuentra en la región al este de Main Divide.
Desafortunadamente, su hábitat original está sujeto a deforestación, por lo que esta especie ahora se considera extremadamente rara en la naturaleza y está limitada a un área entre Mount (Mt) Pinbarren (extensión norte) y Mary Cairncross Park cerca de Maleny (extensión sur).
Se estima que la población total de esta área, dividida en aproximadamente 20 pequeñas poblaciones distintas, de Queensland está entre 1000 y 2000 individuos maduros.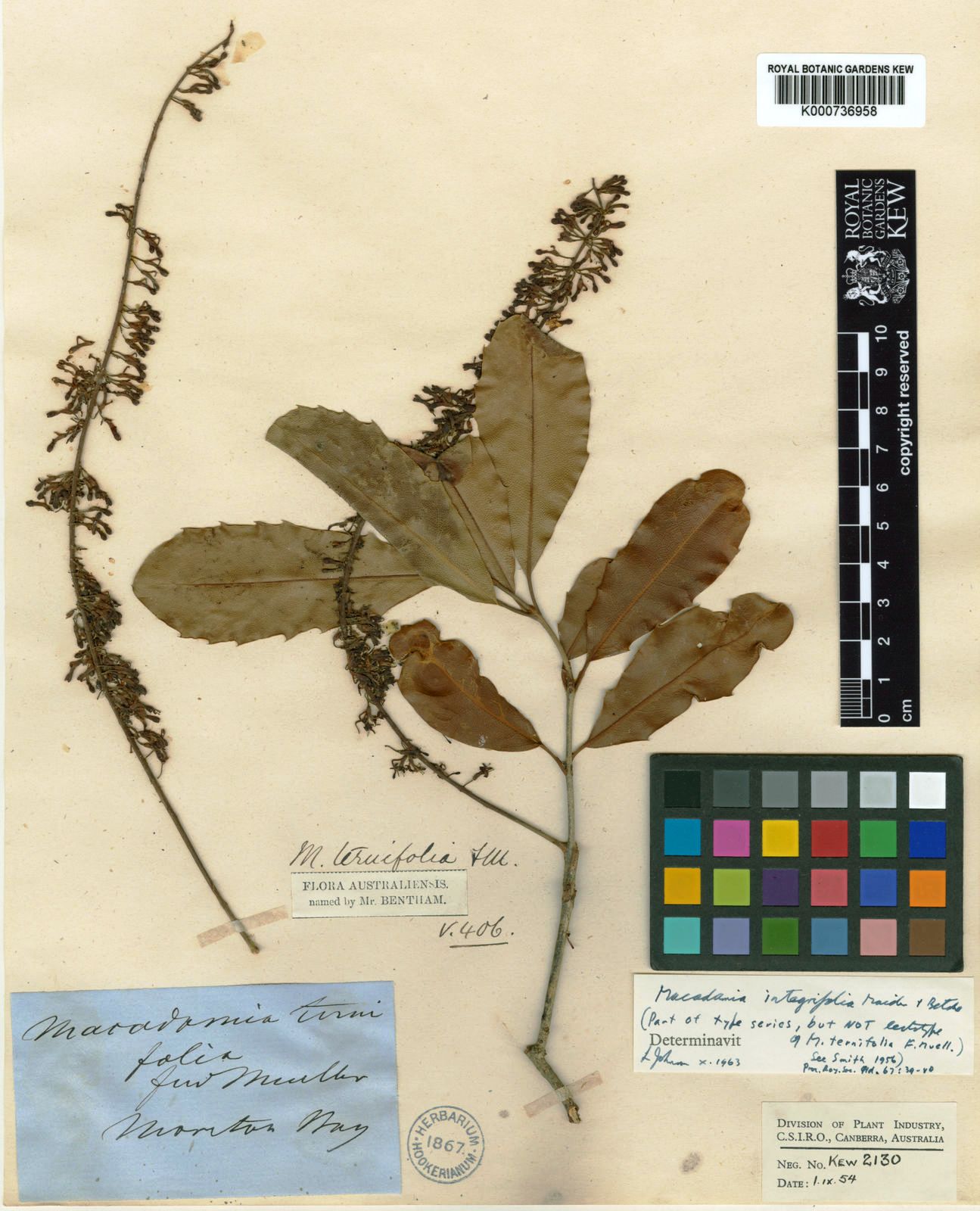 Description –
Macadamia ternifolia is a small multi-stemmed tree that reaches 8 m in height. The adult leaves, strictly ovate, are arranged in spirals of three on a 4-10 mm long stem. Each leaf is 9-12.5 cm long, 2-3.5 cm broad, with a duller color above and lighter below; the leaves are rigid, smooth and leathery, with slightly wavy margins and tips at the tip. They have a prominent central rib at the bottom and slightly hollowed at the top.
The inflorescences are simple and carried on a 5-18 cm long stem, with 6-8.5 mm long pink tepals and 4-7 mm long filaments that join the tepals for 0.5-6 mm and 1-2 long anthers mm. the ovary is 0.4-1 mm long and the stylus 5-10 mm long.
The fruits are 14–22 mm long and 13–22 mm broad.
The seeds are globose to broadly ovoid and about 16 mm long and 12 mm wide and have a smooth shell about 1 mm thick.
Cultivation –
Macadamia ternifolia is a plant that is used in its natural state and from which macadamia oil is obtained.
Unfortunately, due to the exploitation of this species, combined with the reduction of its natural habitat, this species is seriously threatened in the wild.
However, outside its natural habitat, the Macadamia tree is grown in different parts of the planet.
Customs and Traditions –
Macadamia ternifolia is a plant exploited for the production of macadamia oil which is obtained from the nut of the plant. Macadamia oil is extracted from the nuts of the macadamia tree. The small round fruits contain a seed that is very rich in beneficial fatty acids, which help keep the whole body healthy and provide long-releasing energy.
Macadamia oil is sometimes used in food for frying or seasoning vegetables and in cosmetics as an emollient or essence. Macadamia oil is composed of approximately 60% oleic acid, 19% palmitoleic acid, 2.8% linoleic acid and 1% linolenic acid. It also contains 3% omega-6 and 3% omega-3.
This oil has chemical properties typical of vegetable oils rich in triglycerides. It has an emollient action. It is also used as a supplement to awaken the thyroid.
Due to its particular properties, macadamia oil, as well as for food purposes, is also an ingredient increasingly used in eco-bio cosmetics, pure or in products such as creams, detergents, shampoos, shower gels and make-up.
This oil has a slightly greasy smell, which can be covered without problems by adding a few drops of essential oil according to the type of use to be made.
Preparation Method –
Macadamia ternifolia is a plant that is used in the food, medicinal and cosmetic fields thanks to the properties of the oil that is extracted from its fruits which are small nuts.
Guido Bissanti
Sources
– Acta Plantarum – Flora of the Italian Regions.
– Wikipedia, the free encyclopedia.
– Useful Tropical Plants Database.
– Conti F., Abbate G., Alessandrini A., Blasi C. (ed.), 2005. An annotated checklist of the Italian vascular flora, Palombi Editore.
– Pignatti S., 1982. Flora of Italy, Edagricole, Bologna.
– Treben M., 2000. Health from the Lord's Pharmacy, Advice and experiences with medicinal herbs, Ennsthaler Editore.
Warning: Pharmaceutical applications and alimurgical uses are indicated for informational purposes only, they do not represent in any way a medical prescription; therefore no responsibility is taken for their use for curative, aesthetic or food purposes.