Dulacia inopiflora
Muira puama (Dulacia inopiflora (Miers) Kuntze) is an arboreal species belonging to the Olacaceae family.
Systematics –
From a systematic point of view it belongs to:
Eukaryota Domain,
Kingdom Plantae,
Magnoliophyta Division,
Magnoliopsida class,
Subclass Rosidae,
Santalales Order,
Olacaceae family,
Genus Dulacia,
D. inopiflora species.
The following terms are synonymous:
– Dulacia ovata (Miers) Kuntze;
– Liriosma inopiflora Miers;
– Liriosma micrantha Spruce ex Engl .;
– Liriosma ovata Miers.
– Olax inopiflora (Miers) Christenh. & Byng.
Etymology –
The term Dulacia is of uncertain origin.
The term inopiflora is also unclear.
Geographic Distribution and Habitat –
Dulacia inopiflora is a plant native to northern Brazil and present in the forested areas of the north-western area of ​​South America, corresponding to Colombia, Peru, Ecuador and northern Brazil and widespread in Latin America.
Its natural habitat is that of the Amazon rainforests, in particular the Rio Negro and Amazon regions.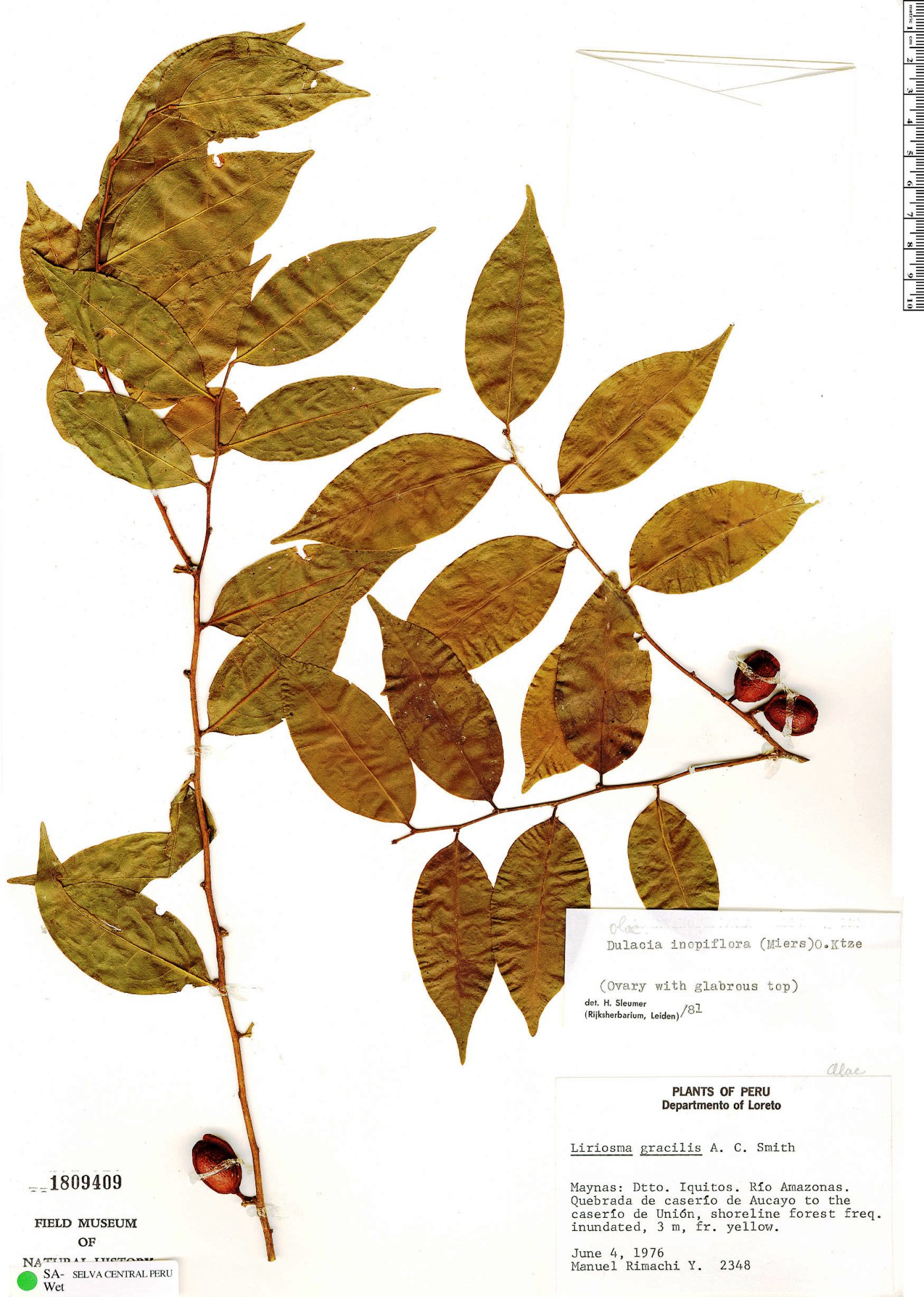 Description –
Dulacia inopiflora is an arboreal plant that can grow up to 10-15 m in height with a crown of 3-5 m in diameter.
The trunk is gray cracked when ripe.
The leaves are oblong, dark brown rather leathery and located alternately on the branches.
The flowers are tiny and whitish in color.
The fruits are orange yellow.
Cultivation –
Dulacia inopiflora is a plant that grows mostly spontaneously in the Amazon rainforest of northern Brazil.
However, the plant can be grown both from seed and from cuttings.
It prefers humid but permeable soils and warm temperatures in the summer and not harsh during the winter.
Customs and Traditions –
The name Muira puama includes some plants of the Olacaceae family including Dulacia inopiflora.
This plant has a long and ancient history of use by the indigenous peoples of the Amazon who traditionally use the bark and roots for the preparation of decoctions to be administered as a tonic and as an aphrodisiac.
The first European explorers discovered this use and, once brought to Europe, it became part of English herbal medicine. With the name of "Potency wood", strong wood, is the name that was attributed to it.
The main active ingredients contained in it are: muirapuamine (alkaloid), phytosterols, coumarin, behenic acid (ester), beta-sitosterol, tannins and fatty acids. The used part of the plant is the wood.
This plant for a long time used by the Amazonian natives as a tonic and aphrodisiac is still considered a valid remedy for impotence.
A homeopathic tincture consists of the root bark and wood.
It is an official plant in the German Homeopathic Pharmacopoeia and the uses of muira puama mother tincture are mentioned in the book "Rare Homoeopathic Mother Tinctures".
The aphrodisiac drug is derived from its stem, bark and wood, and the alcoholic extract is effective orally.
It is used to tone the nervous system, gastrointestinal and reproductive disorders, neuro-sexual stimulation; it also increases libido and has been used for the treatment of stress and trauma.
It also has antirheumatic properties.
Homeopathic mother tincture contains 86% alcohol. The popular and herbal use of the drug is well documented, but it is not yet clear which ingredient is responsible for the improvement of localized circulation in the sexual sphere or in the CNS centers.
Within Dulacia inopiflora, two new tropolone sesquiterpenoid glycosides were identified, the lyriosmasides A (1) and B (2), together with two known compounds, secoxyloganin and oplopanpheside C, were isolated from a methanol extract of the roots.
Preparation Method –
Dulacia inopiflora uses wood and bark from which decoctions or infusions are prepared with the addition of lemon juice and sugar.
They are then taken periodically to resolve patients' dysfunctions or pathologies.
Guido Bissanti
Sources
– Acta Plantarum – Flora of the Italian Regions.
– Wikipedia, the free encyclopedia.
– Useful Tropical Plants Database.
– Conti F., Abbate G., Alessandrini A., Blasi C. (ed.), 2005. An annotated checklist of the Italian vascular flora, Palombi Editore.
– Pignatti S., 1982. Flora of Italy, Edagricole, Bologna.
– Treben M., 2000. Health from the Lord's Pharmacy, Advice and experiences with medicinal herbs, Ennsthaler Editore.
Warning: Pharmaceutical applications and alimurgical uses are indicated for informational purposes only, they do not represent in any way a medical prescription; therefore no responsibility is taken for their use for curative, aesthetic or food purposes.