Linum catharticum
The purging flax or fairy flax (Linum catharticum L.) is a herbaceous species belonging to the Linaceae family.
Systematics –
From a systematic point of view it belongs to:
Eukaryota Domain,
Kingdom Plantae,
Subarign Tracheobionta,
Spermatophyta superdivision,
Magnoliophyta Division,
Magnoliopsida class,
Subclass Rosidae,
Order Euphorbiales,
Linaceae family,
Genus Linum,
L. catharticum species.
The terms are synonymous:
– Cathartolinum catharticum (L.) Small;
– Cathartolinum pratense Rchb. nom. illegality .;
– Nezera cathartica (L.) Nieuwl ..
In Italy there are the following subspecies:
– Linum catharticum L. subsp. catharticum;
– Linum catharticum subsp. suecicum Hayek.
Etymology –
The term Linum comes from the Greek λίνον línon (which became linum in Latin): linen.
The specific epithet catharticum also comes from the Greek, from the word καθαρός katharòs pure: which makes it pure, therefore purgative, purgative.
Geographic Distribution and Habitat –
The purging flax is a species with a wide circumboreal distribution.
In Europe it is present almost everywhere, including Great Britain, Iceland, up to the south and east of Spain, up to the Caucasus and Iran.
This species is present in all regions of continental Italy.
Its habitat is that of dry meadows and pastures in the Mediterranean and sub-Mediterranean belts and in fresh grassy places in the subalpine belt, on limestone substrates.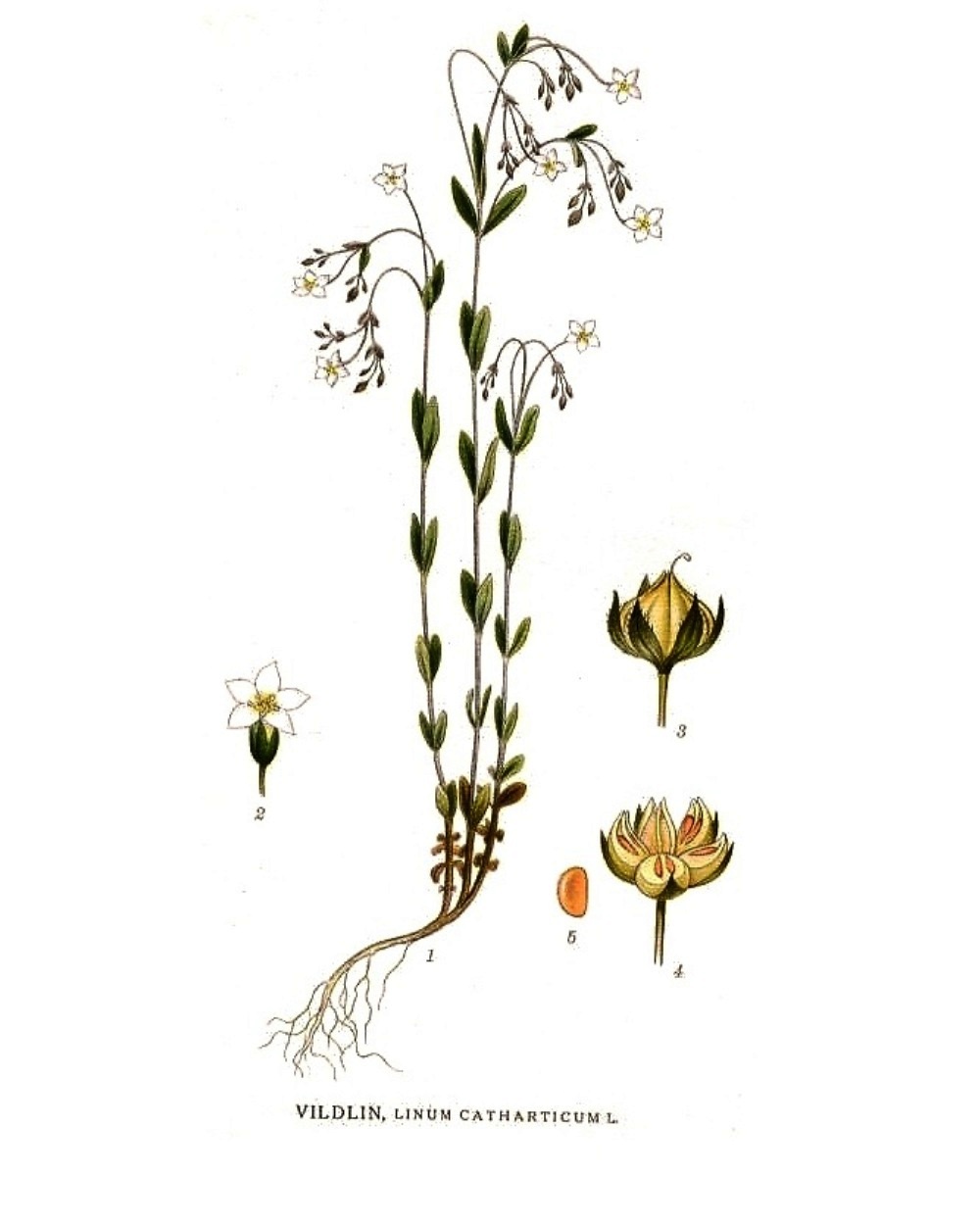 Description –
Linum catharticum is an annual herbaceous plant that can reach 0.25 meters in height.
It has simple leaves arranged opposite with two leaves per node along the stem. The edge of the leaf blade is whole (it has no teeth or lobes).
The flowers are yellow with pentameral symmetry: five petals, five sepals and with five stamens. The flowers are hermaphrodites and actinomorphs.
It blooms from July to August.
The fruit is a 2-3 mm globose-pyriform coccarium, with elliptical, flattened, 1-1.5 mm long, smooth, light brown seeds.
Cultivation –
The purging flax is a plant that grows spontaneously and that was used prefers light, calcareous, well-drained, moderately fertile soils in a sunny and sheltered position.
Propagation occurs by seed which can also be sown by broadcast, directly in the open field, in the spring period.
Customs and Traditions –
The purging flax is a poisonous herbaceous plant, beyond certain doses, which was once used as a drastic purgative.
This plant was therefore harvested in its natural state for local uses.
This plant, as well as a drastic purgative, was once used to treat muscle rheumatism, liver disorders, jaundice and catarrhal problems.
Currently the plant is rarely used in modern herbal medicine.
The plant is, however, an anthelmintic, diuretic, emetic and purgative herb.
No other alternative uses are known.
Preparation Method –
Linum catharticum is harvested in the summer when it comes into flower and can be dried for later use.
When used as a purgative it is generally taken with a carminative such as peppermint.
Furthermore, a homeopathic remedy is obtained from the plant.
It is used in the treatment of bronchitis, hemorrhoids and amenorrhea.
Guido Bissanti
Sources
– Acta Plantarum – Flora of the Italian Regions.
– Wikipedia, the free encyclopedia.
– Useful Tropical Plants Database.
– Conti F., Abbate G., Alessandrini A., Blasi C. (ed.), 2005. An annotated checklist of the Italian vascular flora, Palombi Editore.
– Pignatti S., 1982. Flora of Italy, Edagricole, Bologna.
– Treben M., 2000. Health from the Lord's Pharmacy, Advice and experiences with medicinal herbs, Ennsthaler Editore.
Warning: Pharmaceutical applications and alimurgical uses are indicated for informational purposes only, they do not represent in any way a medical prescription; therefore no responsibility is taken for their use for curative, aesthetic or food purposes.