Leptospermum petersonii
The lemon-scented teatree (Leptospermum petersonii F. M. Bailey) is a shrub or small tree species belonging to the Myrtaceae family.
Systematics –
From a systematic point of view it belongs to:
Eukaryota Domain,
Kingdom Plantae,
Subarign Tracheobionta,
Spermatophyta superdivision,
Magnoliophyta Division,
Magnoliopsida class,
Subclass Rosidae,
Order Myrtales,
Myrtaceae family,
Genus Leptospermum,
L. petersonii species.
The terms are synonymous:
– Leptospermum citratum (J.F.Bailey & C.T. White) Challinor, Cheel & A.R.Penfold;
– Leptospermum flavescens var. citratum J.F.Bailey & C.T. White;
– Leptospermum petersonii F.M.Bailey subsp. petersonii.
Etymology –
The term Leptospermum comes from the Greek λεπτός leptós thin, tenuous, delicate and from σπέρμα spérma seed: from the thin seed.
The specific epithet petersonii was attributed in honor of W. J. Peterson who collected the holotype on Wilson's Peak (Queensland) in 1905.
Geographic Distribution and Habitat –
Leptospermum petersonii is an endemic plant of eastern Australia, Oceania and Southeast Asia.
Its natural habitat is that of sclerophyll forest or rainforest near streams, floodplains or on rocky escarpments south from Mount Timbeerwah in southeastern Queensland to near Port Macquarie in New South Wales.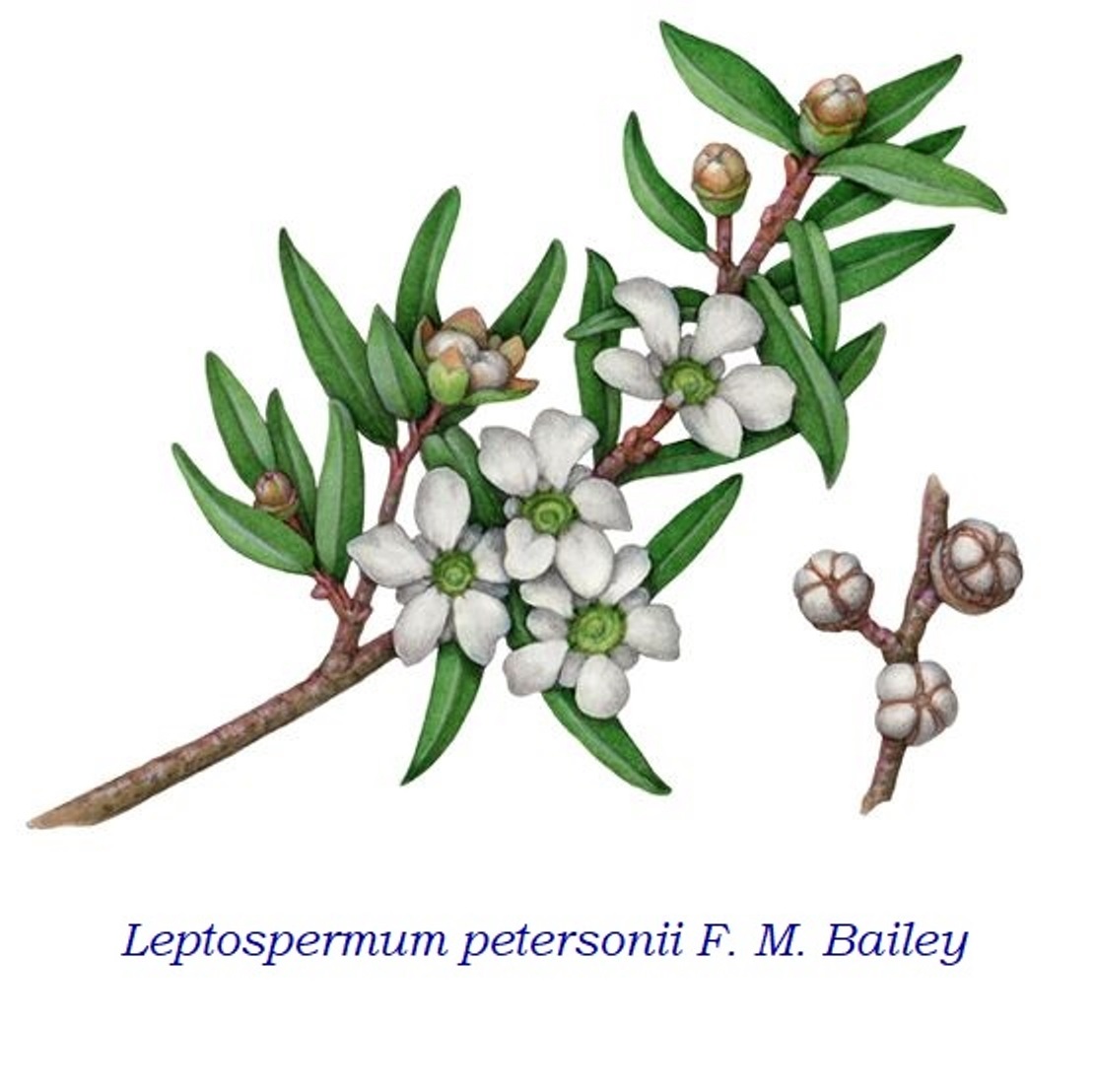 Description –
Leptospermum petersonii is a shrub or small tree that typically reaches a height of about 5m or more.
The bark is thin, coarse, fibrous or scaly on the stems and hairless twigs that have a flange under the bases of the leaves. new shoots are often a red or purple tint.
The leaves are elliptical to narrow in the shape of a lance, mostly 20-40 mm long and 2-5 mm wide, often heavily scented and lacking a petiole.
The flowers are white, about 10-15 mm in diameter and usually arranged singly on short lateral shoots. Flower buds have thin, papery, reddish-brown bracts and bracts at the base, but which usually fall off as the bud develops. The floral cup is mostly hairless, dark in color, 3-4 mm long and the sepals are hemispherical, 1.5-2.5 mm long. The petals are 5-6 mm long and the stamens 2.5-3.5 mm long.
Flowering occurs mainly from December to January and the fruit is a capsule about 6 mm wide. The capsules remain on the younger stems but are lost as the plant ages.
Cultivation –
Leptospermum petersonii is a commonly grown ornamental plant and is considered a minor invasive weed in some areas.
This naturally occurring plant in warm temperate to subtropical areas succeeds in almost any neutral or acidic soil of good or reasonable quality, preferring light sandy loam and full sun.
The plant prefers a location sheltered from hot or cold dry winds and the leaves are often heavily scented with lemon.
The plants are not very resistant to transplantation so they should be placed in their permanent positions as soon as possible.
It is a fast growing plant and can be kept at shrub height by pruning. The ability to be pruned regularly also makes it suitable for hedges, windbreaks and the collection of distilled essential oils.
Propagation is by seed which should be sown in containers, transplanting young seedlings into individual pots as soon as possible when they are large enough to handle and grow to 15cm or more in height before planting. The seed remains viable for many years.
Propagations can be carried out starting, through cuttings, using parts of semi-mature or mature wood.
Customs and Traditions –
The leaves of Leptospermum petersonii are harvested in nature to be used as a medicine and tea and to extract an essential oil. The plant is sometimes grown in Africa for essential oil and is also grown as an ornamental.
Among the edible uses, the leaves are used to prepare a strongly aromatic tea, or they can be added as a flavoring to tea and have a strong lemon scent.
For medicinal use, the leaves are used, and especially the essential oil obtained from them, which is antibacterial, antiseptic and slightly sedative.
Essential oil is used in aromatherapy.
Its active components include citronellal and citral. It is used in perfumery, aromatherapy and as a bactericide and inhibits the pathological fungi Candida albicans and Aspergillus fumigatus.
Furthermore, the essential oil is highly repellent to insects and is used as an ingredient in commercial cosmetic preparations as a perfume and masking agent.
Preparation Method –
The essential oil of Leptospermum petersonii is steam extracted from the leaves and is a transparent to pale yellow liquid.
It has a sweet lemon aroma that is even more fragrant and intense than cold-pressed lemon essential oil.
When used carefully in small dilutions within skin care applications, the essential oil can be useful in formulations intended for oily skin due to its purifying action.
Thanks to its scent it is indicated in deodorant and detergent products.
It can be used for insect-repellent action.
Guido Bissanti
Sources
– Acta Plantarum – Flora of the Italian Regions.
– Wikipedia, the free encyclopedia.
– Useful Tropical Plants Database.
– Conti F., Abbate G., Alessandrini A., Blasi C. (ed.), 2005. An annotated checklist of the Italian vascular flora, Palombi Editore.
– Pignatti S., 1982. Flora of Italy, Edagricole, Bologna.
– Treben M., 2000. Health from the Lord's Pharmacy, Advice and experiences with medicinal herbs, Ennsthaler Editore.
Warning: Pharmaceutical applications and alimurgical uses are indicated for informational purposes only, they do not represent in any way a medical prescription; therefore no responsibility is taken for their use for curative, aesthetic or food purposes.