Laserpitium latifolium
broad-leaved sermountain (Laserpitium latifolium L.) is a herbaceous species belonging to the Apiaceae family.
Systematics –
From a systematic point of view it belongs to:
Eukaryota Domain,
Kingdom Plantae,
Magnoliophyta Division,
Magnoliopsida class,
Order Apiales,
Apiaceae family,
Genus Laserpitium,
L. latifolium species.
The term is synonymous:
– Laserpitium latifolium subsp. asperum (Crantz) Schübl. & G. Martens.
Etymology –
The term Laserpitium comes from laserpitium (in turn derived from laser, juice of the silphium, and by corruption from silphium> silphicium> serpitium corresponding to σίλφιον silphion, the Greek name of the same plant).
The specific epithet latifolium comes from latus largo, extended and from fólium leaf, that is, with wide leaves.
Geographic Distribution and Habitat –
The broad-leaved sermountain is a species with European distribution present in all regions of mainland Italy except in Puglia.
Its habitat is that of arid rocky slopes, in arid meadows, in open woods and bushes, at the edge of woods, on usually calcareous substrates, with optimum in the mountain range where it grows in half-shade places, at altitudes between 400 -2100 meters above sea level.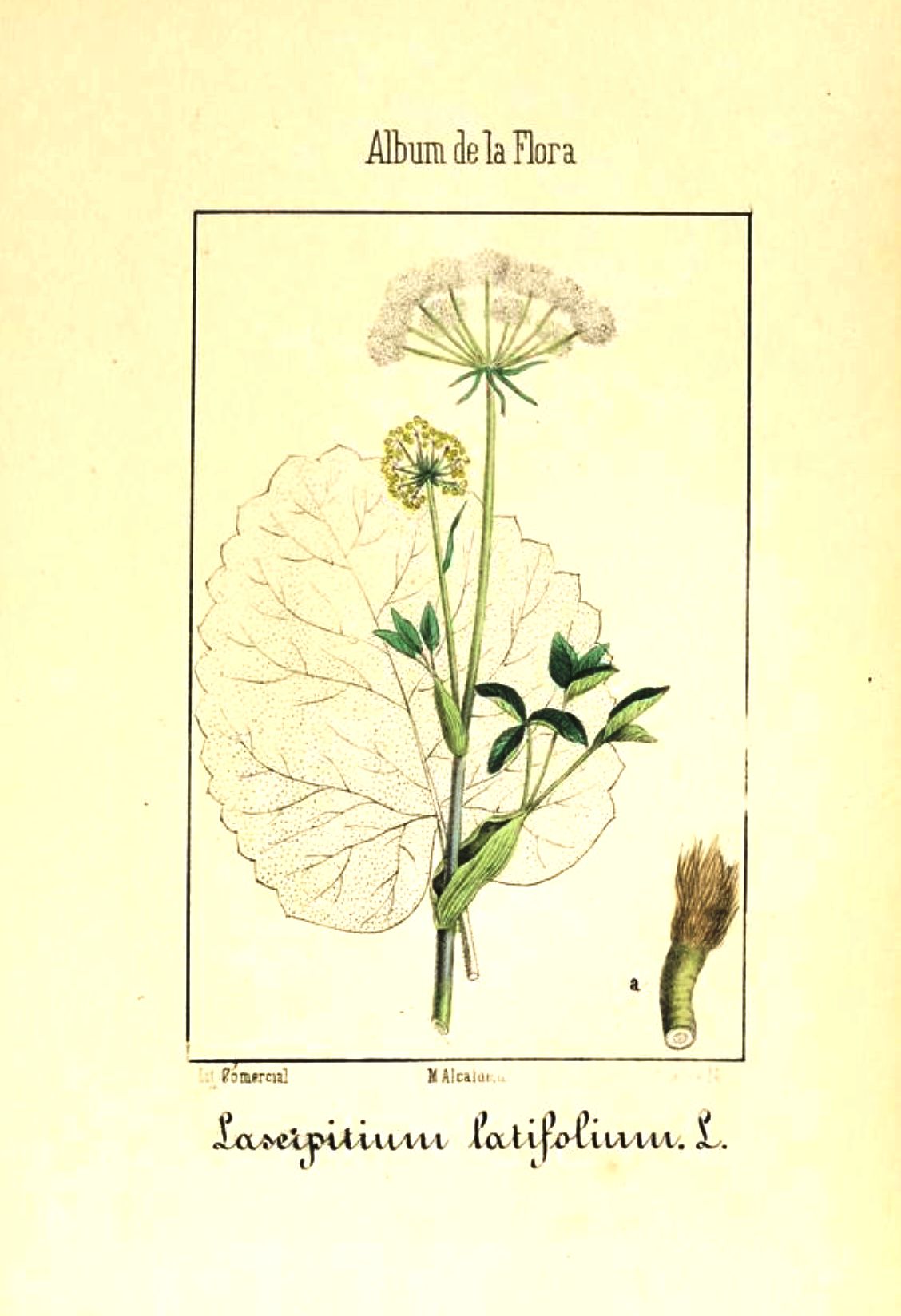 Description –
The Laserpitium latifolium is a robust, glabrous and glaucous perennial herbaceous plant, with an erect cylindrical stem finely striated, 50-150 (200) cm tall, very branched.
The basal leaves have a well developed petiole, ternate-bipennatosette, with a flat or wavy or folded lamina, completely divided into 4-8 x 6-10 cm wide segments, oval-heart-shaped ± obtuse, with toothed edge, the laterals a little asymmetrical; similar cauline leaves, smaller and with progressively reduced petiole.
It has large umbels (diam.up to 20 cm), with about forty rays (25-50), provided with casing and casing, with numerous linear bracts 1-3 x 15-35 mm wide, canaliculated, reflected and persistent ; shorter bracts; flowers with 1.5-2.5 mm petals white-yellowish, sometimes pink.
The flowering period is between the months of June and August.
The fruit is an ovoid or cordiform diachene (schizocarp), 6-9 mm long, with hairy ribs. Mericarps have wings 1.5-3 mm wide, wavy with an irregular margin.
Cultivation –
Laserpitium latifolium is a perennial plant that is harvested in nature for local use as food and medicine.
It is a plant that can be easily grown by propagating it by seed; sowing is in spring and can be done in seedbeds or on pallets and transplanted in late spring or early summer, after the last frosts foreseen.
Propagation by division of the tufts is also possible.
Customs and Traditions –
The broad-leaved sermountain is a plant that has been used for both food and medicinal purposes since ancient times.
This plant uses the root used for its aroma.
The Romans used it with cumin to season the preserved artichokes.
A decoction of the seeds is used in beer.
The root was used in folk medicine for alleged digestive properties.
In fact, the plant has medicinal properties and can be used as a stomachic, tonic.
Preparation Method –
The plant has, in the root system, tonic and stomachic properties, that is appetite and digestive stimulants and for this reason it is harvested both for medicinal use and for food use, for its aromatic properties.
Guido Bissanti
Sources
– Acta Plantarum – Flora of the Italian Regions.
– Wikipedia, the free encyclopedia.
– Useful Tropical Plants Database.
– Conti F., Abbate G., Alessandrini A., Blasi C. (ed.), 2005. An annotated checklist of the Italian vascular flora, Palombi Editore.
– Pignatti S., 1982. Flora of Italy, Edagricole, Bologna.
– Treben M., 2000. Health from the Lord's Pharmacy, Advice and experiences with medicinal herbs, Ennsthaler Editore.
Warning: Pharmaceutical applications and alimurgical uses are indicated for informational purposes only, they do not represent in any way a medical prescription; therefore no responsibility is taken for their use for curative, aesthetic or food purposes.