Lamium album
The white nettle or white dead-nettle (Lamium album L., 1753) is a perennial herbaceous species belonging to the Lamiaceae family.
Systematics –
From a systematic point of view it belongs to:
Eukaryota Domain,
Kingdom Plantae,
Subarign Tracheobionta,
Spermatophyta superdivision,
Magnoliophyta Division,
Magnoliopsida class,
Subclass Asteridae,
Lamiales Order,
Lamiaceae family,
Genus Lamium,
Species L. album.
The terms are synonymous:
– Lamium album Desf. (1798);
– Lamium album subsp. hyrcanicum (A.P. Khokhr.) Menitsky;
– Lamium album subsp. sempervirens (A.P. Khokhr.) Menitsky;
– Lamium album subsp. transcaucasicum (A.P. Khokhr.) Menitsky;
– Lamium album subsp. turkestanicum (Kuprian.) Kamelin & A.L.Budantsev;
– Lamium album var. brachyodon Bordz .;
– Lamium album var. parietariifolium (Benth.) Nyman;
– Lamium album var. roseum Dumort .;
– Lamium album var. viciosoi Pau;
– Lamium barbatum Siebold & Zuccarini (1845);
– Lamium brachyodon (Bordzilowski) Kuprian. (1951);
– Lamium capitatum Sm. in Rees (1811);
– Lamium dumeticola Klokov;
– Lamium hyrcanicum A.P. Khokhr .;
– Lamium niveum Rchb.f .;
– Lamium parietariifolium Benth .;
– Lamium petiolatum Royle ex Bentham. (1833);
– Lamium sempervirens A.P. Khokhr .;
– Lamium sempervirens Khokhr .;
– Lamium transcaucasicum A.P. Khokhr .;
– Lamium turkestanicum Kuprian .;
– Lamium vulgatum Benth ..
Within this species, the following subspecies are recognized:
– Lamium album subsp. barbatum (Siebold & Zucc.) Mennema, 1989;
– Lamium album subsp. crinitum (Montbret & Aucher ex Benth.) Mennema, 1982.
Etymology –
The term Lamium comes from lamium dead nettle, already present in Pliny, probable Latinization from the Greek λαιμός laimós throat, reference to the corolline tube
The specific epithet album comes from albus bianco, referring to flowers.
Geographic Distribution and Habitat –
White nettle is a widely distributed Eurasian – temperate species.
In Europe it is present more or less everywhere. It is also found in northern and eastern but temperate Asia. In North America (eastern part) it was introduced during the colonial period and then naturalized.
This plant is present in all regions of Italy except in Umbria, Marche, Puglia and Sicily (the presence is doubtful in Emilia Romagna and Lazio, and the species has been erroneously reported in Valle d'Aosta).
Its typical habitat is uncultivated, ruderal areas and waste deposits; but also the edges of the woods and the hedges. The preferred substrate is both calcareous and siliceous with neutral pH soil but with a high nutritional content (nitrophilic plant) and average humidity values.
The altitudinal distribution: on the reliefs these plants can be found up to 1200 m s.l.m. (maximum 2000 m a.s.l.); therefore they frequent the following vegetational levels: hilly, mountain and subalpine (in addition to the plain).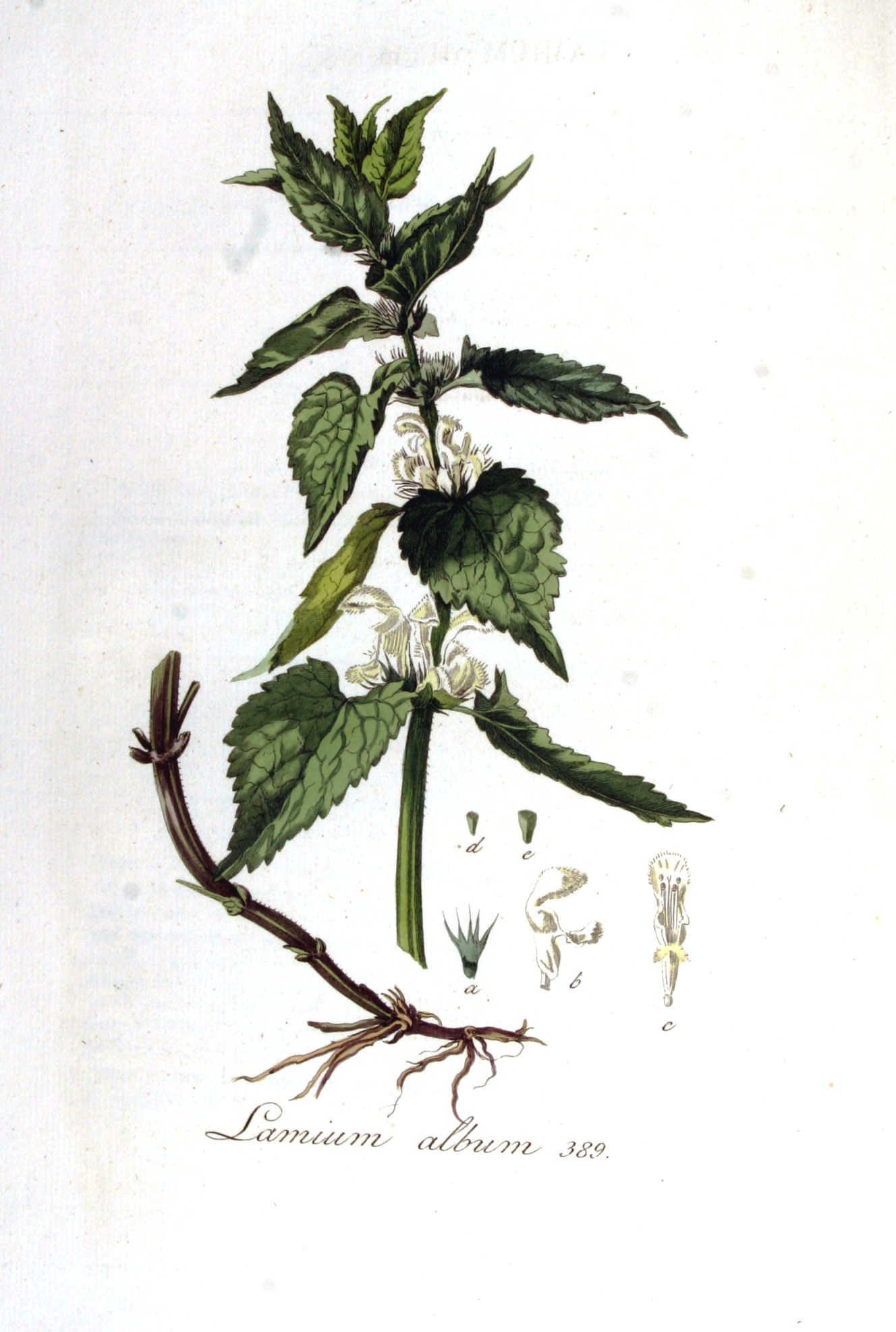 Description –
Lamium album is a perennial, herbaceous plant, with very long roots, erect stems, not branching, quadrangular, covered with erect hairs, often streaked with purple in the lower area, 30-60 cm tall.
The leaves are oval acute, opposite, with the lower ones long petiolate and irregularly toothed, the upper ones with a shorter petiole. The lamina is on the whole of the surfaces covered with glandular hairs.
The bilabiate flowers are arranged in whorls closed at the axil of the leaves, have a white or yellowish zygomorphic corolla, with a long curved tube and campanulate calyx, semi-open, equipped with 5 lanceolate teeth, 4 stamens, didynamus: one pair longer than the other ; the anthers are dark brown.
The ovary contains, in each of the 2 alveoli 2 seeds which, when ripe, turn into 4 schizocarpic fruits which are microbasari with 4 mericarps (nucule or achenes) obovoid, trigons, with a convex side and two planes, truncated apex and base membranous, warty surface of brownish ± dark color, dotted with white, measuring (3) 3.2-3.5 x 1.3-1.6 mm.
Cultivation –
White nettle is a very easy plant to grow, tolerating most soils and conditions.
It grows well in heavy clay soils. It prefers a sunny location, although it also does well in partial shade. Plants are resistant to about -25 ° C.
It is a good plant for bees.
Propagation occurs by seed. This species usually self-seeds freely and should not require human intervention. When required, it can be sown in situ as soon as the seeds are ripe.
It can also multiply by division in spring. The division succeeds almost anytime in the growing season.
The larger and very easy tufts can be replanted directly into their permanent locations, although it is best to pot the smaller tufts and grow them in pallets until they take root well. They are then transplanted in spring.
Customs and Traditions –
Lamium album is a slightly bitter herb with an astringent, decongestant, anti-haemorrhagic, and anti-inflammatory action. It is a species that since the Middle Ages boasts a long use in the treatment of gynecological and obstetrical problems. It has been used for internal use in menstrual problems, post-partum bleeding, vaginal discharge and prostatitis.
It has been traditionally used as it exerts a mild diuretic activity and, thanks to its digestive activity, in case of irritation of the gastric mucosa, a sense of fullness, flatulence.
For external use in vaginal irrigations in case of leucorrhoea, for gargling against inflammation of the oral cavity and throat, to heal herpes.
The infusion is indicated to normalize the sebaceous secretion, both of oily skin and against itching, furfuraceous desquamation and greasiness of the scalp: it acts by normalizing the sebaceous secretion.
In the kitchen, the tops that have not yet blossomed can be used in the preparation of soups, salads, omelettes or as cooked vegetables. Herbal tea is a pleasant tasting drink.
An infusion is used in the treatment of kidney and bladder disorders, diarrhea, menstrual problems, postpartum bleeding, vaginal discharge and prostatitis.
Externally, the plant is turned into compresses and applied to hemorrhoids, varicose veins and vaginal discharge.
Distilled water is obtained from the flowers and leaves which constitutes an eye lotion; excellent and effective for relieving ophthalmic conditions.
A homeopathic remedy is obtained from the plant. It is used in the treatment of bladder and kidney disorders and amenorrhea.
The following substances are present: ethereal oils (inside glandular hairs), mucilage, tannin, saponins and potassium salts. In particular, from the extracts of the plant there is a percentage of about 9% of tannin (Wollmer titration), 0.14% of acidic saponins and 0.05% of a "heteroside".
The parts used are the leaves and flowers (especially the apical flowering part) which are collected from May to August and are used in the form of infusions.
In some cases these plants are used as a vegetable: if boiled they have a flavor comparable to spinach. In France the gardeners of Vitry (near the Seine) make an excellent soup.
It is also used as a honey plant.
The use of this species by man is mainly limited to gardening thanks also to its showy flowering, but also to the variegated foliage. Furthermore, if the plant is placed in a sheltered but cool area, flowering is maintained for a long part of the year as the flowers follow one another almost continuously until late August.
Among other uses, it should be remembered that the plant is a good ground cover plant for the edges of the woods.
Preparation Method –
The young shoots of the Lamium album are edible.
The young leaves can be eaten both raw and cooked.
They can be added to salads or mixed with other leaves and cooked like a herb.
After harvesting they can be dried for later use.
The leaves are a good source of vitamin A and the flowers make a pleasant herbal tea.
Guido Bissanti
Sources
– Acta Plantarum – Flora of the Italian Regions.
– Wikipedia, the free encyclopedia.
– Useful Tropical Plants Database.
– Conti F., Abbate G., Alessandrini A., Blasi C. (ed.), 2005. An annotated checklist of the Italian vascular flora, Palombi Editore.
– Pignatti S., 1982. Flora of Italy, Edagricole, Bologna.
– Treben M., 2000. Health from the Lord's Pharmacy, Advice and experiences with medicinal herbs, Ennsthaler Editore.
Warning: Pharmaceutical applications and alimurgical uses are indicated for informational purposes only, they do not represent in any way a medical prescription; therefore no responsibility is taken for their use for curative, aesthetic or food purposes.