Lachnanthes caroliniana
The Carolina redroot or bloodroot (Lachnanthes caroliniana (Lam.) Dandy) is a herbaceous species belonging to the Haemodoraceae family.
Systematics –
From a systematic point of view it belongs to:
Eukaryota Domain,
Kingdom Plantae,
Magnoliophyta Division,
Liliopsida class,
Commelinales Order,
Haemodoraceae family,
Subfamily Haemodoroideae,
Genus Lachnanthes,
L. caroliniana species
The terms are synonymous:
– Anonymos tinctoria Walter;
– Dilatris caroliniana Lam .;
– Dilatris heritiera Pers .;
– Dilatris tinctoria (Walter ex J.F. Gmel.) Pursh;
– Gyrotheca tinctoria (Walter ex J.F. Gmel.) Salisb .;
– Heritiera gmelinii Michx .;
– Heritiera tinctorum Walter ex J.F. Gmel .;
– Lachnanthes tinctoria (Walter ex J.F. Gmel.) Elliott;
– Lachnanthes tinctoria var. major C. Wright ex Griseb ..
Etymology –
The term Lachnanthes comes from the Greek Lachne, wool, and anthos, flower, referring to pubescent flowers.
The specific Carolinian epithet refers to the origin of this plant from the areas of the State of Carolina.
Geographic Distribution and Habitat –
Lachnanthes caroliniana is a plant native to the northeastern coast of the United States and reaches southern New England (Connecticut, Massachusetts and Rhode Island), as far as southern Florida and Cuba, and west along the Gulf of Mexico to Louisiana. It has also been reported on an island in the western Caribbean off the coast of Honduras.
Its habitat is that of the sandy or peaty shores of ponds and can become a weed in some crops and prefers moist, acidic, usually sandy soils, limiting it to various wet habitats such as peat bogs, pine forests, etc.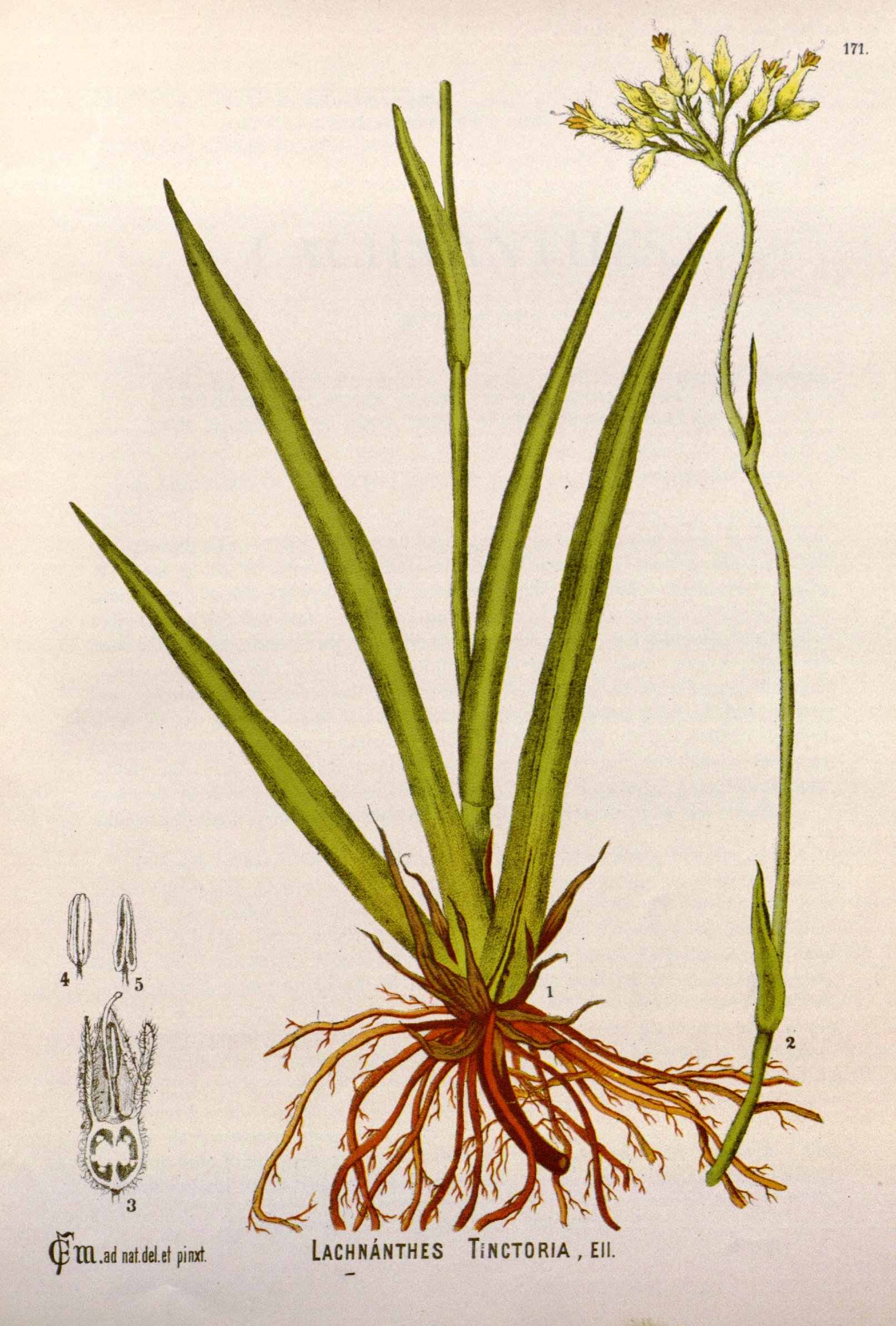 Description –
Lachnanthes caroliniana is a herbaceous plant with stems and branches that are hairy and with an orange-red rhizome and roots.
This plant is characterized by a fan of flattened leaves and clusters of flowers located in the tops.
The leaves are sword-like, erect and gradually tapering. Several leaves rise flattened together from the base.
The flowers are carried on a branched cluster at the top, above the leaves, on a tall, fleshy stem. The flowers are small and woolly looking and have three outer and three inner petals. The outer petals are whitish. The inner petals are yellowish and woolly.
The plant blooms in the spring and summer months.
Cultivation –
Lachnanthes caroliniana is a plant that grows spontaneously in its natural state, especially on the banks of rivers or lakes.
This plant native to eastern North America is sometimes a significant weed in swamps with commercial cranberry production.
The plant is cultivable and requires a clayey soil rich in humus, even if it does not reside in colder environments than its area of ​​origin.
Propagation occurs by seed with sowing to be carried out in spring in a warm greenhouse or directly in the open field in milder areas.
The transplant should be done when the seedlings are large enough to be handled, in late spring or early summer, after the last expected frosts. They can also propagate by division in spring.
Customs and Traditions –
The roots and rhizomes of the Lachnanthes caroliniana are used for medicinal purposes.
The root is astringent, narcotic, tonic and nervine.
Taken internally it produces a peculiar form of brain stimulation and narcosis, it was often used as a narcotic by some Indian tribes native to North America. It is also used in the treatment of intestinal disorders, cough, pneumonia and blood in the respiratory tract.
Among other uses, it should be remembered that a red dye is obtained from the root.
Preparation Method –
Lachnanthes caroliniana is used for medicinal purposes through the preparation of decoctions of the roots.
Instead, a homeopathic remedy is obtained from the whole fresh plant, harvested when it is in bloom.
Guido Bissanti
Sources
– Acta Plantarum – Flora of the Italian Regions.
– Wikipedia, the free encyclopedia.
– Useful Tropical Plants Database.
– Conti F., Abbate G., Alessandrini A., Blasi C. (ed.), 2005. An annotated checklist of the Italian vascular flora, Palombi Editore.
– Pignatti S., 1982. Flora of Italy, Edagricole, Bologna.
– Treben M., 2000. Health from the Lord's Pharmacy, Advice and experiences with medicinal herbs, Ennsthaler Editore.
Warning: Pharmaceutical applications and alimurgical uses are indicated for informational purposes only, they do not represent in any way a medical prescription; therefore no responsibility is taken for their use for curative, aesthetic or food purposes.