Kaempferia galanga
Galangal (Kaempferia galanga L.) is a herbaceous species belonging to the Zingiberaceae family.
Systematics –
From a systematic point of view it belongs to:
Eukaryota Domain,
Kingdom Plantae,
Magnoliophyta Division,
Liliopsida class,
Zingiberales Order,
Zingiberaceae family,
Genus Kaempferia,
K. Galanga species.
The terms are synonymous:
– Alpinia sessilis J.König;
– Kaempferia humilis Salisb .;
– Kaempferia latifolia Donn ex Hornem .;
– Kaempferia marginata Carey ex Roscoe;
– Kaempferia plantaginifolia Salisb .;
– Kaempferia procumbens Noronha;
– Kaempferia rotunda Blanco.
Etymology –
The term Kaempferia of the genus was given in honor of the German botanist Engelbert Kaempfer (1651–1716).
The specific galanga epithet derives from the Arabic form of a Chinese word for the plant, "高 良薑" ("gou-loeng-goeng" in Cantonese, "gao-liang-jiang" in Mandarin).
Geographic Distribution and Habitat –
Galangal is a plant that grows mainly in East Asia: southern China, India, Bangladesh, Myanmar, Thailand, Cambodia and Vietnam but is also widely cultivated throughout Southeast Asia.
Its habitat is that of the open forest, forest edges and bamboo forest, on various terrains, at altitudes up to 1,000 meters.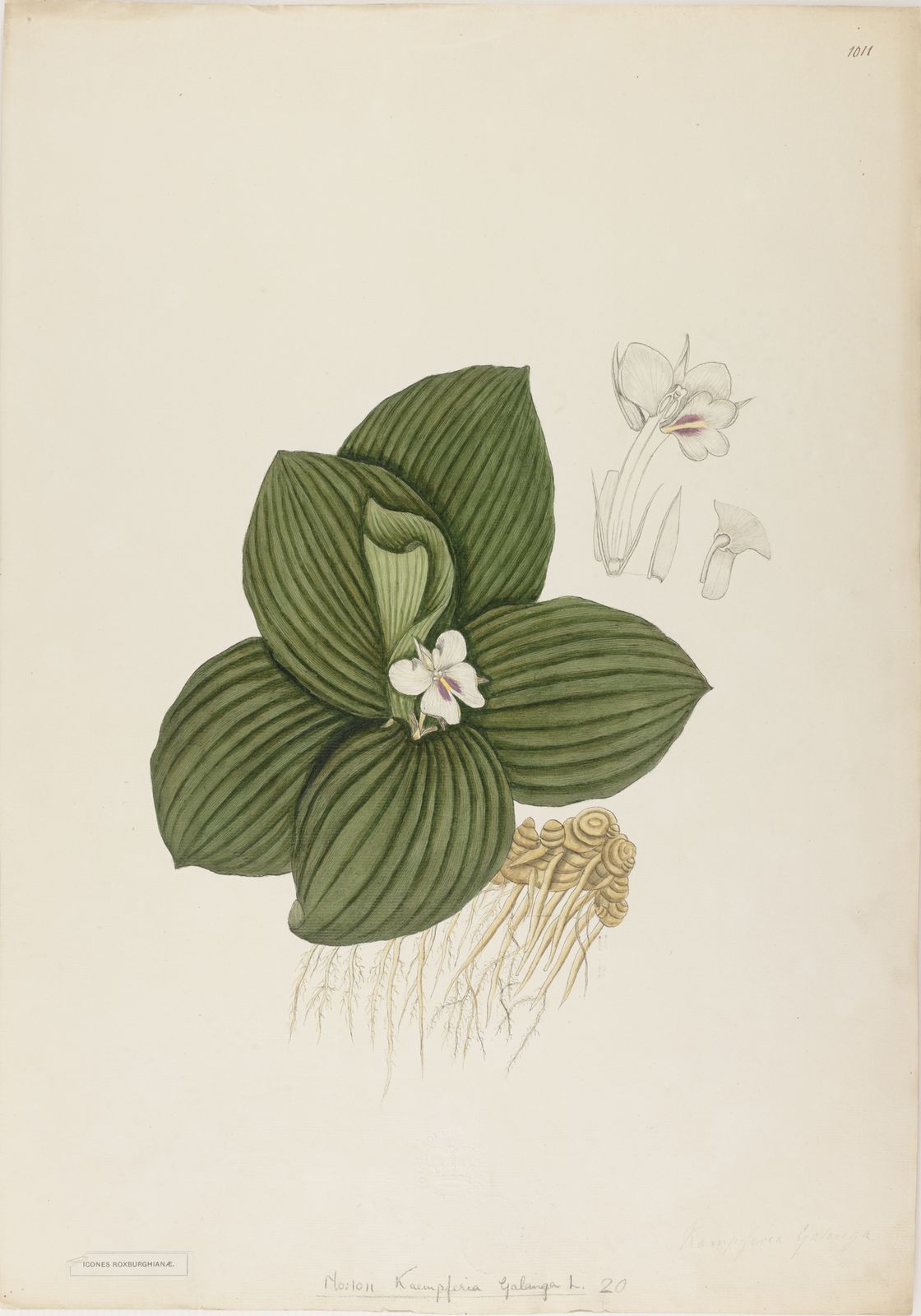 Description –
Kaempferia galanga is a small perennial herbaceous plant, without stem, that grows up to 45 cm in height that develops from a rhizomatous root.
The leaves are thick and rounded which usually lie flat in a rosette on the ground.
The terminal flowers are of medium size, with light purplish petals.
Cultivation –
Kaempferia galanga is a plant that is collected and used in nature for local use as food and medicine; the plant is also sometimes cultivated as a spice in the tropics, especially in India, Malaysia and China. The plant is also grown as an ornamental species.
It is a typical plant of the wetter tropics with a distinct dry season, which prefers a humid climate and a minimum temperature that rarely drops below around 18 ° C.
It prefers rich, moist soil and a shady location.
The plant is propagated by seed or by division of the rhizomes.
Customs and Traditions –
Kaempferia galanga, commonly known as kencur, aromatic ginger, sand ginger, cherry, or resurrection lily, is one of four plants called galangal.
Unlike the similar Boesenbergia rotunda (Thai กระชาย krachai), K. galanga is not commonly used in Thai cooking, but can be purchased in the form of dried or powdered rhizome at herbal stalls. It is known in Thai as proh horm (เปราะหอม) or waan horm (ว่า น หอม), and in Khmer as prâh (ប្រោះ) or prâh krâ-oup (ប្រោះ ក្រអូប). It is also used in Chinese cooking and Chinese medicine, and is sold in Chinese drugstores under the name of sha jiang (Chinese: 沙 姜; pinyin: shajiang), while the plant itself is referred to as shan nai (Chinese: 山 柰; pinyin : shannai). Kaempferia galanga has a peppery camphor flavor.
The young leaves and the tender rhizomes can be eaten raw, steamed, curried or cooked with chilli paste and used as a side dish for rice.
The rhizomes can also be used as a condiment and, once dried, have been used as a substitute for turmeric in curry powder.
From a medicinal point of view, galangal is a bitter and stimulating herb with a camphor aroma. It is antibacterial, improves digestion and has diuretic effects.
The root is used internally to treat colds, bronchial ailments, dyspepsia and other gastric ailments and headaches.
In growing areas it is chewed to treat sore throats and coughs.
It is used in traditional medicine for the treatment of hypertension and asthma.
The roots are an ingredient in postpartum medicine.
For external use the root is applied as a poultice on wounds, swellings and ulcers, and is also used to treat dandruff and rheumatic joints.
Among other uses it should be remembered that the powdered aromatic root is used in linen sachets to repel moths from clothes, in addition the powdered aromatic root is added to body powders and cosmetics.
The plant extracts kill the larvae of several mosquito species, including some that are disease vectors. Following these findings, research is underway to evaluate the use of the plant extract as an insect repellent, with preliminary results suggesting that it is not irritating to the skin of rats.
From the analyzes on the rhizomes it has been reported that these contain cineol, borneol, 3-carene, camphene, kaempferol, kaempferide, cinnamaldehyde, p-methoxycinnamic acid, ethyl cinnamate and ethyl p-methoxycinnamate.
Preparation Method –
Kaempferia galanga is used as a cooking herb in Indonesia, where it is called kencur ("cekur" in Malaysia), and especially in Javanese and Balinese cuisine. Beras kencur, which combines dried K. galanga powder with rice flour, is a particularly popular jamu herbal drink. Its leaves are also used in the Malaysian rice dish, nasi ulam.
The rhizomes of the plant, which contain essential oils, have been used in traditional Chinese medicine as a decoction or powder. Its alcoholic maceration has also been applied as an ointment for rheumatism.The extract causes depression of the central nervous system, a decrease in motor activity and a decrease in respiratory rate.
The decoctions and the sap of the leaves can have hallucinogenic properties, which may be due to unidentified chemical components of the essential oil fraction of the plant.
A purified extract of K. galangal and polyester-8 stabilize the UV absorption properties of sunscreen combinations containing avobenzone.
Guido Bissanti
Sources
– Acta Plantarum – Flora of the Italian Regions.
– Wikipedia, the free encyclopedia.
– Useful Tropical Plants Database.
– Conti F., Abbate G., Alessandrini A., Blasi C. (ed.), 2005. An annotated checklist of the Italian vascular flora, Palombi Editore.
– Pignatti S., 1982. Flora of Italy, Edagricole, Bologna.
– Treben M., 2000. Health from the Lord's Pharmacy, Advice and experiences with medicinal herbs, Ennsthaler Editore.
Warning: Pharmaceutical applications and alimurgical uses are indicated for informational purposes only, they do not represent in any way a medical prescription; therefore no responsibility is taken for their use for curative, aesthetic or food purposes.