Jasminum officinale
The common jasmine or simply jasmine (Jasminum officinale L., 1753) is a climbing species belonging to the Oleaceae family.
Systematics –
From a systematic point of view it belongs to:
Eukaryota Domain,
Kingdom Plantae,
Subarign Tracheobionta,
Spermatophyta superdivision,
Magnoliophyta Division,
Magnoliopsida class,
Subclass Asteridae,
Order Scrophulariales,
Oleaceae family,
Genus Jasminum,
J. Officinale species.
The following terms are synonymous:
– Jasminum officinale f. cognate (Royle ex Lindl.) Rehder;
– Jasminum officinale var. cognate (Royle ex Lindl.) G. Nicholson;
– Jasminum affine Royle ex Lindl .;
– Jasminum viminale Salisb, nom. illeg.;
– Jasminum vulgatius Lam., Nom. illeg ..
Etymology –
The term Jasminum comes from the Arabic jsmin white flower: for the color of the flowers of the common jasmine.
The specific officinal epithet: from a medieval workshop workshop: as a plant usable in pharmaceuticals, herbal medicine, liqueurs, perfumery and the like.
Geographic Distribution and Habitat –
Jasmine is a native plant of the Caucasus and other areas such as northern Iran, Afghanistan, Pakistan, Himalaya, Tajikistan, India, Nepal and western China (Guizhou, Sichuan, Xizang, Yunnan).
This plant is widely cultivated various parts of the world and is naturalized in France, Italy, Portugal, Romania, Algeria, Florida and the West Indies.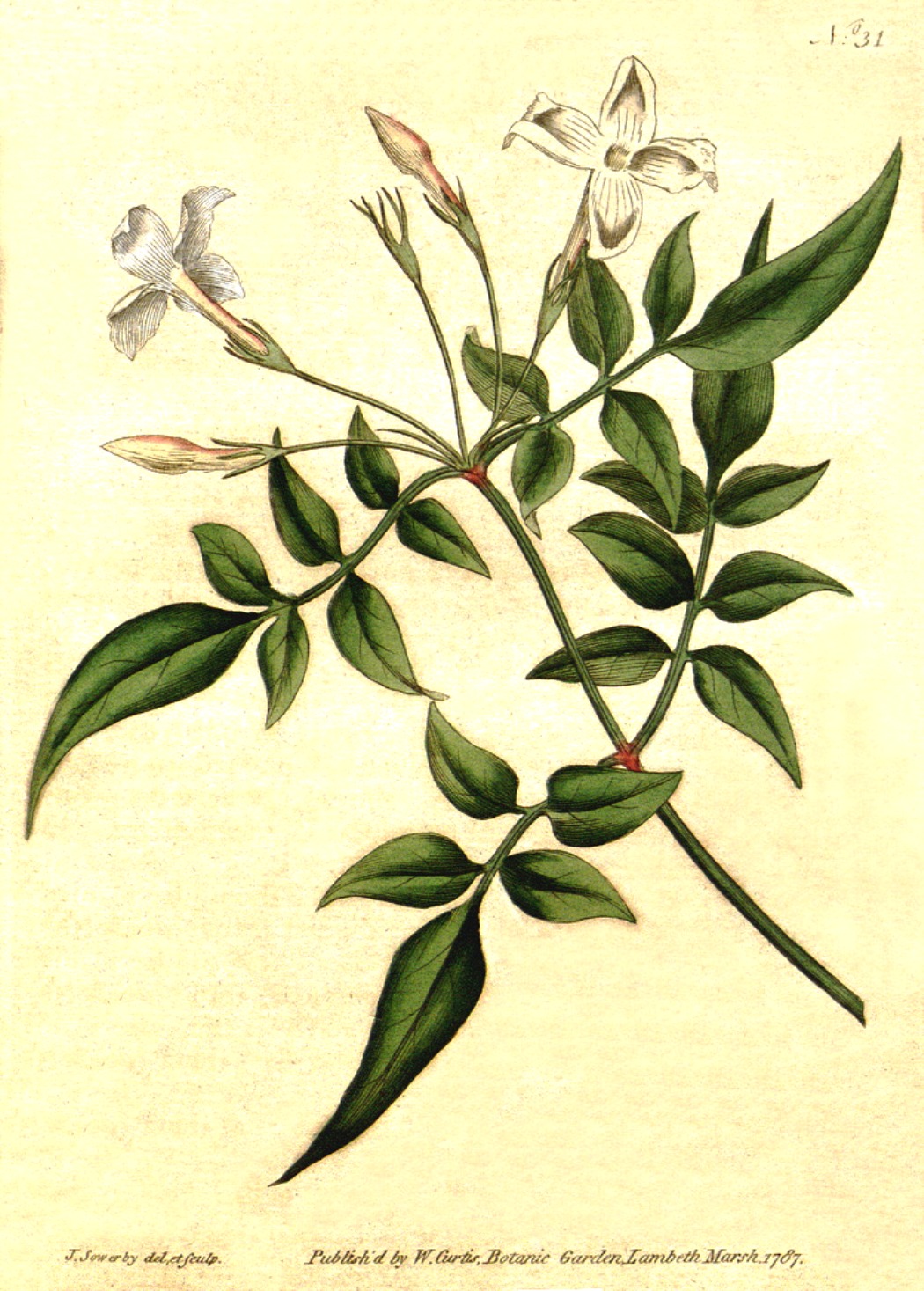 Description –
Jasminum officinale is a vigorous and deciduous climbing plant that reaches six meters in height, very branched.
The leaves are light green, composed of five elongated leaves, with pointed apexes and a linear-lanceolate shape with an entire margin.
The inflorescence is in axillary racemes; the flowers are hermaphroditic, with a tubular calyx; they have five white petals and are small and fragrant.
The antesis is in late spring and summer.
The fruit is a berry.
Cultivation –
Jasmine is a plant that is grown mainly as an ornamental plant in gardens to cover walls, pergolas and gazebos.
It is a fairly rustic plant, which tolerates the cold well, even if it fears intense and prolonged frost; in areas with a mild winter climate they are garden plants, where they can produce very developed and large climbers; in areas with cold winters they are delicate plants, which are grown in pots, or in the open ground in flowerbeds leaning against the house, protected from frost and winter wind.
However, jasmine should be grown in a sunny, well-ventilated place, but sheltered from the wind, especially during cold weather.
The soil must be well endowed with organic matter, deep and with good drainage.
Jasmine tolerates drought well, even if prolonged, but plants subjected to severe droughts often tend to produce few flowers; to obtain a very vigorous and floriferous jasmine it is advisable to water the plant regularly in the period from April to September, always waiting for the soil to dry well between one watering and the next.
Plants are generally not pruned, except to contain their growth.
From a health point of view it is a fairly resistant plant that is not easily attacked by pests or diseases.
Since at the foot of the main stems the plant tends to frequently produce new shoots, these can be picked up and repotted individually.
The most frequent propagation is by cuttings or by layering.
Numerous cultivars of this plant have been created for use in the garden, often with variegated foliage. The 'Argenteovariegatum' cultivar, with creamy white variegations on the leaves, was awarded the Royal Horticultural Society's Garden Award.
Customs and Traditions –
This plant much appreciated by gardeners is the national flower of Pakistan where it appears bordering its coat of arms. Its origin, although located somewhere in Central Asia, is not well established. Some botanists (H.L.Li, 1992; Coats, 1994) point out that in the Chinese texts of the third century the plant is mentioned as foreign. In other later texts of the same origin, Byzantium is referred to as the place of origin. The Chinese call it Yeh-shi-ming as an adaptation of the name used in Persia and Arabia.
Its presence in European gardens most likely occurred through the Norman culture in Sicily.
In the mid-fourteenth century, in Florence, Giovanni Boccaccio, in his Decameron, describes an enclosed garden in which the avenues were all carpeted with white and red roses and jasmine, so that there was no part of the garden in which one could not walk , neither in the morning nor at noon under a pleasant shade.
Jasmine was so natural that Linnaeus believed it was originally from Switzerland. Such was the number of factories that extracted the essences of this flower in central Europe.
It is mentioned as a London garden plant in William Turner's book Names of Herbes (1548).
Jasminum officinale is a plant that, in addition to ornamental purposes, can be used as a medicinal plant; its effects are known as anti-inflammatory, antimicrobial, antioxidant and anti-ulcer. According to a study in rats and mice, the hydroalcoholic extract of the leaves has analgesic and anticonvulsant effects.
The essential oil present in the flowers is widely used in cosmetics, perfumery and aromatherapy.
Contains alkaloids, coumarins, flavonoids, tannins, terpenoids, glycosides, emodin, leucoantcyanins, steroids, anthocyanins, flobatinins, essential oil and saponins.
Among the active ingredients present in jasmine we mention linalyl and benzoyl acetate, linalool, phenylacetic acid, farnesol and in particular jasmone which is the part responsible for its fragrance. The main product obtained by steam distillation or by enflorage is the essential oil of jasmine flowers.
Jasminum officinale essential oil is used in aromatherapy. The pure essential oil of jasmine is known as the "King of oils" and its intense and sweet scent is loved by most people. The flowers give off their scent at sunset, so the flowers are harvested at night and a small amount of oil is obtained by solvent extraction. The result is a very expensive oil, but it can be used in low concentrations so it is not so uneconomical to use it in products. The aroma of jasmine is described as soothing and calming without being soporific.
Jasminum officinale L. var. grandiflorum is a folk medicine used to treat hepatitis in southern China.
The effect of the aqueous extract of fresh flower buds of Jasminum officinale var. grandiflorum Linn. was studied on female fertility in rats. The extract produced a significant decrease in serum progesterone levels.
Please note that this oil can cause irritation.
Jasmine is a plant visited by bees for pollen and nectar.
Preparation Method –
Jasmine, as written above, is a plant that in addition to ornamental uses is used as a medicinal plant, due to its characteristics and properties
For internal use: One of the classic methods of taking jasmine internally is jasmine tea where the dried flowers are mixed with the tea leaves. Furthermore, the dried jasmine flower is used as or as a flavoring in some pastry recipes such as biscuits and jams. The jasmine aroma is sought after and considered a delicacy; in fact, it is present in history as a fragrance in the foods that arrived at the tables of the nobles and the wealthiest people who prided themselves on its use as a habit only granted to them. Its properties, even in small dosages for internal use, are calming, analgesic and mildly sedative.
For external use: the methods of external intake are varied, the essential oil of jasmine can be diluted with other oils or added to creams to aid massages, or it can act as a pleasant relaxing scent when used together with an environmental diffuser or, with the same ability to dissolve tensions, a few drops can be added in a bathtub. The cost of essential oil is quite conspicuous precisely because large quantities of flowers are needed to obtain very small quantities of essential oil. Unfortunately, on the market there are often synthetic jasmine aromas that reproduce the aroma but which are not extracted from the plant. Its tone is associated with the 4th chakra that corresponds to the heart area and, in fact, is used to relax the breath and open up to the other and the world.
Among the contraindications of jasmine it should be remembered that some systems of traditional medicine or some schools of alternative medicine attribute numerous properties to jasmine that are not always proven by scientific tests. Jasmine essential oil, like the vast majority of essential oils, can be highly irritating to the mucous membranes, therefore it is not recommended for external use.
Guido Bissanti
Sources
– Acta Plantarum – Flora of the Italian Regions.
– Wikipedia, the free encyclopedia.
– Useful Tropical Plants Database.
– Conti F., Abbate G., Alessandrini A., Blasi C. (ed.), 2005. An annotated checklist of the Italian vascular flora, Palombi Editore.
– Pignatti S., 1982. Flora of Italy, Edagricole, Bologna.
– Treben M., 2000. Health from the Lord's Pharmacy, Advice and experiences with medicinal herbs, Ennsthaler Editore.
Warning: Pharmaceutical applications and alimurgical uses are indicated for informational purposes only, they do not represent in any way a medical prescription; therefore no responsibility is taken for their use for curative, aesthetic or food purposes.