Jacaranda caroba
The Brazilian caroba tree (Jacaranda caroba (Vell.) DC.) is an arboreal species belonging to the Bignoniaceae family.
Systematics –
From a systematic point of view it belongs to:
Eukaryota Domain,
Kingdom Plantae,
Subarign Tracheobionta,
Spermatophyta superdivision,
Magnoliophyta Division,
Magnoliopsida class,
Subclass Asteridae,
Order Scrophulariales,
Bignoniaceae family,
Genus Jacaranda,
J. Caroba species.
The terms are synonymous:
– Bignonia caroba Vell .;
– Jacaranda caroba var. oxyphylla (Cham.)
– Jacaranda clausseniana Casar .;
– Jacaranda elegans Mart. ex DC.
– Jacaranda mendoncaei Bureau & K.Schum .;
– Jacaranda oxyphylla Cham ..
Etymology –
The term Jacaranda comes from the vernacular name Guaraní attributed to the plant in Brazil and which means "fragrant".
The specific epithet caroba is probably in reference to the term carob used for the carob plant.
Geographic Distribution and Habitat –
Jacaranda caroba is a medicinal plant native to the Cerrado vegetation in Brazil that also grows in South Africa.
Its habitat is that of the tropical climate at altitudes between 500 and 1600 meters above sea level. It frequents sandy, rocky or rough soils, in xerophilous forests that periodically suffer from fires.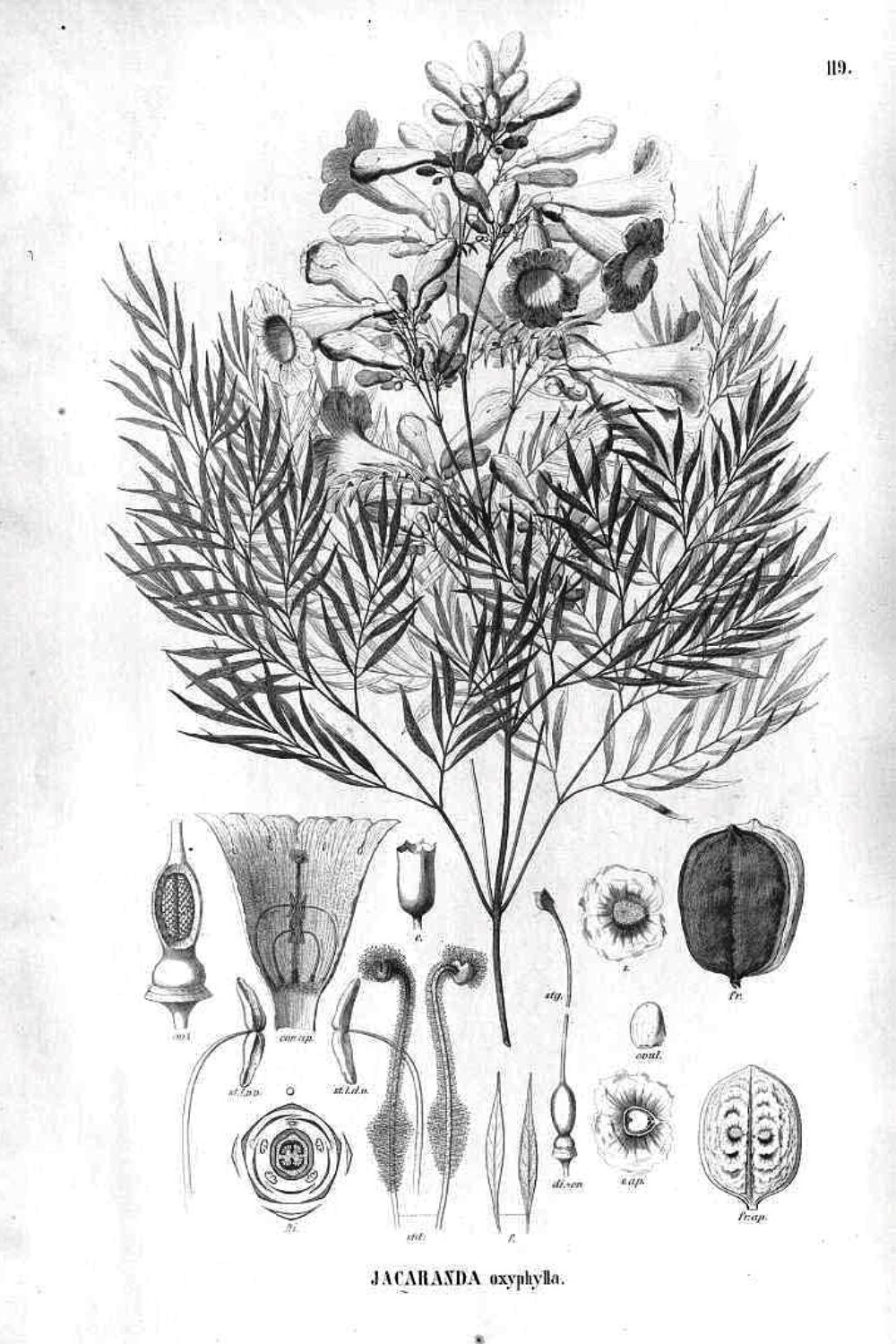 Description –
Jacaranda caroba is a plant that ranges from shrubby to arboreal, reaching 15 meters in height. The plant is highly branched and is crowned with deep green foliage.
The leaves are 3-4 cm long, bipinnate, leathery and oblong with very marked veins.
The flowers are more or less deep purplish blue, carried in terminal buds and have a honey-like aroma.
The fruit is a woody capsule with numerous seeds.
Cultivation –
Jacaranda caroba is a species that is harvested in the wild for local medicinal use and is sometimes also used as a fuel source.
It grows in a sunny position and prefers fertile and well-drained soil.
The main propagation of this plant is by seed.
Customs and Traditions –
Jacaranda caroba is a plant that in addition to being present in its areas of origin was introduced in Europe from South America as a remedy for syphilis and mental fatigue.
The plant is used to moderate sexual desire.
The bitter bark is antisyphilitic, astringent, cathartic and diuretic.
The leaves are tonic and are used in the treatment of syphilis and various skin problems.
The plant is also used for the treatment of urethritis, rheumatism and skin diseases.
Among others, it should be remembered that the wood, whitish gray to light pink in color, is light, smooth, somewhat porous, rather fragile and of poor durability. For this reason it is used only for the production of fuel and coal.
Preparation Method –
Jacaranda caroba uses the bark, which is bitter, which is astringent, cathartic and diuretic, and in the treatment of syphilis.
The leaves are also antisyphilitic and tonic and are used in the treatment of various skin problems.
Guido Bissanti
Sources
– Acta Plantarum – Flora of the Italian Regions.
– Wikipedia, the free encyclopedia.
– Useful Tropical Plants Database.
– Conti F., Abbate G., Alessandrini A., Blasi C. (ed.), 2005. An annotated checklist of the Italian vascular flora, Palombi Editore.
– Pignatti S., 1982. Flora of Italy, Edagricole, Bologna.
– Treben M., 2000. Health from the Lord's Pharmacy, Advice and experiences with medicinal herbs, Ennsthaler Editore.
Warning: Pharmaceutical applications and alimurgical uses are indicated for informational purposes only, they do not represent in any way a medical prescription; therefore no responsibility is taken for their use for curative, aesthetic or food purposes.