Hierochloe odorata
The sweet grass, manna grass, Mary's grass or vanilla grass, (Hierochloe odorata (L.) P. Beauv.) is an aromatic herbaceous species belonging to the Poaceae family.
Systematics –
From a systematic point of view it belongs to:
Eukaryota Domain,
Kingdom Plantae,
Subarign Tracheobionta,
Spermatophyta superdivision,
Magnoliophyta Division,
Liliopsida class,
Subclass Commelinidae,
Cyperales Order,
Poaceae family,
Genus Hierochloe,
H. odorata species
The terms are synonymous:
– Anthoxanthum nitens (Weber) Y. Schouten & Veldk .;
– Hierochloe arctica J.Presl.
Etymology –
The term Hierochloe comes from the Greek ἱερός hierós sacred and from χλόα chlóa grass grass: sacred grass.
The specific epithet odorato comes from odóro exhaling perfume: fragrant, perfumed, with a pleasant smell.
Geographic Distribution and Habitat –
Hierochloe odorata is an aromatic herb native to northern Eurasia and North America.
Its range includes North America, southern Canada, the northern Rocky Mountains and the northwestern United States and New England. In Europe it is located north of Switzerland. It is also found in Ireland, Scotland and north-east England.
Its natural habitat is wetlands, grasslands and savannas in humid or medium humidity soils. Although it prefers rich and humid soils, it grows in almost all soils that receive a minimum of brightness, in an altitude range between 1000 and 1800 meters.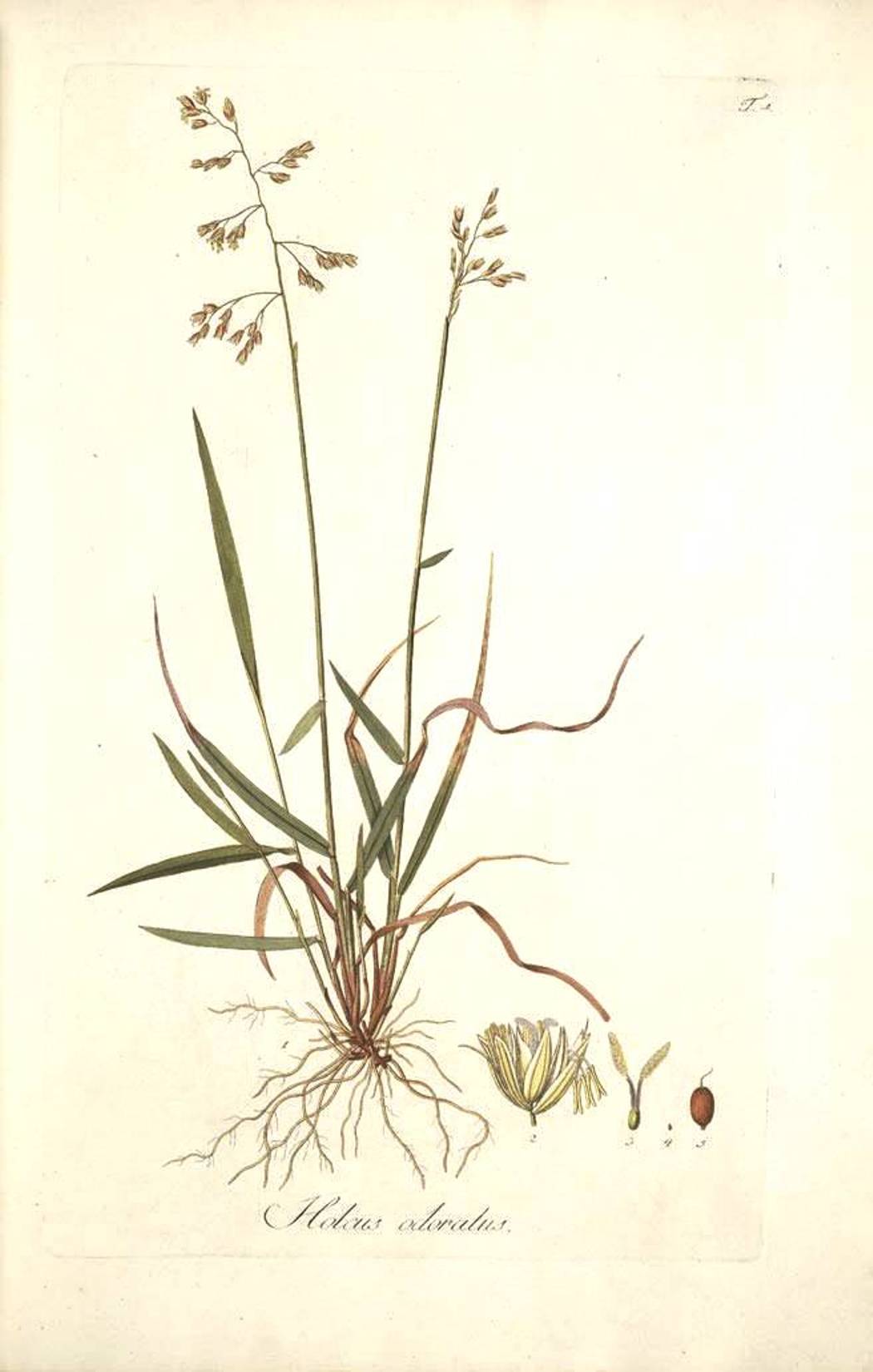 Description –
Hierochloe odorata is a perennial herb that can grow up to 0.60 meters in height and has underground rhizomes.
The leaves have no stiff stems, so they only grow to about 20cm in height, and then the leaves grow horizontally outward to 100cm in length or more.
The base of the leaf, just below the surface of the soil, is wide and white, devoid of hairs; the lower part of the leaf is shiny and glabrous. In nature, the bases of leaves are often purplish red, indicating a soil deficient in phosphorus.
The spikelets are laterally compressed, subsessile or briefly pedicellate.
The fruit is a caryopsis, not attached to the palea.
Cultivation –
The bison grass is a plant that prefers a humid position in rich soil, but is successful in most soils, including even the driest ones. The preferred pH range is 6 to 8.
It prefers a sunny position.
This plant can become intrusive when grown under favorable conditions.
As the plant dries, it emits a powerful scent of freshly mown hay.
Pollination is anemophilous.
Propagation can take place by seed, with spring sowing and germination usually takes place within 2 weeks. However, the seed production may be insufficient so it can also propagate vegetatively.
This can be done by division in spring or summer.
Customs and Traditions –
Hierochloe odorata is a sacred herb of the indigenous peoples of Canada and the United States. It is used in herbal medicine and in the production of distilled drinks (for example, Żubrówka, Wisent). It owes its characteristic sweet scent to the presence of coumarin.
Many North American indigenous cultures burn this herb in ceremonies to invite the presence of good spirits.
Furthermore, in America, especially once upon a time, it was used by the natives to make dried braids that were burned during purification rituals.
In northern Europe this plant was scattered in front of church doors on saints' days, presumably due to the sweet smell it emanated when stepped on. It was used in France to flavor candy, tobacco, soft drinks and perfumes. In Europe, the Hierochloe alpina species is often replaced or used interchangeably. In Russia it was used to flavor tea. It is still used in flavored vodka, the most notable example being Polish Żubrówka.
The plant is harvested by cutting the grass from early to late summer to the desired length. Hierochloe odorata harvested after the first frost has little or no scent.
The leaves, once dried, have an intense scent of vanilla, given by the coumarin contained in the plant.
There are several strains of this plant: a regular strain that can be harvested once or twice a year and a naturally occurring polyploid strain, which grows much faster and can be harvested three to five times a year.
The plant is harvested in its natural state for local use as a food, medicine and source of materials.
In addition to coumarin it also contains phytol which together have the ability to repel mosquitoes.
Remember that the coumarin content of the plant is toxic if taken internally and is sometimes considered carcinogenic.
You can instead eat the cooked seed, which although difficult to use due to its small size, does not contain coumarin and should be safe.
An essential oil is obtained from the leaves which is used as a food flavoring in sweets and soft drinks. This has a strong vanilla flavor.
The leaves, as mentioned, are added to vodka as an aroma.
The plant is said to be used as a dye but no further details are given.
Among other uses, it should be remembered that the plant has a very aggressive root system and was planted to stabilize the banks.
Preparation Method –
From the leaves of Hierochloe odorata a tea is obtained which is used in the treatment of fevers, coughs, sore throats, chafing and venereal infections.
It is also used to stop vaginal bleeding and to expel the placenta.
The stems can be soaked in water and used to treat sunburn and chapping and as eye drops.
Some caution is advised when using this plant internally due to the above.
The leaves are harvested in the summer and dried for later use, plus the smoke from the leaf burn is inhaled in the treatment of colds.
The dried leaves are used as incense and have been used as stuffing in pillows and mattresses.
In addition, especially in the past, they were used as insect repellents of clothes closets where they also give a good smell to clothes.
The leaves are used to make aromatic baskets.
These get wet and can be sewn together, dried until tight and then the resin can be used on the stitches to create a waterproof container.
The leaves can be soaked in water to make a tonic hair wash.
The essential oil distilled from the leaves is used in perfumery where it acts as an exciting and fixative for other aromas.
Guido Bissanti
Sources
– Acta Plantarum – Flora of the Italian Regions.
– Wikipedia, the free encyclopedia.
– Useful Tropical Plants Database.
– Conti F., Abbate G., Alessandrini A., Blasi C. (ed.), 2005. An annotated checklist of the Italian vascular flora, Palombi Editore.
– Pignatti S., 1982. Flora of Italy, Edagricole, Bologna.
– Treben M., 2000. Health from the Lord's Pharmacy, Advice and experiences with medicinal herbs, Ennsthaler Editore.
Warning: Pharmaceutical applications and alimurgical uses are indicated for informational purposes only, they do not represent in any way a medical prescription; therefore no responsibility is taken for their use for curative, aesthetic or food purposes.