Herniaria glabra
Smooth rupturewort (Herniaria glabra L.) is a herbaceous species belonging to the Caryophyllaceae family.
Systematics –
From a systematic point of view it belongs to:
Eukaryota Domain,
Kingdom Plantae,
Subarign Tracheobionta,
Magnoliophyta Division,
Magnoliopsida class,
Subclass Caryophyllidae,
Order Caryophyllales,
Caryophyllaceae family,
Genus Herniaria
H. glabra species.
In Italy there are two subspecies:
– Herniaria glabra L. subsp. hairless;
– Herniaria glabra subsp. nebrodensis Nyman.
Etymology –
The term Herniaria comes from hernia hernia, due to the alleged healing properties against hernias.
The specific glabrous epithet: as a glabrous, hairless plant.
Geographic Distribution and Habitat –
Herniaria glabra is an annual plant widespread in Europe, North Africa and Western Asia, present, with two subspecies, in all regions of Italy.
Its growth habitat is that of ruderal vegetation subjected to trampling, on arid gravelly-sandy soils, rich in bases but poor in calcium, from neutral to subacid, from sea level to about 1500 m (rarely higher, up to 2000 m).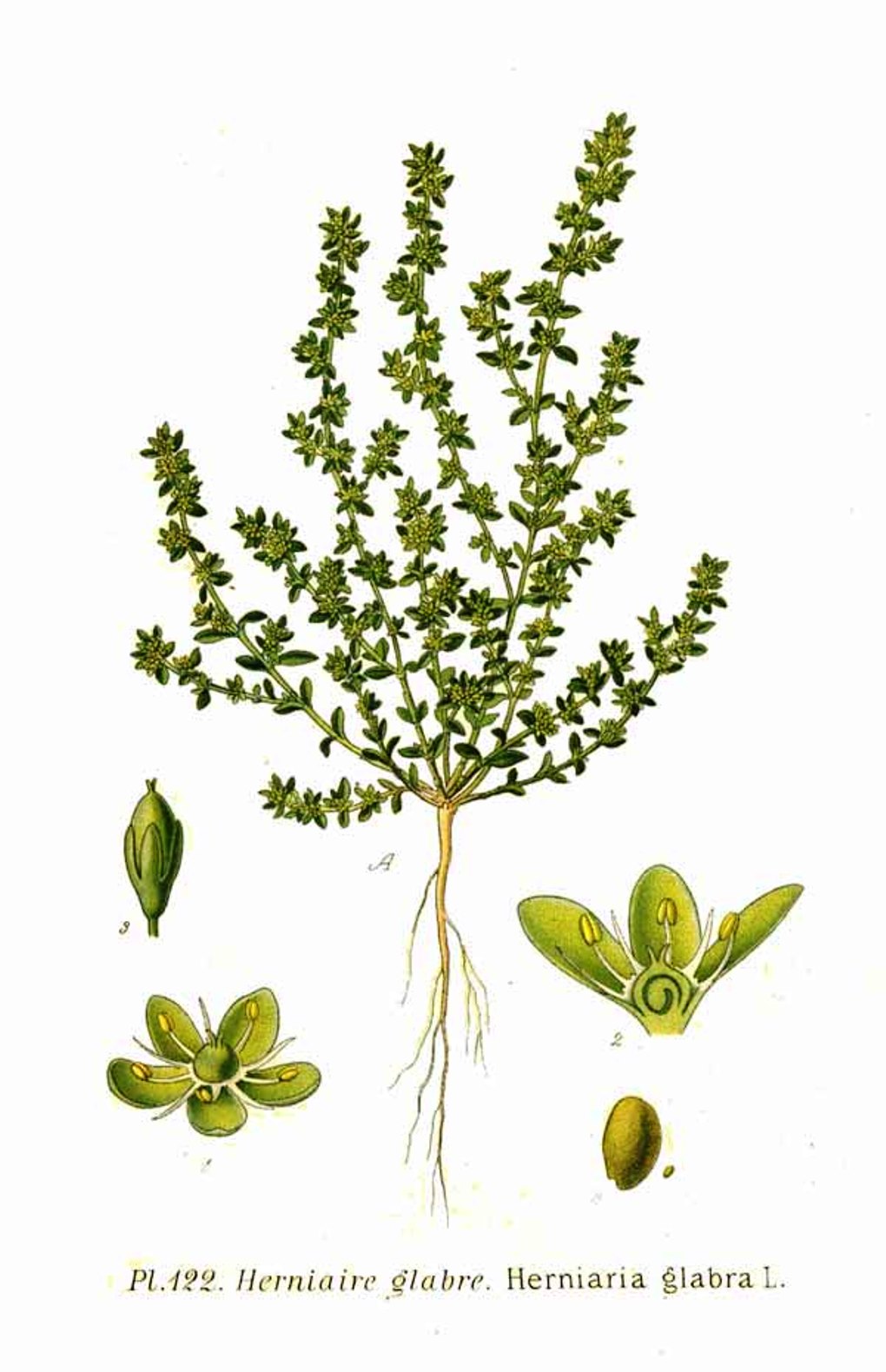 Description –
Herniaria glabra is an annual or sometimes perennial herbaceous plant with a yellowish green color with a thin root and numerous tomentose stems, up to 20 cm long, which crawl on the ground.
The leaves, opposite two by two and inserted at the level of the nodes of the twigs, by means of a short petiole, of an elliptical-oblong shape, with a narrow base and normally obtuse apex. The leaves, one centimeter long, have glossy green leaves or laminae and are usually hairless.
The flowers are collected in inflorescences formed by 5-12 small, pleasantly scented green-yellow spherical glomeruli, devoid of corolla and provided with a calyx formed by five concave oval sepals. Pollination occurs by insects or is entomophilous or entomogamous.
The antesis takes place in summer, from July to September.
The fruit is an ovoid to globose utricle, generally longer than the sepals, persistent, membranous, with one seed, from ovoid to lenticular. smooth, bright, dark brown when ripe.
Cultivation –
Herniaria glabra is a plant that needs full sun exposure in order to develop at its best. It does not fear the cold and withstands the minimum temperature of -15 ° C.
It adapts to any type of soil from sandy to stone as long as it is well drained and moderately rich in organic matter.
This plant should be irrigated especially in the initial phase and less frequently when the rooting is definitive.
As regards fertilization, it is advisable to apply a specific liquid fertilizer for green plants in the spring, suitably diluted in the water used for irrigation.
This plant is a ground cover also suitable for cultivation in pots as long as it is large enough filled with universal soil mixed with a handful of sand. After planting, place the pot in full sun and water often to keep the soil moist.
It reproduces by seed in spring, from March to May, or in late summer-autumn, from September to October.
Sowing is carried out directly in the home, in spring when temperatures remain around 18-22 ° C, barely covering the seeds. The seedbed is kept in the shade until sprouting has taken place. When the seedlings can be handled, they will repeat or simply thin out, keeping 15-20 cm of distance between the plants. In mild climate areas it can be sown in late summer.
Customs and Traditions –
Smooth rupturewort is a plant that contains saponins and was once considered a remedy for hernia, hence the generic name.
The active ingredients are: triterpene saponins, flavonoids, coumarins, tannins, paronychina.
This plant, according to folk medicine, has been indicated for:
– uro-genital system;
– liver and biliary tract;
– gonads (testes and ovaries);
– organs and / or tissues of various parts of the body;
– excretory organs;
– sexual and reproductive organs;
– kidneys;
– blood;
– skin tissue;
in general it is a plant with properties: diuretic and antiseptic, not that it plays a purifying draining role and for calculosis and inflammation of the urinary tract and for inflammation due to hernias, even if the latter property has been attributed only by popular beliefs but not scientifically found.
Preparation Method –
Extracts and herbal teas are prepared with Herniaria glabra.
We recommend 2-3 cups a day 1.5 g per cup of boiling water for 10 min.
A mother tincture is also prepared from the whole fresh plant with a 65 ° alcohol content.
Guido Bissanti
Sources
– Acta Plantarum – Flora of the Italian Regions.
– Wikipedia, the free encyclopedia.
– Useful Tropical Plants Database.
– Conti F., Abbate G., Alessandrini A., Blasi C. (ed.), 2005. An annotated checklist of the Italian vascular flora, Palombi Editore.
– Pignatti S., 1982. Flora of Italy, Edagricole, Bologna.
– Treben M., 2000. Health from the Lord's Pharmacy, Advice and experiences with medicinal herbs, Ennsthaler Editore.
Warning: Pharmaceutical applications and alimurgical uses are indicated for informational purposes only, they do not represent in any way a medical prescription; therefore no responsibility is taken for their use for curative, aesthetic or food purposes.