Haplopappus baylahuen
The bailahuén (Haplopappus baylahuen J. Rémy) is a herbaceous species belonging to the Asteraceae family.
Systematics –
From a systematic point of view it belongs to:
Eukaryota Domain,
Kingdom Plantae,
Magnoliophyta Division,
Magnoliopsida class,
Subclass Asteridae,
Asterales Order,
Asteraceae family,
Subfamily Asteroideae,
Astereae Tribe,
Genus Haplopappus,
Haplopappus species.
The terms are synonymous:
– Aster baylahuen (J.Rémy) Kuntze;
– Aster lastarrianus (J.Rémy) Kuntze;
– Haplopappus domeykoi Phil .;
– Haplopappus fluehmannii Phil .;
– Haplopappus lastarrianus J.Rémy;
– Haplopappus Medicinalis Phil.
Etymology –
The term Haplopappus derives from the Greek haplóos, single or simple in reference to the single pappus attached to each seed.
The specific baylahuen epithet comes from "vain", to boil and "lahuen", a medicinal plant.
Geographic Distribution and Habitat –
Haplopappus baylahuen is a herbaceous plant with woody stems at the base that is found in the areas of the cordillera of Chile.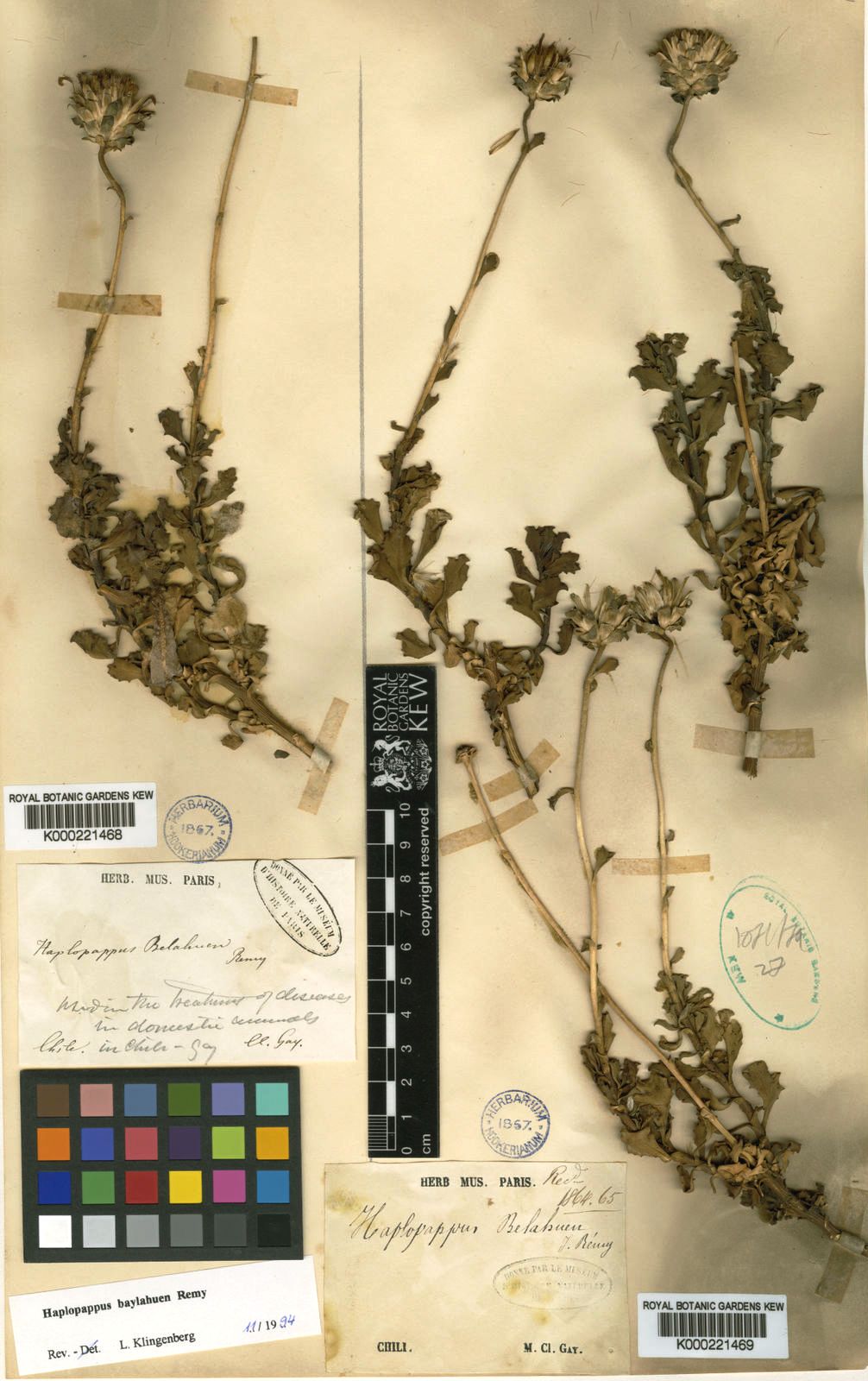 Description –
Haplopappus baylahuen is a plant that normally grows up to 0.80 – 1.00 meters in the form of a bush.
The leaves are simple and the peeping inflorescences are yellow.
The flowers are hermaphrodites and the corolla is gamopetala. There are 5 stamens. The ovary is whole.
The fruit is an achene, called cypsela.
Cultivation –
Haplopappus baylahuen is a spontaneous plant that grows in arid and rocky areas and is harvested in its natural state for medicinal purposes. For this purpose, leaves, flowers and even the stems are collected from this plant.
Customs and Traditions –
This plant, as well as other similar species, has been used, since ancient times, in medicine, mainly to relieve stomach problems, but other properties have also been discovered, such as those to help and relieve the symptoms of colds, flu, pneumonia. Another of its properties is to aid in the digestion of fats and proteins. It is used as an aphrodisiac and antiseptic. The plant would also have an anti-flatulent effect and purifying properties.
It is one of the ten most used medicinal plants in Chile.
Research has identified liver-stimulating and antioxidant properties in this plant.
Chemical characterization showed important levels of flavonoids and coumarins.
Preparation Method –
Of the bailahuén, both the leaves and the flowers and stems are used for various therapeutic purposes.
Guido Bissanti
Sources
– Acta Plantarum – Flora of the Italian Regions.
– Wikipedia, the free encyclopedia.
– Useful Tropical Plants Database.
– Conti F., Abbate G., Alessandrini A., Blasi C. (ed.), 2005. An annotated checklist of the Italian vascular flora, Palombi Editore.
– Pignatti S., 1982. Flora of Italy, Edagricole, Bologna.
– Treben M., 2000. Health from the Lord's Pharmacy, Advice and experiences with medicinal herbs, Ennsthaler Editore.
Warning: Pharmaceutical applications and alimurgical uses are indicated for informational purposes only, they do not represent in any way a medical prescription; therefore no responsibility is taken for their use for curative, aesthetic or food purposes.