Grindelia squarrosa
Curly-top gumweed or curlycup gumweed, (Grindelia squarrosa (Pursh) Dunal) is a perennial herbaceous species belonging to the Asteraceae family.
Systematics –
From a systematic point of view it belongs to:
Eukaryota Domain,
Kingdom Plantae,
Magnoliophyta Division,
Magnoliopsida class,
Subclass Asteridae,
Asterales Order,
Asteraceae family,
Genus Grindelia,
G. squarrosa species.
The following terms are synonymous:
– Donia squarrosa Pursh 1813;
– Aurelia amplexicaulis Cass .;
– Aurelia squarrosa Cass. ex Steud .;
– Grindelia aphanactis Rydb .;
– Grindelia arguta A.Gray;
– Grindelia naked Alph.Wood;
– Grindelia pinnatifida Wooton & Standl .;
– Grindelia serrulata Rydb ..
Within this species, the following subspecies are recognized:
– Grindelia squarrosa quasiperennis;
– Grindelia squarrosa serrulata;
– Grindelia squarrosa squarrosa.
Etymology –
The term Grindelia of the genus was dedicated to the Latvian David Hieronymus Grindel (1776-1836), pharmacist, doctor and professor of botany in Tartu in Estonia.
The specific squarrosa epithet comes from squarrōsus covered with pustules or crusts: crusty, mothy.
Geographic Distribution and Habitat –
Grindelia squarrosa is a plant native to western and central North America, in a territory ranging from British Columbia in the east to Québec and New England, and in the south to California, New Mexico, Arizona, Chihuahua and to Texas.
Its habitat is that of prairies, plains and arid banks; it is often found in disturbed road edges, edges of streams, from 700 to 2,300 meters above sea level.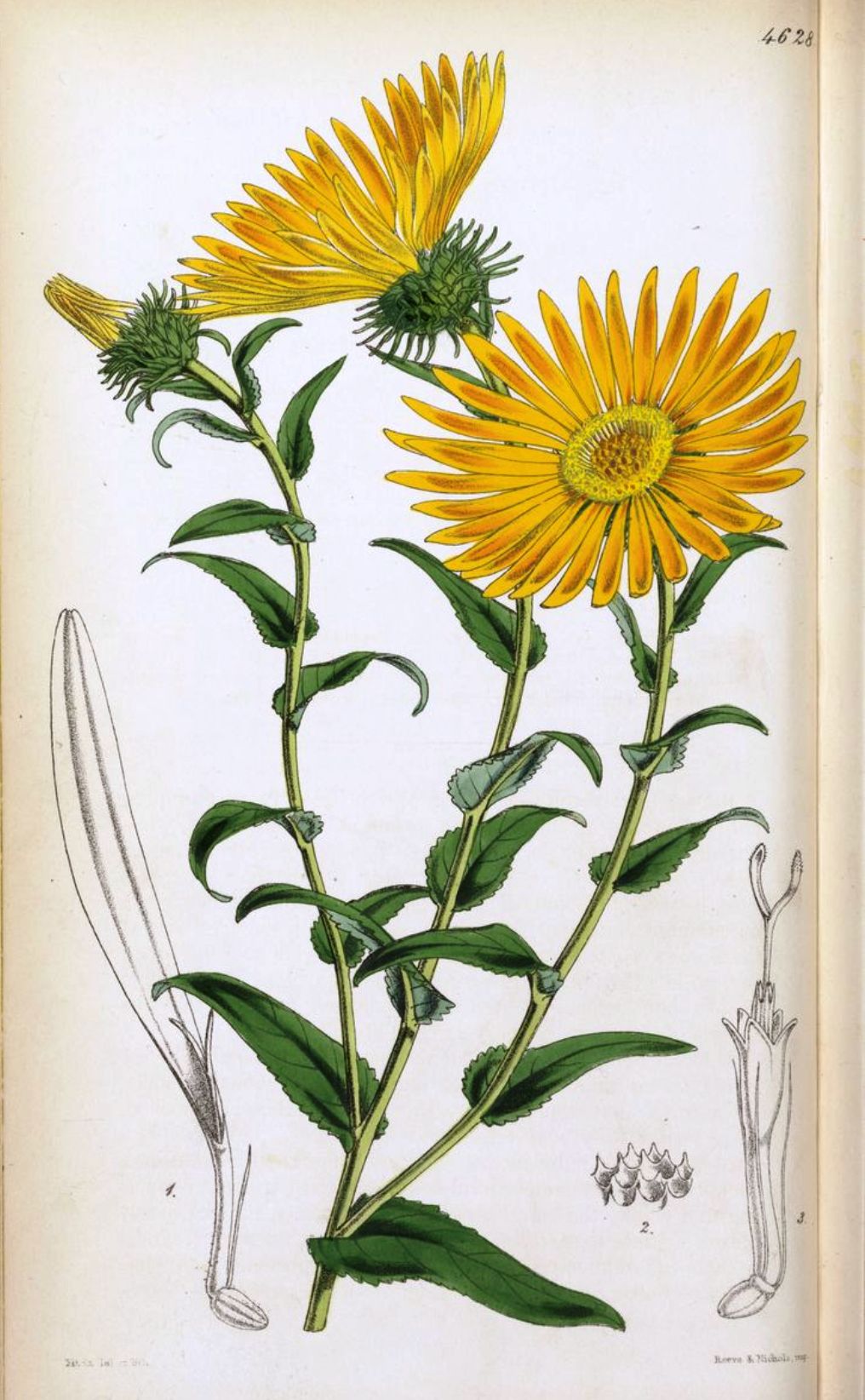 Description –
The Grindelia squarrosa is a very polymorphous plant, perennial herbaceous, with a decumbent to erect habit, very branched and up to 100 cm high.
The leaves measure 1.5–7 cm and are gray-green in color, crenate with each tooth with a yellow bump near its tip; they are also resinous.
The flowers are flower heads that usually contain within a radius of 12-40 yellow flowers, although sometimes the rays are absent.
The plant blooms from July to the end of September.
The fruits are smooth, oblong and slightly quadrangular achenes, with a characteristic pappus.
The seeds are oblong and dark.
Cultivation –
Grindelia squarrosa is an easy to grow plant that grows in any well-drained soil and in full sun.
It prefers dry sandy banks and grows on poor soils although it grows better on peaty soils.
It is a plant that immediately colonizes land that has been cleared and often becomes a serious weed of pastures.
Customs and Traditions –
Grindelia squarrosa is a long-known plant.
It is used as a traditional medicinal plant by the Shoshone peoples in various regions. The name of the plant in the Gosiute language is mu'-ha-kûm. In the Lakota language it is called pteíčhiyuȟa.
The native Indians of North America already used it to treat bronchial problems and even skin conditions such as reactions to poison ivy.
Powdered flowers were once also smoked in cigarettes to relieve asthma symptoms.
It is still used in modern herbal medicine where it is especially appreciated as a treatment for bronchial asthma and for states in which the phlegm of the airways prevents breathing:
Additionally, it is believed to desensitize the nerve endings of the bronchial tree and slow the heart rate, thus leading to easier breathing.
The plant deserves to be studied in the treatment against asthma. However, it is contraindicated for patients with kidney or heart problems.
The dried leaves and flowering tops are anti-asthmatic, anti-inflammatory, antispasmodic, expectorant and sedative. The main use of this herb is in the treatment of bronchial phlegm, especially when there is an asthmatic tendency, it is also used to treat whooping cough and cystitis. The active ingredient is excreted by the kidneys and this sometimes produces signs of kidney irritation.
The plant is used for external use as a poultice to treat burns, poison ivy rashes, dermatitis, eczema and skin rashes.
Other uses and characteristics include:
– yellow and green dyes can be extracted from flower heads and pods;
– the plant concentrates selenium and can be toxic if ingested by cattle, humans and other mammals;
– a plantation of this plant could be used as a potential source of biofuel due to its high content of mono- and di-terpenes which can be converted into a fuel similar to kerosene or jet fuel. Furthermore, the plant's adaptation to arid climates makes it an interesting option since its cultivation in desert areas would not compete with traditional food crops.
Preparation Method –
The plant should be harvested when it is in full bloom and can be used fresh as a poultice or dried for infusions, etc.
A fluid extract is prepared by placing the freshly picked leaves and flowers in a small amount of boiling water for about 15 minutes.
A homeopathic remedy is prepared from the leaves and flowering stems.
Guido Bissanti
Sources
– Acta Plantarum – Flora of the Italian Regions.
– Wikipedia, the free encyclopedia.
– Useful Tropical Plants Database.
– Conti F., Abbate G., Alessandrini A., Blasi C. (ed.), 2005. An annotated checklist of the Italian vascular flora, Palombi Editore.
– Pignatti S., 1982. Flora of Italy, Edagricole, Bologna.
– Treben M., 2000. Health from the Lord's Pharmacy, Advice and experiences with medicinal herbs, Ennsthaler Editore.
Warning: Pharmaceutical applications and alimurgical uses are indicated for informational purposes only, they do not represent in any way a medical prescription; therefore no responsibility is taken for their use for curative, aesthetic or food purposes.